It sure feels like soccer season in Western Pennsylvania now — just a little sooner than expected.
I hope everyone is staying as dry as possible as the current weather that affected weekend games, has continued through Monday. In fact, a total of 12 games in the district were postponed (five boys and seven girls) due to the hard rain conditions. One game that was played, between West Allegheny and South Fayette boys, turned out to be an exciting contest for our first-ever PSN featured game coverage. For more on that game, see below.
On Wednesday, we'll be announcing the second round of Boys and Girls Players of the Week.
Thanks to all those who've submitted nominations. Please keep them coming as you have through Tuesday now to send in your player of the week nominations with details of any player that had an outstanding performance during the past week. To make a nomination, you can always message us here on Pittsburgh Soccer Now social media platforms and also via email.
Unfortunately, not all the news was pleasant last week, as Belle Vernon's Jake Sepesky suffered a head injury in Tuesday's opener against Ringgold, and later had to have surgery. It was nice to see the outpouring of support from the community and on behalf of all of us here with Pittsburgh Soccer Now, we extend our best wishes to Jake on a speedy recovery. I have more on this below, as I did receive an update from his coach, Rob Miele on Monday.
Right now you can get the latest merchandise at adidas.com! 
Belle Vernon's Jake Sepesky recovering from surgery after skull fracture 
Last week in Belle Vernon's varsity boys' section opener against Ringgold, senior Jake Sepesky collided head-to-head with Ringgold senior Jeff Soles.
Initially, it was thought Sepesky had a concussion, but it was later discovered the forward had a fractured skull. As a result of the injury, Sepesky had reconstructive surgery on the front part of his skull Thursday.
Belle Vernon head coach Rob Miele reported it went as well as could be expected.
"He's good, had surgery on Thursday that was successful. 3 plates and 14 screws. Was sent home last night (Monday) so things are looking good, but certainly a long road ahead for him to be back at 100 percent, and dealing with a concussion on top of that," Miele said.
Sepesky was taken to a local hospital before later being transferred to Pittsburgh.
"Our guys seem to be in good spirits," Miele said. "This is something we can rally around as a group. First and foremost, everyone wants to make sure he is OK. We'll be happy when we see him back on the sidelines. Hopefully, that will happen."
Social media support also poured in as other WPIAL soccer programs reached out with "thoughts and prayers," and the hashtag, #ForJake.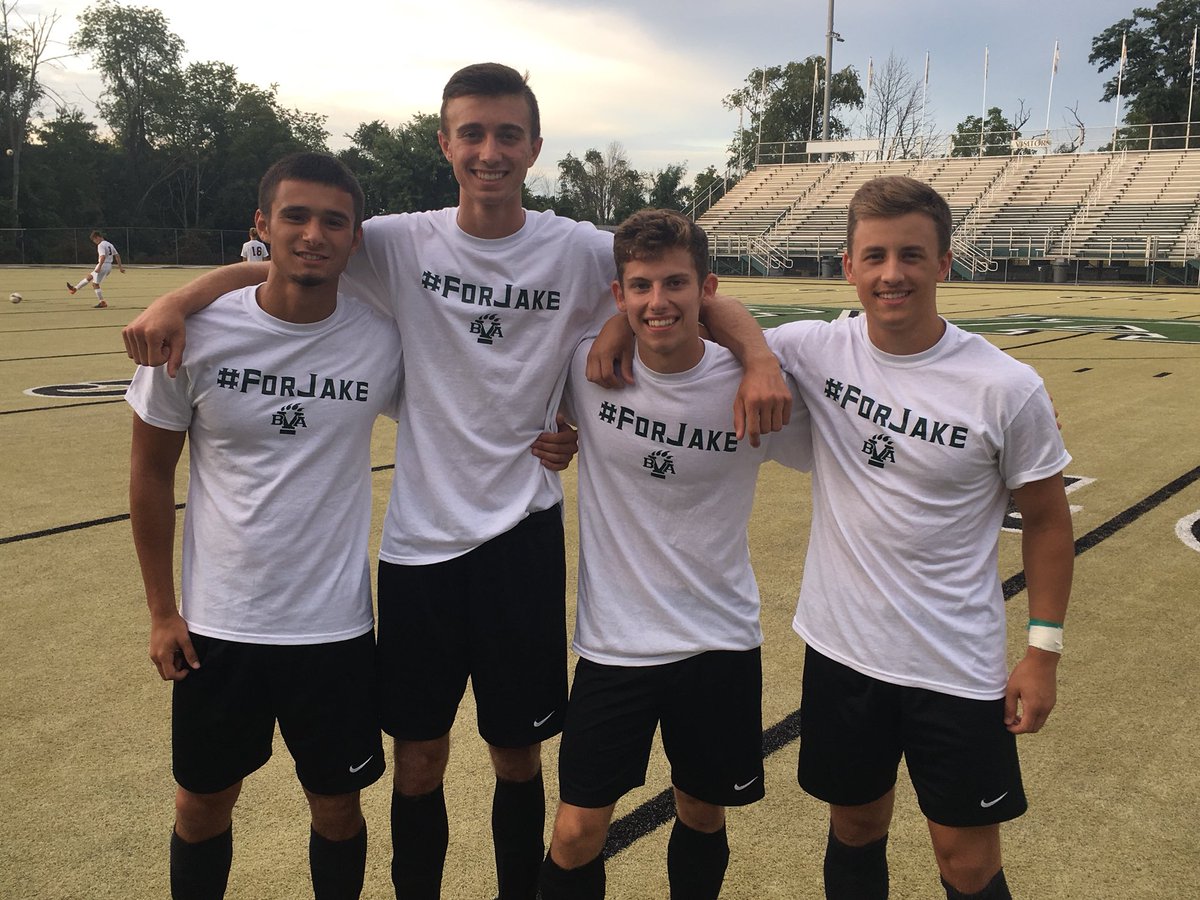 Had a chance to visit with Jake this morning! He was in good spirits and is on the road to recovery!! His first words to me were "so what's the lineup coach?" ???? #HML #ForJake

— Coach Miele (@BVABoysSoccer) September 8, 2018
@BVABoysSoccer It's awesome to see the players rally to support a teammate. All of us in Brownsville wish him a speedy recovery and a quick return to the pitch! This season we all will be playing #ForJake @BVAGangGreen https://t.co/xSTyC5WWwC

— BrownsvilleFalconSoccer (@BrownsvilleFal1) September 7, 2018
Thoughts and prayers going out to Belle Vernon Area's Jake Sepesky who suffered a fractured skull in Tuesday's game against Ringgold #ForJake https://t.co/0Twwd5KgkD

— José Negron (@JNegron_13) September 6, 2018
Prayers for a full and speedy recovery Jake! #ForJake

— Golden Eagles Boys Soccer (@KOEaglesSoccer) September 6, 2018
PSN Featured Game: West A takes down South Fayette in another dramatic finish
It took nearly 80 minutes, but West Allegheny's Evan Blunkosky scored an opportunistic game winner that was the difference in a hard-fought battle against rivals South Fayette, in our first-ever PSN Featured WPIAL High School game.
Coverage on Saturday included play-by-play broadcast on Facebook Live with Matt Gajtka, splendid photos by Ed Thompson and my post-game recap and video interviews posted on YouTube.
Here's a photo gallery of Ed's best shots from this match played in windy, damp, cooler-than-usual for September conditions.
This slideshow requires JavaScript.
Very special thanks to our sponsors – Steel Town Auto Sales and Advanced Orthopaedics & Rehabilitation who made coverage of this game possible.
We will be announcing a few additional PSN featured games that we have lined up in the coming weeks.
If you are still interested in having PSN coverage at a local game, and/or have sponsors that are interested, we still have a few openings remaining on our schedules. In particular, we'd love to get out for one or two girls regular season games.
Abraham scores another game winner, earns WVU Student Athlete of the Week
Albert Galatin high school has never exactly been a powerhouse in girls soccer, but they have an alum who's gone on to a pretty good college career, Hannah Abraham.
Abraham's had a knack for scoring game winning goals, especially in a run in her freshman and sophomore seasons for the Nationally Ranked Mountaineers program, when she racked up six game winners.
After a quieter junior season, Abraham did it again on Friday, giving the Mountaineers their first road victory of the 2018 season. Among the accolades following her seventh career winner, the senior forward for West Virginia University women's soccer team has been named the WVU Student-Athlete of the Week.
Tied 1-1 at Clemson on Sept. 7, Abraham headed in a free kick from goalkeeper Rylee Foster in the 80th minute to push WVU to a 2-1 victory over the Tigers at Riggs Field. It was her first of the season.
The Mountaineers (2-2-3) have now earned at least one nonconference victory in an opponent's home venue each season since 2015 and 17 times in program history.played a rigorous schedule to open the season
The team is back home for a pair of contests this week. WVU hosts Boston University on Thursday, Sept. 13, at Dick Dlesk Soccer Stadium, playing against another program with numerous WPIAL players, Saint Francis (Pa.) comes to town on Sunday, Sept. 16. The matches are set to begin at 7 p.m. and 1 p.m., respectively.
WPIAL well represented at 'The City Game' 
Just two years ago, Pitt didn't have a single player from Western PA on its roster. This year they have five.
Duquesne, which has built a winning program in coach Al Alvine's seven years, didn't have any when he took over the program, but now features 14 players from our region.
"That was a real priority for us to make a concerted effort to get the best local kids to come here," Alvine said last month. "You saw that with Casey Aunkst and with Kyra Murphy, Abby (Losco)… Deena DeBaldo. Then you look at the freshmen we have on this year's team including the Riverhounds kids. We are thrilled to be getting good, quality kids from Western Pennsylvania."
Here's the full list of WPIAL players from both sides:
Pitt:
Aideen O'Donoghue (Canon-Mac / Riverhounds Academy)
Jamie Frank (Kiski Area / Riverhounds Academy)
Maddie Clayton (Waynesburg / Soccer Vision Academy, OH)
Alexis Bengel (Highlands / Riverhounds Academy)
Dixon Veltri (Fox Chapel / Beadling SC)
Duquesne:
Casey Aunkst (Penn-Trafford / Beadling SC)
Lauren Bell (Hickory / Beadling SC)
Ashley Brisco (Ringgold / Beadling SC)
Abby Losco (Hopewell / Beadling SC)
Deena DeBaldo (Fox Chapel / Beadling SC)
Lexy Kendro (Norwin / Riverhounds Academy)
Tori Kopchak (Mars / Beadling SC)
Kyra Murphy (Canon-McMillan / Beadling SC)
Bella DeFabbo (Seneca Valley / Beadling SC)
Alyssa Victor (Norwin / Riverhounds Academy)
Marley Smith (Norwin / Beadling SC)
Hannah Nguyen (Penn-Trafford / Riverhounds Academy)
Sophia Rizzo (Oakland Catholic / Century United)
Sydney Routch (Holidaysburg / Beadling SC)
GAMES TO WATCH (9/11-9-15) 
Boys
Tuesday, Sept 11 
Boys
Connellsville vs Penn Trafford (Connellsville enters match as lone unbeaten teams in boys 4A, section 3)
Girls
Shady Side Academy at Greensburg Central Catholic (Class 1A, Section 1)
The 1A rivals and annually the top programs in this classification renew acquaintances this week. As has been the case many times in recent years, they met four times a season ago.
The Centurians won the WPIAL title at Highmark Stadium, but the Indians beat GCC en route to its first-ever PIAA crown in 2018)
Wednesday, Sept 12 
Girls
North Allegheny at Seneca Valley (showdown between two unbeaten teams in the brutally tough Class 1A, Section 1)
Thursday, Sept 13 
Boys
South Fayette at Canon-McMillan (South Fayette continues with what may be one of the most difficult non-section schedules in WPIAL, taking on 4A Canon-Mac)
Saturday, Sept 15 
Girls
Fox Chapel at Pine Richland (Pine-Richland, who started off the season with high expectations, are 0-2 in this tough section, with losses already to North Allegheny and Seneca Valley. It may be must win time vs perennial playoff contender, Fox Chapel)
Boys
Canon-McMillan at Upper St. Clair (showdown in Class 4A, Section 2 as both teams remain without loss in section)
Sounding Off on Soccer: Hounds survive tussle in Tulsa plus Open Cup talk
Subscribe to PGH Soccer Now