FINAL: Riverhounds SC 5, AtlUtd2 0
USL Championship Match Center / Statistics / Box Score
The Riverhounds SC didn't waste any time scoring, with three goals in the first 14 minutes en route to a 5-0 rout of Atlanta United 2 on Saturday night in Kennesaw, GA.
With the win, its first in league play since April 13 and its 200th overall as a franchise, the Hounds improve to 3-2-7 overall in USL Championship.
Goals were scored by Robbie Mertz, Steevan Dos Santos, Neco Brett and Thomas Vancaeyezeele, along with an own goal that came from a Christian Volesky cross into the box for the final tally.
Not only did this win break a six-match winless streak (0-1-5), it also was the first time in the Bob Lilley era the Hounds have scored five times. They scored four twice in 2018, but hadn't gone beyond that level in 127 league games, dating back to the 6-5 'Miracle on the Mon' comeback win over Harrisburg on May 30, 2015.
This was also the first time Pittsburgh had won by five goals since Aug. 9, 2005, when they blanked the Northern Virginia Royals by a 7-0 final. In 19 years of pro soccer, the Hounds have won by five or more just 10 times.
Look for more on this game Sunday, as I'll provide Analysis & Player Grades. 
Gameday updates:
9:24 – it's a wrap. Riverhounds bounce back in a big way — thumping Atlanta United 2, 5-0 in Kennesaw.
Nice to see the Riverhounds bounce back against Thailand today

— Jared P. Stout (@JaredPStout) June 16, 2019
9:08 – GOAL – It's now 5-0 RIVERHOUNDS
Own goal!  Volesky sends it to center of box, and ATL defender Laurence Wyke slides in — and accidentally redirects it into his own goal.
9:07 – First subs for Pgh.
Anthony Velarde and Christian Volesky are IN. Dos Santos and Neco Brett are OUT. 75′
9:03 – GOAL – 4-0 RIVERHOUNDS 70′
Hounds keep it alive in unorthodox yet effective fashion — Vancaeyezeele flicks it from right side of goal box inside left post.
8:58 – Hounds with dangerous moment. Mertz finds Forbes on right side of box, Ball in for Dos Santos too hot to redirect and goes over bar.
8:47 – in 54th minute – Hounds called for Handball on edge of box. Not sure if it was Forbes or Greenspan.
Very dangerous opportunity for ATL but free kick goes into wall.
Halftime key stats:
Shots – Pgh (10-2, 5-2 on target)
Corners – Pgh 4-3
Possession – ATL 59%/PGH 41%
Here are the goals:
#3. NECO BRETT…
Strikes by @necobrettj are always straight 🔥.#UNLEASH | #ATLvPIT pic.twitter.com/OZzXAgdc9r

— Pittsburgh Riverhounds SC (@RiverhoundsSC) June 16, 2019
#2 – STEEVAN DOS SANTOS …
Beautiful buildup. Beautiful finish by @SantosSteevan. 😍#UNLEASH | #ATLvPIT pic.twitter.com/7279BMDFW0

— Pittsburgh Riverhounds SC (@RiverhoundsSC) June 15, 2019
#1.  ROBBIE MERTZ …
Leave it to @robbiemertz14 to put a little Pittsburgh on it. 💪#UNLEASH | #ATLvPIT pic.twitter.com/MpfuRhqClv

— Pittsburgh Riverhounds SC (@RiverhoundsSC) June 15, 2019
8:23 – HALFTIME – RIVERHOUNDS 3, ATL UTD2 0
8:22 – Hounds with another corner, but cleared away by ATL, and counter chance is stuffed out by Hounds back line before it gets too far, and half ends.
8:20 – one minute of stoppage time added.
The Hounds have held 2-0, 2-1 leads a few times this year. They've finally broken through for goal number three only 14 minutes into the match. Lets see how well they can do as they're probably going to concede more of the ball to a pretty decent possession team.
8:13 – Great 2-on-1 counter chance, Dos Santos plays it to his left for Brett, who rips a shot but saved by ATL keeper.
8:05 – Dos Santos sends header wide. Could easily be 4-0 now.
7:53 – Luiz Fernando (Atlanta United 2) left footed shot from outside the box is saved by Kyle Morton in center of the goal. Assisted by Patrick Okonkwo.
7:49 – GOAL – 3-0 RIVERHOUNDS – Neco Brett
Brett buries it from close range!  Hounds take commanding 3-0 lead!
7:43 – GOAL – 2-0 RIVERHOUNDS – Steevan Dos Santos
The big fella cleans up the garbage — after Neco Brett's shot on frame is saved but loose on near post.
7:39 – GOAL – 1-0 RIVERHOUNDS – Robbie Mertz fires one on frame. Looks like it was deflected — and goes in!
7:15:  No surprise on the line-up tonight, as most of the regular starters that rested on Tuesday for the U.S. Open Cup match are back in the Hounds line-up tonight.
GK – Kyle Morton
D – Joe Greenspan, Tobi Adewole, Thomas Vancaeyezeele, Ryan James, Noah Franke
MF – Kenardo Forbes, Robbie Mertz, Kevin Kerr
F – Neco Brett, Steevan Dos Santos
Available bench players:
Ben Lundgaard, Mark Forrest, Sammy Kahsai, Dani Rovira, Uchenna Uzo, Anthony Velarde & Christian Volesky
7:11: STARTING LINE-UPS
Riverhounds SC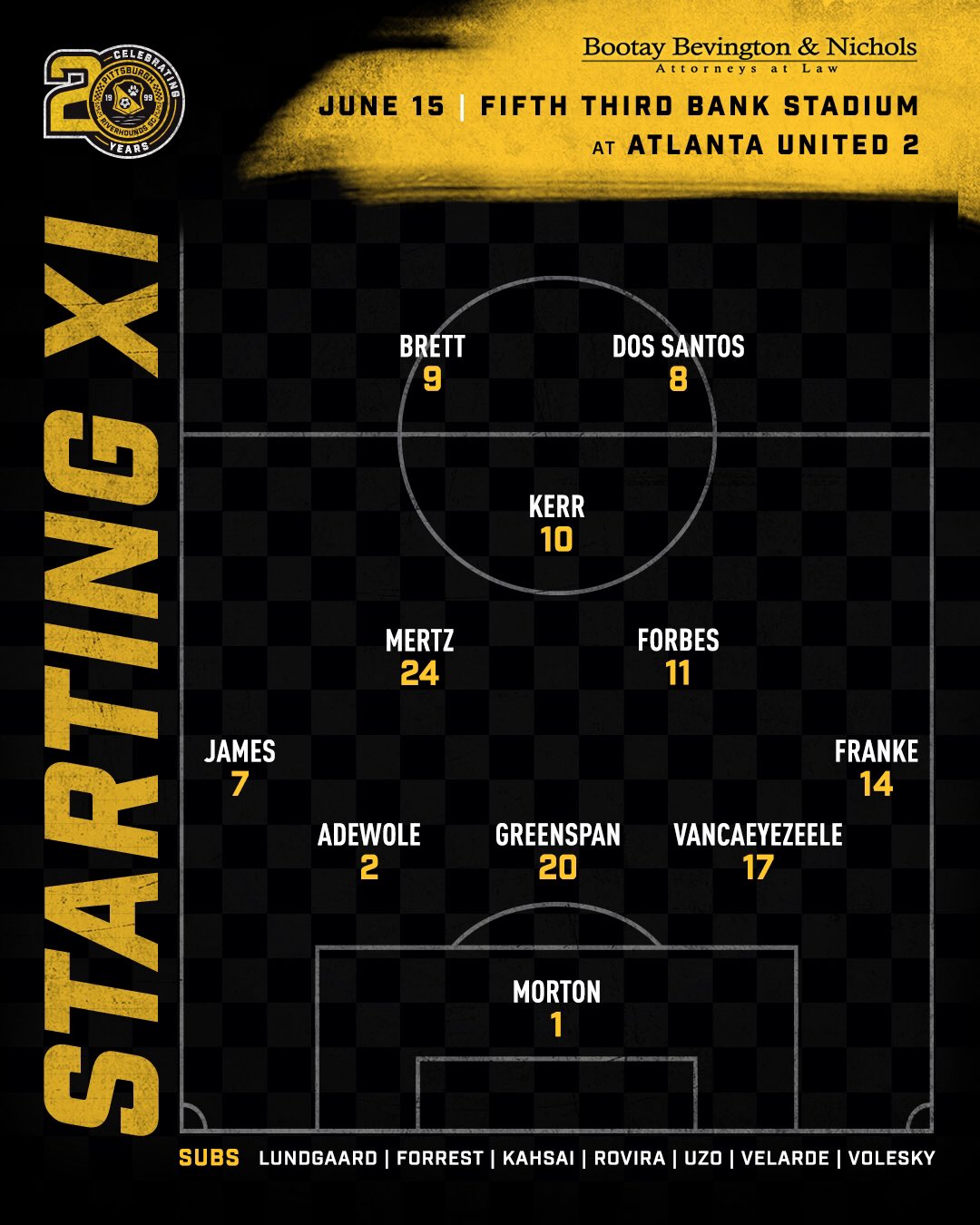 Atlanta United 2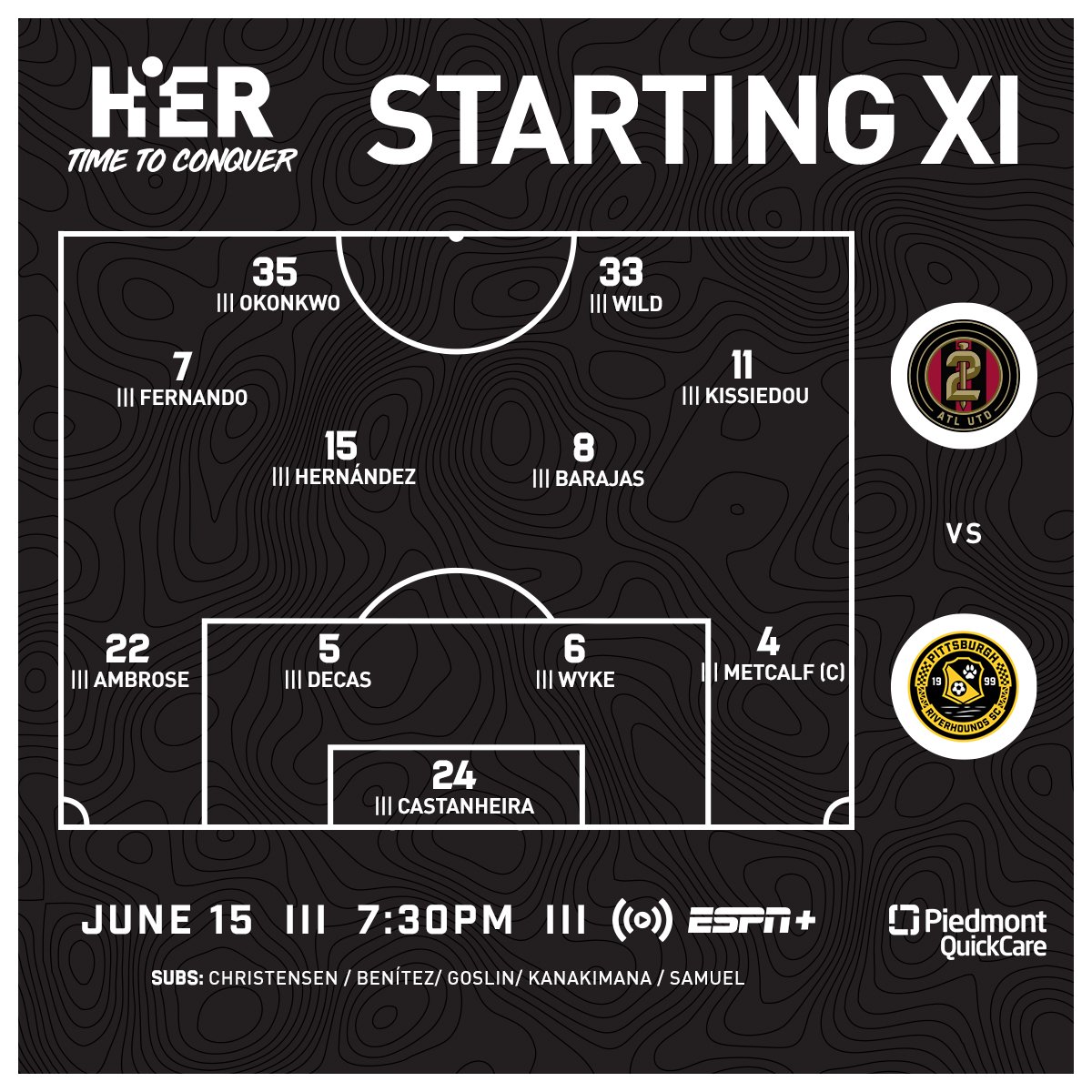 MATCH DETAILS:
Saturday, June 15 | 7:30 p.m.
Fifth Third Bank Stadium, Kennesaw, GA
Television: Pittsburgh's CW
Streaming: ESPN+
Live Statistics: USL Championship Match Center
Live Updates: Twitter at @RiverhoundsSC and #ATLvPIT
Pregame Notes:
With its next win, the Hounds will reach its 200th all-time victory in club history.
The Hounds head into the match this weekend on short rest, as the team dropped a 1-0 result to Columbus Crew SC of MLS in the fourth round of the Lamar Hunt U.S. Open Cup on Tuesday in Columbus, Ohio.
The Hounds have not won a league match since defeating Hartford in its home opener on April 13. Since then, they've gone 0-1-5 in USL Championship matches, while going 2-1 in Lamar Hunt U.S. Open Cup competition.
Meanwhile, Atlanta has not posted a win in its last seven matches. The club also holds a 2-5-0 home record this season.
With MLS still in its international break, Pittsburgh might face an stronger-than-usual Atlanta United 2 side Saturday in Georgia.
Hounds injury report
Mouhamed Dabo – Out (hamstring)
Prosper Figbe – Out (knee)
Caleb Smith – Out (groin)
PSN Hounds Coverage this week
'Gutsy' Hounds run out of steam late in Open Cup loss at Columbus
Analysis & Player Grades: Hounds 'Can't wait forever to get season going'
This episode of @K2Engineering #Blueprint2Success we talked to:@TobiAdewole95 @uche_uzo2@visserdan

about getting 3 points in the ATL! #UNLEASH #ATLvPIT #B2S pic.twitter.com/JkffWAHecJ

— Pittsburgh Riverhounds SC (@RiverhoundsSC) June 14, 2019
Riverhounds MF Danny Griffin
Subscribe to PGH Soccer Now