FINAL: Pitt 1, Akron 0
GAME SUMMARY
Pitt men's soccer team ended its home stand on a high note, beating Akron 1-0, as Alexander Dexter's crisp finish in the 74th minute.
Pitt was on the front foot for much of the night, applying high press that rattled Akron's efforts to try to build out of the back. Still, Pitt needed a few big saves from redshirt junior goalkeeper Arie Ammann to keep the match scoreless.
Dexter took advantage of a shot that was deflected, then came to his feet inside the left side of the box. The sophomore forward found room to send a shot through just inside the right post to give Pitt the lead.
The Panthers out shot the Zips 18-6 (7-4 on target), and dominated most of the statistical categories in the match.
"We created some good opportunities in the first half where we came close to drawing blood but just missed them," said head coach Jay Vidovich. "I think the big thing was being patient at halftime and trying to push a little bit harder. It took 75 minutes and a guy off the bench, Alexander Dexter, gave us an opportunity to finish."
With the win, Pitt improves to an overall 2-3-1 record for the season, while the Zips, who were in the College Cup last season and opened this year's campaign nationally ranked, fall to 0-5.
MATCHDAY UPDATES
9:15 – FINAL | PITT 1, AKRON 0
83′ | Best chance to double lead when Sito Sena's free kick banged off crossbar, went downward, but landed outside goal line. The shot sequence was reviewed by VAR, but the correct 'no-goal' call held up. The free kick was set up by a nasty, slide tackle from Akron's Carlo Ritaccio that took down Pitt's Matt Bailey just outside the box.
Here's the foul…
here it is… pic.twitter.com/3e9FP3NSV9

— John Krysinsky (@PghSoccerScribe) September 17, 2019
Here's a look at Dexter's goal, his first of the season.
here's a look at Dexter's goal for @Pitt_MSOC pic.twitter.com/qqffCCxiib

— John Krysinsky (@PghSoccerScribe) September 17, 2019
74′ | GOAL – PITT – Alexander Dexter
Dexter takes advantage of ball that comes to him after being blocked. Slides through a shot past Akron's keeper to break the scoreless affair.
62′ | Pitt's high press has been rattling Akron for much of the second half, but still don't have anything to show for it.
HALF | 0-0
21′ | Akron records its first shot of the game out of a free kick above the box, but Ammann comes up with the save.
13′ | Kline with a shot from the middle of the box, but Akron's keeper makes the short-range save.
8′ | Pitt on the attack early with four corners already, but Akron's defense has cleared each attempt.
Here's Pitt's starting lineup…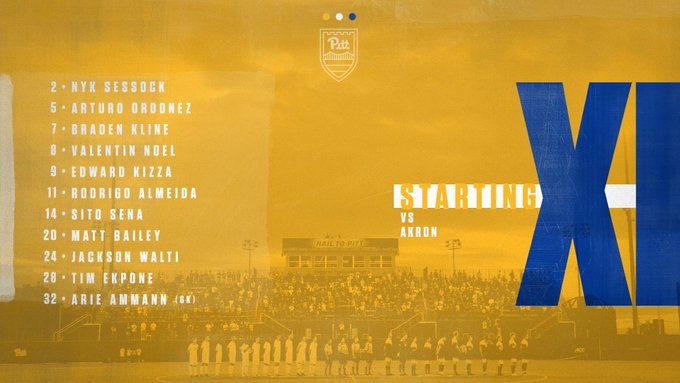 LAST TIME OUT
·       Pitt dropped a 2-0 contest to No. 1 Wake Forest Friday, Sept. 13 at Ambrose Urbanic Field.
·       In a physical match that saw 20 total fouls and six total yellow cards, goals by Wake Forest in the 34th and 53rd minute led to the eventual Demon Deacon win.
·       Junior Edward Kizza led the team with three shots, followed by sophomore Rodrigo Almeida with two. Juniors Alexander Dexter and Sito Sena and freshmen Josh Hesson and Arturo Ordonez each added one shot apiece in the matchup.
·       In goal, redshirt junior Arie Ammann collected two saves while allowing two goals in 90 minutes of action.
SCOUTING THE ZIPS
·       Akron enters Monday's contest with an 0-4 record, most recently dropping a 1-0 road contest to No. 14 Maryland Friday, Sept. 13.
·       The Zips closed out their 2018 campaign with a 15-7-2 (1-2-1 MAC) record, advancing all the way to the NCAA College Cup Final before dropping a 1-0 decision to Maryland.
·       Akron entered the year ranked No. 3 in the United Soccer Coaches Preseason Poll, but after a slow start to the 2019 season, the Zips fell out of the top-25 and received just two votes in the most recent poll.
·       The Zips are coached by Jared Embick, who owns a 94-34-13 record during his time at Akron while amassing a 141-55-21 career record after spending time at both Akron and Missouri Baptist.
·       Through four games, fifth-year Christian Lue Young and junior David Egbo lead the Zips offensively with one goal apiece.  Egbo played at Kiski Prep in his high school years.  
·       In goal, redshirt junior Tor Saunders has started all four matches for Akron, collecting 12 saves while allowing seven goals.
SIZING UP THE 2019 SLATE
·       Pitt faces some tough competition in the 2019 season, with a schedule that includes 10 NCAA Tournament teams and two NCAA College Cup squads from a year ago.
·       The Panthers have already faced then-ranked No. 2 Indiana and No. 1 Wake Forest on the season, and are set to square off with seven other teams either ranked or receiving votes in the United Soccer Coaches Poll in No. 2 Duke, No. 6 Virginia, No. 9 Virginia Tech, No. 10 Notre Dame, No. 18 North Carolina, RV Boston College and RV Akron. 
KIZZA COMMANDING ATTENTION
·       Junior Edward Kizza closed out his 2018 campaign tied for third in program history for single-season goals (15) while ranking fifth in points (30).
·       Kizza ranked fifth in goals nationally, ninth in shot accuracy (.622) and 11th in points per game (1.67), while ranking first in each category among ACC players.
·       The historic season led Kizza to First Team All-ACC honors, Second Team All-Region recognition and a spot on the All-ACC Academic Team.
·       Through five games, Kizza paces the team in shots (18), shots on goal (nine), points (eight) and goals (four).
·       The Kampala, Uganda, native picked up right where he left off to start the 2019 season, recording a brace against No. 2 Indiana in the squad's season-opener Friday, Aug. 30. In the match, Kizza recorded the fastest consecutive goals in program history after scoring at the 35:24 and 35:31 mark, with the seven-second difference besting the old record of 34 seconds set by Michael Tuohy and John Cordier in 2013.
FRESHMEN FOCUS
·       The Panthers freshmen class has made an immediate impact through the first five games of the 2019 season.
·       Five freshmen have already seen playing time through the early stretch of the season in Lucas Cyriacus, Josh Hesson, Valentin Noel, Arturo Ordonez and Veljko Petkovic, with starts from Noel (five), Hesson (four), Ordonez (three) and Petkovic (two).
·       Pitt's freshmen class has accounted for 25 percent of the team's goals so far this season, with Hesson and Petkovic recording one apiece, while juniors Edward Kizza (four) and Sito Sena (two) have collected the others.
THE SERIES – AKRON
·       In a series that dates back to 1957, the Panthers and Zips have met 27 times previously, with Akron owning an 18-7-2 all-time edge.
·       The two teams' last meeting came in 2018, with then-ranked No. 4 Akron picking up a 1-0 home victory against Pitt.
·       The Panthers' last win against the Zips came via a 1-0 home victory in 1983, with the two squads' next contest not coming for another 34 years following the matchup.
UP NEXT
·       The Panthers will jump back into ACC play with a contest against Boston College 7 p.m. Friday, Sept. 20 in Newton, Mass.
Riverhounds MF Danny Griffin
Subscribe to PGH Soccer Now