Despite playing down a man for the final 50 minutes at First Tennessee Park, Pittsburgh Riverhounds SC gutted out a 0-0 draw against Nashville SC on Saturday night.
In earning a franchise record-tying fifth consecutive shutout, the Hounds (14-4-10, 52 points) remained three points behind Nashville for that all-important fourth-place slot in the USL Championship's Eastern Conference.
I think the response was great," head coach Bob Lilley said. "We competed well in the second half. Nashville has a lot of experienced guys and they were patient and made us do a lot of running.
Actually, with New York Red Bulls II's loss in Louisville and Indy Eleven's Friday night defeat in Birmingham, Pittsburgh remains just four points out of first with six matches to play. Tuesday's meeting with Memphis is looking particularly pivotal, especially since the Hounds have two matches in hand on everyone ahead of them, save Indy.
As for Saturday's action in Tennessee's capital city, Hounds center back Tobi Adewole was sent off for a reckless tackle on 40 minutes, spoiling what had otherwise been a solid first half on the road for the visitors.
Here's the foul that Tobi Adewole was sent off for. #NSHvPIT pic.twitter.com/eDef4wAg12

— Speedway Soccer (@SoccerSpeedway) September 22, 2019
Keeper Kyle Morton stymied all four on-target shots from Nashville, including a point-blank stop on top Nashville striker Daniel Ríos in the 11th minute. Jimmy Ockford had the home side's best chance after halftime, but Morton smothered his firm header off a corner kick.
Overall, a 10-man Hounds side did well to frustrate Nashville, which could've jumped into first with a victory. A halftime sub of newly-signed back Todd Pratzner for Robbie Mertz symbolized Pittsburgh's posture over the final 45, but pragmatism was justified given the situation.
Once the whistle sounded, the Hounds had matched the 2018 team in terms of consecutive clean sheets. While it was their second scoreless draw in three weeks against a fellow East contender, they still have the fewest losses in the conference.
"I thought we played with a lot of heart and a lot of effort and made a lot of good plays. They asked a lot of us and we had the ability to compete well and come out with a draw, which is important to us."
Pittsburgh will make up one of those lingering games-in-hand at 8 p.m. Tuesday when it challenges streaking Memphis 901 FC (8-13-7, 31 points), which has won four straight to stay on the edge of postseason contention.
RIVERHOUNDS SC (14-4-9, 51 points) vs NASHVILLE SC (16-7-6, 54 points) 
Saturday, Sept. 21 | 8 p.m.
First Tennessee Park, Nashville, TN
Television: Pittsburgh's CW
Streaming: ESPN+
Live Stats: USL Championship Match Center
Live Updates: Twitter at @RiverhoundsSC and #NSHvPIT
MATCHDAY UPDATES from Matt Gajtka
90+3′ – Hounds do a good job playing keepaway. Final whistle! Hounds hold on and have blanked five straight opponents, tying a franchise record set … last year. They remain three points back of Nashville, headed to Memphis for a Tuesday night tilt.
90′ – Three minutes of added time. Nashville has had a knack for late go-ahead goals at home, including Tuesday against Birmingham Legion FC.
87′ – Volesky nearly has something on the counter, but Winn slides in to deny the shot! Goodness … nice play by Kerr to volley it forward with Nashville scrambling around at midfield.
86′ – Morton again! Jimmy Ockford heads a corner kick down, but the Hounds' keeper comes up big.
85′ – Dabo has a crack from 25 yards … pikes it high. First time a Hound could tee one up in a while.
84′ – Dos Santos has given everything he has tonight. Kevin Kerr takes his place.
82′ – Winn and Matt LaGrassa test Morton in quick succession. Firm shots but pretty centered in the goal. Less than 10 minutes from a fifth consecutive clean sheet.
80′ – Vancaeyezeele plays with fire, tackling the ball away from Winn from behind. Two close shaves in the box.
76′ – Final sub for the home side: Last year's 25-goal man Cameron Lancaster swaps with Rios. Meanwhile, Tribbett just misses his second goal against the Hounds this season, flicking a header over the top.
73′ – Another sub for both sides. Christian Volesky steps off the bench for Brett. Nashville attacker Kharlton Belmar is out in favor of frequent sub Tucker Hume.
68′ – Lebo misses again! A strong move to create space at the penalty arc, but he whips this look wide right. He's missed to both sides now.
60′ – Greenspan just got away with a shove in the back of Rios at the edge of the 18. Would've been a penalty kick for Nashville had it been called. A draw is looking better and better by the minute.
54′ – Forbes lets rip on a cutback move to the middle. It's blocked, but the Hounds aren't exactly sitting back. When they counter, they're still going hard.
50′ – Dos Santos escorted off the pitch with a head injury. Athletic trainer Tim Smith guides him off.
46′ – Second half is a go. Pratzner checks in for Mertz as the Hounds go defensive. Nashville makes a halftime sub, too: Winger Alan Winn for back Bradley Bourgeois.
45+1′ – Moloto just missed a wide open goal. Darnell King put the ball on a silver platter for him. The former Hound pulled it wide from near the penalty spot. What a break. Halftime is here. Bob Lilley is incensed, chasing referee Dadkho across the field to get in a few more words. Nashville keeper Matt Pickens helps separate the two.
44′ – Old friend Lebo Moloto nearly helped Nashville go ahead. His corner kick finds Rios, but the flashing header sails high.
39′ – RED CARD, Hounds. Oof. Adewole tried to step up field against some sturdy Nashville pressure. He lost control and went in hard with a sliding tackle on Ken Tribbett. I thought it might be a yellow, but referee Farhad Dadkho reached for the red. That changes everything, obviously. Tribbett helped to the sideline.
That's the second straight red of the season for the Hounds, along with Vancaeyezeele's in North Carolina last month. Adewole will also miss Tuesday's match at Memphis. Good thing they signed Todd Pratzner.
36′ – Interesting to watch Nashville sit back a bit on its home pitch. The Hounds just connected about 20 passes, probing the attacking half. Nothing to show for it, but they're the ones dictating at the moment.
30′ – Not a huge number of shots as each team is struggling to connect in the final third, but the Hounds have split possession with Nashville so far and appear to be on level terms otherwise. Good start for a road game.
20′ – Injury stoppage as Dover and Justin Davis knock heads while going up for a ball. They appear to be OK to continue.
17′ – Promising attack for Nashville down the right flank, but the offside flag is up. James' old mates seem to be attacking his side of the pitch.
11′ – Save of the season? Nashville striker Daniel Rios turns away from James in the Hounds' penalty area, but Morton comes up with a point-blank stop as he topples over!
7′ – After a whole lot of nothing for the opening few minutes, the Hounds put together a gorgeous sequence of passes and create the first chance. It ends with Dos Santos directing Mertz's square ball just wide.
Hounds starters: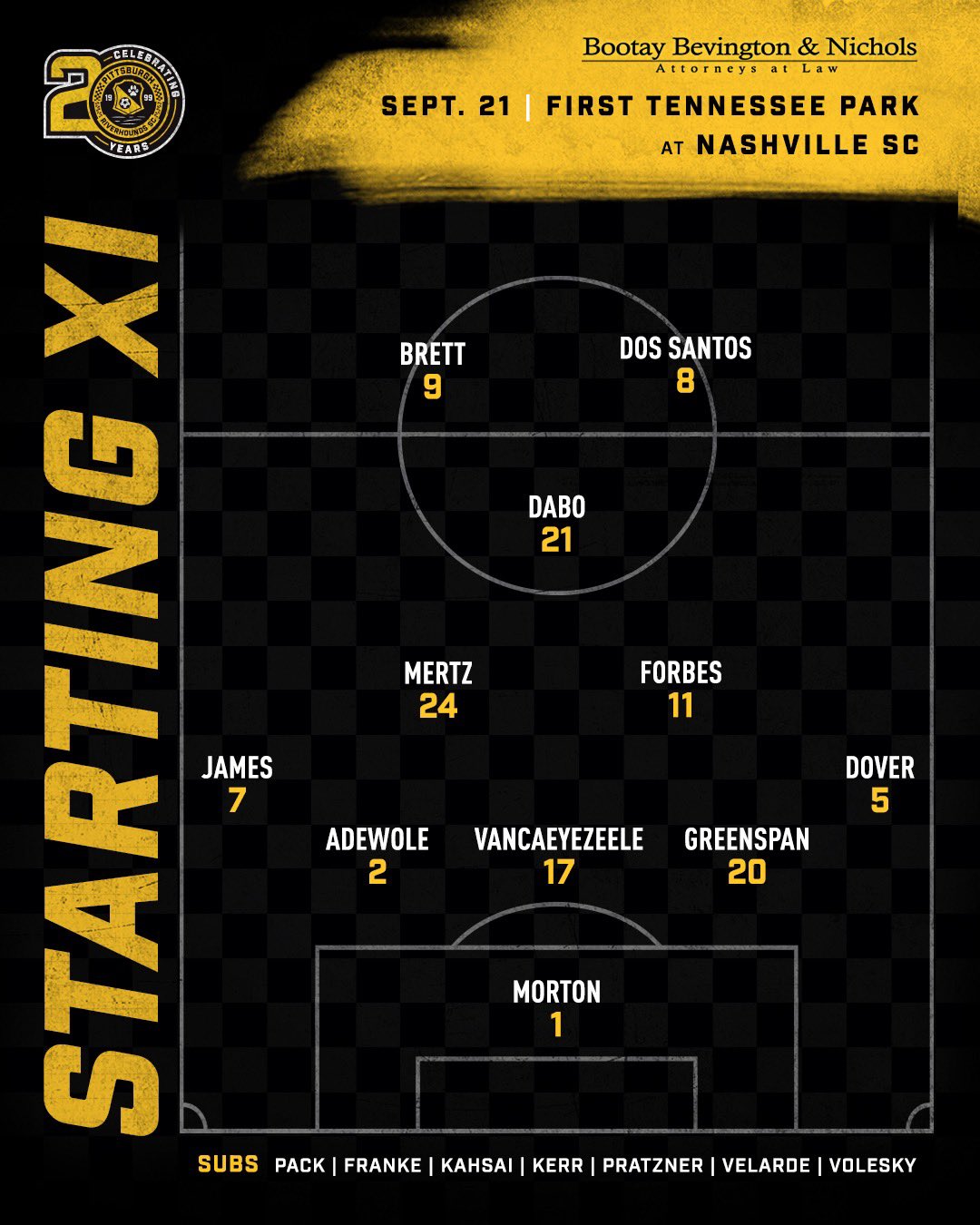 John Krysinsky's anticipated Riverhounds starting XI:
GK – Kyle Morton
D – Joe Greenspan, Tobi Adewole, Thomas Vancaeyezeele
Jordan Dover, Ryan James
MF – Kenardo Forbes, Mouhamed Dabo, Kevin Kerr
F – Neco Brett, Steevan Dos Santos
PSN COVERAGE THIS WEEK 
John Krysinsky breaks down the match-up in his weekly Riverhounds SC Notebook:
Riverhounds SC Notebook: Measuring up the Music City showdown
Here's Matt Gajtka's View from the Booth…
The Hounds added some depth this week with the addition of Todd Pratzner…
Adding more defensive depth, Hounds bring back Todd Pratzner
Sounding Off on Soccer: Hounds survive tussle in Tulsa plus Open Cup talk
Subscribe to PGH Soccer Now