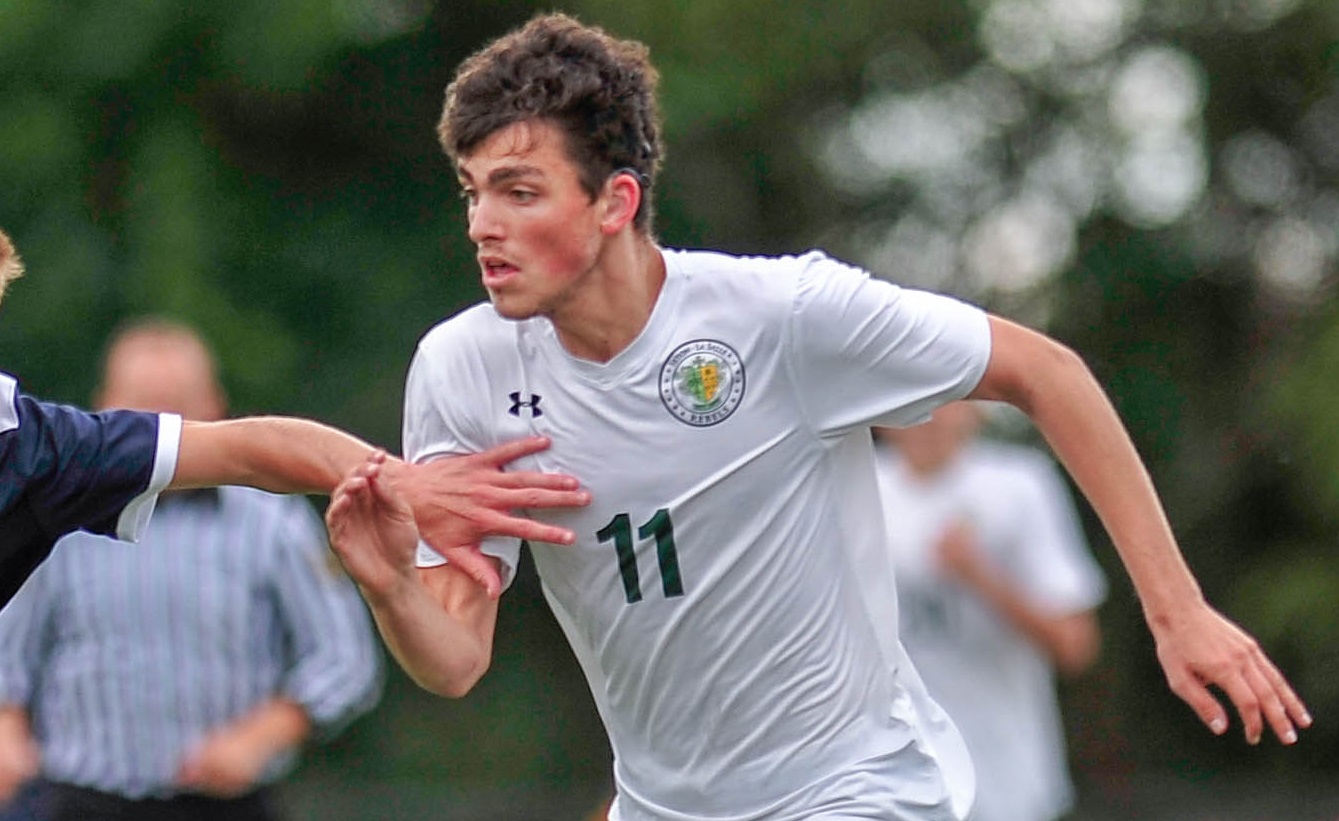 Nearing the end of a Seton LaSalle High School's boys soccer team's training session in late October 2016, it was time to go through a round of practicing and preparing for penalty kicks as many playoff-bound teams do late in the season.
Seton LaSalle's players started to do what typically happens during end-of-practice PK contests — trying everything in vain to throw each other off and break each other's concentration.
Then came Tyler Stack's turn to take his kick.
As the freshman placed his ball down on the spot and turned to look at the goal, he could hear his teammates saying whatever they could to get into his head.
"They were talking smack," Stack said.
Before he lined up to take his kick, the team's senior captain, and his older brother, Chris walked over to him to offer a little advice.
"Take out your ears," the elder brother relayed to his younger brother.
The younger brother stepped back, then took his finger toward his ears, and gave himself a little edge by turning off his cochlear implants.
When he 'took off his ears', Stack stepped out of the hearing world for that moment, and into silence.
Stack then stepped into his kick, beat the goalkeeper with a flawlessly executed strike.
"After I took my ears out,then scored, my teammates just lost it," Stack said.
"Kids were yelling things, and sure, Tyler could hear them at first. He embraced it, then had some fun with it," Seton LaSalle head coach Nick Balzer said. "That was one of those moments when things really opened up for him. When his teammates and coaches saw that he was a part of the team, that he could go along with everything. Not that they didn't before, but they really embraced him after that."
If you haven't figured it out by now, Tyler Stack is deaf.
Without the use of his cochlear implants, he lives in a world of silence. The implants allow him to hear almost everything transmitted through the device, which processes sound.
In his critical early developmental years, from age 1 until he was in sixth grade, Stack attended DePaul School for Hearing and Speech, a school dedicated to providing Listening and Spoken Language education, resources and support for children who are deaf and with hearing loss to be successful in the hearing and speaking world.
It was during this time, he received cochlear implants through surgical procedures at UPMC Children's Hospital of Pittsburgh. He received his first cochlear implant when he was two, and the second, when he was five years old.
A cochlear implant consists of an implant package, which is secured inside the skull, and a sound and speech processor, which is worn externally (outside the body). Several components of the cochlear implant work together to receive sound, transfer it to the auditory nerve, and send it to the brain.
Thanks to mandatory newborn screening and advancements in detection, many young children today with hearing loss are being identified younger, and those who are eligible — typically diagnosed as 'profoundly' deaf — can receive implantation as young as six months.
The process of learning how to process sound and speak with implants can be intensive. Stack didn't receive his second implant until age five, and eventually made the transition from DePaul School into mainstream in 2012, when he enrolled as a sixth grader at Saint Margaret of Scotland in Green Tree.
No matter what school he was in, Stack always participated in sports alongside his hearing peers. Growing up, Stack played soccer, basketball and dek hockey.
But his favorite was always soccer.
"It was always number one," Stack, who most recently has been a part of Seton LaSalle's volleyball team.
In fact, even when he was still a student at DePaul, he was able to participate on St. Margaret's soccer teams with kids where he would eventually attend mainstream school.
Stack's family's been there every step of the way supporting him, and have experienced the ups and downs of dealing with having a child who's deaf and loves playing sports.
"Tyler recognizes that are difficulties he faces each time he takes the field," Tyler's mother Susan Stack says. "The noise on the soccer field and on the basketball courts are a lot less than in a professional stadium but he doesn't quit or get discouraged. He has been fortunate in that his teammates accept him and actually work hard to make sure he knows the plays. It is really awesome that he has that kind of support."
As for concerns with his playing sports and wearing a cochlear implant, the Stacks had their reservations.
"Especially with soccer," Susan said. "All we ever heard about was headers. As he got older, got away from wired implants, that became less of an issue. But I still, every game, as a parent, you're going to be concerned and it's never easy to watch."
The adjustments when attending a new school wasn't easy for Stack when transitioned to new schools, but always has felt he's had tremendous support where ever he's been.
"It was difficult at first. You have to get adjusted to environment. There's more going on. More homework. But you get used to it and I was able to make friends quickly," Stack said. "Sometimes, I would just say, 'I can't hear.' I'd tell them my problem, and it was okay."
Stack's teachers and coaches who've been part of the transition, were aware of some of the challenges and had their concerns at first, are glad to see his progress.
"From afar, when I first knew him, I always wondered if it (hearing loss) would hinder him," Balzer said. "But it hasn't. He's been able to fit right in."
Stack brings significant athletic attributes, as he stands at 6-foot-1 and brings a physical presence on the soccer field.
"Tyler is a very good soccer player, and an even better young man.  He's one of the more athletic players to come through Seton-LaSalle over the last decade," said Pittsburgh Soccer Now contributor Ryan Kelly, who also coached Stack at Seton-LaSalle from 2016-18.
"I think since his brother, Chris, was a senior during his freshman year, it helped bridge the gap of joining high school."
Stack has thrived for Seton LaSalle's soccer program, where he played significant minutes on the varsity squad going all the way back to his freshman year.
Seton LaSalle has a successful boys soccer program with a winning tradition, but maybe more importantly, the soccer team has provided continuity with its current coaches being alums.
"It's honor to be part of the program. To be around coaches and great players. And to have coaches who came from Seton (LaSalle) too," Stack said. "They love coming back being a part of this, and helping all of us."
On the field, Stack scored his share of goals (12 goals and 8 assists) during his junior season, mostly as a striker. As the team wrapped-up preseason training, Stack was named one of the team captains.
"It's a great feeling," Stack said with a big smile. "Being a leader and role model for younger guys. I want to help them out. Point them in right direction. Hopefully they can learn from me — and will help them as they grow."
Stack is aware of what makes him unique, but also at the same time, he doesn't alter his approach on the playing field.
"I'm different. Opponents are probably not used to seeing someone like me on the field," Stack said. "I just go out there and be myself. I let my play do the talking. I can play more positions than most guys."
This season's brought a new challenge for Stack and his team, and he's had an opportunity to showcase his versatility as a player.
"After a few games, we recognized that we needed some help along the back line," Balzer explained. "We asked Tyler to make the change from his spot at the top of the attack, to be one of our defenders. With his size and speed, he has really made a difference back there."
At first, Stack wasn't exactly thrilled with the move.
"I was against it. I wanted to help the guys. It's my senior season," Stack stated.
But he ultimately came to believe the move would be best for the team.
"We graduated a lot of players from last year's team, so it's a sacrifice for the team. It may take away some offensive power. But, at least I've been able to help keep the goals out, and playing back there, I see the game from a different view — seeing the whole field."
"He's really stabilized things for us defensively, and has made a difference," Balzer said. "He's been very receptive, has become irreplaceable back there. We made this move after a tough non-section loss to a very good Winchester Thurston team. He has the size, and speed to track down attackers."
In addition, Balzer believes that even though Stack has played both as a forward and in the back in his high school playing time, that with his pace and ability in open spaces, also having a strong left foot he could play on the wing at the next level.
Stack played for a bit with Century United, but now plays club soccer with Arsenal Football Club of Pa. He has begun to visit colleges, in fact, and recently made visits to Marietta and Mount Union.
"I'm interested in playing in college, and would like to go to school for either exercise science or physical therapy," Stack said. "It would also be great someday to coach and help younger soccer players learn the game."
Seton LaSalle, now 5-1-2 in Class 1A, Section 4, are in the battle with a few other teams for the section title this year, but Balzer and Stack are both confident that they'll finish strong
"It took a while to get accustomed," Stack said. "We have good attackers and midfielder, and we're coming together. We're a good team.
"Brentwood and Bishop Canevin are tough– and teams in our section, when they play us it's the focal point of the season."
Now, playing as part of the back line, Stack, who will wear both cochlear implants while playing, is constantly in communication with his teammates, as the coaches typically relay information into him throughout each game.
"If they need to get my attention, they'll relay messages to me. I get information from my teammates," Stack said.
With improvements to technology of cochlear implants, Stack's parents' concerns have become less about the device's transmitter coming off during play as it's now wireless, but more about playing through the rain as the implants can be damaged from extreme moisture.
In fact, after every game, Stack has to put his devices in a dehumidifier.
"He's one hundred percent reliant on his implants when communicating," Susan Stack said. "If it's raining, if he has to take them out, it makes things difficult."
"It's a maximum feeling when I wear both (implants)," Tyler Stack admits his reliance and advantages of wearing his CI's. "I want to be able to hear everything."
Stack embraces the times when he can take out his implants, admitting that when he gets home from school each day, the first thing he does is take out his CI's, which helps him decompress from the noise and stress that comes with being a high school student-athlete.
"Tyler had some obvious restrictions that you would attribute to his hearing ability, for example it would be difficult to communicate tactics with him from across the field," Kelly adds. "He was sometime limited in games depending on the amount of rainfall during a game or training. I actually thought this was a positive, but he never stops before the whistle is blown."
Susan Stack also added that with the new technology, the CI's also provide Tyler with opportunity to use a Bluetooth device that could connect his device to a mini-microphone on iPhones that a teacher in a classroom setting or potentially even a coach could use to communicate with him on the field.
"For (PIAA) officials, (Seton-LaSalle) had to write a formal letter so they knew what was going on, and that he had this technology, but wouldn't use it to his advantage," Susan Stack said.
Tyler prefers to be just like everyone else though.
"Even when I can use it (Bluetooth or other devices), I try to avoid using that. I am usually in the first or second row of class room and I do pretty well and can hear my teachers," Stack said. "One time my teacher had a (Bluetooth microphone) and used it, but I didn't like it. In fact, I heard some other conversations."
Stack will occasionally run into an opponent who'll say something to him after his soccer matches.
"Just last week, after our game with Brentwood, one of their players came up to me and said some really nice things about how impressed he was with how I played and how I handle my problems," Stack said. "That was pretty cool."
Stack has taken on all challenges, and is looking forward to the many that lie ahead.
"Knowing what he has overcome in his life, its hard not to be in the corner of a young man like Tyler," Kelly said. "I'll always be rooting for him to succeed in anything he does.  I am sure Tyler will be a large contributor in the success Seton LaSalle will have this season – as he has been the past three seasons.
"He's had to fight for everything's he's done," Balzer said. "He's battle-tested, and dealing with his challenges every day will prepare him for anything that comes his way to come out on top in life."
---
*Editor's Notes:
Thanks to funding from PA Initiative on Assistive Technology, "Time Out! I Didn't Hear You" is a book that covers every high school sport in PA and describes the types of assistive technology and simple strategies that can make all sports accessible to young people with hearing loss.  It is available for free, to read or download on the web: http://www.pitt.edu/~cvp/timeout.pdf.
Below you'll find Tyler (when he was much younger!) in a promotional public service announcement promoting DePaul School's Golf Outing.
Here's a photo of Tyler Stack (circa 2009), at DePaul School's Annual Reach for the Stars Gala, along with the author of this feature, Pittsburgh Soccer Now's managing editor, John Krysinsky.
Riverhounds MF Danny Griffin
Subscribe to PGH Soccer Now