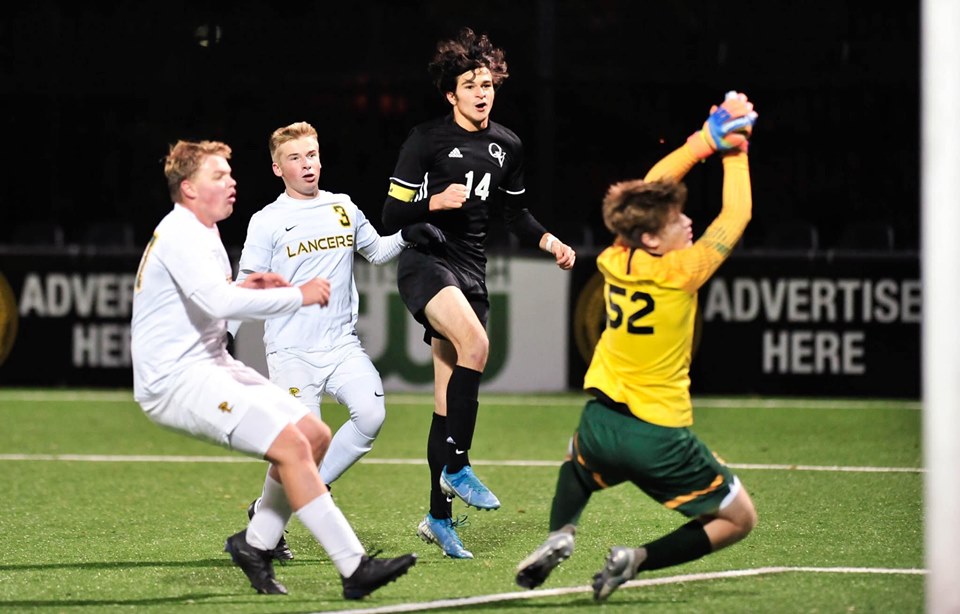 WPIAL Class 2A Boys Soccer (29 teams) 
Defending champs:  Quaker Valley
Instant Classic: Quaker Valley shines in the big moments to beat Deer Lakes, 4-3, in OT thriller
Key Storylines: 
The 2019 season brought a break-up to the four-year run of Quaker Valley vs Shady Side Academy WPIAL finals matches in this classification, as Deer Lakes nearly broke through to take the title, only to lose a heart breaker in overtime to the Quakers.
The Quakers will be looking to reload, as they lost some key seniors, namely Dominic Reiter and Fritz Reiter. QV will have a new coach, as Andrew Marshall stepped down in the off season after leading one of Western PA's most storied programs to two more WPIAL and PIAA titles in this time. Marshall will be replaced with a Quaker alum and previous assistant coach J.J. Veshio,  North Catholic and Freedom (both finished 9-3 last season in section) will be nipping at QV's heels in Section 1 this season.
Deer Lakes has been a trendy pick to finally win this classification after knocking at the door the past few years. After all, they return a terrific trio of midfielders that include Mike Sullivan, Devin Murray and Colton Spence. The Lancers will already have their hands full in Section 2, where nearby rival Shady Side Academy will be looking to get back to the top again with Zach Conti and Sam Farner leading the way.
South Park is another program that has been a perennial WPIAL championship contender, and coming off a 13-4 season with numerous key returning players, they'll be in the mix again. Last year though, they were pushed by upstart Keystone Oaks in Section 1. Keystone Oaks.  This was a very competitive section last season, with Elizabeth Forward and Steel Valley in the mix as well. Throw in the addition of 2018 Class 1A WPIAL champions Avonworth, and suddenly this section may be one of the most loaded in all of the WPIAL.
After winning its first playoff match since 2002 in 2018, Charleroi ran roughshod through Section 3 last year, finishing unbeaten in section play, but came up short in the playoffs, losing an overtime thriller to Shady Side. Charleroi will lose a couple key seniors (Cullin Woytovich, the program's most prolific scorer, and Leo Iacovangelo), but have a strong returning core that will put them right in the mix to win the section title again. One of the realignment changes will see Mt. Pleasant, who came up just short of a playoff berth in the very competitive section 2, added to the mix in Section 3.
In addition to Avonworth moving up to 2A, another new addition to this classification will see Ligonier Valley joining the WPIAL for the first time since 1968, before they even had a soccer program. Ligonier Valley will be in Section 2.
Another thing that remains up in the air, is what the WPIAL playoff format will look like. The season is scheduled to be completed by October 19. The original playoff format would have seen the Finals being played at Highmark Stadium Thursday, October 29 through Saturday, October 31, but that's up in the air at the moment.
Here's a deeper look at the 2A breakdown by section following realignment.  (Bold: 2019 Section Champions; ^ moved up in classification, © co-op )
SECTION 1:  
Avonworth ^, 

East Allegheny

Elizabeth Forward

Keystone Oaks

South Allegheny

South Park

Steel Valley
SECTION 2:
Burrell

Deer Lakes

Derry

Leechberg ©

Ligonier Valley

Shady Side Academy

Valley 
SECTION 3: 
Brownsville

Charleroi

McGuffey, 

Mt. Pleasant

Southmoreland

Waynesburg

Yough
SECTION 4: 
Ambridge

Elwood City

Freedom

Hopewell

Mohawk

New Brighton

North Catholic

Quaker Valley
Here's our predictions for this year's section champions in 2A Boys Soccer:
2020 Section Champions Predictions:  
South Park, Deer Lakes, Charleroi, Quaker Valley
Players to Watch 
Zach Conti, Shady Side Academy
Sam Farner, Shady Side Academy
Jacob Guerrini, Burrell
Joey Irwin, South Park
Devin Murray, Deer Lakes
Colton Spence, Deer Lakes
Michael Sullivan – Deer Lakes
Rutger Randall – Keystone Oaks
Dylan Weiss – South Park
Lucas Toohey – Mt. Pleasant
Riverhounds MF Danny Griffin
Subscribe to PGH Soccer Now