NCAA Men's Soccer Tournament — Elite EIght (Quarterfinal Round) 
FINAL:  Pitt 3, Washington 0 



Summary
The Pitt Panthers are headed to its first ever College Cup with 3-0 win over Washington to continue its historic season.
In a tightly contested affair, only broken open by two late wonder goals from the middle of the field with the Huskies' goalkeeper Sam Fowler pulled way off his line, Pitt secured its record-breaking 16th win of the season and advanced to the NCAA Tournament's National Semifinal round, where they'll take on No. 3 Indiana (Friday, May 14 – 8:30 p.m.).  
"Tremendous effort by the guys today," Pitt's head coach Jay Vidovich said. "We fought when we had to fight and we found the back of the net and a way to get a result. I am very proud of them and I think we did a great job of taking our opportunities controlling the match and managing it and with exceptional goals. We're looking forward to the opportunity to compete in the semifinal."
"We found a way to get a result," Pitt's Head Coach Jay Vidovich said. "I am very proud of them.  I thought we did a great job of creating opportunities. Controlling the match and managing it. And there were some exceptional goals there."
Pitt's goals came from Valentin Noel, Bertin Jacquesson and Veljko Petkovic. 
The teams played to scoreless tie through the first 45 minutes, with each side generating a chance which had shots banging off the crossbar.
In the 27th minute, during a stretch of play when Pitt was seemingly in control, dominating possession and playing on the front foot, Petkovic had room to shoot from the top of the box, but his shot careened off the bar.
That would be Pitt's best chance in a half where they outshot the Huskies, 6-1 (3-0 on target). Still, the Panthers had to withstand their share of dangerous moments as UW pushed forward on counter chances and drew a number of fouls and earned corner kicks, resulting in providing added pressure on goalkeeper Nico Campuzano.
Pitt's keeper was called to come off his line many times throughout the match.
The Huskies started the second half with a few more opportunities, including a free kick and ensuing corner kick in the 46th minute.
Eventually, Pitt would regain its hold on the match with extended possession and build-up — stretching the Huskies out just enough to find an opening.
That moment came in the 52nd minute, when ACC's Defensive Player of the Year Jasper Loeffelsend had time and room to deliver a pinpoint cross into the box for Pitt's leading scorer, Valentin Noel.
The sophomore from France redirected his header into the back of the net to give the Panthers the 1-0 lead.
Valentin Noel's goal in the 52nd minute was his 14th of the year.

Noel ranks second in the nation in goals scored. With one more, he would tie Oregon State's Gloire Amanda for the national lead.pic.twitter.com/Q2wyhiNTQN

— Mike Wilson (@xmikewilson) May 10, 2021
The Panthers rode some additional momentum after the goal, but Washington persevered.  The Huskies would begin to mount more pressure, eventually turning the tables of the match to force Pitt's formation into a defensive mode.   The Panthers began absorbing more crosses and with every foul or clearance in the final third, giving way to another UW corner, free kick or long throw attempt into the goal box.
Campuzano remained poised, coming off his line numerous times to win balls in the air and deny shot opportunities for the Huskies.
66' | Just an inch away from the tying goal!

Pitt 1
UW 0#GoHuskies pic.twitter.com/x41syFdfgI

— Washington Men's Soccer (@UW_MSoccer) May 10, 2021
As the match came down to the final moments with Pitt clinging to a 1-0 lead, Campuzano then made his biggest save of the match, extending his leg to deny UW's Dylan Tevas' short range shot from the left side.
88' | Teves' shot is touched JUST enough to go wide, what a chance!

Pitt 1
UW 0#GoHuskies pic.twitter.com/vvqbTHQF6U

— Washington Men's Soccer (@UW_MSoccer) May 10, 2021
On the following corner kick, the well fortified Panthers denied the Huskies any chance to get a shot away.  In fact, on Pitt's clearance, holding midfielder Jackson Walti found Bertin Jacquesson breaking along the left sideline.
Jacquesson managed to get a solid touch, then noticed that UW's keeper Sam Fowler was retreating back after coming up for the corner kick and left the goal open.  The freshman from France then sent a perfectly placed long ball forward and into the open net to give the Panthers a 2-0 lead.
Lightening struck twice in a matter of a minute for the Panthers, as Petkovic, who missed one in the first half off the bar, redeemed himself with a wonder goal of his own. Again noticing that Fowler had come off his line, the midfielder from Serbia drove a high, looping ball toward goal from the center circle area.
It was a perfectly placed ball, sailing over the extended arms of Fowler to give Pitt the icing on the cake goal and set off a celebration in the 90th minute.
The Pitt men's soccer team finally reached the College Cup — a first in program history — in Jay Vidovich's sixth year at the helm of the program.
The final seconds!

"The Pittsburgh Panthers, for the first time in program history, are in the College Cup!"#H2P pic.twitter.com/cmSXpsx5cq

— Pitt Men's Soccer (@Pitt_MSOC) May 10, 2021
POSTGAME REACTION 
With Head Coach Jay Vidovich:
Former Pitt keeper Will Marshall joins John Krysinsky with postgame reaction.
Making program history ✅@Pitt_MSOC claims the victory over Washington, 3-0, advancing them to their first #CollegeCup!#NCAASoccer pic.twitter.com/KOzyMlRN7l

— NCAA Soccer (@NCAASoccer) May 10, 2021
Game Day Updates
FINAL — PITT 3, WASHINGTON 0
PITT WINS! The Panthers are headed to the #CollegeCup with 3-0 win over Washington to continue its historic season with. Goals from Valentin Noel, Bertin Jacquesson and Veljko Petkovic!
90- — PITT 3, UW 0 — ITS A WONDER GOAL from Veljko Petkovic from midfield as Sam Fowler was off his line.
89′ — PITT 2, UW 0 — GOAL PITT — Bertin Jacquesson sends one to empty net.
82′ — Pitt's starters coming back into the match Jacquessen, Dexter and Petkovic for Bailey, Mort and Peperak.
I'd love the stat for the number of times Pitt's keeper Nico Campuzano's had to go up to secure a high ball into the box.
79′ — Pitt doing a lot of defending as UW bringing more pressure. Last chance comes with shot goes off Husky teammate, but ref calls UW off side.
Little more possession would help the Panthers in final 10 minutes.
70′ —  Terrific effort by Nico Campuzano to secure ball from dangerous free kick.
68′ — Collision between Peperak and UW's GK Sam Fowler right by the 18. Both players slow to get up. Could there be a foul/card?? 68′ 1-0 Pitt
66' | Just an inch away from the tying goal!

Pitt 1
UW 0#GoHuskies pic.twitter.com/x41syFdfgI

— Washington Men's Soccer (@UW_MSoccer) May 10, 2021
57′ –Two subs for Pitt needing more energy on the width…
IN: Matt Bailey and Luke Mort
OUT: Bertin Jacquessen and Alexander Dexter
52′ — GOAL — PITT 1, WASHINGTON 0
Valentin Noel with the header goal.  Cross in from Jasper Loeffelsend And just like that — Pitt takes 1-0 lead
HALF – PITT 0, WASHINGTON 0
Pretty well played 45 minutes between teams with contrasting styles. Pitt with edge in shots (6-1, 3-0 on target) and possession, but UW showing can be dangerous on set pieces & on counter
42′ — Pitt gets forward with some nice combination passes. Petkovic find Noel on right side but shot/cross is gobbled up by Fowler.
40′ — Yellow card on Washington — looks like it was Ryan Crowley 40′
35′ — Tables have turned in past few minutes. Washington threatens a few times on set pieces.
34′ — Long throw results in UW's Ryan Sailor header going off crossbar!
33′ — corner from Taves — Campuzano has to punch it out.
32′ — Another foul for Pitt – on Crivello – and now free kick from appox 28 yards out for UW. Campuza
no punches away ball to far post.
31′ — YELLOW CARD for Pitt's Ordonez
28′ — Panthers getting into a rhythm here — Jacquesson gets a shot from right side. Saved by Fowler.
27′ — Petkovic hits the bar!!! Terrific patience by Pitt leads to shot opportunity from top of box, but match remains scoreless.
24′ — Crivello cross into box but Dexter can't pull trigger quick enough. Cleared by UW.
22′ — Pitt's holding possession edge, and have been very patient, as UW defending well inside the box. They finally earn a corner, but second ball to Ordonez is cleared.
12′ — Pitt can't give UW too many set piece opportunities. They've scored on a few already this tournament. Panthers defended both free kick and ensuing corner pretty well.
11′ — Loeffelsend YELLOW CARD for coming in a bit late on slide tackle.
10′ —  Yellow Card Pitt's Jasper Loeffelsend is in the books early on for a hard challenge
Somehow a thru ball from Mirkovic gets to Loeffelsend — and shot is saved by Fowler. Pitt looking good in getting forward there.
Here's Pitt's starting lineup…
Washington's starters …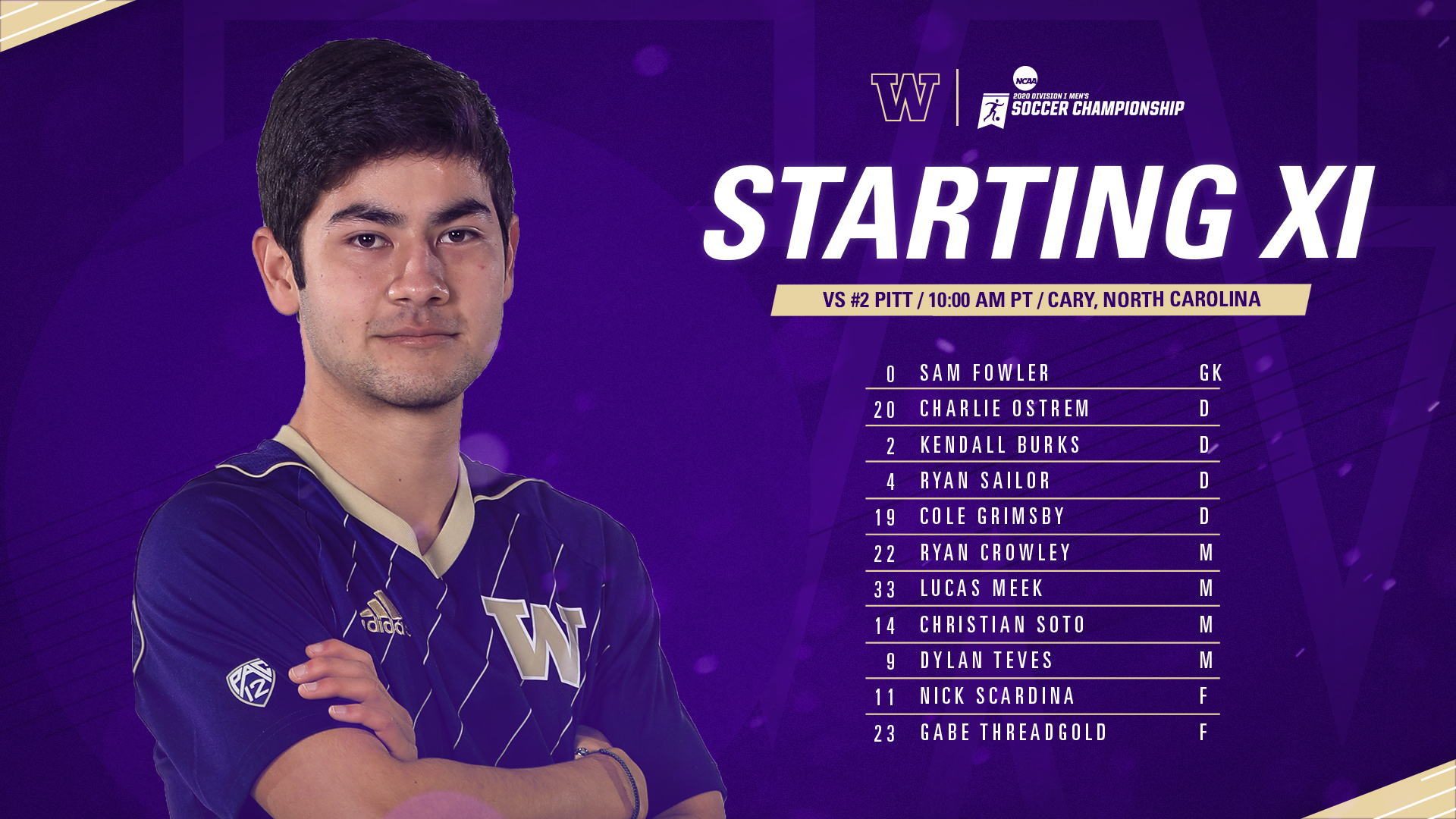 Look for starting lineups to be posted here shortly before 1 p.m.   We'll also provide in-game updates there too.
Preview / Key Storylines 
The Pitt men's soccer program is on the doorstep on reaching the promised land.  With a win on Monday, the Panthers will earn its first-ever appearance in the NCAA College Cup National Semifinal.
In fact, Washington is in the same boat, as this is their third appearance in the Elite Eight, but they've also never reached Men's Soccer's edition of the Final Four.
Pitt has been ranked in the top five of the United Soccer Coaches Poll for much of the season, even spending two different periods at the No. 1 spot in both the fall and spring portions of the 2020-21 extended season.  With No. 1 seed Clemson losing to Marshall, Pitt and No. 3 Indiana are the top seeded schools remaining among the Elite Eight.
This is expected to be a difficult match-up and a different challenge for Pitt.
The Panthers have been riding high led by its dynamic attack in the second and third rounds, with dominant wins over Monmouth and Central Florida by a combined 10-1 score line. Washington has advanced this far with strong defense and opportunistic scoring, particularly in creating chances from set pieces and service into the box.  This is a battle-tested team (see preview below) which has also beaten teams ranked in the top five this season (wins over Stanford and Oregon).
Pitt Head Coach Jay Vidovich has reached the College Cup multiple times in his previous tenure at Wake Forest, where he won a National Championship.
PSN Pitt Men's Soccer Coverage 
NCAA Men's Soccer Tournament: Washington provides different challenge for Pitt
Pitt punishes Central Florida, 4-0, to advance to Elite Eight
Pitt Game Notes 
PITT BLANKS UCF IN NCAA THIRD ROUND
–        Pitt shutout UCF, 4-0, in the NCAA Tournament Third Round May 6.
–        Sophomore Veljko Petkovic scored twice, including 23 seconds, which is the fastest goal scored in Pitt program history.
–        Senior Alexander Dexter and sophomore Valentin Noel both scored, while freshman Bertin Jacquesson tallied an assist.
–        Graduate student goalie Nico Campuzano earned his 15th win in goal, a new single-season school record. He totaled a career-high 10 saves.
CAMPUZANO MAKING THE STOPS
–        Graduate student goalkeeper Nico Campuzano finished the ACC Tournament with 15 saves and ended the fall season with 31 total saves.
–        Campuzano's seven saves in the ACC Championship Final earned him a new career-high.
–        Campuzano delivered a clean sheet against Boston College at home Saturday, Mar. 13, making four stops for his second shutout of the season.
–        Campuzano totaled a career-best 10 saves in Pitt's 4-0 shutout victory over UCF in the NCAA Third Round. He saved six shots in the first half and four in the second.
–        Campuzano has registered eight games with four or more saves and four games with six or more stops on the year.
–        The Cantabria, Spain, native has 61 saves on the season and five shutouts to his credit. His 61 total saves is first in the ACC and 3rd in the nation.
–        Campuzano's broke the single-season school record for wins with his 15th against UCF. Campuzano passed Adam Spitzer's record of 14 set in 1995.
NOEL, LÖEFFELSEND NAMED MAC HERMANN TROPHY SEMIFINALISTS
–        A pair of Panthers were recognized by the United Soccer Coaches and Missouri Athletic Club Tuesday afternoon, as sophomore Valentin Noel and graduate student Jasper Löeffelsend were named MAC Hermann Trophy Semifinalists.
–        The MAC Hermann Trophy is college soccer's most prestigious award, given to the top player in the country.
–        Noel and Löeffelsend are two of 15 semifinalists and the only ACC representatives.
–        Pitt is also the only team representing more than one player.
THE SERIES – WASHINGTON
–        The Pitt Panthers and Washington Huskies meet for the first time in program history Monday.
–        This is the third-straight contest in which the Panthers meet their opponent for the first time (Monmouth, UCF).
–        Head Coach Jay Vidovich is 1-1-0 all-time against the Huskies.
SCOUTING THE HUSKIES
–        Washington enters the quarterfinal round as the No. 7 seed, holding a 12-3 overall record. The Huskies finished 7-3 in Pac-12 play this year and earned second in the Pac-12 regular season standings.
–        Washington's resume includes two top-5 wins over No. 2 Stanford (1-0) and No. 3 Oregon State (2-1) earlier this season. The Huskies recently defeated Grand Canyon and Missouri State, 2-0 each, in the NCAA Second and Third rounds, respectively.
–        The Huskies enter as the seventh best scoring offensive team in the nation, averaging 2.33 goals per game. They are ninth in points per game (6.33), 13th in assists per contest (2.27) and 11th in shots on goal per game (6.73).
–        Washington is led by junior defender Charlie Ostrem, who received Pac-12 Defensive Player of the Year honors. Ostrem is currently second in the nation with 11 assists and sixth in assists per game (.73). He also has one goal and 13 shots on goal this year.
–        The Huskies are led offensively by junior Dylan Teves, who earned All-Pac-12 First Team honors. Teves has seven goals, five assists, 36 shots and 17 shots on goal for the season.
–        Washington Head Coach Jamie Clark was named Pac-12 Coach of the Year.
Subscribe to PGH Soccer Now