Following Pitt's men's soccer team's 4-0 victory against Central Florida in the NCAA Men's Soccer Tournament's third round on Thursday, there would be little time to savor the victory.
The Panthers, according to Head Coach Jay Vidovich, were already getting proper nutrition and going through recovery from playing two games in five days and  focusing on its next opponent, the No. 7 seed Washington Huskies.
"There would be continued recovery and sleep, we'll have to do more COVID testing, and get back to training," Vidovich confirmed.
There are no days off for a men's soccer program one game away from reaching its first-ever College Cup (Final Four) appearance.  For all of the milestones reached (mainly furthest the program has ever been in NCAA tournament, the most wins in program history — 15 — along with reaching 134 points as a team is a school record for a single season), the Panthers as a group are focused on the next task at hand.
"We'll continue with active recovery, and begin breaking down the Washington game, developing tactics," Vidovich added then said there were varying times for upcoming training sessions. "We're at the mercy of the NCAA.  They let us know what we can and can't do. So, we'll use the next three days to recover and prepare for Washington."
It was also clear that even just about an hour after winning a third round match-up, Vidovich and his coaching staff already had excellent knowledge of their next opponent.
SCOUTING THE HUSKIES 
Conference: Pac-12
Record: 12-3
Head Coach:  Jamie Clark
Expected formation:  4-4-2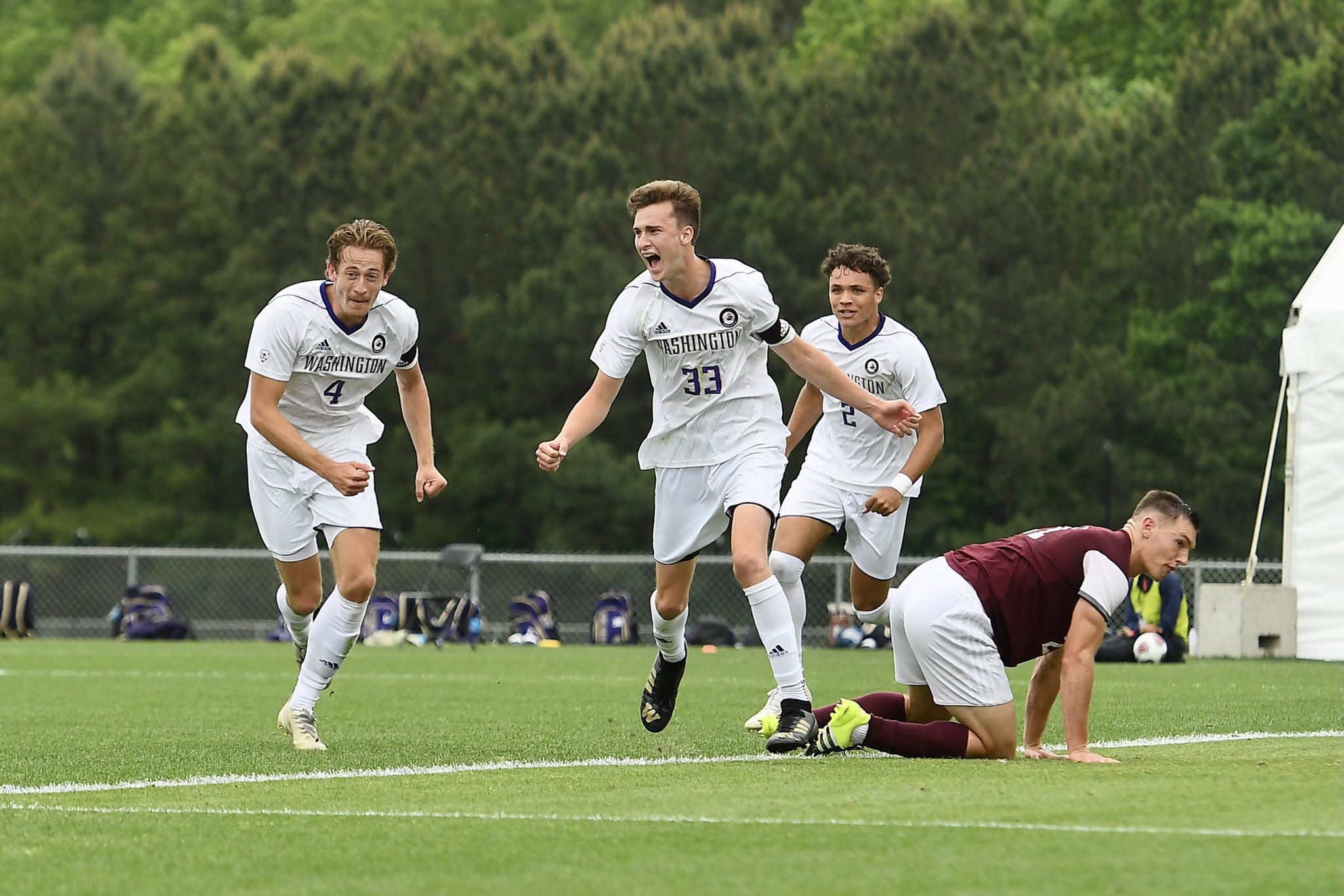 Like Pitt, Washington (12-3) are also on the precipice of its first-ever College Cup appearance.
In the previous season (2019 NCAA Tournament) they were in the same place, sitting on the doorstep to Division I soccer's final four before losing to the eventual National Champions, Georgetown.  The Huskies were the No. 6 seed in last year's NCAA tournament and lost on a pair of late goals to eventual champion Hoyas in the quarterfinals.
"The reputation of the program is fantastic. They've gotten to the elite eight. They've got young men who make it into the pros and have success.  They're a very driven team. They have a history of success," Vidovich said of his initial thoughts on the Huskies.
One of the highest scoring teams in the country, and the team with the highest goal output in the first two games, Pitt will now face its toughest defensive unit since facing ACC rival Clemson.  The Huskies have earned eight clean sheets, surrendering just 10 goals and allowing only 47 total shots on its goal in 15 games played in 2021.
The last two clean sheets have come in NCAA Tournament second and third round wins, each by 2-0 margins, against Grand Canyon and Missouri State.
"They have a coach that has them very organized defensively," Vidovich said. "They're like a mid-level team style of play in the premiership."
In goal, the Huskies are anchored by a sophomore, Sam Fowler.  Fowler is saving a higher percentage of shots this season (77.8% compared to 72.4%) and was named to the all-Pac-12 second team, heling UW finish second in the Pac-12 in fewest goals allowed.
"Sam has been great back there," Washington coach Jamie Clark said to the Seattle Times. "We needed a leader — and I don't think that has anything to do with age — and he is very confident back there and really keeps guys on their toes."
While Pitt had an opportunity to punish its previous NCAA tournament opponents, Monmouth and Central Florida, after pressing them into mistakes and defensive lapses, Vidovich is expecting Washington be more organized and prepared for what Pitt will throw at them.
How organized are they as a unit?  He went so far as to say they're like an EPL side that is battle-tested, used to playing against the toughest competition and adept on the counter-attack and in creating havoc in the box.
"They very much run people on the channels. They put the ball into space.  They try to get behind you. They put balls into the box and create melees, so they're a tremendously difficult team to play.  They'll create a lot of challenges,  It'll be the opposite of what we saw today.
Using a dominant second half to beat the Missouri State Bears 2-0 on Thursday in Cary, N.C., Washington got goals from Lucas Meek and Nick Scardina to pull away and seal the victory.
79' | What a two-man game from Threadgold and Scardina!

MSU 0
UW 2#GoHuskies pic.twitter.com/12NAdWPjZO

— Washington Men's Soccer (@UW_MSoccer) May 6, 2021
To Vidovich's point about Washington's ability to get balls into the box and scoring goals in a melee, they've done this much success so far in the NCAA tournament.  All of the Huskies goals in the NCAA tournament have come from set pieces and crosses into the box, including the first goal from a cross on Thursday against Missouri State to break a scoreless affair.
65' | Kossa-Rienzi sends it in and Meek does the rest!

MSU 0
UW 1#GoHuskies pic.twitter.com/O07PcKPpq8

— Washington Men's Soccer (@UW_MSoccer) May 6, 2021
Scardina (6 goals), a forward, Meek (6 goals) and Dylan Teves (7 goals) both midfielders, are Washington's scoring leaders for a very balanced attack that has continued find enough scoring, even without Tevas, who's been out of action since UW beat UCLA in early April.
Pitt will have to be ready on every free kick and corner.
44' | What a chance by Meek just before half!

MSU 0
UW 0#GoHuskies pic.twitter.com/AmtWQJDWYi

— Washington Men's Soccer (@UW_MSoccer) May 6, 2021
In the second round against Grand Canyon, a precise volley into the bottom corner by sophomore Christian Soto proved to be the moment of the match for the Huskies.
Soto's second goal of the season doubled the Washington lead in the 55th minute. The goal was created after a throw-in from freshman Kalani Kossa-Rienzi was cleared by the GCU defense, only to find Soto waiting at the top of the box to volley the ball calmly into the bottom right corner of the net.
Washington's offense got back to its best after being shut out by Stanford in the Pac10 final, scoring two goals from 11 shots, with six of those being on target.
On Thursday, the Bears outshot the Huskies 12-11, but Fowler saved all six shots that came on goal to hold the Bears scoreless for just the second time since 2018, and earning praise from Missouri State's coach.
"We came out and played the way we wanted to play," Missouri State associate coach Michael Seabolt said. "Full credit to the Huskies, they battled hard and made things difficult for us. We felt like we left a little bit on the table and were able to do what we wanted to do, just not well enough for long enough."
Pitt's attack has been diverse this season and they'll have to pull out all the stops against UW.  Maybe most importantly, they're going to have to take advantage of their chances when they can break down the Huskies.
On Thursday, Pitt scored three goals on its first three shots, an incredible rate of efficiency. However, in their two losses against No. 1 Clemson, another stingy defensive side, Pitt came up short in creating enough quality scoring opportunities.
"If you've watched us in the fall and in the spring, we've been pretty efficient with our goal scoring," Vidovich said after Thursday's win.
If they pass the test against a stingy Washington side, Pitt will certainly earn its way to its first-ever College Cup appearance.
Riverhounds MF Danny Griffin
Subscribe to PGH Soccer Now