USL Championship Atlantic Division 
FINAL:  Charlotte Independence 1,
Pittsburgh Riverhounds SC 0 
Recap 
The Riverhounds SC finally returned home, but against an old nemesis the result remained same as the Charlotte Independence continued its dominance of Pittsburgh, with a 1-0 win on Saturday night at Highmark Stadium.
The Independence spoiled the Riverhounds SC's much anticipated home opener played before 2,079 fans, as Irvin Parra's first half goal held up for the road team, despite the Hounds holding a 3-to-1 margin in shots and owning 58 percent of possession.
"It was a tough home opener," Riverhounds SC Head Coach Bob Lilley said. "I think Charlotte's in pretty good form right now. Nevertheless, it's disappointing to get the fans out here, and not deliver."
With the loss, the Hounds fall to 0-2-1 overall record, and in 12 tries in the all-time series (0-7-5) against the Independence, Pittsburgh still has yet to earn three points.  
After creating more chances in the first half hour, Charlotte took the lead in the first half, when Irvin Parra finished a nice short cross from Clay Dimick.
Make that three goals in two games for @thegreatraul 🔥#PITvCLT | @Independence pic.twitter.com/fMwGKg3MZd

— USL Championship (@USLChampionship) May 22, 2021
The Hounds outshot Charlotte, 21-8, and had 57 percent of possession in the match, a number aided by the Independence playing down a man after Christian Dean was sent off in the 66th minute.
First half
Hounds goalkeeper Danny Vitiello was the star of the early stages of the match, as he made all four of his saves within the first half hour of the game.
The highlight came in the 15th minute when he denied Charlotte's Brandt Bronico and Jake Areman in quick succession, making a leaping stop on a breakaway and then going to ground to stop the second shot on the rebound.
Vitiello also denied a close-range header by Kevin Riascos, but he was finally beaten by Parra's header in the 34th minute, which was Charlotte's last shot on goal in the match.
Russell Cicerone nearly tied the match with two minutes left in the half, as he cut into the box on his left foot, but his low, hard shot was denied by goalkeeper Brandon Miller.
Second half
Chances began to pile up for the Hounds after the break, beginning with Preston Kilwien heading a corner kick on goal in the 53rd minute, only to have Bronico head it off the line.
Charlotte then went down a man in the 66th minute after Dean picked up his second yellow card of the game for a high elbow.
The Hounds kept the pressure on, outshooting Charlotte after the break, 16-2, but they couldn't break through the compact Independence defense.
The game ended with Miller making an outstanding fifth save for Charlotte, as he denied Albert Dikwa's header at the back post on the end of a long, diagonal ball from Louis Perez.
Attendance at Highmark Stadium was a sellout total of 2,076, which was the maximum number of fans allowed under current Pennsylvania physical distancing guidelines.
Hounds Man of the Match
Danny Vitiello had it easier in the second half, but his four-save first half effort kept Charlotte from getting more than one goal before the Hounds could take control of play.
What's next
The Hounds go on the road to face New York Red Bulls II on Friday, May 28, at 7 p.m. at MSU Soccer Park in Montclair, N.J. New York is 1-2-1 on the season and faces the Charleston Battery tomorrow.
Pittsburgh Riverhounds SC lineup (4-3-1-2) — Danny Vitiello; Preston Kilwien (Jordan Dover 68'), Jelani Peters (Ezra Armstrong 86'), Shane Wiedt, Mekeil Williams; Danny Griffin, Todd Wharton (Louis Perez 68'), Anthony Velarde (Tommy Williamson 68'); Alex Dixon; Russell Cicerone, Albert Dikwa
Charlotte Independence lineup (5-3-2) — Brandon Miller; Clay Dimick, Kevin Riascos, Hugh Roberts, Christian Dean (sent off 66'), Thomas de Villardi (Jordan Bender 63'); Brunallergene Etou, Brandt Bronico, Jake Areman; Marcelo Palomino (Enzo Martinez 86'), Irvin Parra (Noah Paravicini 69')
Scoring Summary
CLT — Irvin Parra 34' (Clay Dimick)
Discipline Summary
CLT — Christian Dean 12' (caution – unsporting behavior)
PGH — Shane Wiedt 40' (caution – unsporting behavior)
PGH — Todd Wharton 50' (caution – unsporting behavior)
CLT — Christian Dean 66' (sent off – second bookable offense)
CLT — Noah Paravicini 79' (caution – unsporting behavior)
PGH — Ezra Armstrong 90' (caution – unsporting behavior)
CLT — Brunallergene Etou 90'+5 (caution – unsporting behavior)
PGH — Louis Perez 90'+6 (caution – unsporting behavior)
Gameday Updates
90+++ — Yellow Card – Louis Perez
90++ — Dikwa gets a nice feed at top of box, feeds Dover breaking on right side with space. Sends bending cross (could've taken shot) — and no one there for it.
86′ — SUB – Ezra Armstrong in for Alex Dixon.
79′ – Paravicini booked for Charlotte after he swept Vitiello's leg out from under him after the GK had made the catch.
76′ — Dover fouled on right side of box. Free kick to center of scrum but header misses over bar.
74′ —
With
Steel Army
behind them in Paul Child Stand. Hounds are mounting some pressure. Back-to-back corners — second one Mekiel Williams header at far post goes wide left.
68′ — HOUNDS SUBS:
IN — Tommy WIlliamson, Jordan Dover, Todd Wharton
OUT — Anthony Velarde, Louis Perez, Preston Kilwien
66′ — DOUBLE YELLOW and Charlotte's Christian Dean is sent off for dangerous elbow to Hounds' Danny Griffin.
Attendance — 2,079
65′ — Free kick for Hounds.
60′ —  Yellow Card!
Hounds MF Todd Wharton is booked after late tackle, after Hounds give away another ball in final third.
52′ — Great chance for Hounds. Coming on corner — redirected header from Preston Kilwien was headed off line by Charlotte defender Brandt Bronico.
HALF — CHARLOTTE 1, HOUNDS 0
Irvin Parra's tally is the difference.
Charlotte's been the better side.
The Hounds are struggling to connect the dots in the final third and need to tighten things up in the back.
Some halftime stats:
Shots:  CLT 6-4 edge (5-2 on target)
Possession: CLT 54% PIT 46%
43′ — On target!
Russell Cicerone gets into box — and left footed blast is saved by Miller. Great save. Best chance of match for Hounds.
34′ — GOAL — CHARLOTTE 1, HOUNDS 0
Irvin Parra finished a nice short cross from Clay Dimick.
Dimick was played a nice ball over the top from Marcelo Palomino.
32′ — Hounds are starting to get a little more into rhythm in possession. Latest advance ends with nice diagonal ball to Cicerone on right side, then ball for Danny Griffin breaking into box is deflected as the Hounds MF attempts shot. The shot got through but missed left.
23′ — Well designed free kick by Charlotte leaves Kevin Riascos unmarked by far post, but Vitiello who saves header attempt, then Christian Dean with follow up that's stopped too.
16′ — Crazy sequence as Danny Vitiello makes a pair of nice saves. First Brandt Bronico tries to chip it over, but Hounds keeper gets up real high to tip save it. Then has to sprawl to ground to stop a second attempt.
14′ — Hounds with free kick from left side — about 35 yards from goal.  Taken by Todd Wharton — to far post second ball bounces in front of net area, but Miller there to grab it.
8′ — Nice build up after turnover at midfield for Hounds — ends up to Dikwa in the box, who turns and shoots. Miller there with the save. 8′
1′ — They've kicked off… and Hounds' Albert Dikwa blocks a clearance attempt by Charlotte GK Brandon Miller, but the veteran keeper recovers.
Look for gameday updates to be posted here.
Not a better a scene in sports in my opinion…….@RiverhoundsSC and @Independence about to start in 10 minutes. Follow @pghsoccernow for the in game action. #UNLEASH #PITVCLT pic.twitter.com/POrTz4lisV

— Ed Thompson (@ThompsonFoto12) May 22, 2021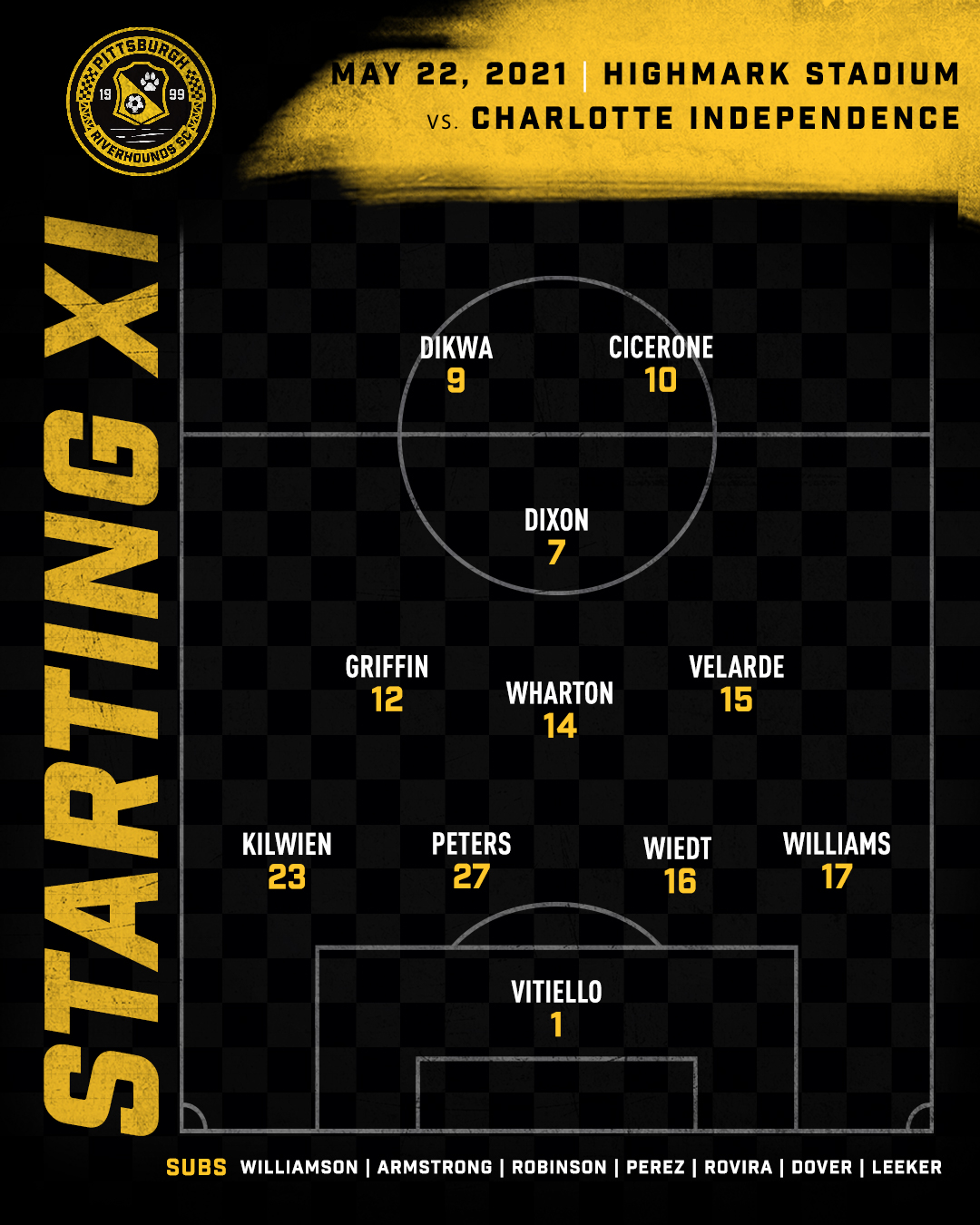 PSN Riverhounds SC Coverage / Match Preview 
Saturday's coverage team will include John Krysinsky, Matt Gajtka, Mark Goodman and Ed Thompson — who will all be at Highmark Stadium.
Live Pregame show will be on our Facebook page at approximately 6:25 p.m.
Look for postgame interviews and our postgame reaction on Pittsburgh Sports Live.
Hounds Notebook: Home opener can recapture 'missing energy' for club and its fans
Analysis & Player Grades: Sloppy second half leads to disappointing draw at Hartford
Riverhounds SC Game Notes
The Hounds are winless in 11 all-time meetings with the Independence (0-6-5), the most meetings without a win vs. any opponent. The only other opponents the Hounds have faced more than three times without a win are FC Cincinnati (0-5-4) and Nashville SC (0-1-3).
Today's match is the ninth home opener in Highmark Stadium history. The Hounds are 2-4-2 in Highmark Stadium openers after losing last year's home opener to Indy Eleven, 1-0.
All-time, the Hounds are 8-7-6 in home openers, which includes a 3-0-2 mark at their previous home, Chartiers Valley
High School, from 2008-12.
Forward Russell Cicerone scored his first Hounds goal last Saturday at Hartford. It is the fourth USL Championship team Cicerone has scored for in his five-year career, joining Portland, Cincinnati and Saint Louis.
Midfielder Anthony Velarde is the Hounds' top returning scorer from a season ago with five goals, while newcomer Alex Dixon scored six for Hartford Athletic, the best 2020 total in USL for any current Hounds player.
Midfielder Kenardo Forbes, the USL Championship's all-time assists leader, led the Hounds in that category a year ago with eight.
By starting the season opener against the Tampa Bay Rowdies, striker Tommy Williamson (born May 5, 1999) became the first player who was born after the club's first match (May 1, 1999) to appear in a competitive match for the Hounds.
The Hounds allowed just 10 goals in 16 regular-season matches during 2020, making it the team's best-ever defensive season by both total goals and goals per game. The club's per-game average was 0.63, which bested the 0.76 goals allowed per game in 2018, which was head coach Bob Lilley's firstseason in Pittsburgh. The total number of 10 is better than the 20 goals allowed in both 2007 and 2010, both of which were
20-game seasons.
Riverhounds SC also led the USL Championship with eight clean sheets a season ago. Goalkeeper Danny Vitiello recorded five of those en route to winning the USL Championship's Golden Glove award for the lowest goals-against average in the league (0.50).
In 95 all-competition matches under Bob Lilley, the Hounds have allowed just 81 goals, an average of 0.85 goals per game.
Riverhounds MF Danny Griffin
Subscribe to PGH Soccer Now