Riverhounds Postgame Report Card
FINAL: Pittsburgh Riverhounds SC 1, Hartford Athletic 1
The Pittsburgh Riverhounds SC settled for a draw against Atlantic Division foes Hartford Athletic on Saturday night at Dillon Stadium, which is located on the edge of Downtown Hartford.
This feature will be posted within a day or two of every Hounds match this season.
We will focus on how the Hounds lined up, provide a quick review of the key moments of the match, share takeaways and player grades.
Formation and Tactics 
Pittsburgh opted to tweak its tactical approach and line-up slightly after last week's 3-0 opening night loss to Atlantic Division front-runners, Tampa Bay Rowdies.
The Hounds lined up in a 4-3-1-2 formation, with Russell Cicerone just underneath Alex Dixon who was primarily on the left side and Tommy Williamson on the right.  Switching up to a three-man center midfield grouping, Pittsburgh managed to do a better job this week in building possession up through the middle, as Kenardo Forbes, Todd Wharton, making his first start with the Hounds and Danny Griffin increased their passing accuracy from last week's aberration.
In week one at Tampa, the Hounds starting midfielders were all below 80% passing accuracy and combined for less than 60 total passes.  Against Hartford, all three central midfielders had marked improvement, with 126 total passes (only nine long) and passing accuracy as a trio was well-over 80%. 
One wrinkle which diverted from what we've come to expect from the Hounds starting lineup under Lilley during most of his tenure was the switch to a four-man back line.  If there was any doubt about where Mekiel Williams is going to be in the lineup may have been put to rest with this starting lineup. The ball was shared pretty evenly among the four backs (Preston Kilwien had the most passes — 49 — but no one was below 39). Together they completed 25 long passes, which, as Lilley was hoping to see, was a slight reduction from the previous week when he felt they were settling for too many long passes. Of either side, it was Dover who was more active in getting forward (attempted five crosses).
When Lilley brought his first round of subs in the 64th minute, Dani Rovira entered for Dixon and Albert Dikwa for Williamson.  This moved the Hounds into a more defensive (5-3-2) shape as Rovira dropped deeper into the left outside back spot, pushing Kilwien over to the three-man center back alignment, with Dover on the right outside back spot.  Dikwa and Cicerone, then replaced by Josh Gatt in the 76th minute were at the top of the formation, but spent most of their time defending.
Match in quick review
Everything was going according to plan for the first hour or so of the match for the Hounds as they were executing Bob Lilley's cornerstones to success (not giving anything away, dictating terms and they were dynamic enough in the final third).
Forward Russell Cicerrone's goal in the 42nd minute broke the scoreless affair to give Pittsburgh the lead. Heading into the break, and shortly after the start of the second half, they were in solid position to walk away with a nice, bounce back win.
Things started to unravel for Pittsburgh later in the second half, as Hartford started to play with more urgency, owning more possession and pushing forward for the equalizer in the later moments of the second half.
An additional spark provided to the home side came after Hounds captain and USL Championship's all-time assist leader Kenardo Forbes was sent off in the 79th minute with a red card.  In an uncharacteristic move, Forbes retaliated after being fouled by Younes Boudadi.
Forbes got up quickly to give Boudadi a chest bump and a scuffle ensued.
With 10-man Hounds Hartford leveled the match in stoppage time against the 10-man Hounds, on Danny Barerra's free kick which was redirected by a clever Luka Prpa header.
They Said It 
"I was happy with the first half, and I think we were pretty good, " Riverhounds Head Coach Bob Lilley said after the match. "I don't think we can blame it on refs, because in the second half, we didn't play well enough. We didn't put in the energy and let them play a lot in our end."
Takeaways
It's still early, and we've seen Bob Lilley coached teams in Pittsburgh struggle at the start of the season.   If you recall in 2019, the Hounds lost their opener to Tampa, then proceeded to play to two draws on the road before figuring things out with an impressive road win at Louisville.
Lilley said after last week's loss that he tends to tinker with things, but wants to exercise patience this year.  I think Riverhounds fans will have to be patient with how this group develops and comes together.
From a glass half-full perspective, it was a much improved performance for the Hounds from the previous week, when they were completely outplayed by Atlantic Division early front-runners, Tampa Bay.
The glass half-empty viewpoint is that the 2021 edition of the Pittsburgh Riverhounds are still very much a work-in-progress and Saturday evening's second half provided sloppy execution in managing a game with a lead after controlling and dictating terms for a good part of the first hour of the match.
Some of this will improve as players are more comfortable in their roles.  The subs didn't have a great impact, but then again, they were thrust into a more defensive focus as they had to play as an 10-man side for the final 11 minutes plus five more minutes of stoppage time.
As bad as they played in the second half, it feels like a missed opportunity to 'steal' three points on the road after team captain was sent off.
Kenardo Forbes has logged an impressive career and has always been calm and composed, so it was pretty surprising to see him react the way he did on Saturday to get ejected. In the heat of the moment, sometimes emotions can get to even the best of us. His absence in the home opener will be felt, but will also provide an opportune moment for others, like Todd Wharton, Danny Griffin and possibly even Louis Perez to step-up against Charlotte.
A final takeaway is that with tempers flaring and both sides exchanging unpleasantries, this could be a four-game series that will only get more chippy and combative as the season goes forward.  A lot of faces have changes on the field from last season, but once again, it looks like these two sides will be in for an intense battle each time they meet-up.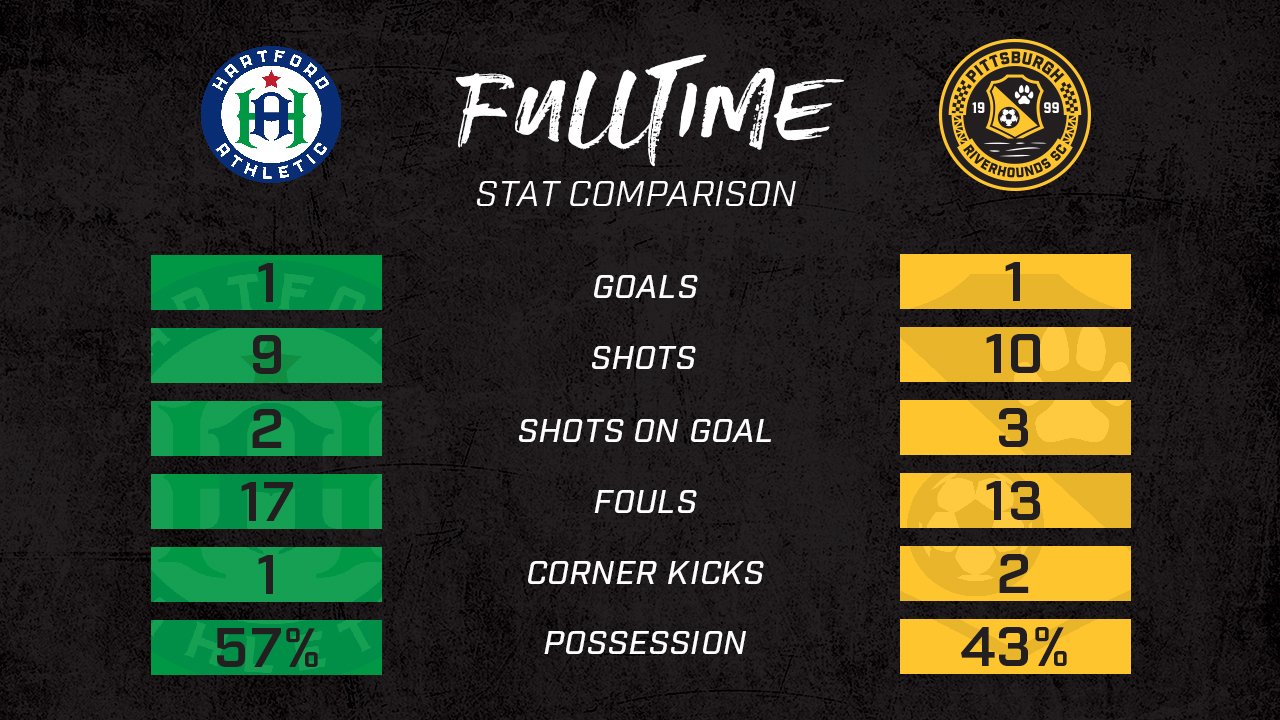 Player Grades 
| | | |
| --- | --- | --- |
| Player | Grade (out of 10) | Key Stats / Notes  |
| | | |
| Goalkeeper | | |
| Danny Vitiello | 5 | Just one save and allowed the goal on late redirect in stoppage time. It happened pretty fast. Tough one. Plus picked up yellow card. |
| | | |
| Defenders | | |
| Shane Wiedt | 5.5 | Five clearances, conceded two fouls |
| Mekiel Williams | 5.5 | Seven clearances, two tackles. Won all 3 aerial and 5 of 6 duels |
| Jelani Peters (76′) | N/R | First appearance as a Hound (3 passes) |
| Jordan Dover | 5.5 | work rate was solid as usual; won 7 of 12 duels; didn't have as much of an impact in getting forward |
| Preston Kilwien | 6 | Moved over to the left back side, showing his versatility. Stayed tucked back in defensive shape for most of match. Did have one shot attempt. |
| Dani Rovira (64′) | 4.5 | conceded foul; 0/4 in duels; 7 passes total |
| | | |
| Central Midfield | | |
| Kenardo Forbes | 4 | Red card diminishes a typical solid performance where lot of improved possession was played through him; 90% passing accuracy and created 3 chances |
| Danny Griffin | 5 | Was the most active of the three CMFs, with 59 total passes; lost 8 of 13 duels |
| Todd Wharton | 7 | 27 passes, team-high 93% accuracy, created two chances |
| Louis Perez (90′) | N/R | Late sub for his first pro appearance |
| | | |
| | | |
| Russell Ciccerone | 7.5 | Goal (first as Hound); very active (won 6/10 duels) and did well in pressing and with movement |
| Tommy Williamson | 6 | Assist (first as pro); struggled at times in 50/50 situations (won 3 of 9 duels); still, a positive second start for 1st Round 2021 MLS SuperDraft pick |
| Alex Dixon | 6 | Can see why Lilley wanted him with this change in approach; did well mostly on right side (won 4/5 duels); more of this and production will come |
| Albert Dikwa | 4.5 | conceded two fouls, won 2 of 7 duels; didn't have chance to make impact or stretch Hartford out; spent most time defending |
| Josh Gatt | 4.5 | Active in short amount of time but mostly defending; won 3 of 10 duels, won foul/conceded two and had tackle. |
| | | |
Riverhounds MF Danny Griffin
Subscribe to PGH Soccer Now