The City Game 
FINAL: Pitt 7, Duquesne 0
Summary
After a shaky start in the first 10 minutes, No. 3 Pitt turned things up a notch to bulldoze its way to a commanding 7-0 victory against crosstown Duquesne University in the season opener for both teams on Thursday night at a packed Ambrose Urbanic Field.
Veljko Petkovic scored two goals and added two assists to lead the Panthers' scoring barrage.  Also scoring goals for Pitt included Bertin Jacquesson, Valentin Noel, Sito Sena and Rodrigo Almedia.  Former Greensburg Central Catholic standout Luke Mort started the match, and had an assist on Petkovic's second tally.
Duquesne had couple of chances to take the lead early in the match.  In the 4th minute, Pitt's Mohammad Abaulnadi, starting his first game for the Panthers after transferring from Notre Dame, misplayed a ball, giving Duquesne's Maxi Hopfer a clear breakaway. Abaulnadi showed impressive recovery speed to close down Hopfler, then block the shot attempt at the top of the box.
A few minutes later, Hopfer sent a cross to Nathan Dragisich in the box.  The former West Allegheny standout made a nice move to his left to set up a shot attempt, but Pitt's Jasper Loeffelsend was there to block the shot.
Pitt held a decisive edge in shots (16-4, 12-0 on target), in possession (estimated 68%/32% advantage) and corners (7-3).
Duquense's goalkeeper Domenic Nascimben made seven saves in the match.
Pitt's next match will be Monday night against West Virginia (7 p.m. in Morgantown), The Mountaineers beat Robert Morris earlier in the day, 2-0.
Duquesne will face Robert Morris on Sunday for its home opener at Rooney Field (2 p.m. kickoff).
Gameday Updates 
Look for lineups to be posted here shortly before kickoff and updates throughout the match. PSN's John Krysinsky and Zac Weiss will be at Ambrose Urbanic Field.
---
FINAL:  Pitt 7, Duquesne 0
GOAL @Pitt_MSOC
Rodrigo Almeda buries the PK
Panthers add another one — 7-0 lead over Duquesne.
90' #CityGame

— John Krysinsky (@JohnKrysinsky) August 27, 2021
PENALTY
Not sure who it's one but there was a scramble in box and Pitt player goes down.
89' #CityGame

— John Krysinsky (@JohnKrysinsky) August 27, 2021
86′ — Fabulous strike on free kick from 30 yards off foot of @Pitt_MSOC newcomer Guilherme Feitosa forces an equally impressive save from Duquesne's keeper Domenic Nascimben.
61′ — GOAL – PITT Sito Sena — comes right in and scores immediately. Collects an attempted clearance, and drives a bending shot into left corner. Pitt running away with this one now… 6-0 lead
54′ — GOAL — PITT – Valentin Noel
Fabulous build-up including a nice give-and-go, and it's Veljko Petkovic who feeds Noel with the assist.
5-0 Pitt in comand vs Duquesne
48′ — GOAL — PITT – Arturo Ordonez
Corner kick in from Veljko Petkovic!
Assessing the first half, Duquesne definitely came out with more energy for the opening few minutes. Communication was consistent but once Pitt saw some mistakes it pounced. 3-0 Pitt in front after the first 45. @pghsoccernow

— Zachary Weiss (@ZacharyMWeiss) August 27, 2021
HALF — PITT 3, DUQ 0
44′ — SUB – Pitt — Clagette in for Loeffelsend
34′ — SUBS — Duquesne — Cook, Harper for Tzabari, Tom and Lopez, Jordy for Hopfer, Maxi.
33′ — Bad pass back to middle for Pitt results in Duquesne opportunity for Zack Mowka — who's shot attempt from edge of box is deflected out for corner. Dukes follow up with redirected header that Pitt's Ordonez must head to clear away.
30′ — Pitt gets forward quickly after a Duquesne free kick attempt is cleared away. Noel gets fouled. On quick restart, Jacquesson hits one off the bar from 30 yards out!
25′ — GOAL — PITT — Veljko Petkovic
Nice assist from Luke Mort!
23′ — GOAL — Veljko Petkovic
Noel's first attempt bangs off bar, but Petkovic is there to put it into the net.
17′ — GOAL – PITT — Bertin Jacquesson
Great build-up — and final pass comes from Valentin Noel — and the Panthers go up 1-0 on
the Dukes.  
15′ — Loeffelsend draws a foul and yellow card goes to Dukes'
9′ — The Dukes get into final third. Nice ball in from Hopfer on right side for Nathan Dragisich who makes a move to his left but shot is blocked by Pitt's All-American Jasper Loeffelsend.
4′ — Mohammad Abaulnadi misplays a ball — giving Duquesne's Maxi Hopfer a clear breakaway. Abaulnadi shows impressive recovery speed to close down Hopfler to block a shot attempt at the top of the box.
Pitt's starters…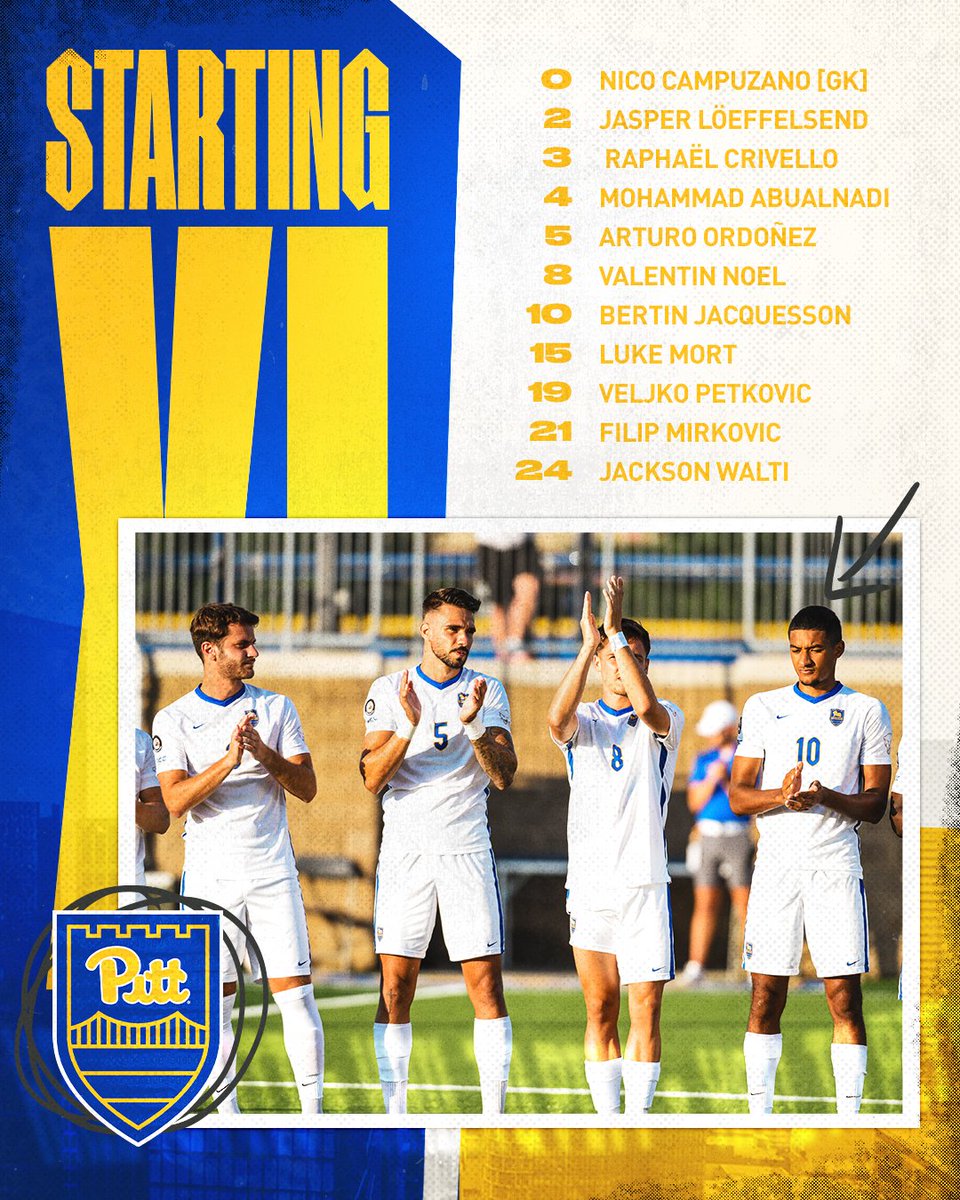 GK — D. NASCIMBEN
2
J. BORJAS
3
J. EMANUEL
6
T. TZABARI
8
R. GOODHEW
10
M. HOPFER
12
A. AKINJOGBIN
14
B. FRANKLIN
17
R. LANDRY
19
Z. MOWKA
23
N. DRAGISICH
PSN Coverage of Pitt and Duquesne men's soccer 
Ward's brilliant strike lifts Greensburg Central Catholic to WPIAL title
Season Preview: Duquesne Men's Soccer Eager To Showcase Improvements
Pitt Game Notes 
Three and a half months after playing in its first ever College Cup, the No. 3 Pitt men's soccer team is set to begin the 2021 regular season at home against Duquesne Thursday evening.
NEWS & NOTES
–        August 26 marks the first official day of the NCAA men's college soccer season.
–        Pitt and Duquesne meet for the second time in seven months, as the Panthers recently defeated the Dukes 1-0 Feb. 27, 2021.
–        The Panthers return 20 players, including 10 starters, from last year's squad that finished a school record 16-4 overall and 9-1 in ACC play. Pitt won its first ever Coastal Division title and earned the No. 2 overall seed in the NCAA Tournament en-route to its first ever College Cup appearance.
–        Ambrose Urbanic Field is open to the public, with tickets season ticket and single-game tickets available here.
THE SERIES – DUQUESNE
–        Pitt leads the all-time series 8-0-2 and is currently on a three-match winning streak.
–        The Panthers opened the 2021 spring season with a 1-0 home victory over the Dukes Feb. 27. Prior to last season's meeting, the two Pittsburgh schools had not met since 2012.
–        Head Coach Jay Vidovich is 1-0-0 against Duquesne, with last year's meeting his first against the University.
SCOUTING THE DUKES
–        Duquesne finished the 2020-21 season 2-5 overall and 2-4 in A-10 play. Prior to the shortened 2020-21 season last year, the Dukes finished 8-8-1 in 2019.
–        Duquesne was picked to finish tied for 10th in the A-10 preseason poll.
–        Sophomore M/F Nate Dragisich and freshman Maxi Hopfer return after garnering All-Rookie Atlantic 10 honors in 2019 and 2020, respectively. Both players tallied four points last year, with Hopfer leading the team in goals with two.
RECAPPING A HISTORIC 2020-21
–        The Pitt men's soccer program endured its best season in program history last year, highlighted by an ACC Coastal Division Championship and a trip to the College Cup for the first time ever.
–        The Panthers finished 16-4 overall and 9-1 in ACC play – both program records for wins in a single-season – and earned the No. 2 overall seed in the NCAA Tournament.
–        Pitt had a program best 14 ACC postseason awards, including Offensive Player of the Year (Valentin Noel), Defensive Player of the Year (Jasper Löeffelsend), Freshman of the Year (Bertin Jacquesson) and Coach of the Year (Jay Vidovich).
–        The Panthers produced their first All-Americans in school history in Noel and Löeffelsend. Noel was named First Team All-America by United Soccer Coaches and College Soccer News, while Löeffelsend garnered Second Team All-America from both outlets.
–        In addition to total and conference wins, Pitt set new single-season school records in total points (142) and assists (44).
–        Pitt was ranked No. 1 in the country by the United Soccer Coaches Poll for the first time in program history Oct. 20, 2020. Men's Soccer became the third Pitt athletics program in school history to be named No. 1 in its respective sports' poll, joining football and men's basketball.
NOEL MAKING NOISE
–        Junior midfielder Valentin Noel had one of the best single-season performances in Pitt men's soccer history a year ago.
–        He finished second in the nation in goals (14), third in points (30), 13th in goals per game (.74) and 23rd in points per game (1.58).
–        The Niort, France, native scored eight goals and tallied two assists during the fall campaign and finished with six goals during the spring. He registered three multi-goal games in total last year.
–        His total goal and point totals each finished tied for fifth in a single-season at Pitt.
–        Noel earned a plethora of accolades, including United Soccer Coaches and College Soccer News First Team All-America, becoming the first First Team All-American in program history. He was also named United Soccer Coaches South All-Region First Team, ACC Offensive Player of the Year, All-ACC First Team and All-ACC Tournament Team.
–        Noel was invited to the prestigious MAC Hermann Trophy presentation in St. Louis, Mo., as a finalist for the MAC Hermann award, given to men's and women's soccer's national player of the year.
COLLEGE SOCCER NEWS PRESEASON ALL-AMERICANS
–        Valentin Noel and Jasper Löeffelsend were named to College Soccer News' Preseason All-America Team.
–        Noel earned a spot on the First Team, while Löeffelsend received Second Team recognition.
–        Both Noel (First) and Löeffelsend (Second) earned 2020-21 College Soccer News All-America honors.
PITT PICKED AS FAVORITES
–        The Panthers were chosen by ACC coaches to finish first in the Coastal Division and first overall in the ACC Coaches' Preseason Poll.
–        Pitt garnered seven first-place votes to win the ACC Championship, surpassing reigning champion Clemson and 2020 College Cup participant North Carolina, who tallied three and two first-place votes, respectively.
–        The Panthers received nine first-place votes in the Coastal Division, a division they won last year for the first time in program history.
TWENTY PLAYERS RETURN
–        Twenty players, including 10 starters, return for a Pitt team that finished with the fifth best scoring offense in the country.
–        A notable returner is Alexander Dexter, who begins his fifth and final campaign as a Panther. Dexter began his career as a freshman in 2017 and has since totaled 18 assists, ranking him second in school history.
–        Recent Pitt graduate Bryce Washington, who was a key piece to Pitt's back line last season, signed a homegrown contract with Atlanta United this summer and is currently playing for Atlanta II.
FRESH FACES
–        Eight new players join the Panthers in 2021, including five freshmen, two juniors and a graduate student.
–        Transfer students Lucas Rosa and Mohammad Abualnadi join the squad after standout seasons at their former schools. Rosa was named NEC Player of the Year and College Soccer News Third Team All-America in 2019 after leading Saint Francis with 11 goals and two assists. Abualnadi joins after helping Notre Dame earn a top-five ranking last season as a centerback.
–        Junior Joe van der Sar adds depth to the goalkeeper position. van der Sar played for AFC Ajax's highest youth division prior to Pitt.
–        Rounding out the newcomers are freshmen Guilherme Feitosa (Salvador, Brazil), Cade Hagan (Chicago, Ill.), Andrew Noel (Montclair, N.J.), Luis Sahmkow (Richardson, Texas) and Michael Sullivan (Tarentum, Pa.).
PITT RANKED NO. 3 IN PRE-SEASON POLL
–        The Panthers enter the 2021 season ranked No. 3 in the United Soccer Coaches Poll, the highest preseason rank in program history.
–        Pitt was ranked in the top-10 in every poll last season and earned as high as No. 1 Oct, 20, 2020.
–        The preseason poll marks the 20th straight week the Panthers have been ranked.
UP NEXT
–        Pitt hits the road for the first time this season Monday, Aug. 30 to Morgantown, W. Va., to take on West Virginia.
–        Start time is set for 7 PM with live coverage on ESPN+.
Duquesne Game Notes
THE SERIES VS. PITT
Duquesne's lone nonconference game of the 2021 spring season was at No. 4 Pitt on Feb. 27. The Panthers won that game, 1-0, on a penalty kick goal in the 36th minute. DU played the final 22 minutes of that match a man down.
This is the second regular-season meeting between the Dukes and Panthers since Sept. 16, 2012.
Pitt leads the series 8-0-2, including a 5-0-1 record at home.
The last four matches between the two have been a 0-0 tie at Duquesne (2008), a 1-0 Pitt win at home in 2011, a 2-1 Pitt victory at Duquesne in 2012 and February's 1-0 Pitt win at Ambrose Urbanic Field.
VS. RANKED TEAMS
Duquesne is 1-4-1 all time vs. ranked teams.
The Dukes defeated #23 Rhode Island in an Atlantic 10 matchup on Oct. 20, 2018 on Rooney Field.
Head coach Chase Brooks is 1-3 vs. ranked teams at Duquesne (3-2 home loss to #12 Oregon State on Sept. 11, 2015, a 1-0 loss at #17 Kentucky on Sept. 30, 2016 and a 1-0 defeat at #4 Pitt in February).
This is Duquesne's second game vs. a Power 5 school since the Kentucky game in 2016 (the other was at Pitt in February).
AN AMBITIOUS SCHEDULE
Duquesne is scheduled to face four teams either ranked (#3 Pitt & #14 Kentucky) or among those also receiving votes (Dayton & UMass) in the United Soccer Coaches Preseason Top 25.
QUICK HITS
Duquesne is in its ninth season under head coach Chase Brooks. Brooks has led the Dukes to three Atlantic 10 Conference tournament appearances (2013, 2015 & 2016).
The Dukes return 10 of 11 starters from the 2021 spring roster including M/F Ade Akinjogbin, M Rodrigo Albayeros, D Jacob Benintendi, M/F Nate Dragisich, F Maxi Hopfer, D/M Ryan Landry, D Kendall Newman, D Eric Zech and GK Domenic Nascimben. In addition, D Jaime Borjas started all four games he played in the spring.
A total of 15 players made their Duquesne debut in the spring.
DU returns just six players from its 2019 roster.
Fifth-year defender/midfielder Ryan Landry leads all returnees in career games played (52) and career starts (46). Kendall Newman (34 games), Eric Zech (27 games) and Nate Dragisich (24 games) are the only other field players with more than seven games of experience in a Duquesne uniform.
Dragisich, a member of the 2019 Atlantic 10 All-Rookie Team, leads the Dukes with three career goals. Maxi Hopfer, who earned a spot on the 2020 A-10 All-Rookie Team in the spring and Landry are the only other Dukes with multiple goals (two each). Logan Muck and Zech are the only other DU players with a goal.
The Dukes have eight transfers in junior M/F Ade Akinjogbin (Wofford), sophomore M Rodrigo Albayeros (Florida Atlantic), sophomore D Jacob Benintendi (Xavier), junior D Jaime Borjas (Graceland U.), sophomore M Harper Cook (American), freshman F Jayden Da (Washington & Jefferson), junior M Logan Muck (Evansville) and sophomore D Torge Witteborg (Ottawa University-Arizona).
Junior Domenic Nascimben played every minute in net in the spring for the Dukes. Nascimben, a native of Sydney, Australia, stopped 34 shots in seven games. His 4.86 saves per game ranked 11th nationally.
Duquesne has produced the 14th-most Men's Soccer Academic All-Americas (11) over the past 20 years.
DU has been recognized by the United Soccer Coaches for its outstanding academic performance with a Team Academic Award (minimum 3.0 team GPA) 19 times in the past 22 years. No other Atlantic 10 men's soccer program has been recognized more than Duquesne since the award was instituted in 1996.
Duquesne has produced at least one Atlantic 10 All-Rookie Team member in seven of the past eight years including current roster members Ryan Landry (2016), Nate Dragisich (2019) and Maxi Hopfer (2020).
CAREER LEADERS ENTERING 2021
Goals
Nate Dragisich (3), Maxi Hopfer (2), Ryan Landry (2), Logan Muck (1), Eric Zech (1)
Assists
Nate Dragisich (7), Ryan Landry (6), Ade Akinjogbin (1), Eric Zech (1)
Points
Nate Dragisich (13), Ryan Landry (10), Maxi Hopfer (4), Eric Zech (3)
Games
Ryan Landry (52), Kendall Newman (34), Eric Zech (27), Nate Dragisich (24), Domenic Nascimben (13)
Starts
Ryan Landry (46), Kendall Newman (30), Eric Zech (26), Nate Dragisich (23), Domenic Nascimben (11)
Logan Muck (43/25) played in 36 games with 21 starts at Evansville
Ade Akinjogbin (27/19) played in 20 games with 14 starts at Wofford
Rodrigo Albayeros (13/0) played in seven games at Florida Atlantic
Harper Cook played in 12 games at American
Sounding Off on Soccer: Riverhounds Road Woes
Subscribe to PGH Soccer Now