FINAL: West Virginia 2, Robert Morris 0 
Summary 
West Virginia University men's soccer team opened the 2021 campaign with a 2-0 win over Robert Morris on Thursday afternoon at North Athletic Complex in Moon Township, Pennsylvania.
"Today is always a bit of a lottery in the world of men's soccer," WVU coach Dan Stratford said. "Most of the country is playing today, so there are nerves and expectations and anxiety going into the first game of the season. So, we'll take any win on Day 1, but it was pleasing to get a win with a clean sheet and with a goal on both sides of the half."
While it was a tough loss for Robert Morris, it's a match to build on as they embark on a second season under coach Jason O'Keefe.
"Lots of good firsts today for us. Obviously WVU is a very good team that's very well coached, which is why we wanted to play them. We want to see what it's like to play those great teams so we can push ourselves to try and get ourselves up to that level. It's a process, but we're going to learn something and grow from each game." O'Keefe said.
The Mountaineers led for nearly the entire match, scoring its first goal in just the second minute. WVU put the finishing touches on the lid-lifting victory with a second goal late in the second half to double its lead. 
Redshirt junior midfielder Dyon Dromers was credited with the game-winning goal, while sophomore forward Ciro Bourlot Jaeggi also was featured on the scoresheet. With the result, the Mountaineers earned their fifth consecutive season-opening win.
It took no time at all for WVU (1-0) to grab a 1-0 lead. Dromers opened the scoring with an opportunistic goal off a Mountaineer corner kick in just the second minute of the contest. Fifth-year senior defender Kevin Morris and senior defender Aaron Denk Gracia earned assists on the tally.
From there, junior midfielder Luke McCormick's chance in the 28th minute forced the RMU keeper to make a diving save, part of a dominant first 45 minutes for the visitors. In all, West Virginia held a 7-0 advantage in shots in the first half.
In the second half, fifth-year senior goalkeeper Steven Tekesky made a pair of routine saves, before redshirt sophomore defender Kyle Lehnert nearly made it a two-goal match in the 70th minute. However, a great chance in front of the net sailed high.
Less than 10 minutes later, however, the Mountaineers doubled the lead when freshman midfielder Otto Ollikainen found Bourlot Jaeggi inside the box for a tap-in goal. It marked the Sante Fe, Argentina, native's first career score.
WVU went on to outshoot RMU (0-1), 12-3, in the win, including 5-2 in shots on goal. West Virginia also held a 6-2 advantage in corner kicks.
Dromers led the way with three shots in the win, while McCormick and freshman defender Frederik Jorgensen finished with two each. In goal, Tekesky recorded his 21st career shutout, good for No. 4 in all-time program history.
With the win, West Virginia improved to 14-6 all-time against Robert Morris, including 5-3 in Moon Township. The fixture marked the first time the two programs played since the 2005 NCAA Tournament.
Gameday Updates
Look for a more complete recap later in the evening.
It's gone final at North Athletic Complex.  Robert Morris puts up a decent fight, but falls to WVU, 2-0.
---
The feed from Otto 👀
The finish from Ciro 😏#HailWV pic.twitter.com/UualRgY9dz

— WVU Men's Soccer (@WVUMensSoccer) August 26, 2021
79′ | WEST VIRGINIA GOALLL!!! It's Ciro Bourlot Jaeggi with a tap in to extend the lead!  Assist came from #17 Otto Ollikainen.
70′ | Kyle Lehnert nearly doubles the lead with a look inside the box but the chance sails high! Mountaineers hold a 9-3 advantage in shots.
HALF:  WVU 1, RMU 0
The Colonials keeping most of WVU's shots at a distance.  The early goal has been the difference, though WVU has dominated possession too.
WVU's goals was assisted by #4 Aaron Denk Gracia and #5 Kevin Morris. Time of goal was 1:35.
2' | WEST VIRGINIA GOALLL!!! JUST. LIKE. THAT!

It's Dyon Dromers with the early tally to get the season started in a big way!

WVU 1-0 RMU pic.twitter.com/0p9PdwQ663

— WVU Men's Soccer (@WVUMensSoccer) August 26, 2021
Our first official home @RMUAthletics game with fans in more than 17 months! @RMUMSoccer vs West Virginia! #letsgobobbymo https://t.co/wZNhq8IGMw

— Rob Goodman (@robgoodman07) August 26, 2021
Our Opening Day #StartingXI!

Zolnierczyk
Ramirez
Moberg
Akongo
David
Hain
Ben Dayan
Norris
Lamarca
Haskins
Kadima#BobbyMo | 🔴⚽️🔵

— RMU Men's Soccer (@RMUMSoccer) August 26, 2021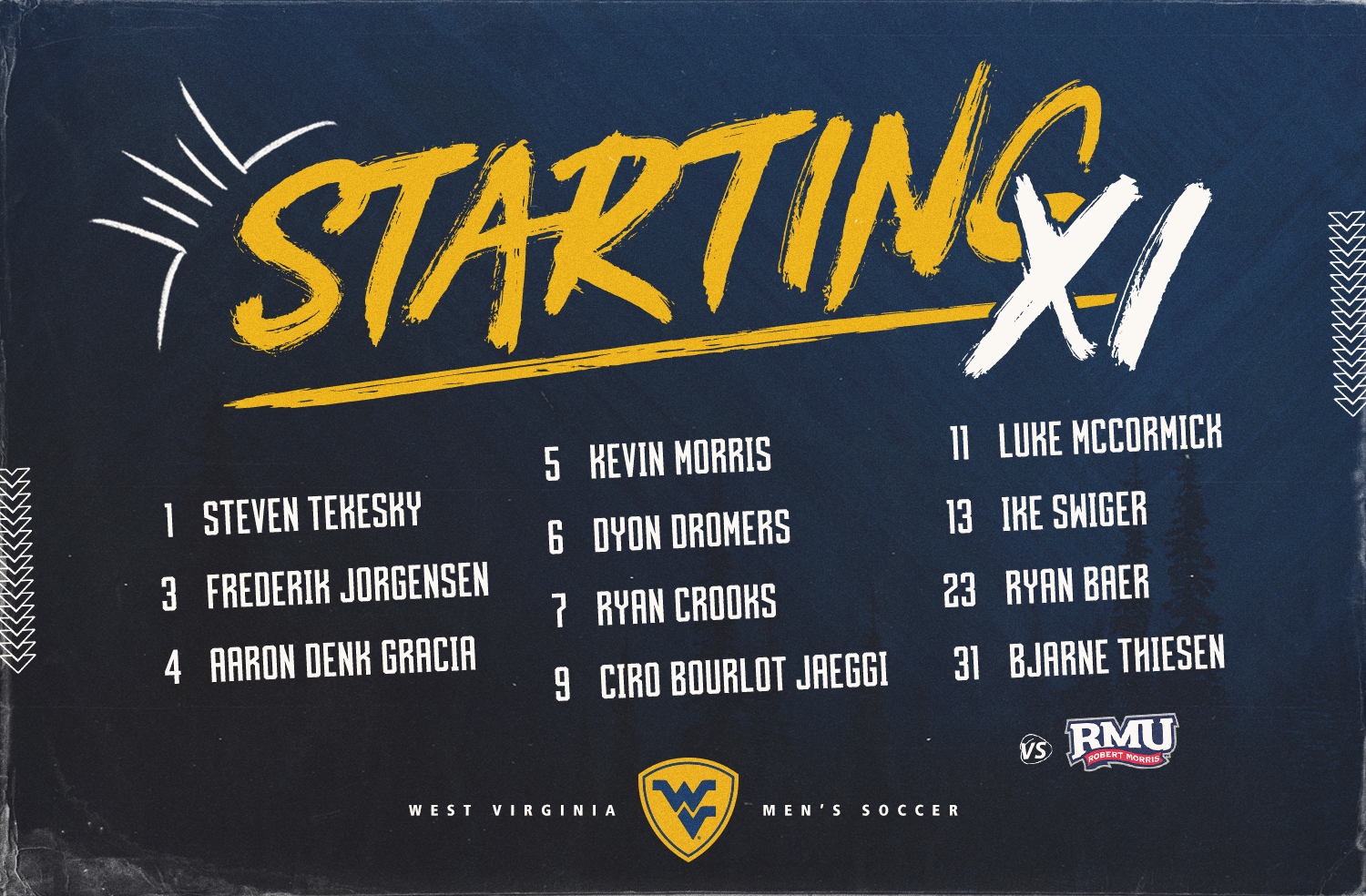 PSN RMU and WVU Coverage 
'Ambitious' Robert Morris Men's Soccer Team Looks to Begin Turnaround in 2021
WVU men's soccer release 'challenging, yet exciting' 2021 schedule
RMU Game Notes 
Robert Morris University men's soccer team kicks off the 2021 fall campaign this week with a pair of non-conference matchups Thursday vs. West Virginia and Saturday at Duquesne as they embark on their second season as members of the Horizon League.
LAST TIME OUT
The Colonials are coming off their first season as members of the Horizon League after a 2021 spring campaign that saw RMU finish 1-6-1 overall.  Head Coach Jason O'Keefe earned his first career victory behind the bench of the Colonials with a 1-0 win over Purdue Fort Wayne on March 6 of 2021.
The Colonials also completed two exhibition matches earlier this month in preparation for the 2021 fall campaign, taking on No. 3 Pitt as well as Niagara in pre-season play.
FAMILIAR FACES
The Colonials return fifteen members from their spring 2021 squad for fall action.
Of those 15, eight saw action in all eight games for the Colonials, including defenders Kelvin Ramirez and Gustaf Moberg as well as midfielder Bryan Akongo who each started every matchup for RMU.
2021 leading goalscorer Miller Masson also makes his return, as do goalkeepers Mike Zolnierczyk and Grant Glorioso. The duo split starting duties a season ago, with each getting the nod in four games.  Zolnierczyk posted two clean sheets during the 2021 spring season.
NEW ADDITIONS 
The Colonials welcome fourteen newcomers to the squad for the 2021 fall campaign as freshmen Friedrich Petrelli, Gabe Norris, Colton Spence, Charlie Lawrence, Owen Jowett, Drew Kemper, Connor Hain, Lucas Hammerle, Lucas Shearer, Gal Ben Dayan, Jacob Haskins, Noe Bijou, and Nathaniel David all arrive in Moon Township for their freshman seasons, as does sophomore forward Hugo Kadima, who joins the squad after spending time at Ohio Valley University. Junior keeper Connor Dalton also joins the squad.
RMU's new crop of talent includes a number of local Western Pa. natives in Hammerle (Connellsville), Norris (Natrona Heights) and Spence (Cheswick) while the remaining group brings an international flair to Moon Township, featuring additions from England, France, Germany, Israel, Norway and Canada.
The Colonials coaching staff also has a few new faces as assistants Dan Yates and Jay O'Donnell join the returning O'Keefe and Matty Evans behind the bench for their first seasons at RMU.
SCOUTING THE MOUNTAINEERS
The Mountaineers finished 6-3-1 last spring in head coach Drew Stratford's debut season, and have reached two of the last three NCAA Tournaments.
The team won the 2018 MAC regular-season title and 2019 MAC Tournament crown, and returns all seven of its goal scorers from a season ago including senior forward Ike Swiger, who led the squad with four goals last spring. Overall, WVU outscored their opponents 14-6 last year for a +8 goal differential.
Thursday will also be the first ever meeting between RMU and WVU, WVU's last as members of the MAC before they switch over to Conference USA in 2022.
SCOUTING DUQUESNE 
The Colonials own a 6-17-3 overall record against Duquesne in a rivalry that dates back to 1994.
The Colonials last win over Duquesne was back in September of 2015, a 2-1 overtime win at the North Athletic Complex.
A preseason pick to finish 10th in the Atlantic 10 Conference, the Dukes went 2-5 overall last season with wins over St. Bonaventure and Saint Louis University and already faced West Virginia, Detroit Mercy, and Cal U in exhibition play.
They return 10 of 11 starters from last season, lead by sophomore M/F Nate Dragisich and freshman F Maxi Hopfer who earned spots on the 2019 and 2020 Atlantic 10 All-Rookie Teams respectively. In all, three of Duquesne's top four goal scorers from the spring are back.
THEY SAID IT
"We are very excited to kick off our fall campaign. It has been a long time since we were able to play a meaningful fall game, and to have a top flight program like WVU come to Moon makes it that much more special.  We look forward to testing ourselves against tough competition throughout the entire season and Thursday is the beginning of our process." – head coach Jason O'Keefe
From WVU Preview 
"We've done what we could with what (Robert Morris) had in the spring, who their returning players were and kept an eye on results through their preseason," WVU coach Dan Stratford said. "It's a relatively new coach and a lot of new players, and I'm sure they're going to be incredibly ambitious with what their intent is this season. It can be a tricky one if we're not switched on." 
Thursday marks the 20th meeting between the Mountaineers and Colonials but the first since 2005. Most recently, the two schools met in NCAA Tournament action in Morgantown, a 1-0 WVU win in the first round. In all, West Virginia is 13-6 against RMU, including 4-3 on the road.
WVU has won eight consecutive matches against Robert Morris, dating back to 1998. In those affairs, the Mountaineers have registered multiple goals six times.
West Virginia is 34-21-5 in season openers all time, including lid-lifting wins in each of the last four years. Last season, the Mountaineers topped Charlotte, 3-0, on Feb. 26, 2021, in Stratford's WVU head-coaching debut.
The Mountaineers are returning 15 lettermen off last season's 6-3-1 squad, including 10 of 11 starters. All seven goal scorers return to the mix this fall, including senior forward Ike Swiger, who led the team with four goals in 2020-21.
WVU, which conceded just six goals and tallied six clean sheets last spring, feature five players who earned All-MAC honors last season. Fifth-year senior goalkeeper Steven Tekesky, Swiger and junior midfielder Luke McCormick earned first-team honors, while fifth-year senior midfielder Pau Jimenez Albelda and fifth-year senior defender Kevin Morris were placed on the second team.
For the first time in program history, the Mountaineers were voted to finish No. 1 in the 2021 MAC Preseason Poll, which was released on Thursday. In a vote by the league's seven head coaches, WVU earned 40 points, one ahead of second-place Akron (39) and two in front of No. 3 Bowling Green (38). West Virginia received three first-place votes in the poll, while Bowling Green earned two. Akron and fourth-place Western Michigan also had one first-place vote each.
Robert Morris is led by second-year coach Jason O'Keefe. The Colonials finished 1-6-1 during a spring-only, 2020-21 campaign. All eight of the team's fixtures were played within the Horizon League.
The squad's lone goal of the season came in a 1-0 win over Purdue-Fort Wayne on March 6. Miller Masson, who was credited with the game-winner, returns to the club this season.
RMU's last win against the Mountaineers came on Aug. 30, 1998, a 1-0 victory at home.
Subscribe to PGH Soccer Now