NCAA Women's Soccer
FINAL: Pitt 5, Cleveland St 0
Summary
Pitt women's soccer continues to roll, earning its third straight win to open the home schedule with a 5-0 victory at Ambrose Urbanic Field on Thursday.
Freshman Sarah Schupansky scored two goals, Amanda West added her third goal of the season as the Panthers picked apart Cleveland State throughout the match.
"It was nice to get so many players playing time tonight," said Pitt head coach Randy Waldrum.
"We need our young players getting game experience. Having said that, I would have liked to start with more intensity and energy than we did. I thought even though we controlled the game from early on, we could have been a bit better in our defending. We did score some really good goals and were pretty efficient around the penalty area. Great to see Sarah continue to score and Bri getting her first collegiate goal! West got us going with a very composed goal, and Yaple got us a second one soon afterwards. So all in all a good day for us."
We have more from the postgame interview with coach Waldrum and goalkeeper Caitlyn Lazzarini and Schupansky on Pittsburgh Sports Live.
Ed Thompson Photo Gallery 
This slideshow requires JavaScript.
How It Happened
Pitt women's soccer's (3-0-0) recorded its biggest margin of victory and goals scored for a home-opener with a 5-0 shutout of Cleveland State (1-2-0) Thursday evening at Ambrose Urbanic Field. Sarah Schupansky produced her first collegiate brace with a goal in both halves.
Amanda West got her first game-winning goal of the season in the 16th minute, scoring from the middle of the box after making nifty moves around defenders after receiving Anna Bout's pass.
Emily Yaple scored less than four minutes later. Athalie Palomo threaded a pass into the midfield, and Yaple burst passed the last line of defenders to tap it over the goalkeeper.
Schupansky came off the bench and notched her first goal in the 27th minute. After a throw in that was touched over by Hailey Davidson, Schupansky lofted it over the goalkeeper into the left side of the net, shooting it from deep from the right side above the box.
Bri Hilsenteger scored her first collegiate goal in the less than two minutes into the second half on a shot from the left side of the box. Ellie Coffield received a pass from Krystyna Rytel and found Hilsenteger.
Schupansky's last goal came in the 79th minute, with Celia Lopez getting the assist.
Pitt stays home for its next match, facing NJIT Sunday at 1 p.m.
PITT NEWS AND NOTES
Starting goalkeeper Caitlyn Lazzirini (1-0) didn't have to make a save.
Madison Vukas made her collegiate debut, replacing Lazzarini to play the final 34:40 in goal with two saves.
Pitt has started 3-0 the last two years under Waldrum.
West has scored in each of the first three games in all three seasons of her career.
Lazzarini, Mackenzie Edwards, Leah Pais and Yaple all made their first starts of the season.
Elena Hinkson, Lacey Bernick, Katelyn Kauffman, Sara Darlington and Vukas all made their collegiate debuts.
Pitt outshot Cleveland State 17-8 with advantages as well in shots on goal (9-2) and corner kicks (4-2).
The meeting was the first between the two schools.
Gameday Updates
FINAL: Pitt wins going away, as they tack on two more second half goals.
---
HALF — PITT 3, Cleveland State 0
27′ | GOAL — PITT — Sarah Schupansky
Schupansky comes off the bench & scores in less than a minute, lofting a shot over the GK deep from the right side above the box!
19′ | GOAL — PITT — Emily Yaple
Pitt 2, Cleveland State 0
Yaple burst pass the last line off defenders & taps the ball past the GK to double Pitt's lead! Palomo threaded the needle to Yaple for the assist.
16′ | GOAL — PITT
Pitt 1, Cleveland State 0
Who else, Amanda West gives Pitt the lead off a pass from Anna Bout.  West has scored in all 3 games this season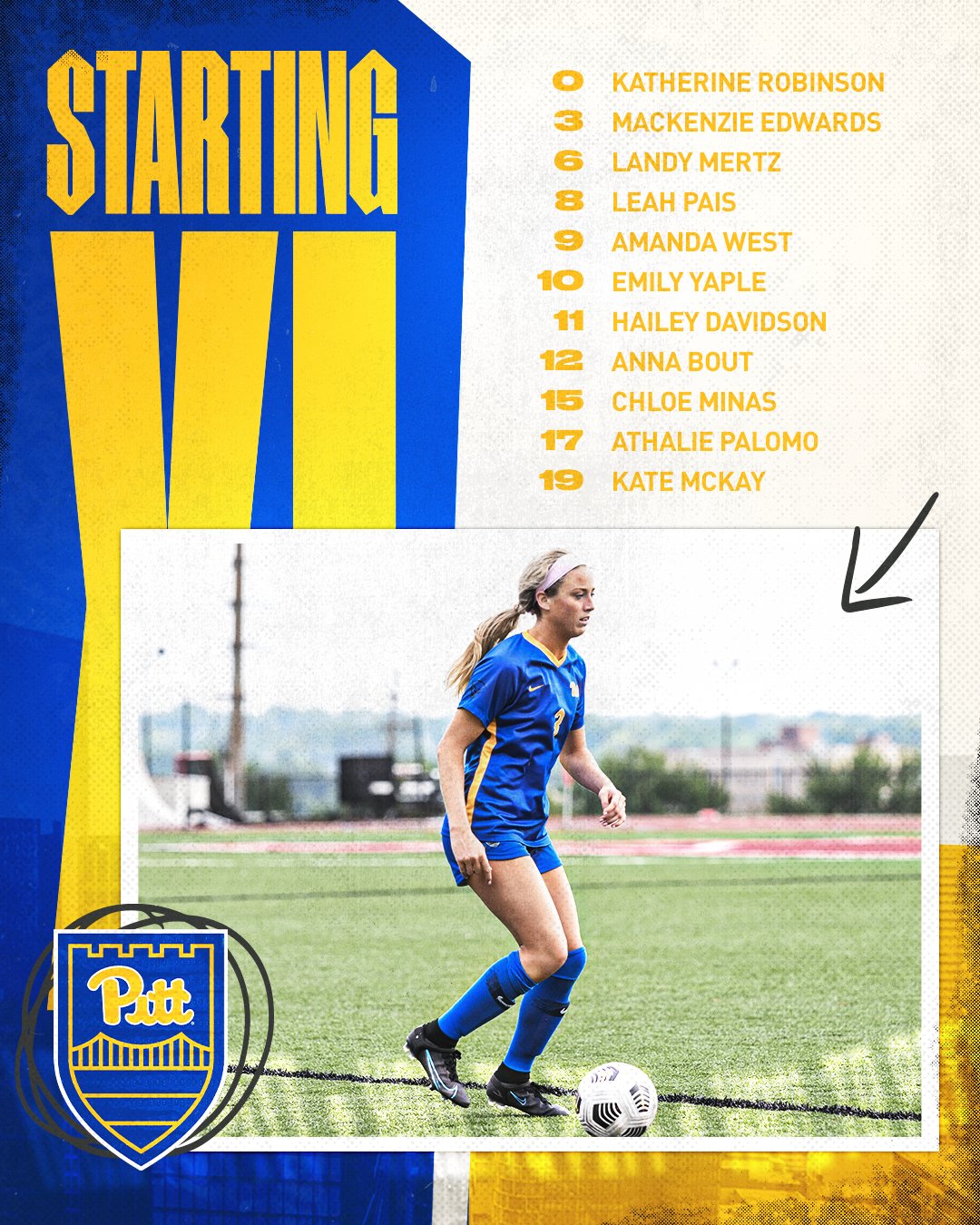 Out tonight with @pghsoccernow and @ZacharyMWeiss as @Pitt_WSOC takes on @CSU_WomenSoccer @CLE_State in game 1 of a double header with @Pitt_ATHLETICS @Pitt_MSOC at Ambrose Field. Game 2 will be the Pitt men v. @GoDuquesne @DuqMSoccer pic.twitter.com/WqtlPXkCbp

— Ed Thompson (@ThompsonFoto12) August 26, 2021
The game is the first-part of a doubleheader at Ambrose Urbanic Field with the No. 3 Pitt men's soccer team opening its season in the City Game against Duquesne at 8 p.m.
PSN's Pitt women's coverage
Pitt Game Notes
THE SERIES
This is the first matchup for Pitt against Cleveland State.
The Panthers are 11-4-1 against current Horizon League members: Robert Morris 8-2-1, Detroit Mercy 1-0-0, Oakland 1-1-0 and Youngstown State 1-1-0.
SCOUTING CLEVELAND STATE
After dropping its campaign-opener 2-0 at home to Kent State, the Vikings rebounding with a 4-2 home win over Canisius.
Going 6-4-0 with just games just in the spring last year, Cleveland State was picked sixth in the Horizon League Coaches' Poll.
Highlighting the returners for the Vikes is the reigning Horizon League Freshman of the Year Kathryn Ramicone. The midfielder led the Horizon in points (14) thanks to five goals, which tied her for the league lead.
Another key returner is 2021 All-Horizon League First Team member Maddie Young. The junior midfielder produced four goals and four assists.
BANCFIRST COWGIRL SOCCER INVITATIONAL CHAMPS
To begin its season, Pitt shut out Tulsa 3-0 and knocked off host then-No. 16 Oklahoma State 3-2 in overtime to win the BancFirst Cowgirl Soccer Invitational Championship.
Their first win over a ranked opponent in 13 years, the Panthers recorded their fourth overall win against a ranked team and second on the road.
o 2-1 (2OT) vs. No. 19 Georgetown (10/19/08)
o 2-1 vs. No. 10 West Virginia (9/01/05)
o 2-1 at No. 24 Miami, Fla. (10/12/01)
Amanda West was named the tournament's offensive MVP with two goals and an assist, while Ashton Gordon was named defensive MVP.
Chloe Minas and Katherine Robinson were also selected to the all-tournament team.
Pitt has started 2-0 all four years under Waldrum.
IN THE POLLS
Pitt was slotted at No. 23 in the first week's TopDrawerSoccer rankings.
The Panthers received the most votes (53) outside the top-25 poll in the main poll, the United Soccer Coaches' Poll and were eight votes behind No. 25 USC.
Last year, Pitt earned its first ranking in the United Soccer Coaches' Poll in program history, debuting at No. 12 in the first poll of the season on Sept. 22 and then No. 14 in the next week's poll.
The only other time in program history Pitt was ranked was in 2009, selected No. 25 by Soccer America after starting 4-0.
Head coach Randy Waldrum has led five schools to be nationally ranked: Tulsa men's and women's soccer, Baylor and Notre Dame in addition to Pitt.
HOMETOWN HEROES DEBUT
Freshmen and Pittsburgh locals Ellie Coffield and Sarah Schupansky made instant impacts in starting in their first two collegiate games.
Coffield scored the game-winning goal over Tulsa on her first career shot in the 17th minute with Schupansky getting her first point with the primary assist.
Coffield finished with another assist on the final goal against the Golden Hurricane.
Schupansky scored the golden goal at Oklahoma State for her first collegiate goal, notching the game-winner 30 seconds into overtime, and also assisted on the tying goal in the second half to send the game into overtime.
She was named to the TopDrawerSoccer Team of the Week, and is just the third Panther to earn the award (Amanda West and Leah Pais).
Both were decorated prep players.
o Coffield led Mars High School to two WPIAL and PIAA AAA Championships with a No. 1 national ranking last fall and won the Gatorade Pennsylvania Player of the Year in her last two years, was named All-American by Top Drawer Soccer and played in National All-Star Game as a senior, tabbed the Post-Gazette and Tribune Review Girls Soccer Player of the Year in 2020 and earned the inaugural Moe Rosensteel Most Outstanding WPIAL Player of the Year in 2019.
o Schupansky guided North Allegheny High School to win the 2020 and 2019 WPIAL AAAA Championships and won the 2020 Moe Rosensteel Award, was named to the 2020 and 2019 United Soccer Coaches All-East Region and PCSA All-State Teams … selected to the All-WPIAL AAAA Team her last two seasons and the WPIAL Big 56 All-Section Team the last three years.
THE PROGRAM'S GOAT, AMANDA WEST
In just a little over two years, Amanda West has proven to be the best player in the program's history.
This preseason West became the first Panther to be selected the All-ACC Preseason Team.
To start the season, she earned the first ACC Offensive Player of the Week award.
She scored a goal to break the school record in goals along with an assist in the win over Tulsa and then notched the tying goal in the 3-2 overtime win of then-No. 16 Oklahoma State.
She has been selected for the weekly award in each of three seasons.
She has scored in each of the first two games in all three years.
In season-openers, she has averaged four points per game (seven against Loyola Marymount in 2019, two at App State and three against Tulsa).
With only 36 career games played, she already ranks among the top all-time scorers in program history.
First in points (67), 11 ahead of Roosa Arvas (2012-14).
First in career goals (25), two ahead of Ashley Cuba (2009-12).
Third in assists (17), one behind Katelyn Ruhe (2008-11) and three behind Arvas.
Second in career game-winning goals (eight) with Roosa Arvas (2012-15).
First in career three-points plus games (10), thee ahead of Cande Ruiz (1998-01).
First in points per game (2.09) and goals per game (.69).
GAMEDAY PROMOTIONS
Every fan will get a 2021 schedule poster.
Kids 12-and-under wearing a soccer jersey get in for free at each home game of the 2021 season.
Fans can attend both the men's and women's team for the price of one, as a ticket gains anyone admission for both games.
Subscribe to PGH Soccer Now