CAA Men's Soccer 
FINAL: Akron 2, Pitt 1
Game Summary
The Akron Zips came out on the front foot, scoring in the 21st minute, then found the equalizer in the 75th minute to hold off No. 3 Pitt for a 2-1 victory at FirstEnergy Field on Monday night in Akron, Ohio.
With the win, Akron remains unbeaten (4-0), while Pitt (now 2-2) drops its second loss of the season, as both defeats have come on the road against MAC schools (they lost last Monday at West Virginia).
The Panthers found themselves trailing early in the match as Akron's Dyson Clapier header in the 21st minute gave the hosts the lead.  Pitt was outplayed in the first half (outshot 9-4 — 4-3 on target).
Goalkeeper Nico Campuzano came up with some big first half saves, including a dazzling save in the 36th minute, when he turned away Akron's Renato Kauzlaric's shot headed under the crossbar.
Pitt turned things up a notch in the second half.  The Panthers found the equalizer in the 59th minute when Filip Mirkovic's cross from the right side connected with Raphael Crivello on the back post.
Much like they did last week in Morgantown, the Panthers couldn't complete a second half comeback despite sending 10 more shots (four on frame) and having a decided edge on corners (6-2), the Panthers were caught with its defensive shape compromised on the counter attack, when Akron's Diogo Pacheco was there at the back post for a clinical finish in the 75th minute. 
Pitt's late push resulted in a pair of corners, numerous direct balls with sub Brandon Clagette trying to get behind the Zips back line, but the hosts scrambled to deny any clear-cut chances for the Panthers.
The Panthers will have a chance to right its ship as they open ACC play on Friday night at home against Coastal Division rival North Carolina The Tar Heels, who beat Pitt 3-0, in Chapel Hill in March, also made it to the College Cup last season.
NEWS & NOTES
–        The loss is the second consecutive on the road for the Panthers. Pitt moves to 2-2 overall for the season.
–        Junior Raphaël Crivello scored the first goal of his career in the 59th minute. Sophomore Filip Mirkovic earned an assist, his third of the season and second in as many games.
–        The Panthers outshot the Zips 15-12, including a 10-3 advantage in the second half.
Look for a more detailed recap here later in the evening and more reaction/analysis on Pittsburgh Soccer Now later in the week.  
Gameday Updates
Look for lineups and game updates/highlights to be posted here.
---
FINAL — AKRON 2, PITT 1
Once again, Pitt (now 2-2 on the season) goes on the road and loses to a regional MAC rival by same scoreline. Pitt will have a chance to right its ship Fri night in ACC opener vs UNC at Ambrose Urbanic Field.
88′ — Corner chance for Pitt goes too high and goal kick for Akron
87′ — Good ball in from left side from Sena — header from sub Brandon Clagette was saved.
84′ — Pitt's tried numerous times to catch a quick strike on long, direct balls. Akron have scrambled each time to deny chances.
75′ — AKRON 2, PITT 1
The Zips catch Pitt on the counter! 
Pitt caught stretched out and compromised in the back.
Great ball to back post finds Diogo Pacheco with the goal to give Akron a 2-1 lead.
64′ — Yellow card to Jackson Walti — professional foul ?? — stops Akron counter chance with a nick from behind.
59′ — PITT 1, AKRON 1
Raphael Crivello on the back post with the header!
Filip Mirvovic with the cross from right side.
58′ — What a save by Akron's Will Meyer on a one-time volley attempt from Pitt's Veljko Petkovic. Panthers are pushing furiously for the equalizer. So far though, coming up short.
HALF — AKRON 1, PITT 0
Akron definitely on the front foot. Outshot the Panthers 9-5 (4-3 on target).
36′ — Campuzano just made a ridiculous diving save.  Wow!
34′ — Pitt Sub — Luke Mort in for Noel
29′ —  Pitt Sub — Bertin Jacquesson in for Almeida
21′ — Pitt showing a lot of patience and stringing together passes really well.  Best effort finished with a dummy from cut-back pass to top of box for Mirkovic — who's shot was blocked for corner. Pitt couldn't convert on the corner.
12′ GOAL — AKRON 1, PITT 0
Not a good start for Pitt.
An early goal surrendered — again on the road.  Zips penetrate deep to the end line — and short cross is headed in Dyson Clapier. That was well executed by Akron but Pitt defending can be better.
You can find a football game in Akron between two top 25 teams. You really can. @ZipsMSoc @Pitt_MSOC pic.twitter.com/3YSdtZ5fcC

— Mike Popovich (@mpopovichREP) September 6, 2021
Pitt's Starters: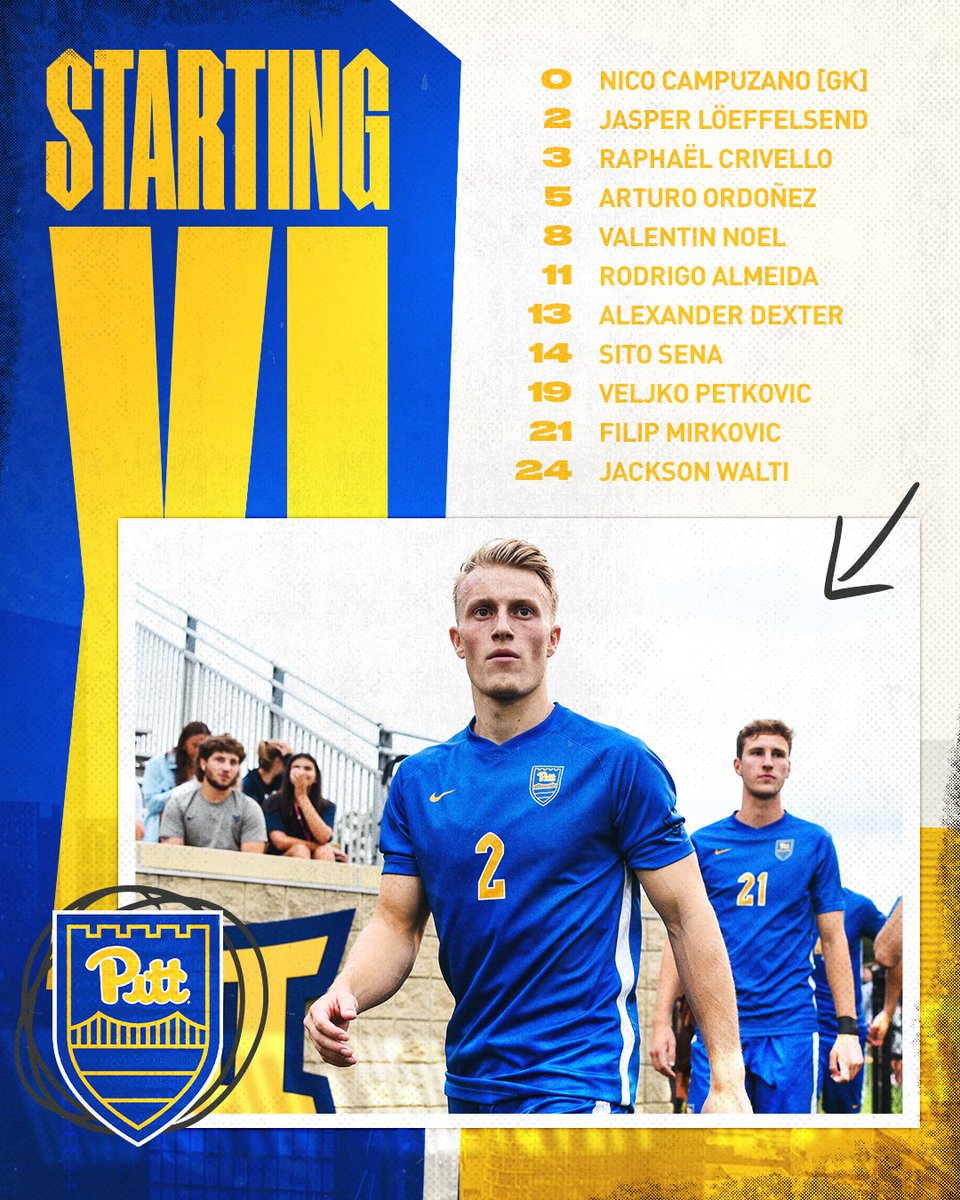 Preview
The Panthers are coming off a challenging week, as they lost their first road match, before a spirited crowd at WVU last Monday, then faced a tough challenge from Lehight at Ambrose Urbanic Field on Friday night, pulling away with a 2-1 win.
Akron has been a perennial national contender playing out of the MAC under the helm of Jared Embick.  They failed to make the NCAA tournament in 2019 for the first time in 16 years and came up short in 2020-21 too. The Zips are in good form to start the season racing out to a 3-0 record, beating Michigan State, Robert Morris and Wright State as they've returned to the Top 25 ranking in the United Soccer Coaches Poll.
PSN's Pitt Men's Soccer Coverage 
Pitt's Veljko Petkovic named ACC Men's Soccer Offensive Player of the Week
Pitt Game Notes
PITT BOUNCES BACK AT HOME
–        The Panthers returned home after a 2-1 road loss at West Virginia and defended Ambrose Urbanic Field, defeating Lehigh 2-1 Sept. 3.
–        Junior Veljko Petkovic scored his third goal of the season in the 45th minute, giving Pitt a 1-0 halftime lead.
–        Senior Rodrigo Almeida earned his second goal in as many games played, putting Pitt up 2-0 in the 76th minute.
–        Graduate Student Jasper Löeffelsend tallied two assists, his second multi-assist game of his career. Sophomore Filip Mirkovic also added an assist of his own.
THE SERIES – AKRON
–        Akron leads the all-time series 18-8-2.
–        Pitt won the last meeting, a 1-0 victory at Ambrose Urbanic Field Sept. 16, 2019.
–        The Zips last defeated the Panthers Sept. 1, 2018 at FirstEnergy Stadium by score of 1-0.
–        Head Coach Jay Vidovich is 4-4-1 all-time against Akron, holding a 1-2 record while at Pitt.
SCOUTING THE ZIPS
–        No. 19 Akron enters the contest with a 3-0 record, including a 2-0 mark at home. The Zips have defeated Wright State (7-1), Michigan State (2-1) and Robert Morris (3-0).
–        The Panthers face their first ranked opponent of the season in Akron and first since No. 3 Indiana in the NCAA College Cup.
–        The Zips own one of the top offenses in the country, as they have scored 12 goals and tallied 13 assists so far this season.
–        Wan Kuzri Wan Kamal leads the team with six points (2 goals, 2 assists), while Ryan Kingsford has two goals and an assist on the year.
–        Akron has held its opponents to two goals in three games, with goalkeeper Will Meyer registering two saves.
TOP PERFORMANCES SO FAR
–        The Panthers enter Monday as one of the best passing teams in the country totaling 10 assists.
–        Graduate student Jasper Löeffelsend, the reigning ACC Defensive Player of the Year who tallied nine assists last season, totaled two against Lehigh and leads the team with three on the year.
–        Ten different Panthers have totaled a point this season, with junior Veljko Petkovic (3 goals, 2 assists) leading the way with eight. Senior Rodrigo Almeida is second with four points (2 goals), while Löeffelsend (3 assists) and junior Valentin Noel (1 goal, 1 assist) each have three.
PETKOVIC NAMED ACC OFFENSIVE PLAYER OF THE WEEK
–        Junior midfielder Veljko Petkovic was named ACC Offensive Player of the Week for the second time in his career Tuesday, Aug. 31 for his performance in Pitt's 7-0 shutout of Duquesne.
–        Petkovic began the 2021 season with a career night against the Dukes at home, scoring two goals and tallying two assists for a career-high six points.
–        Petkovic scored two goals midway through the first half one minute and eight seconds apart, setting a school record for fastest consecutive goals scored by one player.
–        The Queens, N.Y., native was also named to TopDrawerSoccer and College Soccer News' Team of the Week.
UP NEXT
–        The Panthers return home for their first ACC contest of the season against nationally ranked North Carolina.
–        Both Pitt and North Carolina made it to the NCAA College Cup last season.
–        Game-time is Friday, Sept. 10 at 7 p.m. with coverage on the ACCNX.
Sounding Off on Soccer: Riverhounds Road Woes
Subscribe to PGH Soccer Now