ACC Men's Quarterfinal 
FINAL: PItt 2, Virginia Tech 1
Match Summary
It took more than 100 minutes, but Pitt survived a tough test from Virginia Tech, winning 2-1 in the second overtime to advance in the ACC Men's Soccer Quarterfinal round on Sunday evening at Ambrose Urbanic Field.
"I'm very happy for our guys tonight," said head coach Jay Vidovich. "I thought we did a good job controlling the game with chances throughout the match. Hats off to Virginia Tech who stayed strong and kept us very honest. To have the fans behind us was a big bonus and a great atmosphere for college soccer."
Valentin Noel scored both goals — as he was on the receiving end of crosses in the 4th minute and then for the game-winner in the second period of extra time in the 104th minute.
THE PANTHERS WIN IT IN DOUBLE OT 😤@Pitt_MSOC is headed to the Semis! pic.twitter.com/JJ4dl68Wdw

— ACC Network (@accnetwork) November 7, 2021
The Panthers advance to take on Notre Dame on Wednesday night at Ambrose Urbanic Field.
How It Happened 
Pitt's offense got off to a quick start, connecting with the back of the net on the first shot attempt by either team. Noel took a pass from left to right from Bailey who one-touched it inside the box from eight yards out for the goal.
Virginia Tech (10-5-3) answered less than five minutes later as Jacob Labovitz assisted Kyle McDowell for the equalizer. The Panthers kept pressure inside the box, as Hokie goalkeeper Ben Martino stopped two would be goals and the score remained the same at halftime.
Pitt outshot Virginia Tech 8-4 in the first half while both teams had three corner kicks.
The Panthers dominated the offensive end in the second half, outshooting Virginia Tech 11-2 with three corner kicks to their name. The Hokie defense kept it tied, as Martino registered five saves in the second half to help force overtime.
After no shots were taken in the first nine minutes and 30 seconds of the first overtime, senior Jackson Walti fired one last attempt toward goal to try and win the game. Walti's 30-yard strike bended toward the upper right 90 of the goal, only for Martino to stretch out and make a diving stop at the buzzer to force a second overtime.
Pitt again pressured the ball into the attacking third of Virginia Tech, as Löeffelsend dribbled up toward the opposing 18-yard box. The defender gave a through ball to Jacquesson, who took a dribble and crossed it from right to left toward the back post for Noel, who one-touched it in. It was the second double-overtime victory for the Panthers this season (Syracuse Oct. 1) and fourth double-overtime game overall.
The Panthers ended the night with 21 shots to Virginia Tech's six and also led in corners 6-4.
No. 1 seed Pitt remains at home and will host five-seed Notre Dame Wednesday, Nov. 10 at either 5 or 7 p.m
NEWS & NOTES
–        Pitt improved to 11-4-1 overall and advanced to the ACC Semifinal round for the third-straight season. The Panthers will host No. 5 seed Notre Dame Wednesday, Nov. 10 at either 5 or 7 p.m. on the ACC Network.
–        The victory at home extended an ACC best 19-match home winning streak. The Panthers entered the match with the second longest unbeaten streak in the nation.
–        Noel scored both of Pitt's goals, the fifth multi-score game of his career. Jacquesson tallied two assists while graduate student's Matt Bailey and Jasper Löeffelsend each had one.
–        The Panthers recorded a season-high 21 shots and six corner kicks, while graduate student goalkeeper Nico Campuzano had three saves.
Gameday Updates 
We'll provide game updates from Ambrose Urbanic Field.
---
FINAL:  Pitt 2, VT 1
GOLDEN GOOOOOOOOAAAAAAAALLLLLLL@Pitt_MSOC
Valentin Noel
Pinpoint low cross in from Bertin Jacquesson and the Panthers advance to @ACCMSoccer T-ment semifinal (Wed). Pitt will host winner of UofL/Notre Dame.
103'
2-1 #H2P

— John Krysinsky (@JohnKrysinsky) November 7, 2021
End of 2nd OT  – PITT 1, Virginia Tech 1
Alexander Dexter gets a dangerous cross in but VT clears. With clock running down in 1OT, Jackson Walti lets one loose from nearly 35 yards that forces Ben Martino to fingertip save it! Wow! We're going to 2OT!!
We're going to OT!!
@Pitt_MSOC 1
@HokiesMSoccer 1
Golden Goal will win it.
It was a tense 2nd half. VT defending really well, testing Pitt's patience. Reminds me a bit of how Notre Dame played Pitt and eventually won in OT.
75′ — Pitt's Matt Bailey is shaken up on a hard collision at midfield. He's coming out as training staff attending to him — with towel on head. Hope not too bad of a head injury for the graduate student.
Bertin Jacquesson comes in to replace Bailey
74′ — After corner — ball takes bounce — PItt's Jackson Walti tries a sissor kick that juuuust misses past the left post.
69′ — Lot more patience from Pitt — and lo and behold — a solid shot on goal from Filip Mirkovic from the top of box. Saved by Martino.
63′ — Pitt's Jasper Loeffelsend taken down by VT's Andrew Weber, who is assessed a yellow card
61′ — At least three or four times now in second half, Pitt gives a ball away near midfield, and Virginia Tech getting forward quickly. Panthers spending too much time scrambling tonight.
58′ — Matt Bailey gets all the way from box to box on a one man counter, then sends left footed low shot that's grabbed by VT keeper Ben Martino.
54′ — Patnthers are keeping the ball for long stretches, but have been sloppy at times in connecting the final pass. Credit to Virginia Tech though, they're making it difficult.
HALF 1-1
39′ | Coming in for Valentin Noel is Luis Sahmkow, who hasn't played a lot this year. Pitt missing Veljko Petkovic again tonight.
32′ | Jacquesson's shot is inches right of the post! Panthers with five shots so far in the first half.
𝗕𝗜𝗚 𝗕𝗘𝗡 ‼️

Equal chances for both teams, but this monster saves keeps us level.

📊 » https://t.co/3WKCL8SVB0
💻 » https://t.co/hVf4r5EQxu#Hokies 🦃 pic.twitter.com/g9Zxzt5TDj

— Virginia Tech Men's Soccer (@HokiesMSoccer) November 7, 2021
30′ | Pitt corner — Jacquesson to Ordenez who smashes header to middle of goal but Martino is there with the save
28′ | Great save by Martino on dangerous shot from Noel from 25 yards.
20′ | Campuzano with his first save of the day.
𝗪𝗛𝗔𝗧 𝗔 𝗥𝗘𝗦𝗣𝗢𝗡𝗦𝗘!

Our main assist man Kyle McDowell provides the Hokies a quick equalizer!

📊 » https://t.co/3WKCL8SVB0
💻 » https://t.co/hVf4r5EQxu#Hokies 🦃 pic.twitter.com/YQat9tNPdq

— Virginia Tech Men's Soccer (@HokiesMSoccer) November 7, 2021
5′ – GOAL — PITT 1, VT 0
Valentin Noel with a fabulous volley!
Assist from Matt Bailey.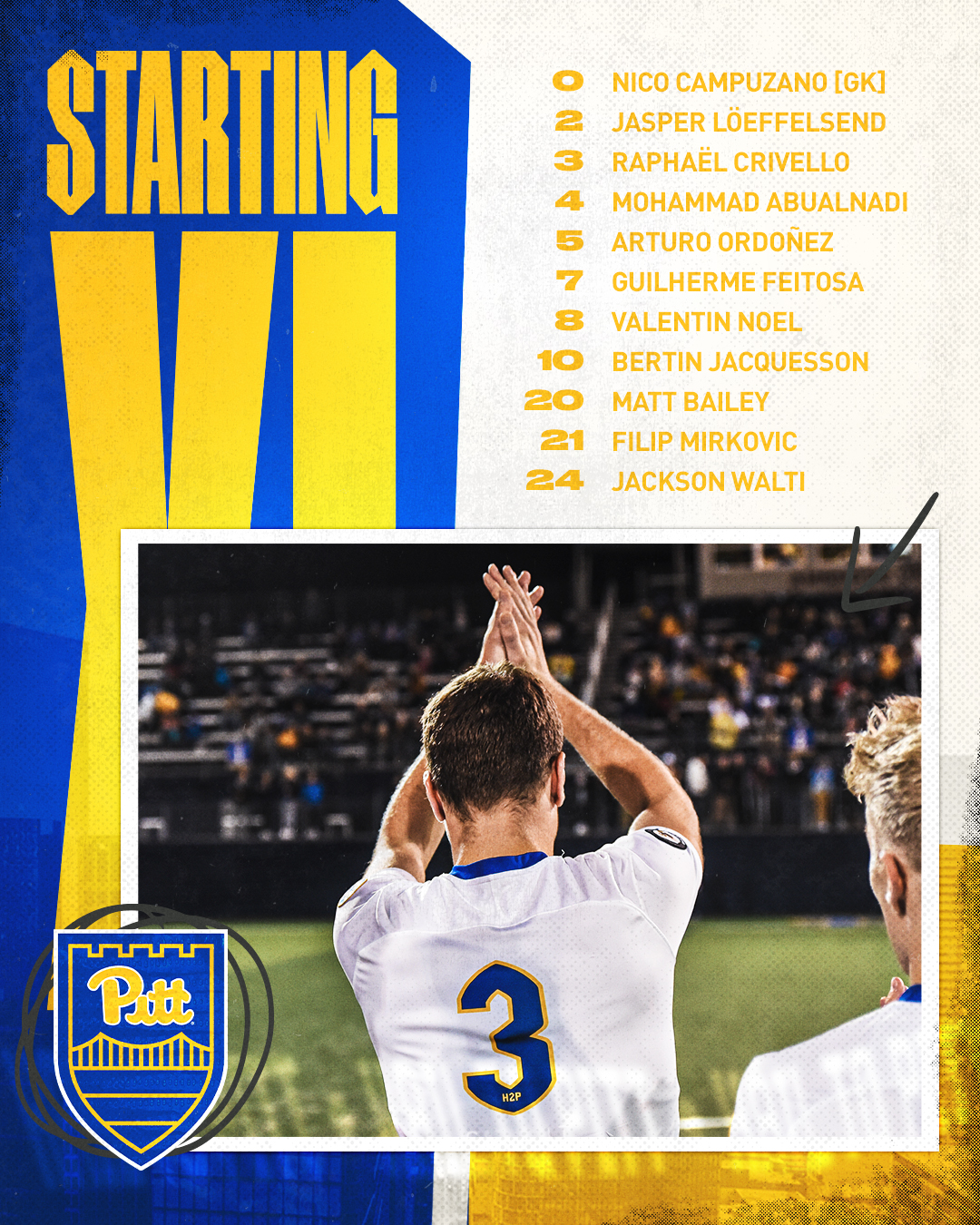 It's Postseason Play in Pittsburgh!

🆚 No. 8 seed Virginia Tech (ACC Quarterfinal)
⏰ 4 PM
🏟️ Ambrose Urbanic Field
📊 https://t.co/xLXYDj1t49
📺 https://t.co/jNdg5668qK (ACC Network)
🎟️ https://t.co/Yx4C06ajaK
📝 https://t.co/dMruo7WtDy#H2P pic.twitter.com/VjaGcmEITq

— Pitt Men's Soccer (@Pitt_MSOC) November 7, 2021
"I could continue my degree, play soccer at a high level and the fact I could learn a second language. It's like living a dream."

Check out this feature on our #️⃣8️⃣, @Vlnt_Noel!

🎥 from: Pitt Beyond the Script#H2P pic.twitter.com/MknqNOlRnq

— Pitt Men's Soccer (@Pitt_MSOC) November 6, 2021
Preview / Key Storylines
Pitt men's soccer team faced a number of challenges during the regular season, but came out of it a stronger team and once again prepared to make a deep run through the postseason in November, and if things go the way they want, into December.
The first goal for Pitt will be to win the ACC Men's Tournament for the first time in school history.  The Panthers head into the tournament as the top seed by virtue of its regular season finale 4-1 win against Sunday's opponent, Virginia Tech.
The Hokies advanced to the quarterfinal and travel to Pittsburgh after beating Boston College on Wednesday in the first round.
While the Panthers had some injuries in the latter part of the regular season, only Veljko Petkovic was the remaining regular starter who didn't play in the finale vs Virginia Tech.
If the Panthers can win the quarterfinal match on Sunday, they'll host the semifinal round against the winner of Notre Dame-Louisville (4-5 seed match-up).
PItt Men's Soccer Game Notes 
THE SERIES – VIRGINIA TECH
Virginia Tech leads the all-time series 5-4-4, with Pitt winners of the last four games.
For the first time in program history, the Panthers will play the same team in consecutive matchups. Pitt's most recent match was a 4-1 defeat of Virginia Tech Friday, Oct. 29 at home.
Head Coach Jay Vidovich is 17-5-1 all-time against the Hokies.
SCOUTING THE HOKIES
Virginia Tech enters the match 10-4-3 overall and 3-4-1 in conference action. The Hokies are 1-3-1 away from home this year.
Virginia Tech defeated No. 9 seed Boston College at home, 1-0, in overtime Wednesday to advance to the quarterfinal round.
The Hokies are 13th in the country in total assists (38), 20th in assists per game (2.24) and 19th in total points (104).
Kyle McDowell is tied for second in conference in assists (7), matching Panther Jasper Löeffelsend's total. McDowell is also third in the conference in assists per game (0.44).
Jacob Labovitz leads the team with 19 points with eight goals and three assists. Conor Pugh is second on the squad in goals (6), while goalkeeper Ben Martino has registered a 9-4-2 record in goal with 51 saves in 15 games played.
HOME TURF ADVANTAGE
The Panthers extended their home winning streak to 18 games with a 4-1 victory over No. 21 Virginia Tech Oct. 29.
Pitt's 18-straight matches won at Ambrose Urbanic Field is currently the most at any home venue in the conference. Clemson previously held that title with 31-straight wins at Historic Riggs Field before Pitt defeated them 2-0 Sept. 25.
In addition to the longest active streak in the ACC, the Panthers currently hold the second longest unbeaten streak at home in the nation.
Pitt's last home loss came Oct. 4, 2019 against No. 20 North Carolina (2-1).
Head Coach Jay Vidovich is 27-15-3 at home in six plus seasons at Pitt and is 18-2-1 in the past two seasons at Ambrose Urbanic Field.
Since the Panthers 6-0 victory at home vs. Howard Oct. 7, 2019, Pitt has outscored its opposition 62-14 with a 32-7 mark this season.
WHEN PITT SCORES FIRST
Pitt is 9-0-1 on the season when scoring the first goal of the match.
In the past two seasons, the Panthers are 24-0-1 when scoring first.
Dating back to 2016 in Jay Vidovich's first season as Pitt's head coach, the Panthers are 49-6-1 in games they score the first goal.
Under Vidovich, the Panthers played to their first draw when scoring the first goal at Virginia Oct. 22 (2-2).
PITT NO. 4 IN LATEST RPI
Pitt claimed a top-five spot in the latest NCAA Men's Soccer RPI rankings, earning No. 4.
The Panthers are the highest-ranked ACC team in the RPI, followed by Clemson (No. 5) and Duke (No. 9).
Virginia Tech enters the week with a RPI ranking of 21.
Riverhounds MF Danny Griffin
Subscribe to PGH Soccer Now