NCAA Men's Soccer Tournament – Third Round (Sweet 16)
FINAL: Pitt 4, Hofstra 0
Match Summary
Intent on dictating terms of the match from the start, the fifth seeded Pitt Panthers defeated Hofstra, 4-0, to advance to the NCAA men's soccer tournament and one step closer to a return appearance in the College Cup.
Filip Mirkovic had a goal and an assist, while Raphael Crivello added a brace with both goals coming from corner kicks and Bertin Jacquesson added a brilliant strike from outside the box.
"We are very excited with the result and moving forward," Pitt's Head Coach Jay Vidovich, said. "It was a really good performance by my guys and were able to manage the game well. We were fortunate to escape a couple of good efforts from Hofstra, who as we know is a very dangerous team. Very pleased with the performance by the guys."
The Panthers disrupted the Pride's occasional attacking moments with outstanding recovery defending throughout the contest and also by controlling possession, especially playing the ball out of the back effectively to neutralize Hofstra's press.
With the loss, Hofstra's magical season and run comes to an end. The Pride came into this match having won 17 straight matches.
"Pitt outstanding way they moved the ball. They really exposed our frailties today," Hofstra's Head Coach Richard Nuttall said. "From my point of view they were best college side we played in my 30 years of being around the college game. It's going to take a very good effort to beat this team."
Pitt will face the winner of an All-ACC match between Wake Forest and Notre Dame. to be played Sunday at 5 p.m. Both teams have beaten the Panthers this season.
HOW IT HAPPENED
After keeping the ball with sharp passing for large portions of the scoreless first half hour of the match and accumulating a huge advantage on corner kicks (7-1 in first half), the Panthers broke the ice on a frigid afternoon when Filip Mirkovic delivered a brilliant, bending shot that beat Hofstra's goalkeeper Wessel Speel in the 40th minute.
A gorgeous goal from Mirkovic ⚽

Panthers up 1-0!

💻 – https://t.co/fktPEFgWEu (ACCNX)#H2P pic.twitter.com/rPT26XqXE2

— Pitt Men's Soccer (@Pitt_MSOC) November 27, 2021
Hofstra had a couple chances in the first half that could have changed the complexion of the match.
The first came in the 26th minute when its leading scorer Ryan Carmichael advanced toward the attacking third, but pulled up with what appeared to be an injury.
In a rare moment, Pitt couldn't clear as the ball came to the wide right side of the box where Carmichael took it and dribbled to the right end line, then sent a cross to the far post for Matthew Vowinkel, who's header attempt missed left.
With a one-goal lead, the Panthers came out on all cylinders in the second half.
The first goal came from Crivello, who was the recipient in the middle of the box from a Mirkovic corner kick.
The Panthers stayed in control, eventually when knocking it around the attacking third, Jacquesson received a pass with all kinds of time to line up a shot from 28 yards.
The sophomore winger, who scored once and had three assists in Pitt's 5-2 second round win against Northern Illinois, sent a bending ball into the left side of goal to give Pitt a 3-0 lead in the 62nd minute.
Crivello, a left outside back who has been more of a solid defender and provides service, scored a second effort goal on yet another corner kick. His first attempt in the sequence was saved by Speel, but Crivello won the ball back in a crowded box and delivered another ball in the back of the net for a commanding 4-0 lead.
–        Pitt returns to the Elite Eight for the second-straight season and second time in program history. Since 2019, when Pitt made its first NCAA Tournament appearance since 1965, the Panthers have registered a 6-2 record in NCAA postseason action.
–        The Panthers earned their 11th victory at home, breaking a program record for wins in the city of Pittsburgh. Pitt is 21-3-1 in the past three seasons at home.
–        Junior Raphaël Crivello had a career day, scoring two goals for the first multi-goal game of his career.
–        Sophomores Filip Mirkovic and Bertin Jacquesson scored one goal each, while Mirkovic, senior Alexander Dexter, junior Valentin Noel and freshman Guilherme Feitosa each tallied an assist.
Match Day Updates
Check back here for the latest updates including starting lineups, in-game highlights/key moments, commentary/analysis and postgame reaction.
---
FINAL: PITT 4, HOFSTRA 0
Feelin' Elite 😎#H2P pic.twitter.com/5BztQf70D2

— Pitt Men's Soccer (@Pitt_MSOC) November 28, 2021
What performance by the Panthers!
They dictated tempo and terms throughout, adding some terrific highlight goals, solid defending and now they advance to the Elite 8.
68′ — GOAL – PITT 4, HOFSTRA 0
Rafael's SECOND of the match!

Panthers lead 4-0 with less than 20 to play.

💻 – https://t.co/fktPEFgWEu (ACCNX)#H2P pic.twitter.com/IKAi6cfKIS

— Pitt Men's Soccer (@Pitt_MSOC) November 27, 2021
Crivello does it again.
Not to be denied!!
Header from corner is saved, then wins it back in a crowd and beats Hofstra's GK Wessel Speel.
63′ – GOAL – PITT 3, HOFSTRA 0
Bertin Jacquesson with a fabulous strike from right side about 28 yards out!
His third goal of @NCAASoccer tournament was a thing of beauty.
49′ – GOAL – PITT 2, HOFSTRA 0
Snuck into the upper 9️⃣0️⃣

Panthers lead 2-0 over Hofstra.

💻 – https://t.co/fktPEFgWEu (ACCNX)#H2P pic.twitter.com/mosSDlT50l

— Pitt Men's Soccer (@Pitt_MSOC) November 27, 2021
This time Raphael Crivello connects!
Panthers go up 2-0 early in the second half on @HofstraMSOC
What a day so far for Filip Mirkovic — who adds the assist from the corner kick service.
HALF — PITT 1, HOFSTRA 0
45′ — Hofstra with a chance on corner in dying moments of 1st half. After scramble in box for ball — Pitt clears it away.
44′ — Ouch!
Almeida goes down as he makes a nice run behind Hofstra last defenders.
Hasn't played for a while due to lingering hamstring injury. He'll come off and Luiis Sahmkow will come in.
40′ – GOAL – PITT 1, HOFSTRA 0
A gorgeous goal from Mirkovic ⚽

Panthers up 1-0!

💻 – https://t.co/fktPEFgWEu (ACCNX)#H2P pic.twitter.com/rPT26XqXE2

— Pitt Men's Soccer (@Pitt_MSOC) November 27, 2021
Filip Mirkovic tees one up and hits it from 26 yards!
39′ — Pitt Sub:
IN: Matt Bailey
OUT: B. Jacquesson
38′ — Things really opening up for the Panthers.
37′ — Dexter with another chance from left edge — this shot barely goes over the bar.
Panthers keep bringing pressure. Crivello overlaps to get into box but shot deflected out for corner. Another corner to Ordonez for header but misses over bar.
35′ — Now it's Pitt on the counter. Jacquesson breaks into edge of box — find Dexter on left side. Shot is drilled to center of goal but tip saved by Speel.
34′ — First Sub for PItt…
IN: Rodrigo Almeida
OUT: G. Feitosa
26′ – What a strike from Raphael Crivello on the end of Pitt free kick trickery but it'ssaved by Hofstra's Wessel Speel. Rebound comes to Mohammad Abaulnadi but Pitt defender hits it too high!
20′ — Great chance for Hofstra on counter. At first looked like Carmichael pulled up with knock, but ball came back to him, took it to wide right side of box. Cross to far post finds Vowinkel but header misses left!
15′ — Pitt trying to control tempo — showing a lot of patience and looking sharp in knocking the ball around. 0-0
9′ — Terrific ball in from Loeffelsend finds Feitosa who buries his shot, but ruled offside.
7′ — Pitt elects the short corner on second attempt — and Ordonez is there in middle of the box but just misses left of the post on the redirect.
4:05 p.m. – 1′ – We've kicked off!
A better look at how the Panthers will lineup…
Here's Pitt Starting XI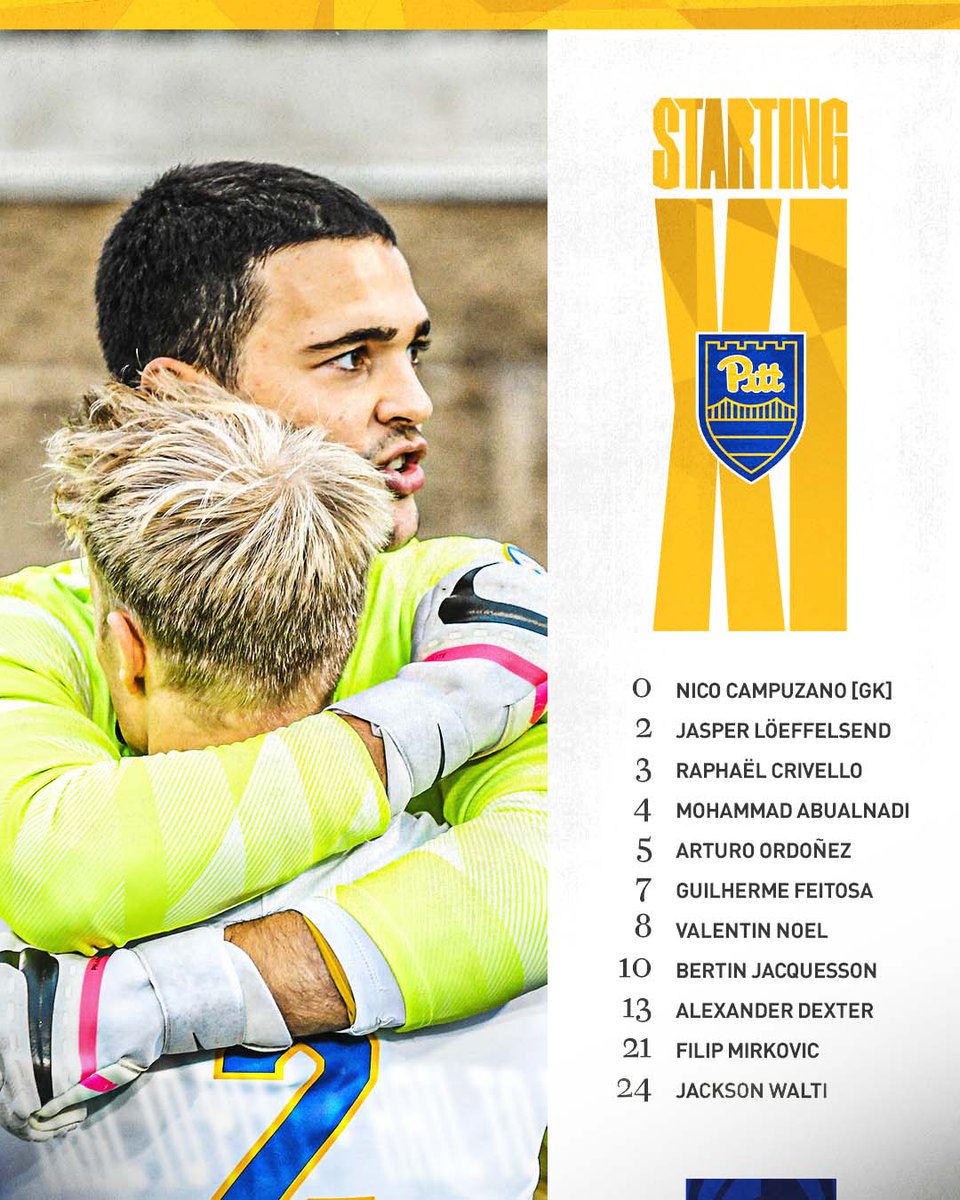 Here's the starting 11 for the boys from Long Island…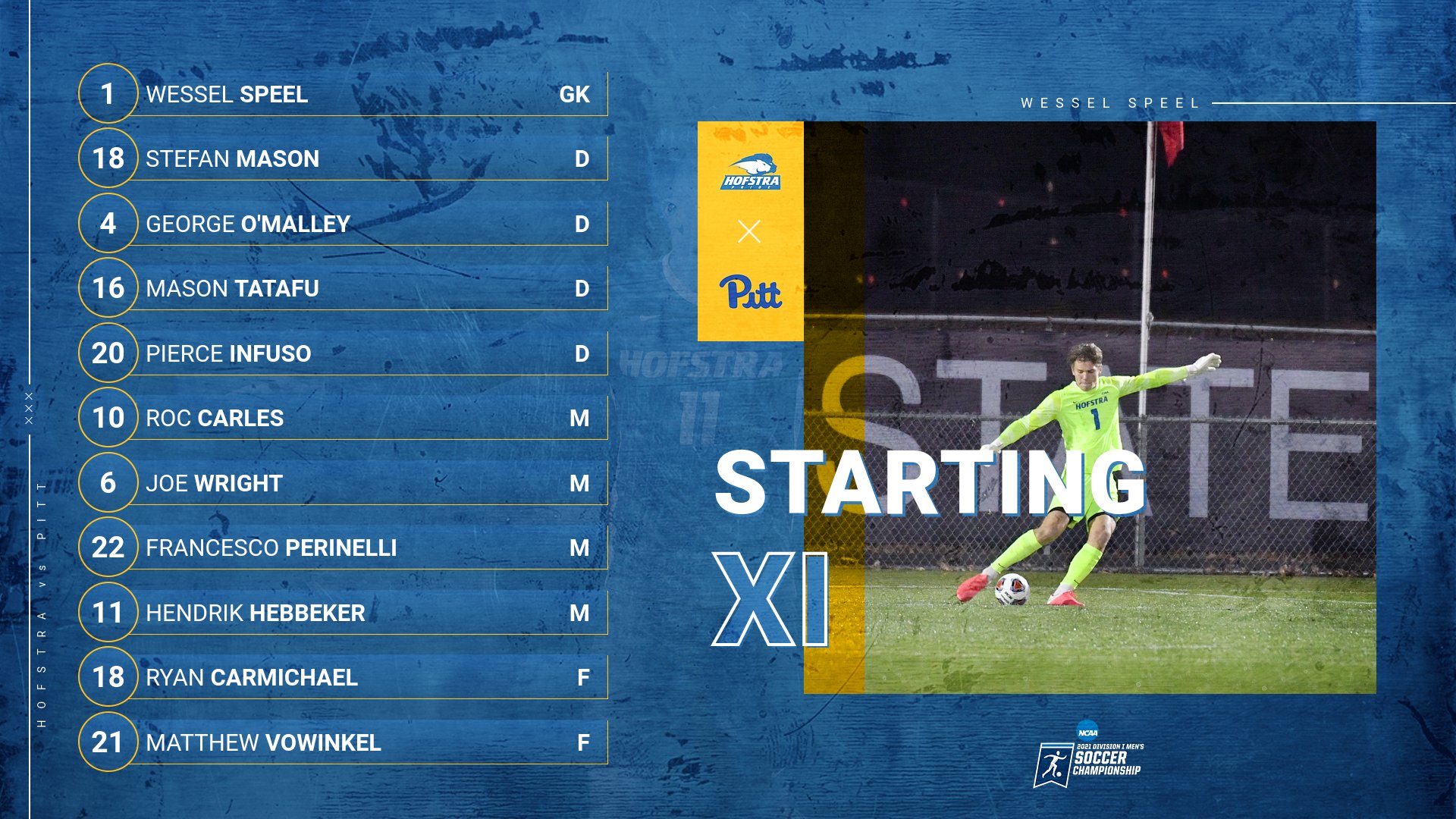 Sweet 16 home cooking.#NCAASoccer x 🎥 @Pitt_MSOC pic.twitter.com/3HTKVv9QDj

— NCAA Soccer (@NCAASoccer) November 24, 2021
Took off from the Big 🍎 and have arrived in the Steel City❗️ #Hofstra #RoarWithPride pic.twitter.com/E1LquVPBRw

— Hofstra Men's Soccer (@HofstraMSOC) November 25, 2021
PSN's Pitt Men's Soccer Coverage
NCAA Men's Soccer Tournament: Pitt prepares for high-scoring, red-hot and aggrieved Hofstra
Pitt's Bertin Jacquesson earns honors for one goal, three assist performance
Pitt Game Notes
THE SERIES – HOFSTRA
– The Panthers and Pride meet for just the second time in program history Saturday.
– Pitt won the first meeting, 2-1, Sept. 12, 2004 in Pittsburgh.
– Head Coach Jay Vidovich is 1-1 all-time against Hofstra.
SCOUTING THE PRIDE
– Hofstra enters the match with an overall record of 18-1-2 including a 7-1-1 road record. It's lone loss was a 2-1 defeat to Boston on the road.
– The Pride enter as the nation's leader in total goals (56) and total points (170) while tied with Pitt in total assists (58). Hofstra is second in the nation in scoring offense (2.67), corner kicks per game (7.71) and assists per game (2.76).
– Sophomore forward Ryan Carmichael, who earned First Team All-CAA earlier this month, is second in the nation in goals with 15 and first in the country with 39 points. Carmichael has nine assists, 69 shots, 33 shots on goal and is tied for third in the country in game-winning goals with six.
– Receiving major CAA awards are George O'Malley (Defensive Player of the Year) and Mason Tatafu (Rookie of the Year). O'Malley has one goal this season and helped a back line hold opponents to 17 goals this season. Tatafu has three goals and one assist has started every game as a freshman on the back line.
– Hofstra Head Coach Richard Nuttall was also named CAA Coach of the Year for the third time in his career.
JACQUESSON EN FEU
– Sophomore Frenchman Bertin Jacquesson has been a major contributor on offense this season, totaling six goals, 11 assists and averaging 1.28 points per game.
– The forward converted his lone shot into a goal against Clemson (Sept. 25) and followed that match up with two assists in a home victory vs. Syracuse (10/1).
– He registered four points in Pitt's shutout victory over Cleveland State (10/5) with a goal and two assists and aided Pitt in its 3-2 victory over No. 3 Duke (10/9) with a goal.
– Jacquesson earned his fifth assist of the season against Virginia on Valentin Noel's first goal of the match.
– He followed the Virginia match up with his sixth assist of the season vs. UMass.
– Jacquesson scored Pitt's first goal against No. 21 Virginia Tech, helping Pitt record three goals in less than seven minutes in the first half in a 4-1 victory.
– The Frenchman recorded two assists in Pitt's 2-1 double-OT ACC Quarterfinal win over Virginia Tech, his fifth multi-assist game of his career.
– Jacquesson delivered a career-high match against Northern Illinois in the NCAA Tournament Second Round Sunday, recording one goal and three assists. His assist total tied an NCAA Tournament single-game record and he became the first player since 2018 to tally three assists in an NCAA Tournament contest.
– His efforts against Northern Illinois earned him a spot on College Soccer News' Team of the Week Nov. 22.
– The forward etched his name into the record book after the Northern Illinois victory, tying Eric Prex's (1994) single-season assist record of 11 assists. In two seasons at Pitt, Jacquesson is tied for third all-time with 18 assists.
– Jacquesson leads the team in points (23), is third in goals (6) and is first in assists (11). He is second on the team with a .538 shot on goal percentage (min. 10 shots).
– His total assist count is ranks fifth in the country, while his .61 assists per game mark is sixth in the nation.
CAMPUZANO WITH THE STOPS
– In just two seasons as Pitt's goalkeeper, Nico Campuzano has etched his name atop of the goalkeeping records but has made his name known come postseason play.
– The Cantabria, Spain, native stopped three shots in Pitt's 5-2 NCAA Second Round victory over Northern Illinois Sunday, Nov. 21.
– In five NCAA Tournament games played, Campuzano has 21 saves, including a career-high 10 against UCF in the NCAA Third Round last year.
– Between all postseason play (NCAA Tournament and Atlantic Coast Conference Tournament), Campuzano has 44 saves. That total accounts for 39% of his career saves (113).
– The keeper owns a 6-3 postseason record with a 3-1 mark this year.
HOME TURF ADVANTAGE
– The Panthers have been one of the best teams in the country on their own turf, owning a 21-3-1 in the last three seasons.
– Pitt held a 19-match home winning streak from Oct. 7, 2019 to Nov. 10, 2021, which at the time was the longest streak in the ACC and second longest unbeaten streak in the nation.
– Pitt fell at home, 2-0, in the ACC Semifinal to #20 Notre Dame Nov. 10 for the first time since an Oct. 4, 2019 defeat to #20 North Carolina.
– Head Coach Jay Vidovich is 29-16-3 at home in six plus seasons at Pitt and is 20-3-1 in the past two seasons at Ambrose Urbanic Field.
– Since the start of the 2019 season, Pitt has outscored its opposition 80-28 at home with a 39-12 mark this season.
TOURNAMENT HISTORY IN PITTSBURGH
– Saturday marks the fourth-ever NCAA Tournament match in Pittsburgh and third-ever at Ambrose Urbanic Field.
– The Panthers first NCAA game in Pittsburgh was at Pitt Stadium Nov. 22, 1965 against East Stroudsburg (L, 2-0).
– Pitt hosted Lehigh at Ambrose Urbanic Field Nov. 21, 2019 in the First Round. The 2-0 victory that night was the first NCAA Tournament victory in program history.
– The Panthers are 2-0 at Ambrose Urbanic Field in NCAA postseason play, recently defeating Northern Illinois (5-2) in the second round Sunday, Nov. 21.
– Pitt is playing in the NCAA Tournament for the fifth time in school history. Previous years in the tournament include 1962, 1965, 2019 and 2020, with the latter earning a trip to the College Cup for the first time in program history.
Subscribe to PGH Soccer Now