USL Championship Soccer
Riverhounds 1, Birmingham Legion FC 0
Match Summary
The Pittsburgh Riverhounds SC came out firing on all cylinders, and made one of their early shots on frame count in defeating the Birmingham Legion FC, 1-0, before 3,479 fans on Saturday night at Highmark Stadium.
Hounds' ironman Danny Griffin scored the lone goal in the 4th minute of the match, while goalkeeper Kevin Silva posted his second clean sheet of the season while playing effectively in coming off his line to grab numerous crosses and long balls.
With the win, the Hounds improve to 6-2-1 (19 points) in league play, while BIrmingham drops to 3-4-3 (12 points).
Head Coach Bob Lilley called it his team's best overall effort of the season, following a disappointing loss on the road to first-place Louisville City FC, last week.
"Really happy with the performance. They (Birmingham) are a good team. Starting to build momentum. We were ready to play," Lilley said. "We've done a good job here, when bouncing back after tough lossess. We were able to do that again tonight. We're glad to come away with the three points,"
Pittsburgh came out in a 4-2-3-1 formation, with a few tweaks in the lineup that was designed to make Birmingham chase the match, while getting into quick scoring opportunities, quickly.
With this aggressive mindset, the Hounds attacked early and often in the first half, with precise passing, including multiple balls in from the left side, with rookie left outside back Nathan Dosssantos creating service opportunities.
Among the tweaks in the lineup, saw Griffin move up into an attacking central midfield spot, after playing for much of this and last season in a deeper, holding role, while veteran Kenardo Forbes and first-year pro Marc Ybarra played deeper in the formation.
In the 4th minute, Dossantos received a pass from Forbes, then after taking a few touches on the left side, found Griffin breaking into the box, making a run along with Russell Cicerone.
Griffin and Cicerone were on the same page.
"It was a great ball in by Nate (Dossantos). I saw the run, Russ was coming behind me," Griffin explained.  "He was obviously talking to me.  I took the touch.  Saw that they didn't step out toward me, so I hit the target low."
The third-year pro from Providence took it from there with his first-ever goal in Highmark Stadium.
Well, that was fast 🤨@RiverhoundsSC get on the board early.#PITvBHM pic.twitter.com/pabtB0Jc3h

— USL Championship (@USLChampionship) May 7, 2022
"Amazing," Griffin added. "Yeah, that's the first one too. I got to do it in front of the Steel Army."
For much of the first half, the Hounds never took their foot off the gas, but they couldn't find the back of the net either.
The chances kept coming.
Albert Dikwa was on the receiving end of numerous pinpoint crosses and opportunities in and around the goal box.  Each time he came up short.
In the 22nd minute, the Hounds' forward had a left-footed chance after a Cicerone through ball.
Then in the 33rd minute when Griffin found a way to poke a ball to Forbes on the left side, then the Hounds captain's perfectly placed cross connected for a stinging header that was saved by a quick reaction save by Matt VanOekel he failed to convert.
In the 37th minute, Dikwa went 0-for-3 in his close chance opportunities when a short cross from Alex Dixon made its way into the goal box, only for Dikwa to miss connecting with the ball by a hair.
By halftime, Pittsburgh held 62 percent possession, and outshot Birmingham 8-6 (4-0 on frame).
The Hounds continued to have the better of play in the second half.
Cicerone nearly doubled the lead after forcing a turnover in the 59th minute, but Van Oekel cut down his angle on the left side of goal to make the stop.
The Hounds finally went to their bench in the 78th minute, bringing on four new players, and the fresh legs got the team to the finish line. Silva did well to come off his line and collect a few late, long balls forward, and the Hounds almost had a two-on-none break toward goal in the final minute, but Dikwa's clearing pass struck the referee, ending the chance.
Pittsburgh ended the match with 57/43 possession edge (497-374 passes), more than doubled the number of crosses (22-10) and outshot Birmingham 18-10, with a huge 8-0 edge in shots on frame.  They also held a 9-4 advantage on corner kicks.
In addition to our postgame coverage, look for Takeaways / Player Grades to follow our coverage on late Sunday/early Monday.  
Post Match with Danny Griffin 
Post Match with Head Coach Bob Lilley 
Tonight's match highlights presented by @fordtech91! #PITvBHM #HOUNDTAHN pic.twitter.com/LWaJk1CcOS

— Pittsburgh Riverhounds SC (@RiverhoundsSC) May 8, 2022
Match Day Updates 
Look for starting lineups, in-game key updates and highlights to be posted here.
---
87′ — In the match — two former Hounds at the same time — Thomas Vancaeyezeele and Ryan James.
84′ — Dixon with chance at top of box. SHot is deflected and just misses — bouncing wide left of post.
82′ — Lots of movement with Hounds formation after subs. Wiedt goes to right CB. Peters slides into left CB. Rovira with fresh legs pairs with Griffin in CMF. Dossantos and Dixon are the wingers as they've gone w/5 in back now. Dikwa stay at top
78′ — First wave of Hounds subs:
IN: J. Peters, L. Argudo, S. Wiedt
OUT: Biasi, Williams, Forbes, Ybarra
65′ — Free kick
62′ — Forbes tries a go at a shot but it's deflected and stopped by VanOekel.
57′ — Cicerone on left side — goes to his right foot from tough angle and VanOekel is there for the save.
51′ — Another chance for Hounds — Griffin takes it up endline — finds Ybarra in middle of box who misses his deflected shot chance.
HALF — RIVERHOUNDS 1, LEGION FC 0
Hounds in control both on scoreboard and in possession (61/39), but haven't capitalized on all of their chances (8 shots/4 on frame vs BHM 6/0). Maybe tired legs for Legion, who played midweek. Hounds need to stay on front ft
37′ — Another great chance for Dikwa!
This time Dixon with short cross into goal box for Dikwa who can't connect. Dikwa has come close three times already — and he's 0/3.
33′ – Great play by Griffin to lunge at ball on ground and poke it all the way across to left sideline with great pace for Forbes – who delivers a perfect cross for another Dikwa header. Great reaction save by VanOekel! That's the quick transition attack Bob Lilley wants
22′ — Attempt saved. Albert Dikwa (Pittsburgh Riverhounds SC) left footed shot from a difficult angle on the left is saved in the bottom left corner. Assisted by Russell Cicerone with a through ball.
18′ — Dossantos has been demon tonight on left side. Another cross — this one sails under the bar — but it just misses as Legion keeper Matt VanOekel was in position for save.
16′ — Another pinpoint cross from Dossantos on left side — and Dikwa's header just misses left of post.
9′ — Dixon breaks free to the right side of box, where he delivers a left footed shot that is saved, then Griffin almost puts one-time shot wide.
Well, that was fast 🤨@RiverhoundsSC get on the board early.#PITvBHM pic.twitter.com/pabtB0Jc3h

— USL Championship (@USLChampionship) May 7, 2022
4′ — GOAL — Danny Griffin
Playing up higher in formation –Griffin gets ball on end of cross from left side (from Dossantos?), turns and buries his shot!
Hounds Starting XI: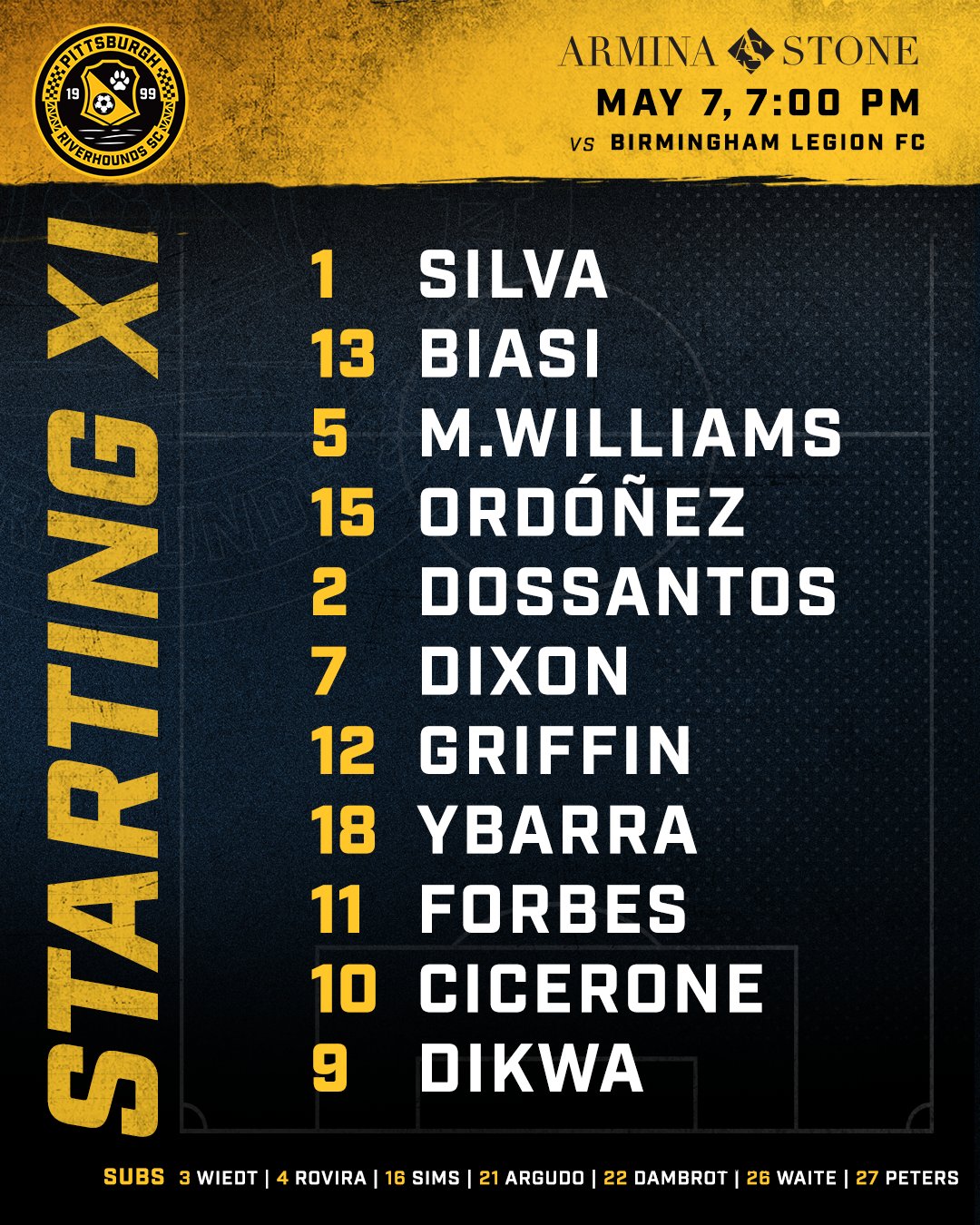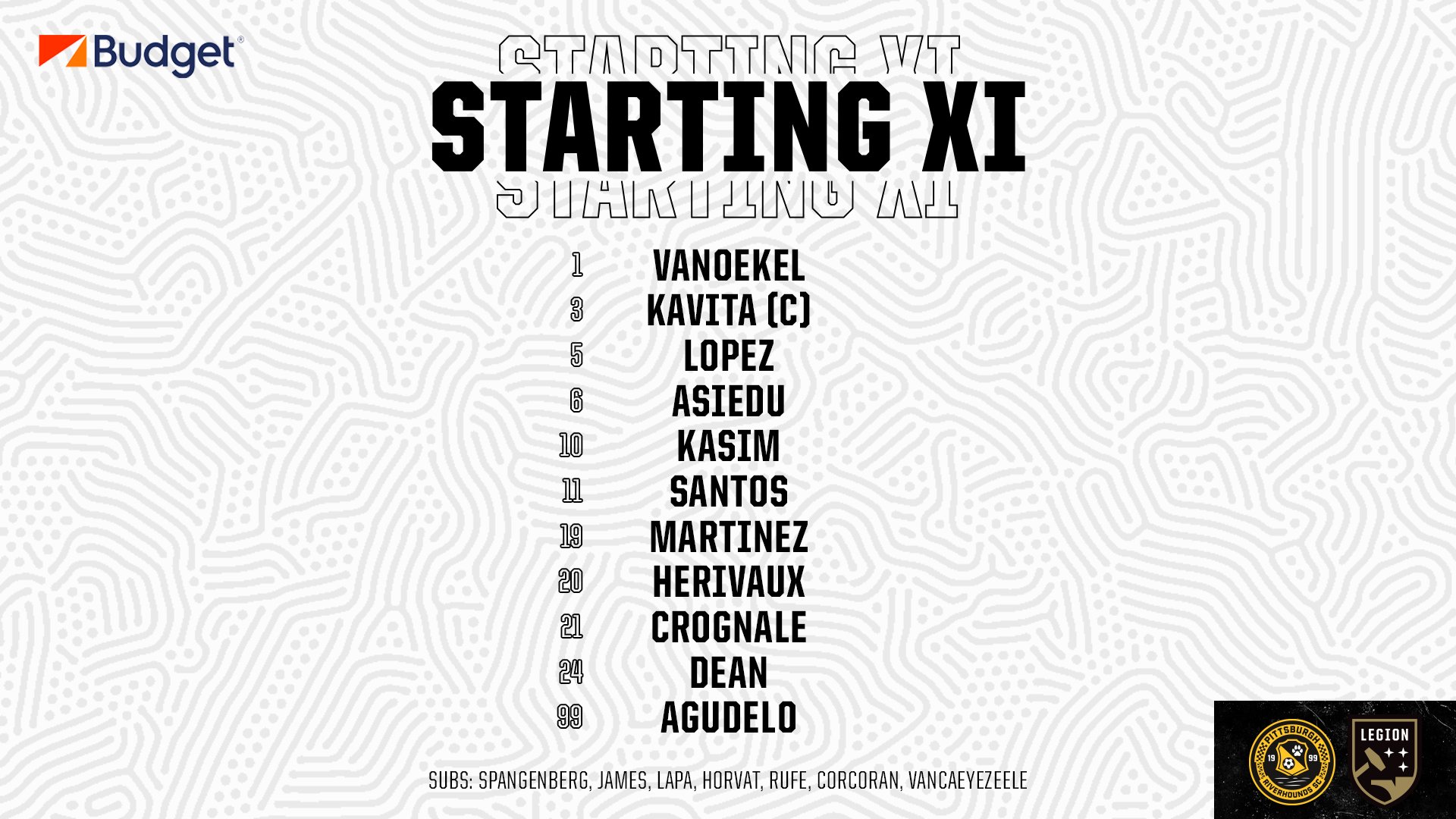 GAMEDAY!

The boys are back at Highmark, ready to face off against Birmingham and some former teammates.

It could be a little wet. We'll need to make it a little loud. Let's keep the Hounds perfect at home this season.#UNLEASH

— Steel Army (@SteelArmy) May 7, 2022
Tonight @bhmlegion faces off against an old rival in @RiverhoundsSC . Personally, I am still recovering from the 4 goals that @necobrettj scored back in 2019 infamous "night that killed the Magic" playoff game in the rain.

— BCFC & Birmingham Legion Supporters (@BcfcLegion) May 7, 2022
Match Preview & PSN Riverhounds Coverage
Riverhounds MF Danny Griffin
Subscribe to PGH Soccer Now