Memphis 901 FC 2, Pittsburgh Riverhounds SC 0
Match Stats: USL Championship Match Center
Match Summary
In a battle for positioning between two teams in the top four of USL Championship's Eastern Conference standings, Memphis 901 FC proved they were up-to-the-task by taking a 2-0 victory against the Pittsburgh Riverhounds SC at Highmark Stadium on Saturday night.
It was Memphis' (15-5-3) first-ever win against Pittsburgh (13-7-4), in four matches between the clubs since they came into the league in 2019.  With the impressive road win, the visitors move five points ahead of the Hounds in the Eastern Conference, as they seize a tighter grip on third place.
Despite the Riverhounds coming out early in the match to set the tone with solid possession and a few deep advances, Memphis took advantage of an early opportunity with a stunning, brilliant individual effort in the sixth minute, then added Aaron Malloy tally in the 74th minute.
Luis Fernando was happy to collect a ball after a 50-50 battle between Robbie Mertz and Rece Buckmaster resulted in a bounce toward the Brazilian midfielder.  Fernando dashed forward with a line of Hounds defenders giving him room outside the box, then as he fell down, fired a left-footed dart, catching Hounds keeper Jahmali Waite slightly off-guard, slotting his shot inside the right post.
"We had four guys behind, supporting the play, but none stepped up, and a goalkeeper not ready to make a save," Lilley said.
"It's a mental error to give that much space, when we have that many guys back there. Tough way to concede an early goal."
Hounds forward Albert Dikwa was on the end of numerous first half chances, but failed to convert each time.
Dikwa's best chances came in the latter stages of the first half, First, Dikwa intercepted a pass, then split a pair of Memphis defenders in the 35th minute, but pulled his shot right.  A few minutes later, with room on the right side, his next shot was on frame, but Memphis goalkeeper Trey Muse was there with a diving save to deny the Hounds' equalizer.
"I know Dikwa got in clean (a few times), but at the end of the day, it's disappointing," Lilley added.
"It was 1-0 for a long time.  We hit a lot of balls into the box.  We didn't make runs. Didn't get to the near post, to the far post enough."
At the half, the Hounds held the edge in shots (10-3, 2-1 on frame) and possession with 57% of the ball.
Memphis dug in, remaining well-organized in the second half to limit Pittsburgh's chances.  Outside of substitute Dane Kelly's shot from outside the box that banged off the top of the crossbar, the Hounds couldn't create much damage.
The visitors doubled their lead when its leading scorer, Phillip Goodrum, found Jeremy Kelly on the far left side with a brilliant switch from the right sideline.  This opened up the attack for Memphis, as Kelly found Molloy breaking into the box to give them a 2-0 lead.
Riverhounds SC lineup (5-2-1-2) — Jahmali Waite; Nate Dossantos (Edward Kizza 57'), Mekeil Williams (Jelani Peters 75'), Arturo Ordóñez, Shane Wiedt, Alex Dixon; Robbie Mertz (Luke Biasi 75'), Danny Griffin; Kenardo Forbes; Russell Cicerone (Dane Kelly 56'), Albert Dikwa
Memphis 901 FC lineup (4-3-3) — Trey Muse; Patrick Seagrist, Zach Carroll, Graham Smith, Rece Buckmaster; Leston Paul, Chris Allan (Jeremy Kelly 59'), Aaron Molloy; Phillip Goodrum (David Egbo 82'), Laurent Kissiedou (Lucas Turci 67'), Luiz Fernando (Jackson Brady 82')
Scoring summary
MEM — Luiz Fernando 8'
MEM — Aaron Molloy 73' (Jeremy Kelly)
Discipline summary
MEM — Zach Carroll 23' (caution – unsporting behavior)
PIT — Shane Wiedt 32' (caution – unsporting behavior)
PIT — Nate Dossantos 54' (caution – unsporting behavior)
PIT — Edward Kizza 78' (caution – unsporting behavior)
MEM — David Egbo 90+3' (caution – unsporting behavior)
PIT — Arturo Ordóñez 90+4' (caution – unsporting behavior)
Match Day Updates
Look for starting lineups to be posted here, in-game updates and, of course, post match reaction to follow both here on PSN and on Pittsburgh Sports Live.
Took 278 minutes of play for this finish to arrive after #DefendMemphis was shut out in its first three games against #HOUNDTAHN.

Probably worth the wait. #PITvMEM https://t.co/lYKOZc8GdK

— Nicholas Murray (@NJEMurray) August 13, 2022
---
FINAL – MEMPHIS 901 FC 2, RIVERHOUNDS 0
Hounds fail to get any pressure on Memphis in second half, then concede another goal.  Memphis really tightened things up effectively in the second half.
90+++' – A scuffle breaks out in the corner as Egbo gives Ordóñez a shove after the play. Looks like the two original combatants will be the two to be booked.
75′ — SUBS HOUNDS
IN – Luke Biasi and Jelani Peters
OUT – Mertz and M. Williams
73′ — GOAL – MEMPHIS
What a brilliant ball from Phillip Goodrum to set it up — a switch with his outside foot to left side which opened up the Hounds and left them exposed.
Malloy was there for the clinical finish.
Hounds in a BIG HOLE now.
63′ — Dane Kelly wakes up the crowd — leading to a collective gasp — as he bends a shot from left side the hits the top of the bar and goes over.
56′ — SUBS for Hounds Interesting moves as Edward Kizza and Dane Kelly come on for Dossantos and Cicerone. Bob Lilley trying to add some spark to the Hounds attack.
Kelly and Kizza are paired up at top of the attack for Hounds, while DIkwa drops into attacking mid spot. Mertz moves over to wide left (where Dossantos was) while Forbes drops deeper into CMF alongside Danny Griffin.
49′ – Good recovery by the defense, after Kissiedou almost set up Fernando with a perfect feed on the counter. Waite able to collect after the D gets a toe in.
No changes for either side.
HALF — One mistake led to Memphis goal — a pretty nice strike from Luis Fernando. Hounds bringing plenty of pressure (10-3 edge in shots, 2-1 on frame), but need to connect better on final pass.
37′ –Hounds keep knocking on the door. Now a Dixon low lining cross with lots of pace just misses connecting with Dikwa.
35′ — BEST CHANCE of half for HOUNDS. Nice build-up by Hounds through middle ends with nice ball to Dikwa from Griffin. Dikwa takes it in for a nice shot inside right post but saved by Memphis GK Trey Muse.
31′ — Yellow Card HOUNDS
Shane Wiedt after giving ball away with a careless foul.
27′ — Dikwa again with top level work rate paying off — picks off another pass gets into box with feed into the goal box, but Cicerone run just a bit late.
24′ — Dikwa misses a grand chance after getting an interception, splits defenders but shot misses right.
23′ — YELLOW CARD on Memphis' Zack Carroll for hard foul on Albert Dikwa.
13′ — Attempt missed. Aaron Molloy (Memphis 901) right footed shot from outside the box is high and wide to the right following a corner.
6′ — GOAL – MEMPHIS 901 FC 1, HOUNDS 0
Luiz Fernado with the unassisted stunner!
Hounds were controlling possession. Robbie Mertz slipped and tried to play it back but it was intercepted by Fernando who walked into 18 and buried his shot into right side past GK Waite.
Look who I ran into and just had a nice chat with…

None other than @RiverhoundsSC legend @KevinKerr89 and his boys pic.twitter.com/L3WupViI19

— John Krysinsky (@JohnKrysinsky) August 13, 2022
7:00 p.m. — Pretty strong starting XI for both sides…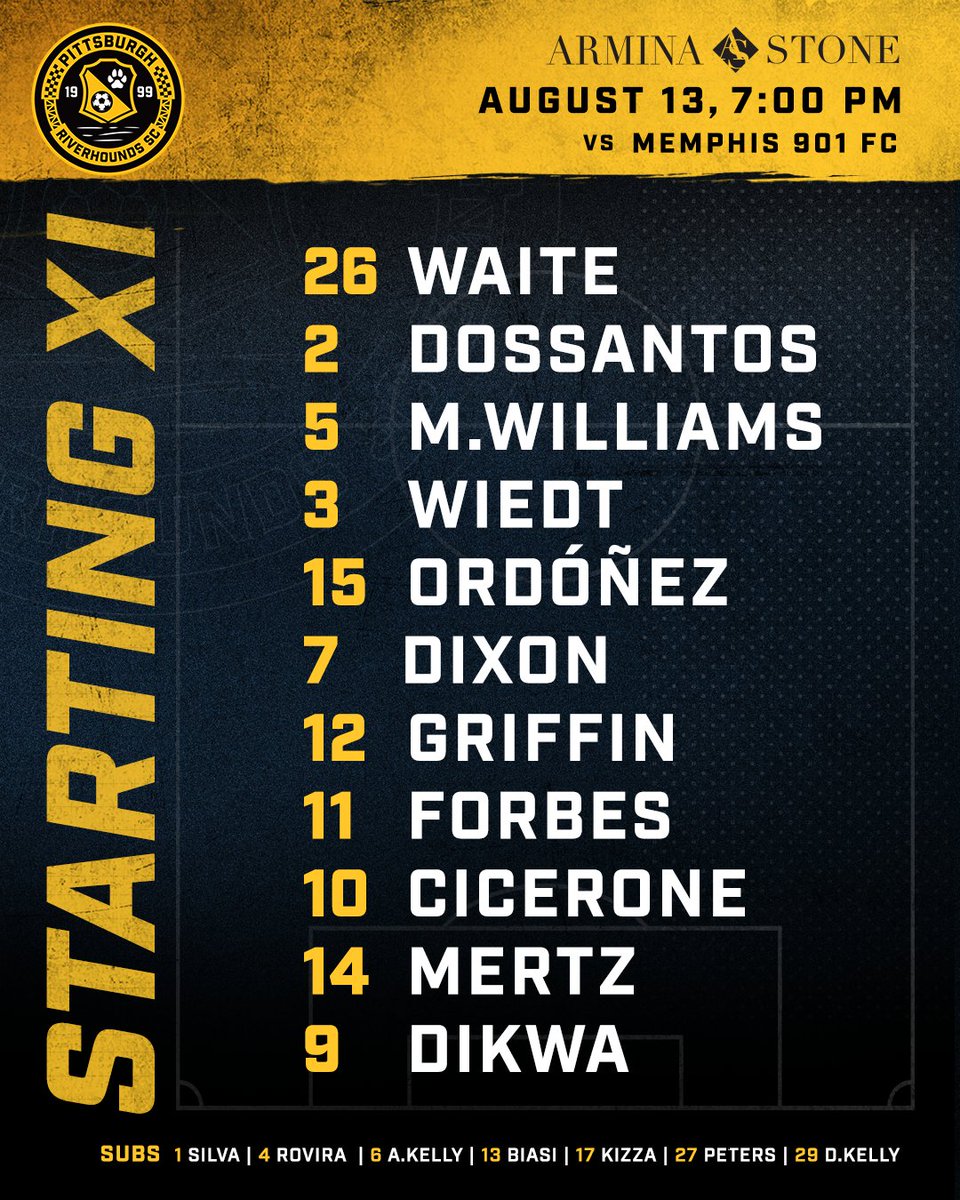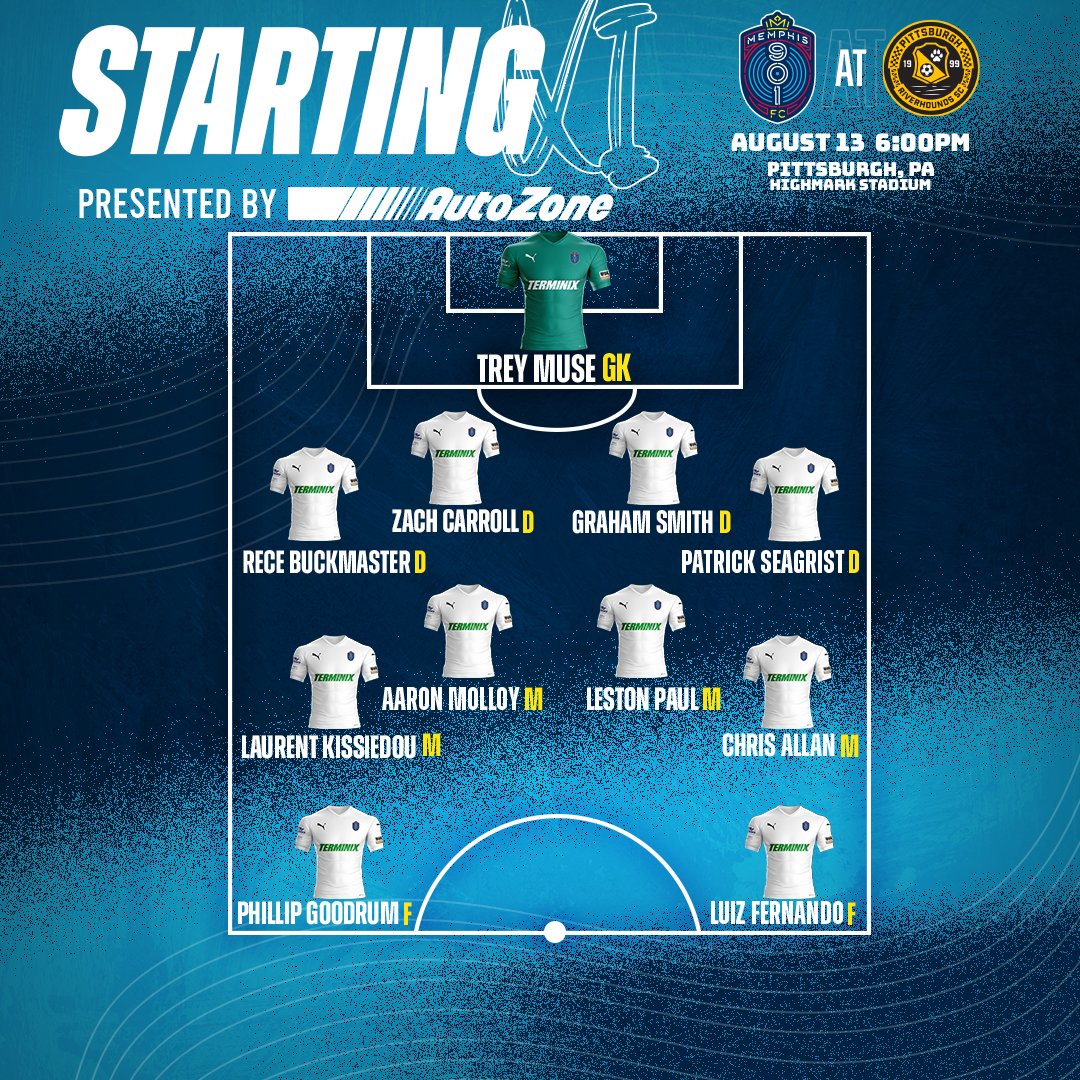 GAMEDAY!

It's a battle of 3 v 4 as the beloved host #SOTM.

Get your ass to tailgate when we start at 4. It's a day to pack the 'Mark, bring the noise, deliver the energy.

Kickoff at 7.
Hoff at 9.#UNLEASH

— Steel Army (@SteelArmy) August 13, 2022
Note to fans:
Hey fans! Planning on parking with us tomorrow? Be prepared to show the parking attendant your game ticket at the gate (digital or physical) – this is to ensure that our fans get first priority parking! 🚗 #HOUNDTAHN pic.twitter.com/zBqZ9m9YIf

— Pittsburgh Riverhounds SC (@RiverhoundsSC) August 12, 2022
Previews / PSN #PITvMEM Coverage 
Hounds Notebook: Sizing up showdown with resurgent Memphis 901 FC
Sounding Off on Soccer: Previewing Hounds-Memphis showdown with Daily Memphian's John Varlas
From Riverhounds SC reports… 
Hounds put their longest unbeaten run of the season on the line in a matchup loaded with postseason implications when they host Memphis 901 FC at 7 p.m. tonight at Highmark Stadium.
The Hounds sit in fourth place in the Eastern Conference, six behind leaders Louisville and two behind third-place Memphis. A win would send the Hounds into third place and give the team a tiebreaker edge over Memphis with a season sweep, while both teams are pressing to secure a home playoff game — for the Hounds, it would be the third time in four years, while for Memphis, a home postseason match would be their first.
Just as he did a year ago when he was a Player of the Month runner-up in August, Russell Cicerone is starting the last full month of summer on a scoring tear. Cicerone's brace last Saturday gave the Hounds their third consecutive win, 2-0 at Indy Eleven, and pushed him into the top 10 in the USL Championship this season with a team-leading 11 goals.
One of the seven players with more goals in the league this season will be leading the Memphis line, Phillip Goodrum. The Tennessee native and former Atlanta United 2 forward is having a career year with 13 goals back in his home state, though he would have a 14th if not for a Chase Vosvick penalty save in the first meeting of the year between the teams, a 3-0 Hounds win on opening day in Memphis.
That first game should have little bearing on tonight's play, as the unusual season opener had the penalty save, followed by a first-half red card to Graham Smith that left Memphis down a man for the final hour. Dane Kelly, Cicerone and Albert Dikwa handled the scoring, with Kelly notching his 100th USL Championship goal in the victory.
The one thing the Hounds will want to continue is their defensive performance over the past three matches. In wins over Hartford, Tulsa and Indy, the Hounds have allowed just six shots on goal, and only one — a highlight-worthy strike by Conor McGlynn in Hartford — has beaten goalkeeper Jahmali Waite, who now has five shutouts on the season.
History is on the Hounds' side with three shutout wins in their previous three meetings with Memphis. But as their record shows, this is by far the best 901 squad in the club's four-year history, which should make it a choice matchup.
#PITvMEM Game Notes
• The Hounds meet Memphis for the second time this season and just the second time ever in Pittsburgh. The teams met for a chilly season opener on March 12 in Tennessee, where the Hounds took a 3-0 win in a game in which Chase Vosvick made a penalty-kick save and the hosts were reduced to 10 men after Graham Smith was sent off for a second caution.
• Memphis has not scored in three previous meetings with the Hounds — wins of 4-0 and 1-0 in 2019 and this year's 3-0
result.
• Forward Russell Cicerone has hit his stride in the summer months. Over his last 14 games, Cicerone has nine goals and three assists, including both goals in last Saturday's 2-0 win over Indy Eleven. He leads the Hounds with 11 goals on the season and is just the third player in team history with consecutive double-digit goal seasons.
• Last week's game against Indy was the 150th game for head coach Bob Lilley in all competitions with the Riverhounds. The club's all-time wins leader is 80-32-38 overall as he continues his fifth season in charge.
• Hounds forward Albert Dikwa continued to build on a career season with the only goal of the team's win over FC Tulsa on July 30. It was Dikwa's seventh goal of the season.
• Dikwa and USL Championship all-time leading scorer Dane Kelly (seven goals in 2022) are both on pace to join Cicerone with a double-digit goal total. It would be the first time since the Hounds' inaugural season in 1999 that the team had three players with 10 or more goals.
• Hounds captain Kenardo Forbes remains the all-time USL Championship assist leader, and he ran his record total to 53
with a patient set-up on Shane Wiedt's stoppage-time gamewinner July 23 in Hartford.
• Midfielder Danny Griffin has played all but 17 minutes since the beginning of the 2021 regular season, starting every
league match during that time. He has not missed a league game since turning pro with the Hounds in 2020, appearing in 72 straight USL Championship contests.
• First-year pro goalkeeper Jahmali Waite is coming off back-toback clean sheets. He tied his season high with four saves in the win over Tulsa, but he needed to make just one stop in last  week's win over Indy.
• In 150 matches under Lilley in all competitions, the Hounds have allowed just 139 goals, an average of 0.93 goals per
game.
Riverhounds MF Danny Griffin
Subscribe to PGH Soccer Now