FINAL: Riverhounds 1, Loudoun United FC 0
Match Stats: USL Championship Match Center
Match Summary
The Pittsburgh Riverhounds SC went back on the road to come away with its eighth straight match without a loss, defeating Loudoun United FC, 1-0, at Segra Field in Leesberg, VA, on Sunday night.
In a match with just 16 total shots between both sides, the Hounds finally broke through with the game's lone goal, when defender Arturo Ordonez came charging into the middle of the box on a delayed run following a short corner kick. The corner began with Kenardo Forbes, who played it to Marc Ybarra. The second half sub, Ybarra, sent a clever ball centrally from the near post, giving Ordonez a chance to charge in, and go top shelf with his shot chance.
Massive moment for @RiverhoundsSC! 💪@OrdonezOsuna's second league goal in two matches gives his squad a late lead!#LDNvPIT pic.twitter.com/qyhzP4HUnT

— USL Championship (@USLChampionship) May 28, 2023
It was Ordonez's second goal in as many weeks, as he also scored in Pittsburgh's 4-1 win at home vs Las Vegas on May 20.
With the win, Pittsburgh improves its USL Championship league record to 5-5-2 (W-D-L), keeping them in line with Louisville City FC and Tampa Bay Rowdies at 20 points, four behind leading Charleston.
The Hounds have now won 11 of 12 all-time meetings with Loudoun (3-8-1).
The Hounds will next face Western Conference's Phoenix Rising FC, at Highmark Stadium on Saturday, June 3.
How It Happened
---
First half
As they have done for most of their current win streak, the Hounds came out looking to get the upper hand early, and Danny Griffin's diving header that missed just wide in the ninth minute was the first good look at goal.
Loudoun posed a threat on the counter-attack with former Hounds forward Tommy Williamson leading the line, but the defense mostly covered the over-the-top threats well, limiting Loudoun to just six total shots.
Waite made two first-half saves, cleanly catching a hard shot from distance by Abdoul Zanne, and then tipping a low shot by Kalil ElMedkhar around the post with five minutes left in the half.
Second half
Chances were hard to come by on Loudoun goalkeeper Dane Jacomen, a Pittsburgh native and former Hounds Academy player, but the Hounds took control with the game entering its final 20 minutes.
Robbie Mertz nearly set up Edward Kizza for a tap-in opening goal with a low cross from the left in the 69th minute, but a sliding, last-ditch defensive effort by the Loudoun defense blocked away the opportunity.
Moments later, Tola Showunmi got to the goal line along the right side and chipped a ball to the back post, but Mertz's header barely missed over the goal.
A corner kick in the 78th minute provided the breakthrough, as Kenardo Forbes played a short pass to Marc Ybarra, just inside the penalty area. Ybarra was able to turn and pick out the feet of Ordóñez in the middle of the box, and the center back was able to power a shot into the net from 8 yards out.
Loudoun pressed forward for a tying goal, but the Hounds sealed the road victory as a light rain began to fall in the final five minutes.
Look for a more complete recap to follow and John Krysinsky's Takeaways and Player Grades on Monday.
Your Loudoun Away Day Victory Selfies…

First, one with the central defender on a two league game scoring streak, @OrdonezOsuna

Then, making his first selfie appearance since 2019, it's Bob Lilley with special guest Mama Lilley!

Top tier away day to cap off May.#UNLEASH. pic.twitter.com/w3v4RsnmOD

— Steel Army (@SteelArmy) May 29, 2023
Match Updates
Look for starting lineups and highlights from the match to be posted below. Look for a post-match recap to follow on Pittsburgh Soccer Now.
---
FINAL — RIVERHOUNDS 1, LOUDOUN UNITED FC 0
90′ — Two mins of stoppage time.
86′ – Luke Biasi picks up the tactical foul yellow, slowing down Loudoun at the midfield line.
78′ — GOAL — RIVERHOUNDS 1, LOUDOUN 0
Arturo Ordonez!!
Hounds defender comes charging in on the set piece — as Ybarra gets ball at near post, then cuts back a clever ball to middle of box for Arturo.
75′ — HOUNDS CHANCE — Showunmi cross over to Mertz — and header misses over the bar!
72′ — Loudoun's 2nd half sub, Koanda's shown some moments where he's been blazing by Hounds win second balls, but Mertz does a great job to shield off the 18 yr-old to draw foul.
71′ — Dangerous corner — played short — Mertz to Griffin. Then back to Mertz for back post for Forbes who hits it downward off bounce into box, but it slips through.
69′ – Mertz with a low cross from the left, and a sliding stop by Bryce Washington is the only thing that keeps Kizza from a tap-in. Still looking for that first goal tonight.
66′ — Dossantos bodies up on Williamson on the edge of the box. Tommy wanted a foul call there, but doesn't get it. Loudoun very much on level terms with the Hounds in a tight contest at the moment.
58′ — Set piece gets Ybarra into serving position from the goal line, but the cross is just too high for Ordóñez to be able to keep the header down.
58′ — More Hounds subs to keep the legs fresh in the team's third match in eight days…
IN: Tola Showunmi, Marc Ybarra
OUT: Langston Blackstock, Junior Etou
47′ – Kalil ElMedkhar receives the first yellow card of the match — the Loudoun player committing a foul holding up Etou in transition.
46′ — Hounds change at the half… Robbie Mertz is on the field DZ Harmon. No tactical change, as Mertz steps in on the left attacking side, as Griffin and Forbes make the three-man attacking MF line, and Langston Blackstock slides back to outside back
Loudoun also with one change, Abdoul Koanda replacing Hayden Sargis.
HALF — RIVERHOUNDS 0, LOUDOUN 0
40′ — Waite dives low to his right to get a touch on the shot by ElMedkhar, and he makes the save out for a corner… which he catches with ease!
35′ — Pittsburgh able to scramble and recover off Loudoun counter. It was a 2-on-1 at one point, but Williamson gets ball at his feet, two defenders were in position and shot was blocked.
30′ — LUFC's Tommy Williamson gets between Ordonez and Farrell on a long, direct attempt from Panos, but the former Hounds can't connect and Waite picks it up. Bob Lilley always said that Williamson was a player who can test defenders — and he did there.
28′ — Forbes unleashes one from 20 yards on target for the inside of the right post, but Jacomen is there for the stop.
𝘿𝙚𝙣𝙞𝙚𝙙 by Dane Jacomen! 🙅

Big-time stop from the @LoudounUnitedFC keeper!#LDNvPIT pic.twitter.com/AH0k0FPQcY

— USL Championship (@USLChampionship) May 28, 2023
27′ – Waite with a clean catch for his first save on a shot from distance by Zanne for Loudoun.
20′ – Forbes takes a free kick in a shooting position, but the Loudoun wall does its job.
12′ — Hounds putting pressure on former Hounds Academy keeper Dane Jacobmen, coming from Kenardo Forbes' free kick and then a corner, but the young keeper up to the task.
9′ – Biasi serves with his left, and Danny Griffin's diving header skips just wide of the goal. First good chance of the match, as the Hounds look to get forward on the road!
Few familiar faces for the Hounds opponents today… #LDNvPIT https://t.co/FVfFAUl0TK

— John Krysinsky (@JohnKrysinsky) May 28, 2023
Hounds Starting XI is …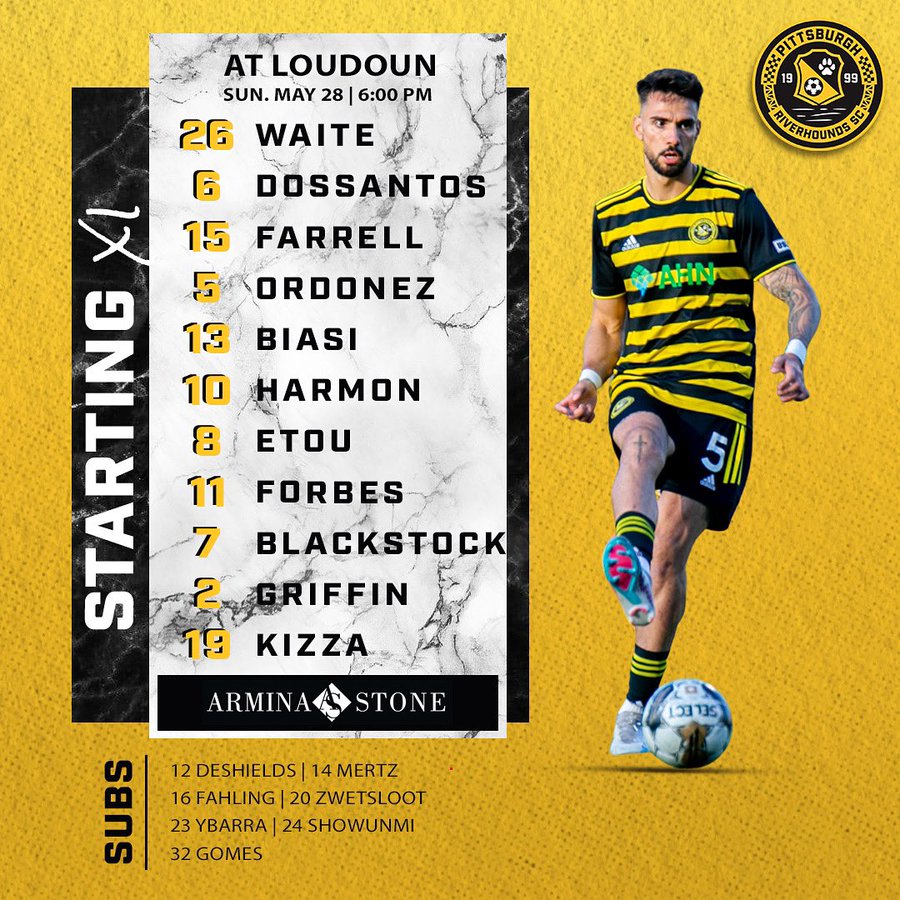 Among the Pittsburgh connections with Ryan Martin's squad include:

Tommy Williamson (former Hound who scored 6 goals in '21 on loan from San Jose)

Bryce Washington & Yanis Leerman (CBs on Pitt's College Cup teams)

GK Dane Jacomen (Allderdice/Hounds Academy)#LDNvPIT https://t.co/yjG2cpShbU

— John Krysinsky (@JohnKrysinsky) May 28, 2023
PSN's Riverhounds & #LDNvPIT Coverage
https://pittsburghsoccernow.com/2023/05/28/preview-and-scouting-report-as-eastern-conference-race-to-top-of-table-heats-up-riverhounds-face-loudoun-squad-with-pittsburgh-heavy-connections/
Sounding Off on Soccer: Reflecting upon Riverhounds unprecedented 'Cupset' experience at Highmark Stadium

Riverhounds MF Kenardo Forbes
Subscribe to PGH Soccer Now