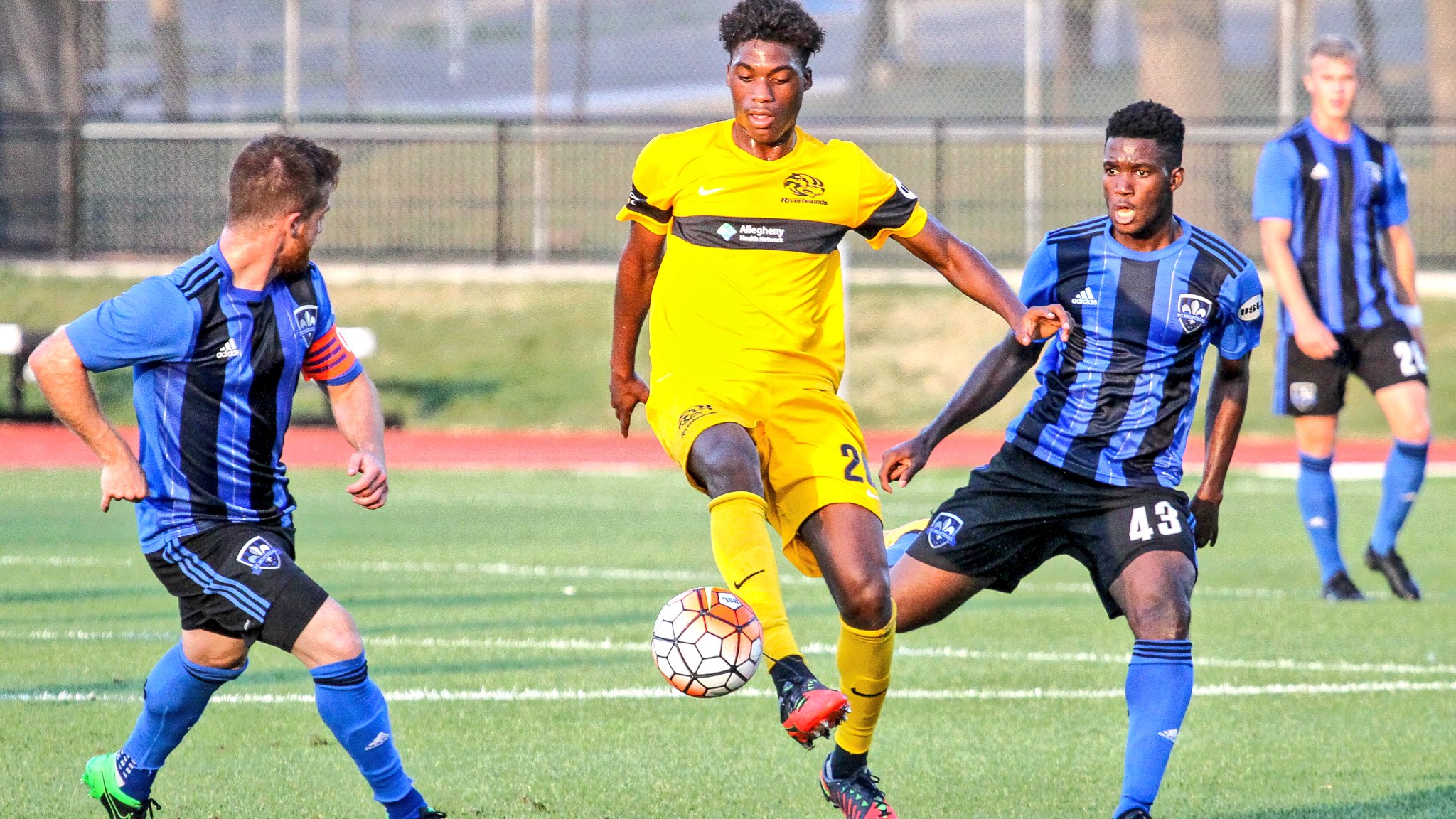 The Pittsburgh Riverhounds season has already been lost.
There's no playoff run in store.
Only a chance to be spoiler — give young players opportunities to grow and build for the coming years.
On Wednesday, they showed how far they have fallen by losing to last place FC Montreal 4-1, at Complexe Sportif Claude-Robillard.
It had to be tough to watch, even for the most loyal, and die-hard Riverhounds fans.
With a starting eleven that included three new Columbus Crew players on loan, Cristian Martinez and Rodrigo Saravia for the first time this year, and Chad Barson for the second time, the Hounds looked very much like a team that has won only a few games this season.
All Montreal needed was about 30 seconds  — and room in the box which the Hounds were happy to concede to Alessandro Riggi to start the one-sided affair.
Riggi scored the opening goal as Ballou Jean-Yves Tabla dished to him on the left. He fired left-footed toward the far right post. The ball clipped the glove of Hounds keeper Mauricio Vargas but it was not enough to halt the shot as Riggi gave Montreal a 1-0 lead just 32 seconds in.
It was an amusing moment to hear Montreal announcer's "RIGGI, RIGGI!!" call though.
Two more embarrassing goals followed in the 11th and 26th minute — as the Riverhounds backline look distorted, on their heels and definitely not on the same page.
Corey Hertzog would take advantage of a Montreal blunder — to take away a misplayed ball and dart around Montreal goalkeeper and bury a goal from a difficult angle on the left side to bring the match to a respectable 3-1 at the end of the 2nd half.
The second half wasn't much better for Pittsburgh.   Coach Dave Brandt took out the two players who seemed most lost in the first half (Ryan Adeleye and Duwayne Ewart), and replaced them with Sergio Campbell at center back, arguably the team's best player this season, and big Nick Thompson, to pair at the top of the attack with Hertzog.
Eventually another defensive lapse led to this fourth, and another embarrassing goal that saw about four Hounds players converge on a ball, that then popped loose for Nevelo Youseke to take into the box for an easy goal — through Vargas' legs.
#MTLvPGH TAKEAWAYS
THIS IS PRO SOCCER
A few weeks ago — the Hounds traveled to Wilmington and took on a team that was missing their two best players and center backs.  They put forth a strong, professional effort and came out with a commanding 4-1 win.
It was a sign of promise — as they were led by veterans Kevin Kerr and Hertzog for their first win of the season against a disoriented team that was undermanned.
Bottom line was they got the result.
And in pro soccer – that's the bottom line.
On Wednesday, they were the team facing a severe roster shortage.(Kerr out due to visa issues, Lebo Moloto and Mike Green also missing due to suspensions) — and much like Wilmington they called up some players on loan — each getting the start.
The thing about adding three players on loan for a one-game situation is that  — yes — it might take a bit to work out the kinks and get on the same page.  But still they're professionals and they were there to do a job to help the Riverhounds beat a last place outfit.
This was an opportunity for the Riverhounds show that they could benefit from an affiliation with a top-level team in the Columbus Crew — and provide players like Martinez, Saravia and Barson with a quality opportunity to maintain match fitness, play significant minutes and get valuable experience.
I'm not sure how valuable Wednesday's experience was for them though.
But this is professional soccer.
And if MLS-caliber players are coming in and understand their roles — and have a clear understanding of tactics — then bringing them in a situation like this, where the Riverhounds are a bit depleted should be a good thing.
Instead what we saw was a team that was going through the motions against a young last-place squad that had not won at home in nine tries — and had only won twice in 21 games.
Before they knew it — they were down 3-0.
As Bobby Knight once said:
"The key is not the will to win… everybody has that. It is the will to prepare to win that is important."
Where was the preparation?   What were they trying to accomplish tactically?
While even I did call for the Hounds to give young Canadian Duwayne Ewart a chance to start — he looked kind of lost in the attacking midfield spot normally occupied by Moloto.
Adeleye really had a hard time too in the mess that was the center of the defense.
On all of the three first half goals, the Hounds were out of position, and didn't react quick enough and close down on space on Montreal's attackers who primarily only needed to beat Vargas each time.
As for the players on loan — we saw a few individual flashes.
Martinez made some nice passes through — and was a strong presence in the middle while Saravia played alongside Danny Earls as a holding mid, while it looked to me that Brandt had Stephen Okai, a natural distributor and good possession player, bit out of position at outside midfield.
Why not have Ewart and his speed on the flank — and Okai in the central attacking midfield spot?
It wasn't as good night for Barson, who was in the middle of the chaos of the backline surrendering three goals.
So frustrated was Barson, that by the end of the day, in his second appearance with the Hounds, his day ended early again.   Last time, a Charleston, it was because he was injured.  On Wednesday, his low, late sliding tackle with both studs up was enough for him to be shown off with a red card.
He left the field — and may never come back to leave the Riverhounds where they were going into the match — shorthanded and disorganized.
BRIGHT SPOTS (Yes there were a few)
The game could have easily been about 4-0 or 5-0 at the half if it weren't for Marshall Hollingsworth.   While he was a part of the back line, playing left outside back, that looked disoriented, he was also hustling back to the aid of the center backs to block shots and make another saving tackle on a breakaway.
Hollingsworth's effort up and down the left flank didn't go unnoticed — and he's clearly been a bright spot this year for the Hounds.  If he could develop his game where he can serve in more accurate and dangerous balls, he could become a solid player at the next level.
Hertzog also continues to show that — if anything else — that his constant work rate matched with his ability score — will continued to net positives.  He picked up his eighth goal of the season and third game in a row with a tally.
WHAT NEXT?
There's not a lot for the Riverhounds to play for but they do get a couple key core veteran players back in Green and Kerr for Saturday's quick turnaround against cross-state expansion side Bethlehem Steel FC.
The Hounds did play pretty well the previous two games — in win at Wilmington and at home had a spirited and well-played effort vs league leading Louisville, so this team is capable of playing good soccer.
The Crew players will likely go back to Columbus, most likely with the exception of Hollingsworth.
I am sure that the Hounds die-hard fans would like to see them keep the Keystone Derby Cup and find a way to beat Harrisburg City Islanders by two goals on August 27.
So — the coaching staff should be focused on preparations and efforts into getting the team peaking and playing well so that they can make every effort to keep that trophy in Pittsburgh for another year.
With games against Steel FC, then travel to tough-to-crack Rochester and home for Wilmington, Brandt will have some good opportunities to right the ship a bit after a disastrous showing in Canada on Wednesday.







Subscribe to PGH Soccer Now