Pittsburgh Riverhounds SC 4   Toronto FC II 0
Neco Brett had himself a pretty nice afternoon at Highmark Stadium.
The former Robert Morris University standout made the most of his first start in Pittsburgh, netting his first career hat trick as a pro to lift Riverhounds SC to its first win of the season, 4-0 over Toronto FC II on Saturday afternoon.
After an underwhelming first half with plenty of possession, but few goal scoring chances, the Hounds broke through in the second half to get their first goals of the season as Brett scored twice within a seven minute span early in the second half, then converted a rebound for his final tally in the 83rd minute. Christiano François capped the scoring with a banger in the 88th minute that sealed the deal.
It wasn't a pretty picture to paint in first half for the Hounds as they continued its frustrating run of play through two-and-a-half games without a goal. Coming out in 4-2-3-1 formation, with Brett at the top of the attack, execution in the final third continued to come up short.
Despite dominating possession carrying 65 percent of play, holding a 7-0 edge in shots (with five coming inside the 18), none have been on target. Even three corner and one free kick chances were all ineffective.
Still, the Hounds remained focused, and really stepped up its attack at the start of the second half.
Brett was at the center of it — and determined to follow through with his team's mindset even after starting the first 225 minutes of the season without a goal.
"Keep it simple. We wanted to keep playing it forward quickly. Get it out wide. Anticipate our runs," Brett said. "We want to make sure that I'm keeping a high line –and I am there."
The half started with Brett being taken down on the left side outside the box, resulting in a yellow card for Toronto FC II's Aikim Andrews.
It was Brett's continued persistence that finally paid off in the 52nd minute.
Thomas Vancaeyezeele initiated the Hounds attack after bringing ball down with chest, then lofted ball over the top that landed right on the top of the box, took a bounce, then Brett beat his man to the ball and poked it past Angelo Cavalluzzo for the first goal of the season.
GOALS. GOALS. GOALS.

Have a day, @necobrettj!#PGHvTOR | #UNLEASH pic.twitter.com/8UCGM71Azl

— Pittsburgh Riverhounds SC (@RiverhoundsSC) April 7, 2018
It was a sigh of relief for Brett and his teammates to finally get that first goal of the season.
"Definitely, definitely! Everyone was super excited," Brett said. "We knew that it could finally open things up and we were ready for it."
And that's when they really got clicking.
In the 60th minute, Ben Zemanski made a nice run to the top of the box area, taking a few defenders with him to his right. With space cleared on the top left edge of the box for Brett, Zemanski laid the ball back to the Jamaican who had plenty of room to sneak in a quick shot inside the left post to beat Cavalluzzo.
Brett kept the high line — but also made sure he stayed onside as Zemanski kept the ball to draw the defenders.
"Coach talks about that — I made the first run, and make sure I know where I'm at. I didn't get the ball right away, but got myself back onside, and got the ball, and know exactly where the goal is."
The Hounds kept the pressure on throughout the second half, registering 16 shots in the game and making the most of all four that were on target.
Brett would cap the scoring and pick up the hat trick after Andy Lubahn's shot from the top of the box pinged off the left post, and he was the first to the ball to give the Hounds a 3-0 edge.
The Hounds would cap the second half scoring surge with an absolute blast from François in the 88th minute.
GAME DAY COVERAGE:
2nd half notes: 
47′  – Aikim Andrews takes down Neco Brett on left side two mins into 2nd half — and Hounds with free kick. Aikim is booked with match's first yellow card
52′ –  GOAL – RIVERHOUNDS (1-0) Brett sneaks one through and the Hounds get first goal of year. Vancaeyezeele with the clever assist over the top after bringing ball down with chest.
GOALS. GOALS. GOALS.

Have a day, @necobrettj!#PGHvTOR | #UNLEASH pic.twitter.com/8UCGM71Azl

— Pittsburgh Riverhounds SC (@RiverhoundsSC) April 7, 2018
53′ – corner opportunity right after goal, ball comes out to Zemanski who redirects it over bar.
60′ – GOAL – Riverhounds (2-0) – Brett again. This time after a nice feed from Zemanski who makes move to his right, takes two defenders with him for a moment, then finds Brett who's open to put in quality finish to sneak it inside left post.
And to @BenZemanski on his first point as a Hound. Apples. Everywhere. #PGHvTOR pic.twitter.com/PCbR5mvUIi

— Pittsburgh Riverhounds SC (@RiverhoundsSC) April 7, 2018
73′ – Couple subs coming in for Hounds… Kay Banjo and Hugh Roberts in for Dover and Zemanski
75′ – Hounds defending well despite TFCII making some decent effort to get it into final third.
With these subs — Roberts moves into center of defense, while Pratzner moves to right outside back.
80′ – Andy Lubahn now comes in for Kerr
81′ – Dabo picks up yellow card for (very) deliberate hand ball
82′ – GOAL – RIVERHOUNDS (3-0) – BRETT AGAIN FOR HAT TRICK!
Brett puts in rebound from Lubahn shot that hit left post and @RiverhoundsSC go up 3-0 over @TorontoFCII
86′ – Yellow card issued
88′ – GOAL – RIVERHOUNDS (4-0) – François with an absolute stinger from the right edge of the box.
1st half notes: 
5′ – First few minutes the Hounds with most of possession. Set up an early corner kick — went into middle of box but cleared away
6′ – handball on Giedon Waja sets up Hounds free kick. Kerr taking it from 37 yards — ball in for Vancaeyezeele but well defended.
8′ – Toronto gets forward but Hounds stuff it out as Zemanski with some nice back pressure to deny anything from developing.
11′ – Brett gets behind defender on ball played over top from Pratzner, but still can't get much of a shot as defender all over him from about 24 yards out.
14′ – Decent movement off the ball to set up corner Kerr's second corner kick again to center of box and Bjornethun heads it away
15′ – TFCII earns free kick — Uccello takes it from 35 yards and it sails through middle of box untouched right to right of post where Morton picks it up
17′ – Brett gets forward on a counter and shots deflects off Bjornethun. Corner again for Hounds but nothing to show for it as ball played short sees a weak header on target.
19′ – TFCII counters — Malik Johnson gets into box shot is deflected and Morton able to come out and pick it up before another Red shirt can get near it.
26′ – Hounds counters are coming — but getting hung up in the final third the past few times. Things opening up a bit now.TTFCII's Ryan Telfar cross in box forces Morton to lunge for ball 26′
31′ – ball bounces toward François near edge of box but weak shot handled by Angelo Cavalluzzo
33′ – Kevin Kerr breaks through on left side onside — but can't get clean shot off and bounces away
40′ – Sloppy moments for Hounds continue. Example A — throw in to Vancaeyezeele with space — heads it over to François breaking toward corner area but header is too long.
45′ – Hounds continue to struggle in final third as half comes to end.
Dominating possession (65%). They're completely ineffective in the final third. Even with all that possession, only one shot on goal, and that one wasn't that dangerous. They're trying diagonal balls that are not quite on target. And with seven shots — not have been on target.
HALFTIME
2:15 p.m. – here's Riverhounds starting XI
GK – Kyle Morton
D – Jordan Dover, Ray Lee, Todd Pratzner, Tobi Adewole
MF – Ben Zemanski, Mouhamed Dabo, Kevin Kerr, Christiano François, Thomas Vancaeyezeele
F – Neco Brett
looking like a 4-2-3-1
Available subs:
Dan Lynd (G), Hugh Roberts, Andy Lubahn, Joe Holland, Kenardo Forbes, Bakie Goodman, Kay Banjo
Will be first career pro start for Morton today in goal. Last year he was in Rochester as the team's third keeper
TFC II's line-up
GK – Angelo Cavalluzzo
Aikim Andrews, Kyle Bjornethun, Lars Eckenrode, Robert Boskovic, Matthew Srbely, Gideon Waja, Luca Uccello, Malik Johnson, Ryan Telfer, Daniel DaSilva
Available subs:
Gianluca Catalano (G), Tim Kubel, Rocco Romeo, Noble Okello, Aidan Daniels, Jordan Faria, Ayo Akinola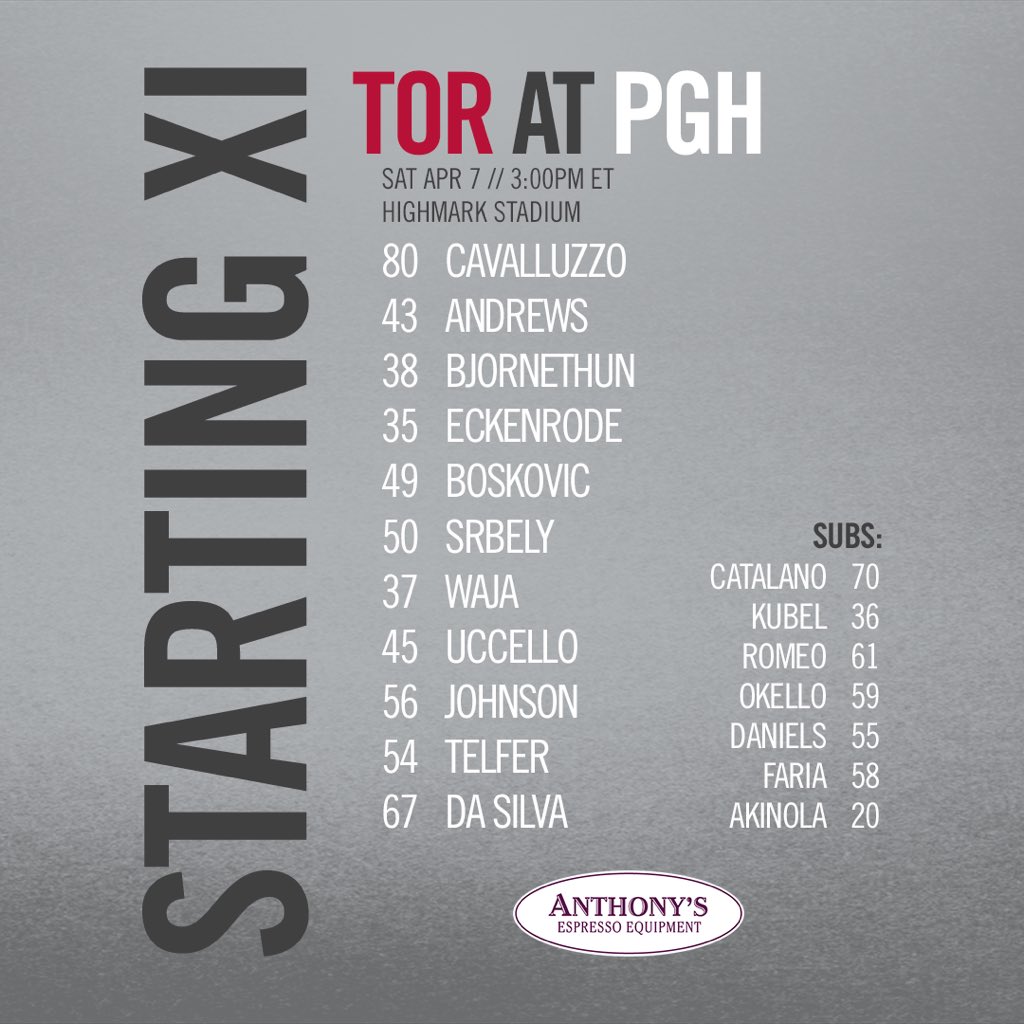 THE SETUP 
Highmark Stadium, Pittsburgh, PA – 3 p.m. kickoff
Stream / Follow –  YouTube / Twitter: #TORvPGH
Weather forecast:   Sunny, 39°
All-time series:  Pittsburgh leads 5-0-2
Pgh Soccer Now Game coverage — score and in-game updates here on this thread and on twitter @Pghsoccerscribe
KEY STORYLINES
Originally slated to be played at Toronto's BMO Field — home of defending MLS Champion Toronto FC — a late week schedule change due to apparent terrible field conditions, the game has now been moved to Pittsburgh. This will be a home match for TFCII, and the change in venue will not affect the Hounds' scheduled dates with Toronto later in the year, as the clubs will still face each other on May 5 in Rochester, New York before meeting again in Pittsburgh on August 4.
The Riverhounds are still in search of its first win — and first goal for that matter. Now, they'll be facing an opponent that they've historically had little trouble earning wins, but have had close games. The Young Reds have spent a good part of the past three plus years as a USL entity near the bottom of the Eastern Conference standings. The Hounds have gone 5-0-2 in seven matches.
Scoring goals may have been a challenge thus far this season for Pittsburgh, but shutting its opponents down has not. With Dan Lynd in goal for the first two games, the Hounds have been a solid defending unit under new coach Bob Lilley, offering a few different looks already in the season tactically. With both a three-man and four-man back line, the Hounds have limited scoring chances and shot attempts on the road at Nashville FC and at home vs Penn FC.
The Hounds will be without two starters from the first two matches — center back Joe Greenspan and forward Romeo Parkes. With USL veterans on the depth chart, the Hounds should have solid options for replacements. Parkes has struggled despite a team high six shots, failing to score on a few decent opportunities in the first two games. Greenspan has been playing at an All-USL level the first two weeks. One of Lilley's options to replace Greenspan is a former All-USL standout — Hugh Roberts, who hasn't even on the Hounds game day roster for the first two games.
Due to the late nature of the game being moved from Toronto to Pittsburgh — and with the continuing cold early April weather — it may be a tad optimistic to expect any kind of decent walk-up crowd at today's match. The Hounds only drew 2,006 fans in its opener on Saturday vs Penn FC.
At least the Hounds and some local schools are trying to help — including my alma mater…
Who doesn't love FREE tickets?

The first 100 @PointParkU students who show their ID at Highmark Stadium tomorrow will be admitted into the @RiverhoundsSC match against @TorontoFCII for FREE!

Match at 3PM. Gates at 2PM. Must show valid Point Park ID at the West Gate Box Office. pic.twitter.com/MHjL5Zc2fj

— PPU School of Bus (@PPUSchoolofBus) April 6, 2018
MORE ON TFCII
Here's Mark Goodman — aka Riverhounds Rabbi's scouting report on the Baby Reds.
PREVIEW POD: Justin Ashcraft of Mon Goals (in his first solo effort) sits down with James Grossi who covers TFC and TFC2 for MLSSoccer.com,
In addition to have issues with being able to play at BMO Field, TFCII are currently 0-2, and have never defeated Pittsburgh.
They're off to rough start already in 2018, losing to NY Red Bulls II, 2-1 on March 17, and to Charlotte Independence, 1-0, on March 24.  Last weekend's scheduled match with rival Canadian USL side Ottawa Fury FC was postponed.
INJURY REPORT
The Hounds depth chart will be put to the test a bit this weekend, as two players who have started the first two games, Joe Greenspan (calf) and Romeo Parkes (knee) will be out, along with Ben Fitzpatrick, who had sports hernia surgery last week.
Parkes, who leads the Hounds with six shots in two games, has scored in each of his last two matches played at TFCII, and Greenspan's averaged a robust 14.5 clearances per game this season.
WHAT THEY'RE SAYING THIS WEEK ABOUT #RIVERHOUNDS & #TORvPGH
We have to bring out more energy during the course of the full 90 minutes," Mark Pulisic, Riverhounds SC assistant coach said.
"At home, you have to get three points. There's no excuses. We had our share of chances (in first two games), but we have to bring consistent energy over 90 minutes and need to create more chances at home."
I thought the comments of @PghSoccerScribe & Bob Lilley about the Hounds performance this weekend were pretty fierce. Ratings out of 10 were brutal as well. If you missed it, you gotta check this out. Will things turn around Saturday for @RiverhoundsSC ? https://t.co/8frGkhqg4n

— Riverhounds Rabbi (@riverhoundrabbi) April 5, 2018
Ready to see the roster depth? https://t.co/GcWp66QBp4

— Steel Army (@SteelArmy) April 5, 2018
"We're looking forward to the Pittsburgh game," Malik Johnson told Walking the Red earlier this week. "Trying to get our first win of the season. They're a very powerful side, got a lot of big bodies on their team. If we move the ball quick, exploit the game plan, then we'll be fine."
Added Tim Kubel, TFCII right back: "They're really tactical, stay close together. We'll try and exploit their weaknesses. It's going to be a good game."
Very early in my place, in #Germany, the today's Pittsburgh Riverhounds Home game, vs Toronto FC II, 8 pm (CET – 20 Uhr MESZ). I will watching & hope of an 3 Points game – #Riverhounds win… #PGHvTOR #USL #PGHvTORII

— Absurde_Existenz (@Wiesel_Flink) April 7, 2018
RECENT HEAD-TO-HEAD
June 10, 2017, at Ontario Soccer Centre
Pittsburgh 1, Toronto FC II 1
Scoring Summary
TOR – Tsubasa Endoh 59' (Oyvind Alseth)
PGH – Romeo Parkes 87'
May 3, 2017, at Highmark Stadium
Pittsburgh 1, Toronto FC II 0
Scoring Summary
PGH – Victor Souto 22' (Marshall Hollingsworth)
Riverhounds MF Danny Griffin
Subscribe to PGH Soccer Now