Pittsburgh Riverhounds SC 2, Erie Commodores 1
GAME SUMMARY
Winning road matches in the Lamar Hunt U.S. Open Cup can be challenging for any side, even a pro team against an amateur side.
The Riverhounds SC finally won its first road match in the Open Cup, beating an inspired Erie Commodores, 2-1, in Erie at McConnell Family Stadium at Gannon University on Wednesday.
Despite racing out to an early 2-0 lead, on goals by Thomas Vancaeyezeele and Kevin Kerr, the Hounds would have to hold off a valiant effort from the NPSL club.
"I like the way we started. We decided to go all in from the start. We dominated the first 15-20 minutes. But then the field started to stretch," Bob Lilley, Hounds coach said. "All of a sudden they started to get into the game, but when we got the second goal, I was thinking lets tack one more one, and I can start thinking about our subs and getting ready for Saturday('s league match at Tampa Bay)."
Hounds didn't waste any time getting on the board — as Thomas Vancaeyezeele moved into the center of the box without much resistance on its first corner attempt of the match — and sent his header into the back of the net in the game's fourth minute.
Kevin Kerr swung the ball in to pick up the assist.
It was the Hounds first goal from a set piece this season.
"We knew if we press high early, that we would set the tone," Noah Franke, Hounds midfielder said.
The Hounds were very methodical as they were in command of the match in getting into the box on a narrow field.
Joe Holland almost doubled the score in the 21st minute, as the Englishman used some nifty foot skills to get into the box, but Erie's keeper Nicolau Neto made a nice close range save.
Earning his first start as a Riverhound — Franke was providing fits for Erie's back line on right side of the attack. The Creighton University product set up a free kick in the 17th minute from close range, then was fouled just inside the right side of the box to set up a penalty kick in the 30th minute.
"I just try to use my pace, and my shiftiness, and found a little gap, and they clipped me a little," Franke said. "Luckily, we got the PK and took the two goal lead."
Hounds captain Kevin Kerr took it from there — sliding in his penalty attempt into the lower side of goal for this third Open Cup tally of his career.
Despite the Hounds dominance, Erie played through the first half living up to its team motto — not giving up the ship.
Jack Simpson had a close range shot opportunity in the 41st minute, forcing Hounds keeper Mike Kirk to make a quick reaction save.
In the 45th minute, Erie's Ashley Phillips' cross got through the box to an unmarked Cam Philpot, who hammered home a shot from 10 yards past Kirk to cut the Pittsburgh lead.
"We conceded a goal early, but we kept at it, and we kept going, and going," Philot, who plays collegiately for USC Upstate, said. "I was lucky to get in a good position, and knock one home."
It would be Philpot's second goal in as many Open Cup games.
Having scored the late first half tally, Erie came out confidently in the second half matching possession with the Hounds in the early going.
The Hounds were on the verge of it's third goal, knocked the ball around the attacking third for much of the second half, but kept coming up short.
"We need to be a little bit more dynamic, and we would have been able to put the game away," Lilley said. "I thought they were competitive physically, and they worked. They deserve a lot of credit. They're a couple games in, and they kept us solid enough. It wasn't easy, but we got the result we needed."
LINE-UPS
Pittsburgh Riverhounds SC 
Head Coach – Bob Lilley 
GK – Dan Kirk (G),
D – Tobi Adewole, Andy Lubahn (Ray Lee, 72′) , Jordan Dover, Hugh Roberts
MF – Bakie Goodman, Joe Holland, Noah Franke (Christiano François, 80′) Kevin Kerr & Thomas Vancaeyazeele
F – Neco Brett
Subs not used
Dan Lynd, Todd Pratzner, Kenardo Forbes, Ben Zemanski,  Romeo Parkes  
Erie Commodores
Head Coach – Dale White
Nicolau Neto (G), Andrew Bennett, Kwame Opeku, Ashley Phillips, Cameron Philpot, Casey Bartlett-Scott, Fernando Martinez, Jack Simpson, Austin Solomon, Craig Quinn (Gabriel Pres, 66′), Austin Gerber & Steven Rieg
Sam White, Alexander Harling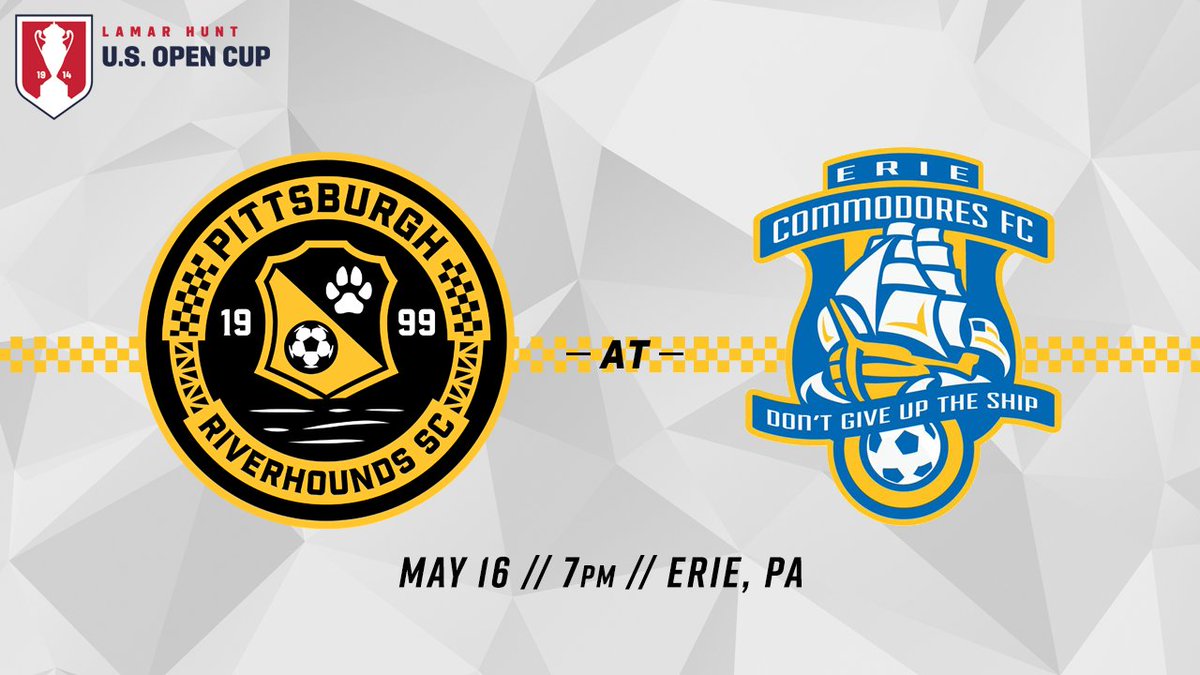 Yellow Cards:
Andy Bennett (70′)
Andy Lubahn (76′)
Below you will find the link for the audio-only broadcast of the opening match for Riverhounds SC in the 2018 U.S. Open Cup!
Pittsburgh travels to face Erie Commodores FC in this winner-take-all showdown at 7 p.m. Wednesday evening at McConnell Family Stadium on the campus of Gannon University in Erie.
Pittsburgh Soccer Now's John Krysinsky will join Riverhounds play-by-play man Matt Gajtka for the pregame show beginning at 6:50 p.m. via Riverhounds SC Facebook Live.
In addition, we'll post starting line-ups, and any significant in-game updates here in this game file.
Here's our full preview of the 2nd Round U.S. Open Cup match:
Riverhounds Postgame: Russell Cicerone after brace vs Indy
Subscribe to PGH Soccer Now