FINAL: Dartmouth 2, Pitt 1
MATCHDAY UPDATES
2:58 – FINAL – Dartmouth hands Pitt its first loss of the season, 2-1.  Pitt will return to action on Sunday, as they take the trip to Amherst, to take on UMass.
2:50 – 86′ | Pitt pushing for the equalizer – shot attempt missed by Anna Rico
2:35: – 61′ | Dartmouth regains the lead. Pitt 1, Dartmouth 2 – Goal for Izzy Glennon, Assist: Zoe Boocock.
2:15 – 46′ | PITT GOALLLLL!!! Amanda West nets her fifth goal of the season off of a great corner by Juliana Vazquez. Pitt 1, Dartmouth 1
1:57 – HALF | Pitt heads to the locker room trailing Dartmouth 1-0. Pitt 0, Dartmouth 1
1:50 – 39' | Dartmouth takes the 1-0 lead as Tracey Mills nets her first of the season from distance. Pitt 0, Dartmouth 1
1:05 p.m. – A look at the starting line-up for the Panthers today: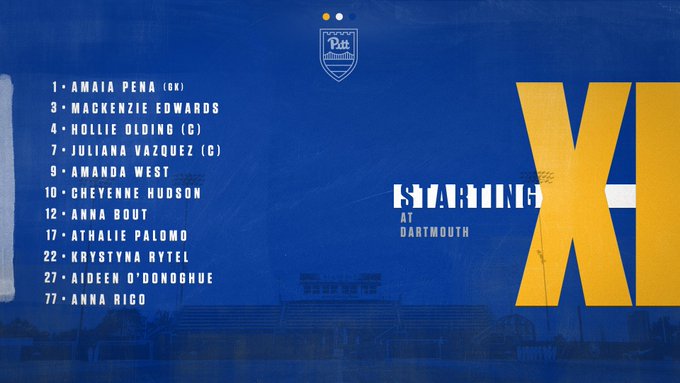 THE MATCHUP
Burnham Field, Hanover, NH | 1 p.m.
Live Stats | Stream/Watch ESPN
After securing their third straight 2-0 start to a season, the University of Pittsburgh women's soccer team will hit the road on Friday afternoon for a non-conference match against Dartmouth. The Panthers and Big Green will square off for the first time in program history at 1:00 pm at Burnham field in Hanover, NH.
The Panthers hit the road for their second road test of the season on Friday afternoon at 1:00 pm as they travel to Hanover, NH to take on Dartmouth in a non-conference match. This will be the middle match of a three-match road swing for the Panthers.
PSN PITT WOMEN'S COVERAGE 
Be sure to check out on Mark Goodman's feature and one-on-one interview with Head Coach Randy Waldrum.
LAST TIME OUT
Pitt was able to gut out a 1-0 double overtime victory on the road at Bucknell thanks to freshman Amanda West who buried her second straight game-winner to open up her career.
The Panthers dominated most of play on Sunday as they racked up a season-high 27 shots including 13 on goal in the 1-0 defeat. Pitt had six players record at least two shots in the road victory.
With the win, the Panthers improve to 2-0 for the third straight season.
SCOUTING DARTMOUTH
Friday afternoon's match will be the season opening contest for the Big Green.
Dartmouth finished off last season with a 10-5-2 overall record and a 4-2-1 conference mark while winning three of their final four matches of the season.
The Big Green return 10 of their top 11 leading scorers from a season ago this season including sophomore Izzy Glennon who netted four goals, three assists and 11 points off the bench as a freshman. Erin Kawakami and Tracey Mills also return after netting three goals.
THE SERIES WITH DARTMOUTH
This marks the first-ever meeting between the two teams in program history.
Pitt's all-time series record against Ivy League opponents is 2-2-0.
STRONG START TO 2019
For the third straight season, the Panthers are 2-0 to start their season after escaping Bucknell with a 1-0 double overtime victory on Sunday afternoon.
Through two matches, the Panthers offense has netted six goals after scoring just 11 goals a season ago.
Over their last 11 season openers, the Panthers own a 8-0-3 record including winning three straight season opening contests.
When Pitt opens up their regular season on their home field, they own a dominant 8-0-2 record all-time while outscoring their opponents 23-10 in those contests.
In their last eight road openers, Pitt owns a 5-2-1 record.
WEST NAMED ACC OFFENSIVE PLAYER OF THE WEEK
Freshman forward Amanda West made her presence felt during opening weekend and she was rewarded by being named ACC Offensive Player of the Week after netting four goals, one assist, nine points and two game-winning markers.
West becomes just the second Panther in program history to earn ACC Offensive Player of the Week honors and the first Pitt freshman to do so. The last Panther to earn the weekly recognition was Taylor Pryce in 2015.
She opened up her career with the best debut in program history as she netted a hat-trick and an assist including the game-winner in the 84th minute as Pitt handed Loyola Marymount the 5-4 defeat. Her seven points are the most in a game by a Pitt player since 2001 and most in Ambrose Urbanic Field history by a Panther.
The striker backed up her impressive debut with another strong match on Sunday afternoon as she netted the game-winning goal in the 101st minute to lift Pitt to the 1-0 victory over Bucknell.
RICO MAKING THINGS HAPPEN FOR THE PITT OFFENSE
Sophomore Anna Rico has taken her play to a new level to start the season for the Panthers as she has notched a career-high three assists through two victories.
The crafty forward was dangerous all night long in the Panthers 5-4 opening night victory as she finished with a pair of helpers and two shots.
On Sunday, Rico finished off another strong showing with a great assist on West's game-winner while also posting a season-high six shots, four on frame, in the 1-0 win over Bucknell.
FRESH FACES
The Panthers start the 2019 season with 21 new players on the roster, including 17 incoming freshmen and three transfers.
Junior Hollie Olding (Kentucky) joins Pitt after a pair of impressive seasons with the Wildcats and is joined by sophomores Danielle Maggio (Charleston Southern), and Kate McKay(Elon). Olding, Maggio and McKay combined to net seven goals and two assists a season ago.
Out of the 17 incoming freshmen, nine are from the state of Pennsylvania, four are international, two are from New Jersey and one player comes from Michigan and Texas.
INTERNATIONAL EXPERIENCE
Four newcomers to the Pitt squad bring international experience to the roster this season after appearing in matches for their national teams over the past couple of seasons.
Junior Hollie Olding most recently laced up for the U19 England squad while also helping England advance to the semifinals in the U17 Women's World Cup.
Incoming freshman Athalie Palomo brings in playing experience with the Mexico U-20 National Team, where she was one of the youngest players on the team that placed 11th overall at the 2018 FIFA U-20 Women's World Cup in France.
Freshmen Stefania Tryggvadottir and Margret Arnadottir join the Panthers after stints with the U17 and U19 Icelandic National Teams.
UP NEXT
Pitt will stay on the road for their final match of a three-match road swing on Sunday, September 1 as they head to Amherst, MA to take on UMass at 1:00 pm.
Subscribe to PGH Soccer Now