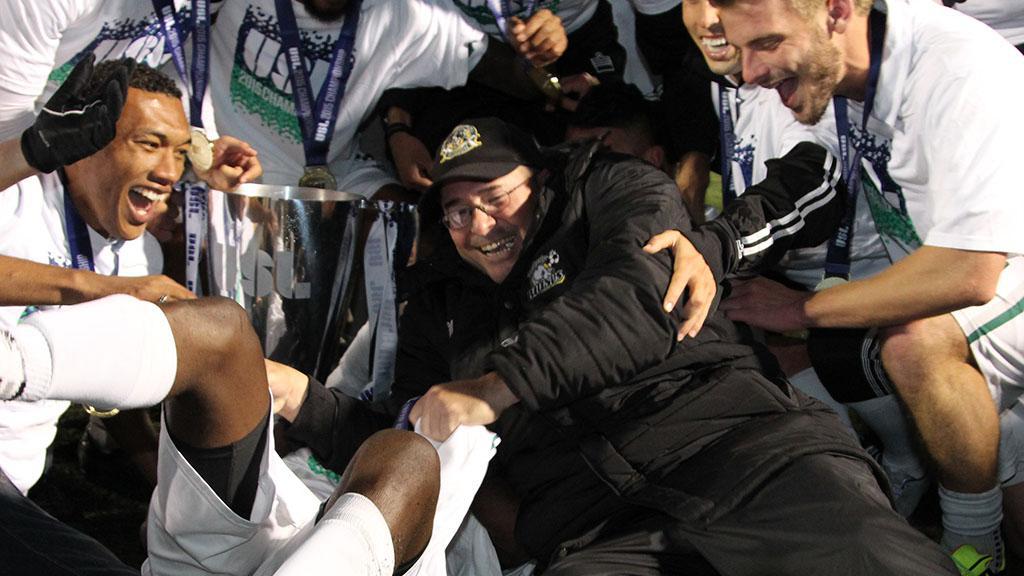 A few members of the Pittsburgh soccer media provided their respective takes on what will happen in the USL Championship Playoffs — now that we're down to the final eight — and the Pittsburgh Riverhounds are very much in the mix.
Saturday's Eastern Conference Playoff quarterfinal match-ups are now set as both road teams won the play-in games:
7 p.m. Pittsburgh Riverhounds vs Birmingham Legion FC
7 p.m. Louisville City FC vs Tampa Bay Rowdies
7:30 p.m. New York Red Bulls II vs Indy Eleven
8 p.m. Nashville SC vs Charleston Battery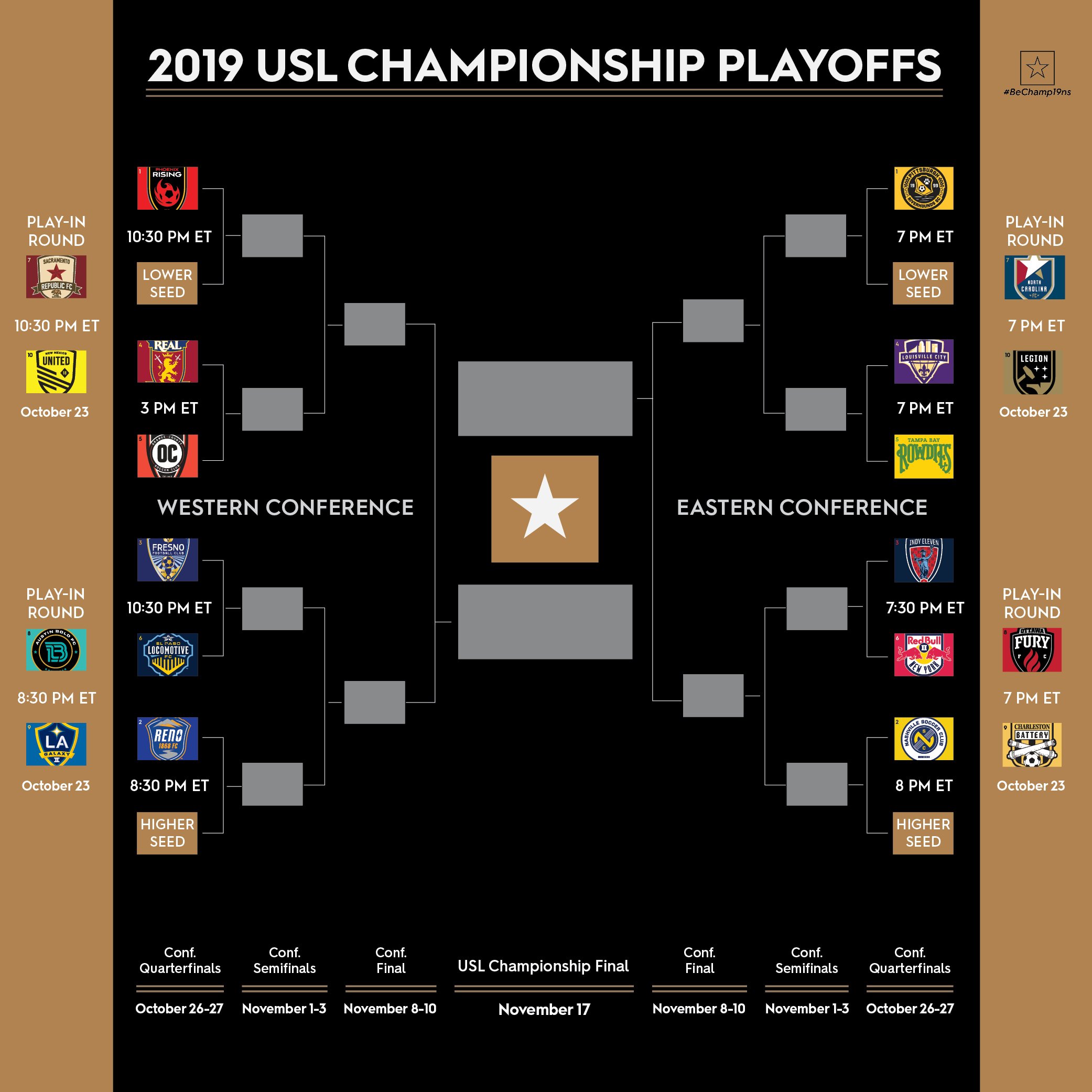 Thanks to the three Matt's — Matt Harkins, Matt Grubba and Matt Gajtka for their picks.
Quarterfinals 
Pittsburgh over Birmingham
Louisville over Tampa Bay
Indy Eleven over NY Red Bulls II
Charleston over Nashville (in ET or pens.)
A top seed usually goes down early, and Charleston strikes me as the sort of lower seed that can defend it's way to a 0-0 or 1-1 draw.
Semifinals
Pittsburgh over Louisville
Indy Eleven over Charleston
The Hounds recent success over Louisville gives me reason to think they'll be the ones to knock off the champs, but it'll be a tight one. Two upsets is too much to ask for the Battery.
Eastern Conference Final 
Indy 2, Hounds 1
Hate to see the home streak end, but I think it does against a team out for a little revenge in Pittsburgh. Both teams are used to turf and a tight field, but bad weather in Pittsburgh could be one thing to turn it toward the Hounds' favor.
Quarterfinals
Pittsburgh 3, Birmingham 0
Louisville 1, Tampa Bay 0
NY Red Bulls II 3, Indy Eleven 2
Nashville 2, Charleston 0
Semifinals
Pittsburgh 1, Louisville 0
Nashville 2, NY Red Bulls II 1
Eastern Conference Final 
Pittsburgh 0, Nashville 0, (Pittsburgh wins on PKs)
I know this is for the Eastern Conference, but as for the Western Conference I feel like it's Phoenix Rising FC and the field.  My pick to come out of the West is Phoenix and if not, there it should be considered a major upset if it's anyone else.
Quarterfinals
Pittsburgh-Birmingham: It's all fresh in our heads how Birmingham plays against Pittsburgh after closing out the season down there, but I don't see the outcome being any different this time around.  Pittsburgh's just got to stay focused on the goal and not try to sleep walk through this game which I don't believe will happen because the atmosphere at Highmark Saturday night is going to be insane. Final Score: Pittsburgh 3 – Birmingham 1
Louisville City-Tampa Bay: If this was the first half of the season I would have taken Tampa Bay in a rout, but they came back down to Earth as the season wore on and didn't look as dominant as they were early in the season.  Final Score: Louisville City 2 – Tampa Bay 1
Indy Eleven-New York Red Bulls II: Will a goal be scored before this match has to go to penalty kicks? Watching these teams this season, they are both decent on the defensive side of the ball, but where will the scoring come from? But, yes I do believe a goal will be scored before PK's in this match, but it will go to Overtime. Final Score: Indy 1 – New York 0
Nashville-Charleston: Sorry Charleston, I just can't give you a chance in this match.  Final Score: Nashville 4 – Charleston 0
Eastern Conference Semifinals 
Pittsburgh-Louisville City: If you think the atmosphere on Saturday will be wild at Highmark Stadium, take that and double it for a potential conference semifinal match down on The Mon. Both matches between the teams this season were as you would expect, defensive showdowns with Pittsburgh winning in Louisville 1-0 early in the season and playing to a scoreless draw in Pittsburgh late in the season.  Don't expect much different in a potential third round between these teams, but I'm going to give advantage to the Steel Army and the home crowd. Final Score: Pittsburgh 1 – Louisville City 0.
Indy Eleven-Nashville: Not that Nashville's defense is not good, but I'm giving this match the title of Defense vs Offense. Indy will be alright if they can control possession, limit Nashville's time in the offensive third and if it comes down to Penalty kicks. I don't think that's going to happen though, Nashville wins, but not as easily as I think their first round match will go. Final Score: Nashville 2 – Indy 1.
Eastern Conference Finals 
Pittsburgh-Nashville: Pittsburgh rallied to earn a draw in first match of the season between these teams at Highmark Stadium and what was the wildest final minutes of a match anyone could imagine. In Nashville, the defenses showed up and the teams played to a scoreless draw. Well, good news, there will need to be a winner in this potential match-up, but I think it will be closer to the match in Nashville than the one in Pittsburgh during the regular season. The Steel Army and home crowd will really be into this one and neither team will want to make a mistake.  The key to this match-up will be for the teams to just play their games and not be afraid to make a mistake.  For Pittsburgh, that means for Kyle Morton to be strong between the pipes, Joe Greenspan, Ryan James, Tobi Adewole and Uchenna Uzo being a brick wall on the back line and Neco Brett, Kenardo Forbes and Robbie Mertz generating plenty of scoring chances for Steevan dos Santos.  With Nashville moving to the MLS, this should give Pittsburgh even more motivation material to have a chance to beat a future MLS team to make it to the USL Championship Final. Final Score: Pittsburgh 3 – Nashville 1.
.
East Quarterfinals 
Pittsburgh over Birmingham
Louisville over Tampa Bay
NY Red Bulls II over Indy
Nashville over Charleston
The Hounds are 80 percent favorites to advance per FiveThirtyEight.com, and I have no reason to argue with that. They're better, and they'll be better rested. I see one upset in the first round, as I think Indy will be vulnerable playing away from Lucas Oil Stadium for its playoff run. Some reward for finishing unbeaten at home, huh? I think Louisville flexes its Slugger Field muscles and Nashville grinds out another one with help from MLS-signed striker Daniel Rios.
East Semifinals
Pittsburgh over Louisville
Nashville over NY Red Bulls II
It'll be a matchup of two all-time Robert Morris University greats when Neco Brett and the Hounds take on Devon 'Speedy' Williams and the two-time defending champs. The Hounds deserved better than that 0-0 draw back in September, as they could've easily been up multiple goals at the half. This time, they make their chances count. And on the other side of the bracket, Nashville squeezes the life out of the Baby Bulls, ending New York's three-year run as East finalists.
East Final 
Pittsburgh over Nashville
Mark Forrest's late header in Birmingham looms large as the Hounds get the all-important home field for this one. With Kevin Kerr's accurate cross to Steevan Dos Santos, Pittsburgh edges its MLS-bound foe from Music City with a 1-0 decision and advances to its first league final. (Oddly specific, I know, but predictions are just fun and games anyway.)
East Quarterfinals 
Pittsburgh over Birmingham
Tampa Bay over Louisville
NY Red Bulls II over Indy (in Penalties)
Nashville over Charleston
I love the way Tampa Bay play. Yeah, they've faded down the stretch, going 1-3-2 down the stretch with a bunch of red cards. But their attack is versatile and effective, with Sebastian Guenzatti, Miguel Tejada, and Lucky M'Kosana banging goals (18, 10 and 10 respectively). They bring Yann Ekra and Kwadwo Poku off the bench! All their games are sloppy chaotic knife fights and I am HERE for it. Red Bull 2 are agents of chaos also – I imagine that one goes to OT and penalty kicks. Nashville are the presumptive favorites in the East to me, so they're going to take care of business at home easily. And the Hounds are so prepared, so deep, so healthy, so ready for Birmingham that I think they've got the game well in hand.
East Semifinals
Pittsburgh over Tampa Bay
Nashville over NY Red Bulls II
Simply put, Bob's got a plan for that. Coach Lilley is going to find a way to disrupt whatever it is that the Rowdies have been doing right this year in order to get the win. Nashville has former Riverhound Lebo Moloto dishing the rock into dangerous spots, and Daniel Rios tearing up opponents and finishing for goals. Rios tops the Conference in goals with 20; Moloto is astride the East in Assists with 10. Their defense is no joke either – anchored by team captain and hulking man-beast Forrest Lasso. Head coach Gary Smith will get it done and advance his team.
East Final 
Nashville over Pittsburgh
I hate being the turd in the punchbowl. Nashville has so much quality, and they have so much experience, and they have so much to prove with their impending move to MLS. They're just going to be too much for the Hounds to handle. That said, it's bound to be close – maybe another OT game or a PK shootout. In the two games the Hounds played against Nashville, they drew both times. It'll be a dogfight, regardless of the outcome.
Subscribe to PGH Soccer Now