No. 14 Pitt (6-1-0,  1-1-0 ACC) at Virginia Tech (0-5-0, 0-3-0 in ACC) 
Sunday October 4 | 3 p.m.
Match Summary
No. 14 Pitt women's soccer (6-2-0, 1-2-0) fell at Virginia Tech (1-5-0, 1-3-0) Sunday afternoon at Thompson Field. The Panthers coughed up the ball in their own box in the 76th minute, and the Hokies' Karlie Johnson pounced on it for the easy game-winning goal from a few yards out.
Tori Powell added an insurance goal with less than two minutes left.
"Really disappointed because we were the better team today," said Pitt head coach Randy Waldrum. "Two mistakes and you lose in this league. If you don't finish your chances, you lose in this league. We should have had a lead going into halftime. Unfortunately all of this is a part of the process."
Pitt begins a four-game homestand next Thursday at 6 p.m. against Boston College, which is set for a broadcast on the ACC Network.
A good performance today from @Pitt_WSOC but two mistakes cost us. We had our chances to put the game away and didn't. That's the difference in this conference! We'll be back and ready for the next one! #H2P

— Randy Waldrum (@CoachWaldrum) October 4, 2020
Notes
Pitt finished with a big advantage in shots (19-8), shots on goal (12-5) and corner kicks (9-4)
Amanda West's goal-scoring streak ended at seven games, longest in program history.
Emily Yaple placed a game-high three of five shots on goal.
Chantelle Parker had her first collegiate start.
Final | Panthers fall to the Hokies.

No. 14 Pitt 0️⃣ | VT 2️⃣#H2P pic.twitter.com/uyx9HDecxX

— Pitt Women's Soccer (@Pitt_WSOC) October 4, 2020
89' | Hokies add an insurance goal.

No. 14 Pitt 0️⃣ | VT 2️⃣#H2P

— Pitt Women's Soccer (@Pitt_WSOC) October 4, 2020
76' | Hokies pounce on a turnover right in the box & score the game's first goal.

No. 14 Pitt 0️⃣ | VT 1️⃣#H2P

— Pitt Women's Soccer (@Pitt_WSOC) October 4, 2020
HALF — It's still 0-0
Pitt's starters today…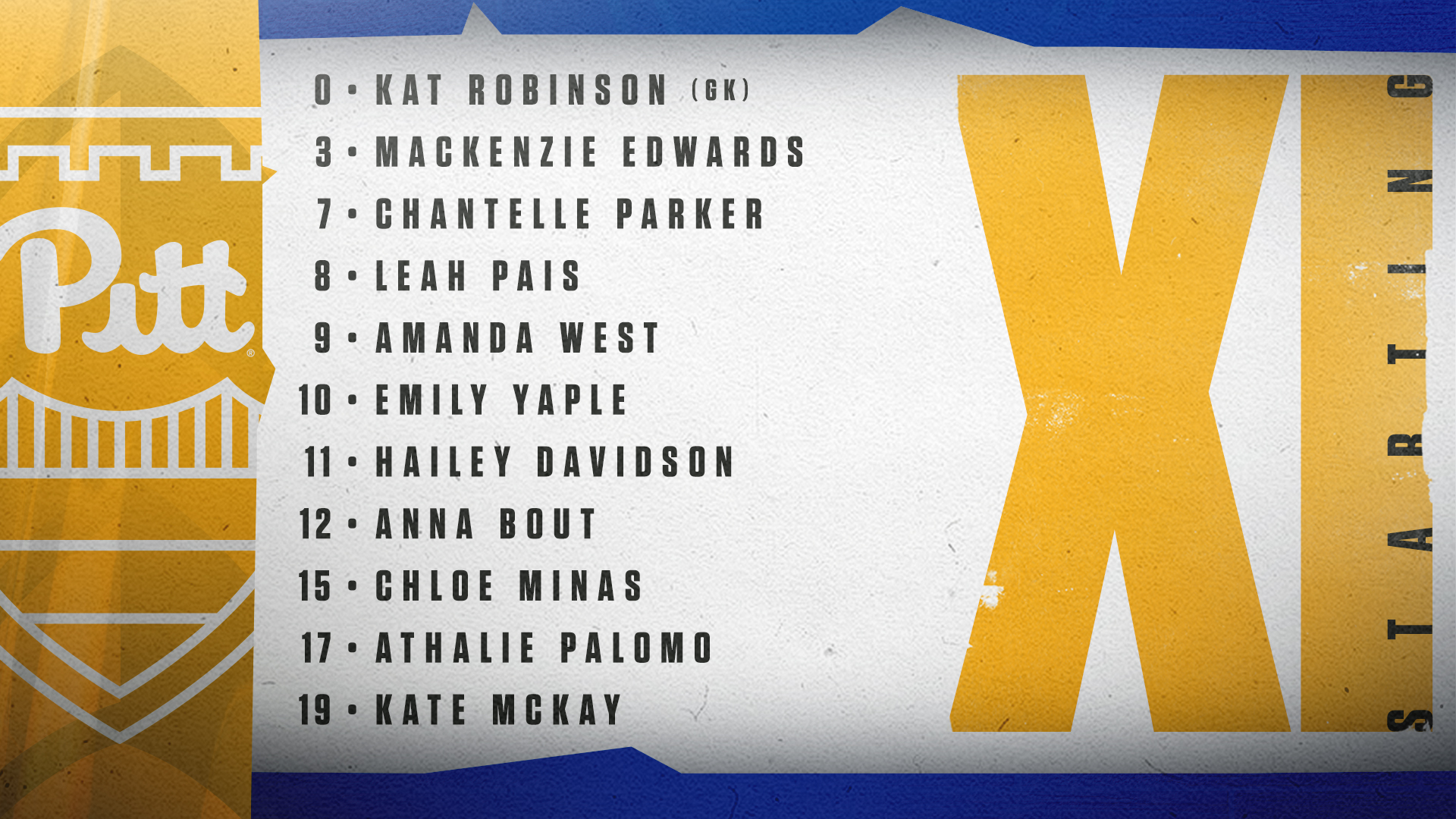 Match Notes From Pitt… 
NATIONALLY RANKED
Pitt is slotted at No. 14 in the second week of the United Soccer Coaches' Poll, announced Tuesday.
Last week the Panthers were ranked No. 12, the first ranking in the United Soccer Coaches' Poll in program history.
The Panthers are one of six ACC teams ranked.
The poll has condensed rankings at this time, with only 15 teams ranked that have played a game this season.
Head coach Randy Waldrum has now led five schools to be nationally ranked: Tulsa men's and women's soccer, Baylor and Notre Dame in addition to Pitt.
LAST TIME OUT: AT NO. 10 VIRGINIA
Pitt suffered its first loss of the season 2-1 (OT) at No. 10 Virginia Thursday night.
The Panthers rallied to send the game into overtime, as Amanda West scored the Panthers' lone goal in the 50th minute on a penalty kick.
Katherine Robinson made seven saves, tying a career-high.
BEST START IN PROGRAM HISTORY
Pitt started the season 6-0 for the first time in program history.
The six victories to start the season was the second-longest winning-streak in school history, as the 2015 team rattled off eight wins in a row.
Last week the Panthers defeated the Citadel twice on the road, 2-1 in overtime and 1-0. Previously, Pitt has beaten Syracuse 2-0 in the home and ACC opener, 1-0 in overtime at Navy and Appalachian State twice on the road in the first week of the year with 4-0 and 7-1 victories.
The Panthers have an 18-4 goal aggregate for the season, best in the nation.
Playing 548 minutes and 20 seconds in the six-game span, the Panthers only trailed in 11 minutes and 36 seconds, all in the 2-1 comeback win at the Citadel.
Eight Panthers have scored the 18 combined goals.
The Panthers put limited pressure on their goalkeepers with an average of 1.5 saves per game.
Amanda West scored three-straight game-winning goals, something no other Panther in program history has done before.
West converted two golden goals off penalty kicks at Navy and the Citadel in back-to-back games.
Against the Orange, the Panthers had a dominate advantage in shots (27-4) and shots on goals (12-1).
The season-opening shutout at the Mountaineers was the biggest-ever margin of victory in a season-opener.
The Panthers had not defeated an opponent by 4+ goals since a 6-1 victory over St. John's on Oct. 9, 2011.
MOVING ON UP THE ALL-TIME HEAD COACH WINS LIST
With 414 career wins in 27 years at the Division I level, Randy Waldrum needs one more to tie for eighth all-time with David Lombardo (Keene State and James Madison, 35 Years) and Chris Petrucelli (Notre Dame, Texas and SMU, 30 Years).
Petrucelli's squad at SMU is currently idle this fall, and Lombardo retired after the 2017 season.
Waldrum currently ranks eighth among all-time victories.
ROAD WARRIORS
Five of the six wins this season have come on the road, the most in a single-season in program history.
Last year on the road, Pitt was 1-7-1 and a combined 2-28-4 in the last four seasons.
With the difficulties of scheduling due to COVID and the desire to play nonconference games, Pitt has 10 of its 15 games away from home this fall.
All but one of the seven nonconference games are on the road.
TOP MARKS IN THE COUNTRY
With the strong start to the season, the team ranks among the best in Division I in several categories.
The Panthers lead the nation in total points (52), goals (18) and assists (16).
They rank in the top-20 in other team statistics: sixth in scoring offense (2.57 goals per game), 10th in penalty kicks per game (0.8), 13th in shutout percentage (0.571) and corner kicks per game (6.29), 14th in goals-against average (0.562) and shots per game (14.57), 19th in save percentage (0.81) and 20th in shots on goal per game (6.57).
LEADING SCORER IN THE NATION, AMANDA WEST
Amanda West leads the nation in all three scoring categories: goals (seven), assists (three) and points (17).
West has hit the ground running this season, just like she did last year, with a goal in each game for the longest goal-scoring streak in program history.
With only 24 career games played, she already ranks among the top all-time scorers in program history.
o   Third in points (46).
o   Tied for fifth in goals (16) with Netta Agredano (2000-03).
o   Tied for fourth in assists (12) with Kristina Francois (2003-06) and Cande Ruiz (1998-01).
She has recorded seven 3+ point games, tied with Ruiz for the most in school history.
Her 17 points this year are tied with for seventh-most in a single-season, and her seven goals rank tied for sixth.
She accomplished things in 2019 that no other Panther has done.
She was named to the United Soccer Coaches' All-Atlantic Region Third-Team, becoming the second-ever Panther to receive all-region honors.
She became the first Pitt women's soccer player to receive All-ACC honors when she was named to the third and all-freshmen teams.
She broke the school's all-time single-season points record last year with 29.
Also, she passed Ruiz (1998) at 26 for the most and also tied Ruiz for the most goals in one year with 10.
In assists, she tied with Charity McClure (1998) and Katelyn Ruhe (2010) for the single-season record and already ranks tied for eighth in career assists.
SCOUTING VIRGINIA TECH
The Hokies have lost all five games played with three coming in ACC play, but each one came to a ranked team: Virginia (3-1 and 1-0 (OT)), No. 3 Clemson (3-0), No. 1 UNC (1-0) and No. 2 Florida State (4-0).
Virginia Tech returns seven starters, including its top-four scorers, and five other lettermen from last year's team that went 15-5-2, 4-4-2 and played in the first round of the NCAA Tournament.
Replacing goalkeeper Mandy McGlynn, an All-American last season and third-round selection of Sky Blue FC, freshman Alia Skinner started the first four games with a 1.98 GAA, 31 saves and .795 save percentage while redshirt-sophomore S.A. Phillips started Thursday's game against Florida State and made two saves.
THE SERIES
Virginia Tech has won five of the six meetings, with a 1-1 tie between the two teams on Sept. 21, 2017 in Blacksburg, Va.
The Hokies defeated the Panthers 1-0 at Ambrose Urbanic Field last year on Halloween in the regular season-finale.
NEW STARTING GOALKEEPER
The Panthers replace two-year starting goalkeeper Amaia Pena, who signed a professional contract with Athletic Club Femenino (Spain).
Pitt has three goalkeepers on the roster: Katherine Robinson, Caitlynn Lazzarini and Gabriella Neibart.
Robinson, the most experienced of the trio, has seized the job and started every game with only three goals allowed and 14 saves in 582 minutes played. She recorded has three shutouts, including back-to-back against Syracuse and Navy.
Lazzarini relieved Robinson in both App State games in the second half and made two saves in 58 minutes.
Prior to this season, Robinson made eight starts in 12 games played over two seasons. Last year she registered a 0-1-1 record with a 2.20 goals against average and eight saves.
Lazzarini played in three games last year as a freshman and recorded a 1-2-0 record, 0.95 goals against average and eight saves.
O CANADA
Waldrum and his staff have gone north of the border the last two years to find top talent to fill out the roster.
Six players grew up playing in the Canadian youth soccer system: Chantelle Parker (Milton, Ontario), Leah Pais (Mississagua, Ontario), West (Burlington, Ontario), Anna Bout (Cambridge, Ontario), Chloe Minas (Montreal, Quebec) and Bex Bartosh (Hiawatha First Nation, Ontario).
Pais ranks second on the team in scoring with three goals and seven points.
Bout and Minas have started in the midfield in each game, and Bout scored her first collegiate goal at Appalachian State.
Parker made her collegiate debut in that same game, and Bartosh came off the bench in both App State games.
Riverhounds MF Danny Griffin
Subscribe to PGH Soccer Now