ACC Women's Soccer
FINAL: No. 2 Florida State 4, Pitt 1 
Match Summary
Pitt women's soccer (8-3-0, 2-3-0) fell 4-1 to No. 2 Florida State (5-0-0, 5-0-0) Thursday night at Ambrose Urbanic Field.
Trailing by a goal late for a majority of the first half, Madison Clayton scored her first collegiate goal in the 45th minute to tie the game up. On a give-and-go at midfield, Amanda West received a pass from Leah Pais just inside the left side of the box and sent a cross into the middle, where Clayton one-touched it into the net.
Florida State scored the game-winning goal in the 55th minute, as Kristina Lynch headed in a ball from a few yards out in the left side of the box. The goal was initially waved off to an offside call, but was later added by the referees.
Florida State added two more goals in the last 22 minutes of the game.
NEWS AND NOTES
Clayton's goal was the first allowed by Florida State this season.
West moved into a tie with Liz Carroll (2007-10) for third-most career assists (13) and tied Cande Ruiz (1998) for the second-most single-season points (26) in program history.
Caitlyn Lazzarini made three saves in her second start of the season.
Florida State had the advantage in shots (21-3) and corner kicks (4-1).
All three Panthers shots were placed on goal.
UP NEXT
Pitt ends its four-game homestand with Miami Sunday at 1:30 p.m., which is set to be broadcasted on the ACC Network.
Gameday Updates 
Scoring Summary:
80' | Another on for Nighswonger!!!#OneTribe

💻: https://t.co/IlWQBmv6cl pic.twitter.com/ERpanmc4yA

— FSU Soccer (@FSUSoccer) October 15, 2020
69' | This was a much easier call. Jenna gives the Noles a 3-1 lead!#OneTribe

💻: https://t.co/IlWQBmv6cl pic.twitter.com/b2bgDdaIvP

— FSU Soccer (@FSUSoccer) October 15, 2020
Halftime | All tied up as we begin the 2nd half thanks to @madisonclayton6 first collegiate goal!!

Pitt 1 | No. 2 FSU 1#H2P pic.twitter.com/Ko2WiSeWDO

— Pitt Women's Soccer (@Pitt_WSOC) October 15, 2020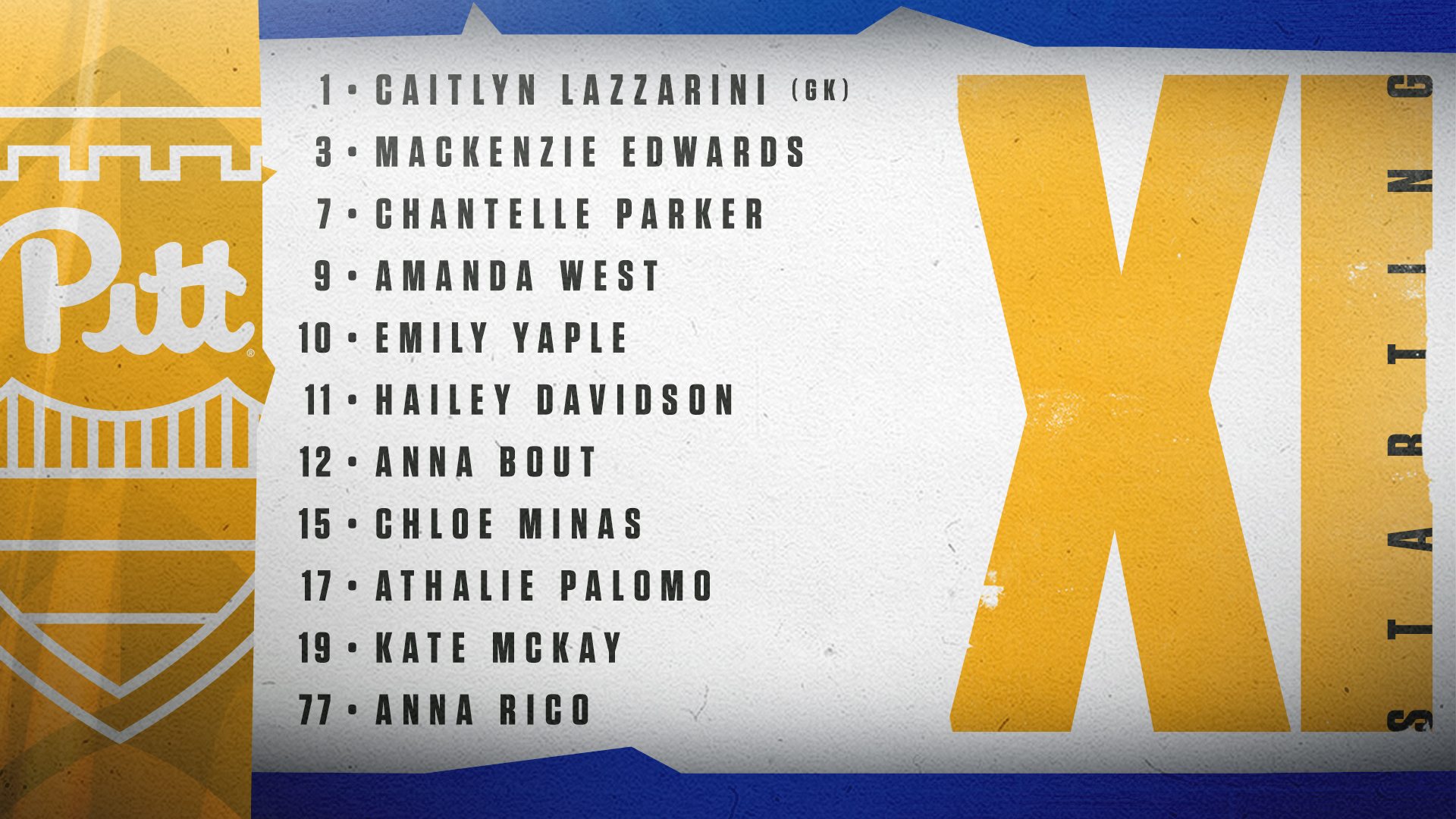 Pitt Athletic Department Game Notes
FAN ATTENDANCE
Only the family of the Pitt players are allowed into Ambrose Urbanic Field for the game.
Stickers are pre-marked on the bleachers to maximize social distance, and fans are required are to wear face coverings at all times in order to be in the facility.
LAST TIME OUT: NAVY
Pitt scored three first half goals to cruise to a 4-1 victory over Navy, which was the second victory over the Midshipmen in the fall.
Scoring the game-winning goal and then converting her sixth penalty kick of the season in the second half, Amanda West became Pitt women's soccer's all-time leader in career points with 54 and set the single-season season record for goals (11).
Anna Rico scored the first goal on a free kick from far out in midfield, almost mirroring the highlight-reel goal she recorded in the previous game against Boston College.
Leah Pais had her fourth goal of the season, heading in a pass from Kate McKay off a free kick.
TOP MARKS IN THE COUNTRY
With the strong start to the season, the team ranks among the best in Division I in several categories.
The Panthers lead the nation in total points (72), goals (26) and assists (20).
They rank in the top-20 in other team statistics: second in scoring offense (2.6 goals per game), 10th in shots per game (15.5), 11th in shots on goal per game (7.4), 16th in corner kicks per game (5.9), 17th in shutout percentage (0.4), 18th in penalty kicks per game (0.857) and 22nd in goals-against average (0.989) and shot accuracy (0.477).
Individually, McKay leads the nation in assists (four).
LEADING SCORER IN THE NATION, AMANDA WEST
West leads the nation in goals (11), game-winning goals (four) and points (25) while ranking fifth in assists (three).
She hit the ground running this season, just like she did last year, with a goal in the first seven games for the longest goal-scoring streak in program history.
With only 27 career games played, she already ranks among the top all-time scorers in program history.
o   First in points (54), three ahead of Ashley Cuba (2009-12).
o   Second in career goals (21), two behind Cuba.
o   Tied for fourth in assists (12) with Kristina Francois (2003-06) and Cande Ruiz (1998-01).
She has recorded nine 3+ point games, the most in school history.
Her 25 points this year rank third, one behind Ruiz (1998) and four behind her total last year.
Her 11 goals this fall are most in a single-season, one ahead of her total last year and Ruiz in 1998.
She accomplished things in 2019 that no other Panther has done.
She was named to the United Soccer Coaches' All-Atlantic Region Third-Team, becoming the second-ever Panther to receive all-region honors.
She became the first Pitt women's soccer player to receive All-ACC honors when she was named to the third and all-freshmen teams.
She broke the school's all-time single-season points record last year with 29.
Also, she passed Ruiz (1998) at 26 for the most and also tied Ruiz for the most goals in one year with 10.
In assists, she tied with Charity McClure (1998) and Katelyn Ruhe (2010) for the single-season record.
ACC OFFENSIVE PLAYER OF THE WEEK­
West was named the ACC Offensive Player of the Week this Tuesday.
She scored four goals in two Pitt home victories last week against Boston College (4-3) and Navy.
NATIONALLY RANKED
Pitt was slotted at No. 14 two weeks ago of the United Soccer Coaches' Poll.
The previous week the Panthers were ranked No. 12, the first ranking in the United Soccer Coaches' Poll in program history.
The Panthers were one of six ACC teams ranked.
The poll has condensed rankings at this time, with only 15 teams ranked that have played a game this season.
Head coach Randy Waldrum has now led five schools to be nationally ranked: Tulsa men's and women's soccer, Baylor and Notre Dame in addition to Pitt.
BEST START IN PROGRAM HISTORY
Pitt started the season 6-0 for the first time in program history.
The six victories to start the season was the second-longest winning-streak in school history, as the 2015 team rattled off eight wins in a row.
The Panthers defeated the Citadel twice on the road, 2-1 in overtime and 1-0. Previously, Pitt has beaten Syracuse 2-0 in the home and ACC opener, 1-0 in overtime at Navy and Appalachian State twice on the road in the first week of the year with 4-0 and 7-1 victories.
The Panthers have a 17-2 goal aggregate for the season, best in the nation.
Playing 548 minutes and 20 seconds in the six-game span, the Panthers only trailed in 11 minutes and 36 seconds, all in the 2-1 comeback win at the Citadel.
Eight Panthers scored the 17 combined goals.
The Panthers put limited pressure on their goalkeepers with an average of 1.5 saves per game.
West scored three-straight game-winning goals, something no other Panther in program history has done before.
West converted two golden goals off penalty kicks at Navy and the Citadel in back-to-back games.
Against the Orange, the Panthers had a dominate advantage in shots (27-4) and shots on goals (12-1).
The season-opening shutout at the Mountaineers was the biggest-ever margin of victory in a season-opener.
The Panthers had not defeated an opponent by 4+ goals since a 6-1 victory over St. John's on Oct. 9, 2011.
MOVING ON UP THE ALL-TIME HEAD COACH WINS LIST
Recording his 416th career win Sunday in 27 years at the Division I level, Randy Waldrum passed  David Lombardo (Keene State and James Madison, 35 Years) and Chris Petrucelli (Notre Dame, Texas and SMU, 30 Years) for eighth all-time.
Petrucelli's squad at SMU is currently idle this fall, and Lombardo retired after the 2017 season.
Waldrum currently ranks seventh among active head coaches.
SCOUTING NO. 2 FLORIDA STATE
Playing just its eight ACC games this fall, Florida State has shut out all four opponents to start the season: Notre Dame (5-0), Louisville (1-0), Virginia Tech (4-0) and Wake Forest (4-0).
FSU leads the nation in six team categories: scoring offense (3.5 goals per game), goals-against average, shutout percentage, save percentage, assists per game (2.25) and points per game (9.25).
Junior midfielder Yujie Zhao has registered a team-high three goals, and three other teammates have a pair of goals.
Playing all but nine minutes, freshman goalkeeper Cristina Roque only has had to make three saves on seven shots faced.
THE SERIES
Florida State has won all seven meetings.
Each game has come as an ACC match, with the two schools playing each other every year since Pitt joined in the league in 2013.
NEW STARTING GOALKEEPER
The Panthers replace two-year starting goalkeeper Amaia Pena, who signed a professional contract with Athletic Club Femenino (Spain).
Pitt has three goalkeepers on the roster: Robinson, Caitlyn Lazzarini and Gabriella Neibart.
Robinson, the most experienced of the trio, seized the job at the beginning of the season and started the first eight games with only eight goals allowed and 21 saves in 754 minutes played.
She has recorded three shutouts, including back-to-back against Syracuse and Navy.
Lazzarini started her first game of the season against Navy and previously relieved Robinson in both App State games and also against Boston College last Thursday in the second half.
She has made three saves in 151 minutes.
Prior to this season, Robinson made eight starts in 12 games played over two seasons. Last year she registered a 0-1-1 record with a 2.20 goals against average and eight saves.
Lazzarini played in three games last year as a freshman and recorded a 1-2-0 record, 0.95 goals against average and eight saves.
Riverhounds MF Danny Griffin
Subscribe to PGH Soccer Now