NCAA Division I Women's Soccer – Atlantic 10 Women's Soccer
FINAL Duquesne 1, Dayton 1
SUMMARY
A very hard fought one on the bluff today between Atlantic 10 teams that will see each other two more times in the coming weeks. Round one ends in a stalemate. Some good moments for Duquesne, as they showed resolve in getting a late equalizer after Dayton turned up its attacking side in the second half.  The overtime period things opened up at times, but neither could convert on its chances.
Emma Bundy scored the game tying goal in the 87th minute, with a header from a perfectly placed cross from the right side from Tori Kopchak.  Megan Virgin had eight saves for the Dukes.
Dayton outshot Duquesne, 22-17 (9-6 on target), held the edge on corners (6-4) in a physical match with the teams combining for 25 fouls.
The Dukes are now 0-1-1 overall and 0-0-1 in Atlantic 10. They'll next play on Thursday vs St. Bonaventure.   We'll have the complete recap later along with Ed Thompson photo gallery.
ED THOMPSON PHOTO GALLERY 
This slideshow requires JavaScript.
GAMEDAY 
FINAL – DUQUESNE 1, DAYTON 1
one thing I don't like about college soccer, they still play by the scoreboard clock…

Duquesne player gets fouled in final third with 0:12 seconds left. Not enough time to set up a free kick and the clock runs out.

That's it.

Game over.

@DuqWSoccer1
Dayton 1

— John Krysinsky (@JohnKrysinsky) March 14, 2021
105′ – they're coming down to the wire, in 2nd OT now — things opening up — end to end action.
END OF 1OT – DUQUESNE 1, DAYTON 1
END OF REGULATION – DUQUESNE 1, DAYTON 1
Here's a look at the equalizer…
First goal of the season ✔️
First career goal by @EmmaBundy50 ✔️ #GoDukes pic.twitter.com/2GSsTZ1lgo

— Duquesne Women's Soccer (@DuqWSoccer) March 14, 2021
87′ – GOAL – DUQUESNE – Emma Bundy!   DUQ 1, DAYTON 1
Terrific service from Tori Kopchak and Bundy heads it in to tie it up.
75′ – GOAL – DAYTON 1, DUQ 0
Madison Wilson from Jess Sheldon for the go-ahead goal! #GoFlyers pic.twitter.com/fkdF7aBbOD

— Dayton Women's Soccer (@daytonwsoccer) March 14, 2021
Lutz, Mackenzie Assist by Sheldon, Jessica.
Dayton definitely bringing more pressure in the second half.
Flyers getting closer! @GemelliItala with the chance! pic.twitter.com/HSOMcZVTNm

— Dayton Women's Soccer (@daytonwsoccer) March 14, 2021
HALF – DUQ 0, DAY 0
The Dukes have gotten stronger as the first half came to a close, but they couldn't convert despite generating 11 shots (four on frame), Dayton with four shots (one on target).  Dayton has the edge in corner kicks (3-1).
Lots of subs and rotation for both teams — as Duquesne's already brought in five players this half.
35′ – Yellow card on DUQ's Sarah Wilkenson
34′ – Yellow card on Dayton's Mia Perri – leads to free kick for DUQ's Lexi Kendro who drives it low but saved by keeper.
@daytonwsoccer and @GoDuquesne @DuqWSoccer are scoreless still at 25:00. Lots of action a few shots on goal. Check @pghsoccernow for the recap and images. @atlantic10 @A10Talk #2021Soccer #A10Soccer @PGHSportsLive pic.twitter.com/grPx7qN2Xo

— Ed Thompson (@ThompsonFoto12) March 14, 2021
20′ – The Dukes may not be winning the possession battle but they've looked very dangerous on the counter, with three shots on frame, including an Emma Bundy strike from 19 yards which just banged off the post.
@KatieHouck2 with the strong defense! 💪🏼 #BrickWall pic.twitter.com/JaV23ra16x

— Dayton Women's Soccer (@daytonwsoccer) March 14, 2021
2′ – , Jaimi, Araujo shot on target to the bottom right, saved by Dayton keeper Madelyn Dewey.
Duquesne's starters…
| | |
| --- | --- |
| 21 | M. VIRGIN (GK) |
| 3 | A. RODRIGUEZ |
| 4 | A. SATURNI |
| 6 | S. ROUTCH |
| 9 | M. SMITH |
| 11 | J. ARAUJO |
| 13 | H. NGUYEN |
| 19 | D. DEBALDO |
| 24 | K. WINICKI |
| 28 | E. BUNDY |
| 33 | S. WILKINSON |
Hey — there's an Ed Thompson sighting at Rooney Field…
@daytonwsoccer visits @GoDuquesne @DuqWSoccer for their 2021 home opener at Rooney Field. Check @pghsoccernow for the recap and images. @atlantic10 @A10Talk #2021Soccer pic.twitter.com/PcNfL2orJZ

— Ed Thompson (@ThompsonFoto12) March 14, 2021
A starting lineup for the Flyers…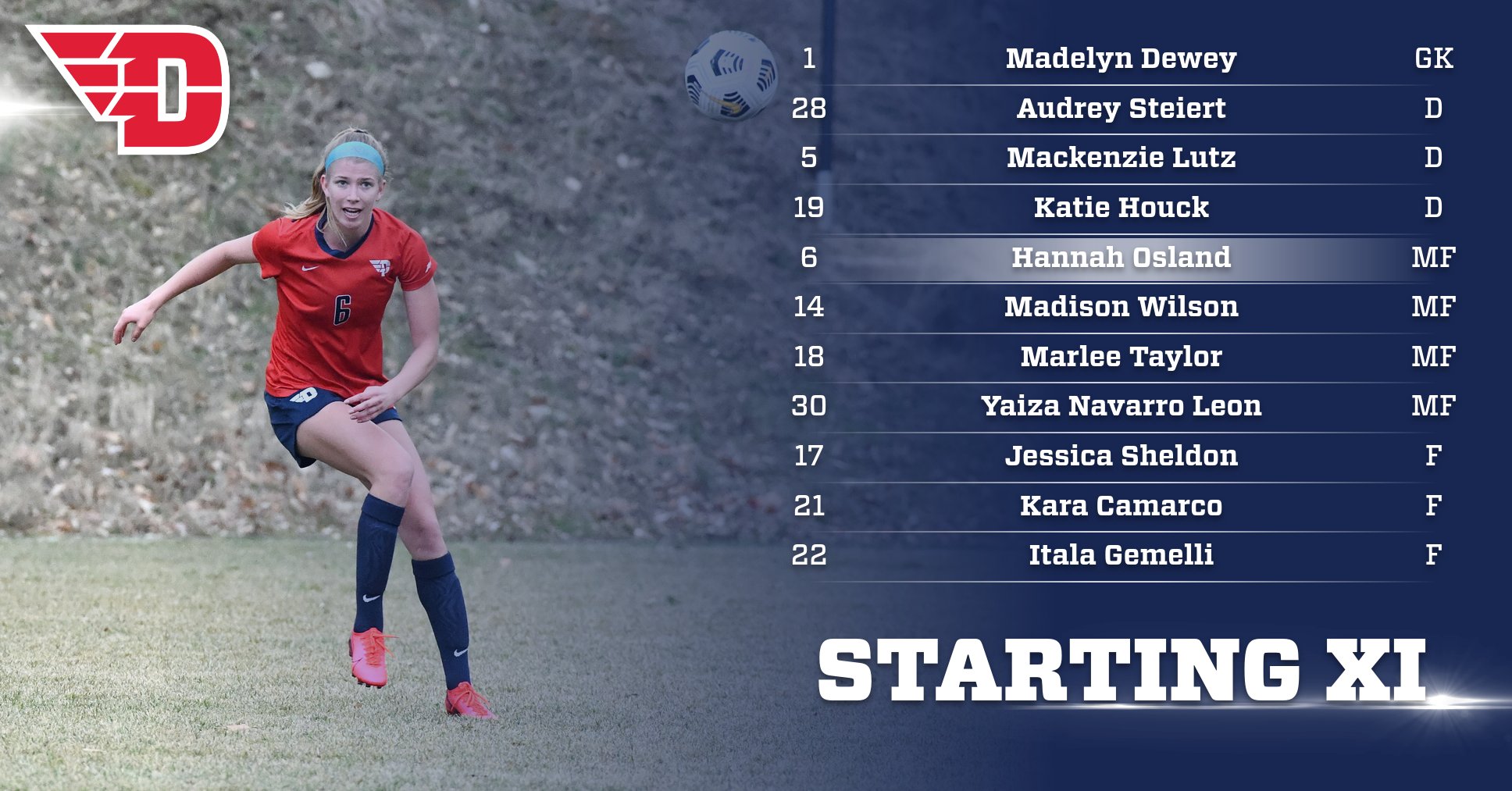 Look for lineups and game day updates to be posted here.
PREVIEW
Duquesne women's soccer opens Atlantic 10 play at home vs. Dayton on Sunday, March 14 at Noon (ESPN+) on Rooney Field. This is the first of eight scheduled conference games for the Dukes, who are competing in the A-10 West Division with Dayton, St. Bonaventure and Saint Louis.
---
Duquesne Game Notes 
THE SPRING SEASON
The Atlantic 10 has been split into three divisions for conference play. The North Division consists of Fordham, La Salle, UMass, Rhode Island and Saint Joseph's and the South Division is made up of Davidson, George Mason, George Washington, Richmond and VCU.
Duquesne, which is in the lone four-team division, will play three games against St. Bonaventure, three against Saint Louis and two against Dayton.
The Dukes were picked to finish ninth out of 14 teams in the A-10 Preseason Coaches' Poll, Saint Louis was picked first, Dayton fourth and St. Bonaventure 13th.
THE SERIES
Dayton leads the all-time series 17-3-2. In matches in Pittsburgh, the Flyers lead 7-1-1.
The series has taken a dramatic turn in recent years, as the Dukes are 2-1-2 vs. UD in the past five meetings.
Head coach Al Alvine is 2-3-2 against Dayton.
SCOUTING THE DUKES
Duquesne is coming off a 3-0 loss at Pitt on March 7. It was the lone nonconference match for the Dukes.
DU used three keepers in the opener: junior Megan Virgin, junior Bella DeFabbo and freshman Maddy Nuendorfer. DeFabbo had three saves, while Virgin and Nuendorfer had one each.
Alex Saturni led the Dukes with three shots, including one on goal. Freshman Brooke Kirstein had DU's other shot on goal.
The Dukes graduated one player from last year's 6-8-3 team. DU's entire offense of 22 goals, 15 assists and 59 points is back.
Atlantic 10 Second Team selection senior Deena DeBaldo returns after tallying nine goals. Her 22 points were the fourth-most in program history.
Sophomore Jaimi Araujo had 10 points, including four goals in 2019.
Megan Virgin returns after starting all 17 games in net for Duquesne last season.
Head coach Al Alvine, who has led the Dukes to an A-10 postseason appearance in four of the last five seasons, is in his ninth year at DU. Alvine led DU to the program's first A-10 Championship in 2015. He is in his 19th season as a head coach overall.
SCOUTING THE FLYERS
This is the sixth match for the Flyers who played five nonconference games in addition to a scrimmage vs. Akron (W, 3-1).
The Flyers are 3-2 with wins over Bellarmine (2-0), at Northern Kentucky (2-1) and Marshall (1-0) and losses at Butler (1-4) and vs. Louisville (0-1).
UD has been playing since Feb. 6.
This is the first conference match for the Flyers.
Freshman Itala Gemelli leads UD in shots (11), shots on goal (6) and goals (2).
Sophomore Jessica Sheldon has a team-high three assists.
Redshirt junior Carly Becker and sophomore Madelyn Dewey split time at keeper, until Dewey started and logged all 90 minutes in UD's last match vs. Louisville on Mar. 6. Dewey has 11 saves on the season, including four vs. Louisville.
NEXT UP
The Dukes host St. Bonaventure on Thursday, March 18 at 3:00 p.m. on Rooney Field (ESPN+).
Riverhounds MF Danny Griffin
Subscribe to PGH Soccer Now