USL Championship Atlantic Division
FINAL: Pittsburgh Riverhounds SC 2, Tampa Bay Rowdies 1
Post Game Recap
It's now four wins in a row on the road for the black and gold.
After beating the Indy Eleven in Indiana for the first time, the Riverhounds did the same in Saint Petersburg against the Atlantic Division leading Tampa Bay Rowdies, earning a 2-1 win on Saturday night.
With the win, the Hounds improve to 4-3-2 overall, good for 14 points, now four points behind the Rowdies, who dropped to 6-2-0 for the season.
Hounds were 0-3-3 all-time at Al Lang Stadium before this match.
It was a trap and counter attack night for Pittsburgh which frustrated the opposition. The home side led in possession but lacked dangerous chances as the back line and goalkeeper Danny Vitiello were in form all night.
Pittsburgh's offense was visible from the start. It only took 21 minutes for Danny Griffin to finish off a cross from Russell Cicerone. A player that runs box to box occasionally gets rewarded.
The new signing Cicerone not only got his first assist of the season, but his fifth goal of the year, that'll go down as the game winner. In the 55th minute a ball played across the field by Shane Wiedt was brought down by Griffin and fed it up to Kenardo Forbes. The Jamaican native then did what he does best, and slot in a through ball to Cicerone who got one past Evan Louro. Forbes earns his first assist of the season.
The Rowdies didn't give up though and finally broke through in the end. Dayonn Harris made brilliant moves down the right wing and then towards the goal line pick pocketed a pass right on the left foot of the captain, Sebastian Guenzatti.
Tampa Bay's late push wasn't enough and the Riverhounds (4-3-2) pulled out a 2-1 victory and now sit second in the Atlantic Division with 14 points behind Tampa's (6-2-0) 18 points.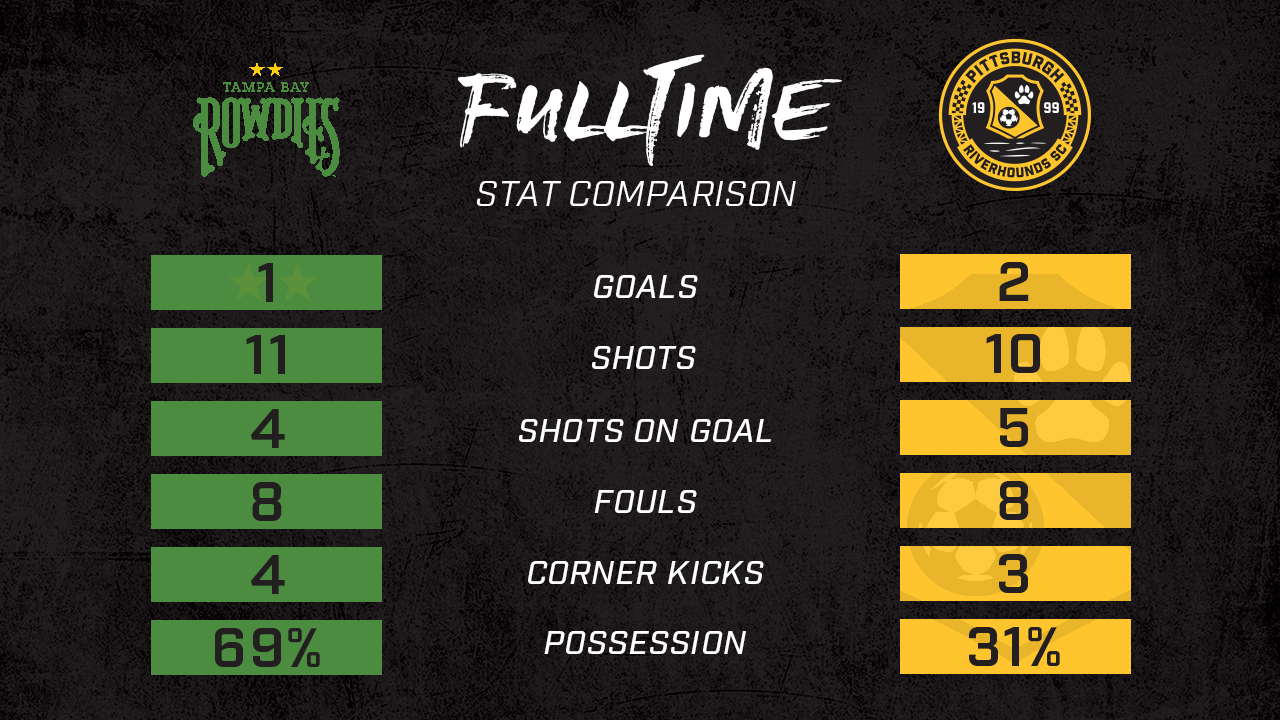 Pittsburgh returns home next to play the New York Red Bulls II on June 25th at Highmark Stadium.
Gameday Updates
Final – Riverhounds hold on to win 2-1 in Tampa Bay. An overall team effort. Two big wins on the road.
90+2′ – A great play on the goal line by Dayonn Harris to get by the Hounds defense. The Captain, Guenzatti taps it home with his left foot. Rowdies with some life now. 2-1. #TBRvPIT
90′ – 5 minutes of stoppage time added.
86′ – Josh Gatt on for Alex Dixon. Both teams out of subs now I believe. Definitely need fresh legs in the 85 degree heat in Tampa Bay, Fla.
85′ – Matt Srbely comes on for Adebello-Smith for Tampa.
78' – Next two Hounds changes:

Dikwa will get his rest now, as Tommy Williamson enters the game up top.

Anthony Velarde comes into the match to replace Dani Rovira, who has had another solid shift.#UNLEASH #TBRvPIT pic.twitter.com/LlLgBWMJTQ

— Pittsburgh Riverhounds SC (@RiverhoundsSC) June 20, 2021
73′ – Dikwa is injured. Trainer come out on the field. Dikwa walks off.
71' – Rowdies make two subs.

Dayonn Harris and Max Lachowechi check in, replacing Steinberger and Fernandes in attacking roles for Tampa Bay.

Hounds still ahead 2-0… catch the finish on @22ThePoint!#UNLEASH #TBRvPIT

— Pittsburgh Riverhounds SC (@RiverhoundsSC) June 20, 2021
68′ – Wow, two big chances for Hounds. Dixon volley's one on net off a brilliant cross from Forbes but a big save from Louro and then Dover heads one directly on net saved by the defender Gullen.
✅ First assist of the year for @KenardoF
✅ @R_Cicerone7 tying his career high for goals in a season (5) in Game #9
✅ 2-0 lead at the division leaders

Checking all the boxes right now…#UNLEASH #TBRvPIT pic.twitter.com/8MGasx2Bro

— Pittsburgh Riverhounds SC (@RiverhoundsSC) June 20, 2021
62' – Two Hounds changes.

IN: Preston Kilwien and Jordan Dover
OUT: Mekeil Williams and Russell Cicerone

Two defenders on for a defender and a striker, as we protect a 2-0 lead.#UNLEASH #TBRvPIT pic.twitter.com/t26QPrqq3q

— Pittsburgh Riverhounds SC (@RiverhoundsSC) June 20, 2021
62′ – Kilwein and Dover in for Williams and Cicerone. Riverhounds need some fresh legs. Bob Lilley trying to manage this game.
60′ – Ekra who replaced Lasso because he had a yellow card, gets a yellow card himself. Not exactly efficient discipline on the backline for Tampa.
Make that a goal and assist for @R_Cicerone7 tonight⚽️🎯#TBRvPIT | @RiverhoundsSC pic.twitter.com/i3Q58xCQoV

— USL Championship (@USLChampionship) June 20, 2021
55′ – BRILLIANT PASS FROM FORBES TO CICERONE!! Commanding 2-0 lead for the Hounds. Cicerone's 5th goal of the season and Forbes with his first assist on the year. That's Forbes 26th assist all time for the Hounds. Only one behind club leader Kevin Kerr.
54′ – Dalgaard comes on for Antley in the right wing back position.
51′ – Antley's cross is blocked to go out for a corner kick. Hilton puts in a great cross but is cleared out. Riverhounds look sharp so far on the set pieces.
49′ – Fernandes with a great chance in the box! A brilliant idea to shoot with the outside of the left foot there, but big save from Vitiello that goes out of bounds. Corner kick goes out of bounds for Tampa. Goal kick, Hounds.
45′ – Second half is underway! Can the Riverhounds keep this lead or even extend it?? Ekra goes in for the CB Lasso to start the half. Lasso was given a Yellow Card at the end of the first half.
Excellent first half for @RiverhoundsSC.
Well-organized, opportunistic, sharp when in possession.
Lilley orchestrated this week very well with squad rotation and line-up selections.
These final 45 minutes will test their legs and resolve. #TBRvPIT

— John Krysinsky (@JohnKrysinsky) June 20, 2021
.@DannyGriffin04 finishing what he started 😤#TBRvPIT | @RiverhoundsSC pic.twitter.com/G6gbnDSBX4

— USL Championship (@USLChampionship) June 20, 2021
Good first half, but still a lot of work to be done against the division leaders.#UNLEASH #TBRvPIT pic.twitter.com/7LgV7yu3lA

— Pittsburgh Riverhounds SC (@RiverhoundsSC) June 20, 2021
Half – Riverhounds up 1-0 at the half. Great play for the away team. The backline is moving well. Can tell the team has been working hard under Lilley in practices and finally shaping into form.
45+2′ – Lasso the CB for the Rowdies gets a yellow. Free kick for the Hounds about 45 yards out. Dixon takes a rip that goes wide.
45′ – Only 2 minutes of stoppage time added.
43′ – Fernandes hits a volley off the side of the net. Fans think it's a goal but it's not. Still 1-0 Hounds.
40′ – Williams is going to get a yellow card for dragging down Guenzatti. Huge free kick chance for the Rowdies just a few yards outside the 18. They try a trick play that's stopped and Dixon makes a nifty move but is taken down by Hilton who then gets a yellow himself.
37′ – A corner kick from Tampa Bay is cleared out by Forbes. Tampa does have the majority of possession, but not the chances.
34′ – Cicerone has been open all game down that left side. Keep feeding him and good things will happen. This trap and counter attack style from the Riverhounds has been fun to watch.
32′ – Cicerone crosses it to Dikwa and its punched away by the goalie, Louro. Corner kick by Forbes won't matter as the Hounds take a foul.
30′ – Dikwa goes down. Free kick chance for the Hounds 35 out. Forbes takes it but floats high over the bar. Tampa Bay didn't even have a wall set up so the captain just went for it.
27′ – Wiedt blocks Fernandes shot for about the third time this game so far.
Love the vision by @R_Cicerone7, as well as the patience to let @DikwaAlbert make the first run through before slotting it across to @DannyGriffin04 — and that's #2 on the year for Danny!#UNLEASH #TBRvPIT pic.twitter.com/3KgTbzWsdX

— Pittsburgh Riverhounds SC (@RiverhoundsSC) June 20, 2021
21′ – GOAL FOR THE HOUNDS! On an odd man break, Danny Griffin plays Cicerone down the left side, and he plays it back through the penalty spot right to the back post to Griffin who taps it home. That's Griffin's second goal on the season and Cicerone's first assist.
18′ – Williams gets elbowed in the eye and is in pain. He's back up and feeling okay. Players grab water at the bench quickly.
13′ – Williams with a save on the goal line!! What a save from the CB to keep this game scoreless.
8′ – Forbes gets it to Cicerone close to goal. Cicerone makes a great move but then is taken down and the ball goes the other way. Rowdies get a chance immediately after but Steinbergers shot is blocked and cleared out.
6′ – Dixon finds Dikwa wide open in the box, but Dikwa loses his footing and hits a shot completely wide. He knows that's a mistake there. Tampa Bay is most vulnerable early on. Gave up a goal within the first 5 minutes last game.
4′ – Antley fouls Rovira early on. Riverhounds are 0-3-3 all time against the Rowdies. Looking for that first win tonight at Lang Stadium.
1′ – Game begins. Riverhounds starting off in a 5-3-2 formation (or 3-5-2) for the first time this season. Mainly have been in a 3-4-3 this season.
Tonight's Starting XI vs. @Riverhounds SC, presented by @SHRTampa. 🔰 #TogetherRowdies pic.twitter.com/N7P1avY50h

— Tampa Bay Rowdies (@TampaBayRowdies) June 19, 2021
Here is our Starting XI against @TampaBayRowdies #UNLEASH #TBRvPIT pic.twitter.com/yKncXFmJwd

— Pittsburgh Riverhounds SC (@RiverhoundsSC) June 19, 2021
We'll provide starting lineups, game updates and post-game reaction here.
GAMEDAY!

The boys are back down in the F.L.A. for their second encounter with the Rowdies.

A pair of road wins a five day span would an excellent way to get this season kick-started.

ON @22ThePoint and ESPN+.

And remember, next Friday is Hawaiian Shirt Day.#UNLEASH

— Steel Army (@SteelArmy) June 19, 2021
John Krysinsky's projected Hounds starting XI:
Preview
The Hounds face a daunting task on Saturday night — facing the Atlantic Division front-runners, Tampa Bay Rowdies, who handed them their worst loss of the season, a 3-0 defeat in the season opener.   The Hounds return to Al Lang Stadium in St. Petersburg, Fla., where the Rowdies have won seven straight matches and lost just once in their past 18 home matches going back to the 2019 season.
This will be a good test for a team that's slowly been building team chemistry and trying to develop an identity early in the season under Head Coach Bob Lilley.
The Hounds (3-3-2) pulled themselves over the finish line in their last match Tuesday, as they held on for a 1-0 win over Indy Eleven despite playing the final 28 minutes and stoppage time with 10 men after Jelani Peters was sent off. Tommy Williamson scored the Hounds' goal — his first as a professional — on a first-half free kick.  Due to his red card on Tuesday, Peters will be suspended for this match against the Rowdies.
Tampa Bay (6-1-0), the Atlantic Division leaders, had more than a full week's rest to prepare for the match after defeating Loudoun United, 2-1, at home on Friday, June 11. Sebastián Guenzatti scored his team-leading fifth goal of the season, but it wasn't until an 85th-minute goal by substituted Foster Langsdorf that the match was decided.
The Hounds are 2-3-3 all-time against the Rowdies, but the two wins were the first two meeting between the clubs in 2015 and 2017. Since then, the Hounds have not won against Tampa Bay, which includes an 0-3-1 record at Al Lang.
Expect more squad rotation from the Hounds, who are going into the sixth game of their congested schedule stretch that has them playing 10 league matches in 40 days. Among the regulars who did not start at Indy are Kenardo Forbes, Alex Dixon, Jordan Dover and Mekeil Williams, which makes them likely candidates to return to the Starting XI.
They Said It 
"We know any (road) opportunity is a chance to get three on the road, and that's what we're looking for," Riverhounds midfielder Danny Griffin said after Tuesday's win at Indy. "We go on the road (Saturday) against Tampa, and we're confident that we can go in there and get a win. We want to get maximum points every game and keep climbing up the standings.
Recent PSN Riverhounds SC Coverage
Mark Goodman Preview:
Three Riverhounds SC players selected for preliminary Gold Cup rosters
Analysis & Player Grades: Hounds show grit, pass squad rotation test with another road win
Riverhounds Game Notes 
Game Notes at Tampa Bay – Saturday, June 19
Riverhounds MF Danny Griffin
Subscribe to PGH Soccer Now