On Saturday, both the Hotspurs men and Century United women were in action, while the Hotspurs women's scheduled match on Friday vs Cleveland Ambassadors was postponed.
Things are starting to heat up as all three teams competing in the NPSL and WPSL are hitting the homestretch of games in the coming weeks.
For the Hotspurs men, their win streak has been impressive, but they'll face their biggest test this coming week in a rematch of their only loss of the season, as they'll host FC Cleveland at Founders Field.
Century United and Hotspurs women will finally face each other in the first of two encounters on July 2.
Things should get very interesting in the coming weeks for all of Pittsburgh's WPSL and NPSL teams.  Look for more extensive coverage too from Pittsburgh Soccer Now as we look forward to getting to some of these key matches.
---
NPSL
Pittsburgh Hotspurs 2, FC Buffalo 1 
The Hotspurs ran its win streak to four games, as they earned a season sweep of FC Buffalo with a 2-1 road win on Saturday.
Captain Nicky Kolarac scored his third goal of the season in the 9th minute, then the Hotspurs doubled its lead when earning a penalty in the 40th minute.  It was Josh Gaspari who buried the PK safely in the bottom right corner.  FC Buffalo's Mohamodu Keita cut the lead in the second half, but the Hotspurs held on.
Here's how the Hotspurs lined up on Saturday.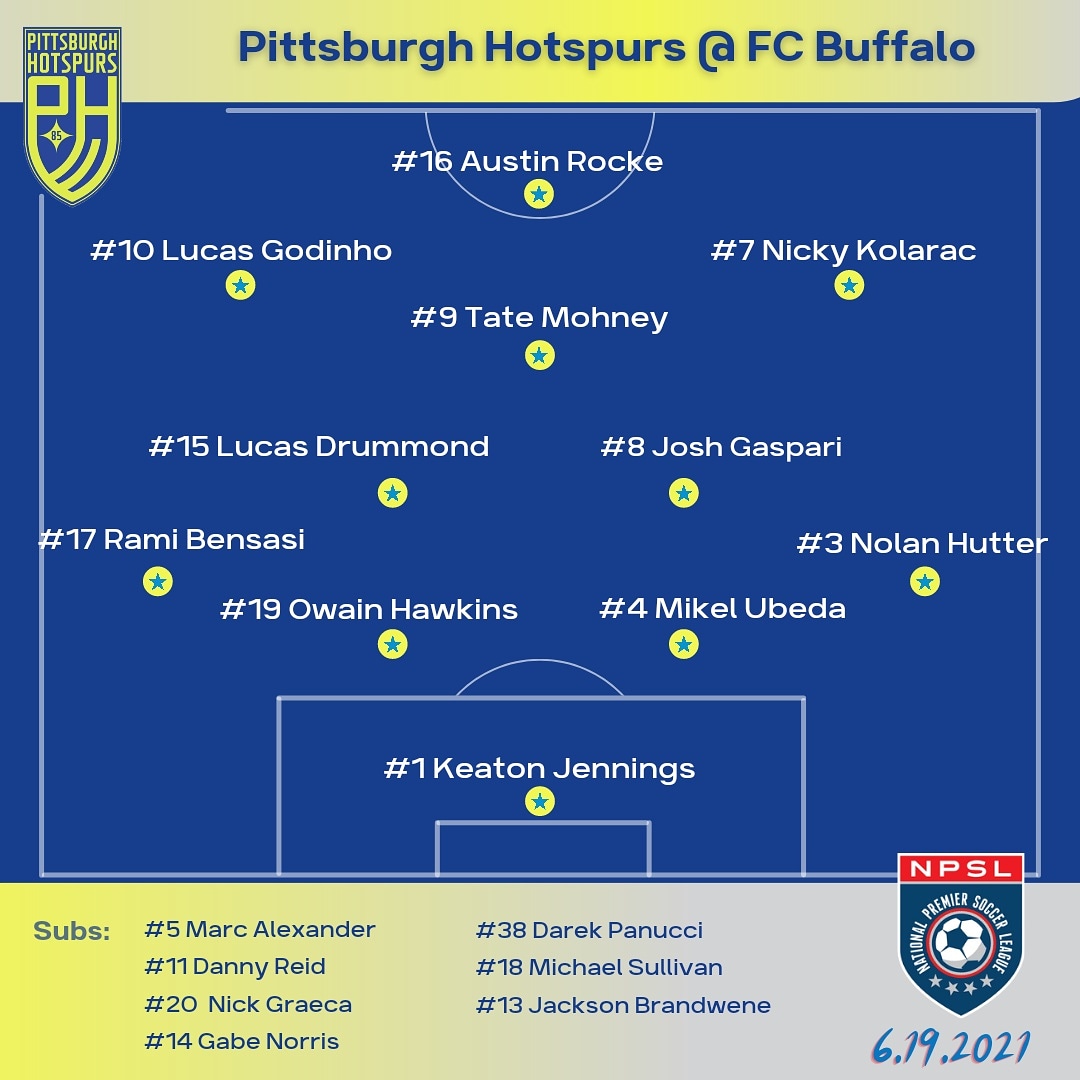 With the win, the Hotspurs improve its record to 5-1-0 overall, trailing only FC Cleveland (5-0-1) in the Rust Belt Division. The two teams will face each other in a showdown at Founders Field on Friday, June 25.  Look for more on this match as the week progresses here on Pittsburgh Soccer Now and we will have on-site coverage on Friday evening.
---
WPSL
Century United 2, Motor City FC 2 
Sarah Schupansky opened the scoring, with an assist from her future Pitt women's soccer teammate Landy Mertz, then Halieigh Finale's second half goal was also assisted by Mertz, as Century United earned a point in a 2-2 draw against Motor City FC in WPSL play on Saturday at Cool Springs.
1st goal from today's @WPSL game scored by @sarahschupansky assisted by @landy_mertz. @Pitt_WSOC will see much more of this connection this fall! #RepCentury #H2P pic.twitter.com/eVxwyu6m2I

— Century United (@Century_Utd) June 19, 2021
2nd goal from today's @WPSL game scored by Haleigh Finale of @RMUWSoccer, assist from @landy_mertz! #RepCentury pic.twitter.com/GsKQJyISzU

— Century United (@Century_Utd) June 19, 2021
With this result, Century United's overall record in their first season in WPSL competition is 1-1-2.
Next up for Century, they'll face FC Berlin at Sahlen's Sports Park on Saturday, June 26 at 6 p.m.
Pittsburgh Hotspurs
Friday's scheduled match with Cleveland Ambassadors was postponed.  The Hotspurs are scheduled to take on Century United, on July 2 in the first of two meetings between the Pittsburgh-based clubs.
⛈ Today's originally scheduled game has been postponed to a future date ☔️More info will follow pic.twitter.com/OQ2BQ2I81U

— Cleveland Ambassadors (@CLE_Ambassadors) June 18, 2021
Sounding Off on Soccer: Riverhounds Road Woes
Subscribe to PGH Soccer Now