NCAA Men's Soccer — The Backyard Brawl
FINAL: West Virgina 2, Pitt 1 
Game Summary
West Virginia came out on the front foot, then held on before a packed home crowd to upset No. 3 Pitt, 2-1, at Dick Dlesk Soccer Stadium in Morgantown on Monday night.
The win marked the highest-ranked opponent West Virginia has defeated since No. 1 Connecticut on Oct. 18, 2011.
"We never questioned if this group had enough quality and depth – it's about doing it when it really counts on a big night like tonight," WVU coach Dan Stratford said. "This was one of the most exciting crowds that I've been a part of. I remember playing in this type of atmosphere, and it makes a huge difference. You saw some of that passion and energy come out in our players, as well."
How It Happened 
The Mountaineers took the early lead in the 20th minute when Luke McCormick seized the moment after wrestling the ball away from Pitt's goalkeeper Nico Campuzano just outside the 18.  
Good guys go in front!#HailWV | @_lmccormick pic.twitter.com/99RkAEi7Lw

— WVU Men's Soccer (@WVUMensSoccer) August 30, 2021
Pitt responded early in the second half when Alexander Dexter's clinical finish came on the receiving end of a Jasper Loefelsend short cross to the far post.
The Equalizer.

Löeffelsend to Dexter makes it 1-1 in Morgantown.

📺 – https://t.co/BoeqftQb4b (ESPN+)#H2P pic.twitter.com/PQrcBwCPlB

— Pitt Men's Soccer (@Pitt_MSOC) August 31, 2021
The Mountaineers continued to handle Pitt's high press, by effectively playing the ball out of the back and continued to pressure Campuzano throughout the second half.
Inspired by a raucious crowd, WVU found the game winner in the 75th minute when Ryan Baer sent a bending shot from the right corner of the box toward the back post.  Adam Burchell set himself in excellent position, nudging inside Pitt's defender on the far post, Loeffelsend, to put a well-placed header into back post opening area.
Tonight's game-winning goal, courtesy of @burchell_adam!#HailWV pic.twitter.com/WZYlRhICn1

— WVU Men's Soccer (@WVUMensSoccer) August 31, 2021
Pitt pushed for the equalizer in the final 15 minutes, but were not up to the task, as West Virginia held on for the upset victory.
Mountaineer players join in celebration with fans. pic.twitter.com/UmSsb5CW9m

— Greg Carey (@gcarey938) August 31, 2021
Look for a more detailed recap and postgame reaction here later in the evening and early Tuesday.
Gameday Updates
Look for lineups to be posted here along with in game updates, highlights and a match recap to be posted here.
---
FINAL — WVU hangs on to beat Pitt, 2-1, in the 50th edition of the Backyard Brawl!
90′ |  Pitt with one last free kick chance and Petkovic misses it right of goal. Then Noel gets a chance as he cuts between pair of WVU defenders but misses it right.
86′ | WVU with lots of space to counter — Kopovics sends a shot but saved by Campuzano!
81′ | Great chance for Pitt. Nearly converts on ball played to him by near post. WVU keeper Tekesky takes it off the face and out for corner.
75′ |  GOAL — WVU — Adam Burchell
Burchell gets great position to nudge inside of Jasper Loeffelsend to put header into back post opening. Nice ball in from Ryan Baer. Pitt needs to defend better in the box.
2-1 WVU leads No. 3 Pitt
67' | Steven Tekesky gets a finger tip on a Panther shot attempt to keep us even!

WVU 1-1 PITT#HailWV pic.twitter.com/p8RQwoXboi

— WVU Men's Soccer (@WVUMensSoccer) August 31, 2021
67′ |  Feitosa with nice shot chances which is saved by WVU's Steven Tekesky.  Ensuing corner, Feitosa tries a bicycle kick but misses on the attempt.
65' | All tied up in the Backyard Brawl.

Pitt 1, West Virginia 1#H2P pic.twitter.com/0A9s29FQdC

— Pitt Men's Soccer (@Pitt_MSOC) August 31, 2021
49′ | GOAL – PITT – Alexander Dexter
Loeffelsend with a nice bending short cross to far post and clinical finish for Pitt's most tenured player. Dexter now with 19 career goals First shot on frame for Panthers too.
HALF — WVU 1, PITT 0
West Virginia's on the front foot and look sharper on their home (grass) turf. High press effective and they've played it out of the back against Pitt effectively. Interesting to see adjustments Coach Vidovich makes at half.
34′ | Pitt Substitution

Alexander Dexter (In) Luke Mort (Out)
25′ |  Mountaineers continue to bring pressure…    Yoran Popovic with a nice one-time sissor attempt saved by Campuzano!
20′ |  GOAL — WVU
Mountaineers get on the board early!
High press pays off as Pitt's GK Nico Campuzano comes way out to play a ball outside box and is tackled with ball wrestled away from him. It's Luke McCormick there to put it in for the 1-0 lead
10′ | Ten minutes in, no score in Morgantown.
Here's Pitt's starting lineup…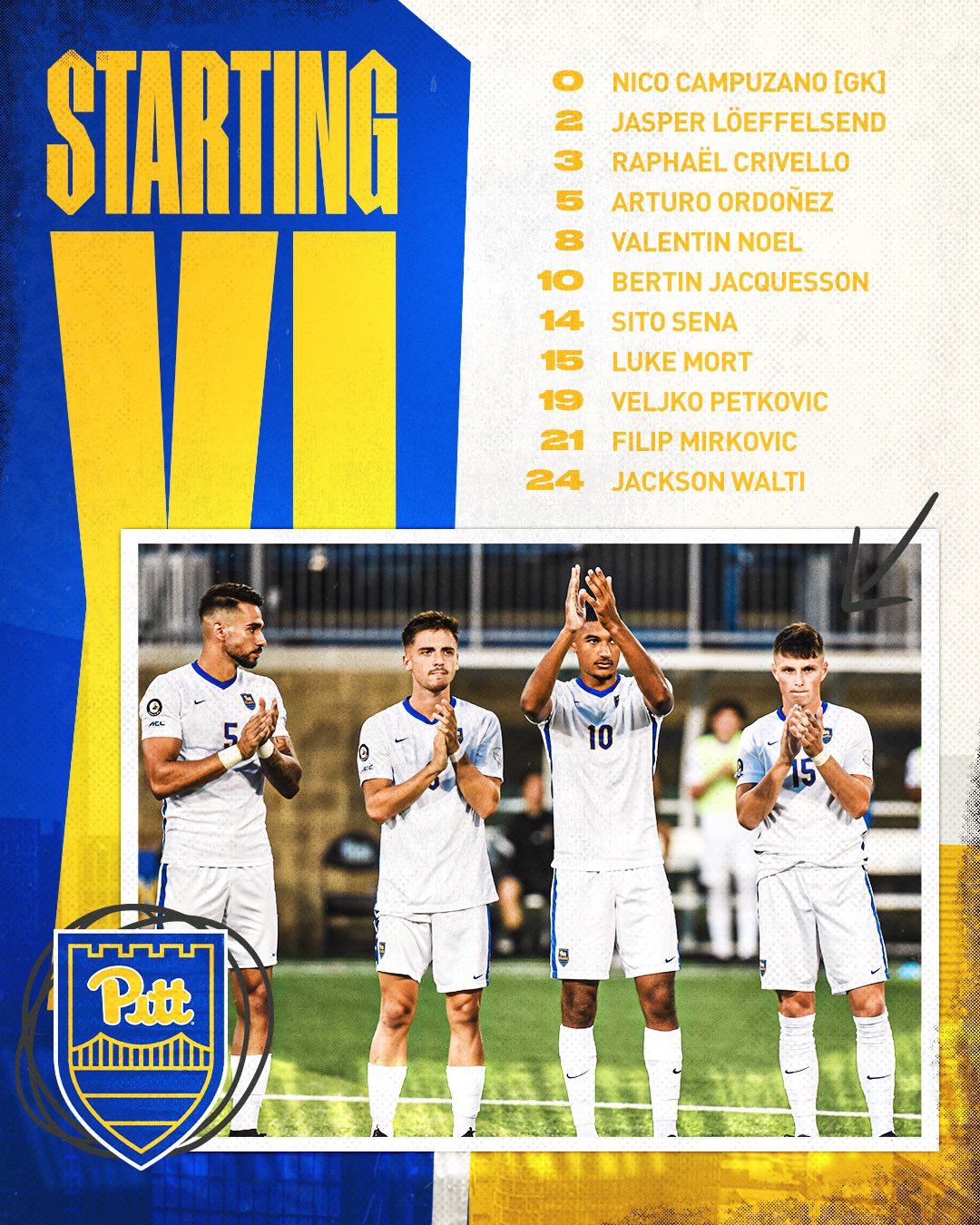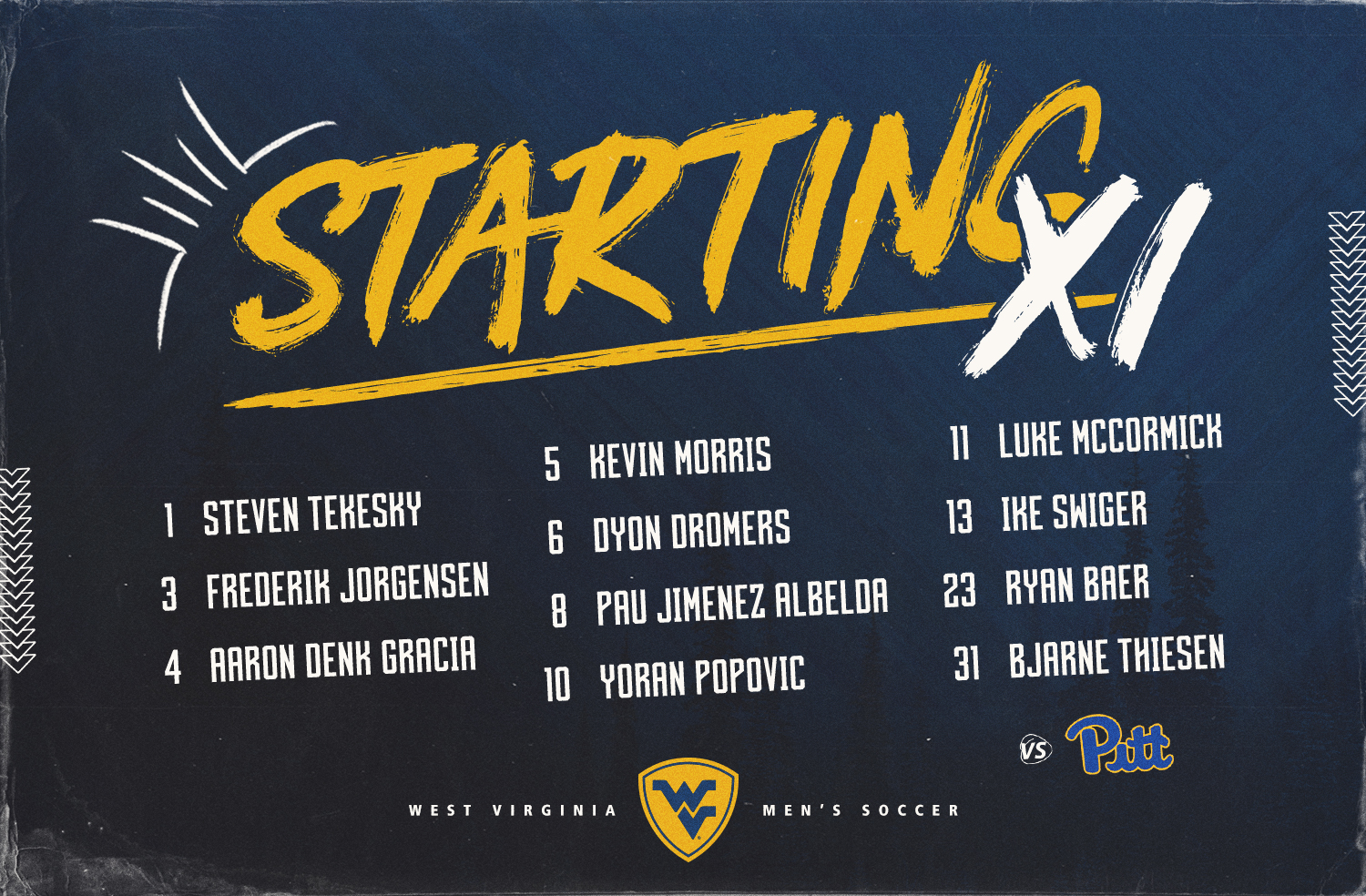 About that time.

30 minutes until the Backyard Brawl.#H2P pic.twitter.com/LQN8QhhBU8

— Pitt Men's Soccer (@Pitt_MSOC) August 30, 2021
Pitt & WVU Men's Soccer Coverage on PSN
Season Preview: Experienced, talented Panthers primed for another deep run
WVU men's soccer release 'challenging, yet exciting' 2021 schedule
Pitt Game Notes
THE BACKYARD BRAWL – 50TH EDITION
– West Virginia leads the all-time series 34-10-5.
– The Mountaineers won the last Backyard Brawl, 2-1, Oct. 23, 2018 in Morgantown.
– Current graduate student Alexander Dexter scored Pitt's lone goal, assisted by current senior Rodrigo Almeida.
– Monday marks the 50th edition of the Backyard Brawl.
– Pitt last won Sept. 26, 2017 at home with a 7-0 shutout. The win was the first of the series for the Panthers since 2000.
SCOUTING THE MOUNTAINEERS
– West Virginia enters the match 1-0 as it defeated Robert Morris 2-0 on the road Thursday.
– The Mountaineers return 15 letterwinners from a team that finished 6-3-1 a year ago. Headlining the returnees is senior goalkeeper Steven Tekesky, senior Ike Swiger and junior Luke McCormick, all of who All-MAC First Team last season.
– West Virginia as a team finished seventh in the country in shot accuracy a year ago with .532 mark.
– Tekesky finished sixth in the nation in shutouts (six) and 15th in save percentage (.838) a year ago.
PITT OPENS SEASON WITH 7-0 SHUTOUT
– The Panthers opened the 2021 campaign with a 7-0 shutout victory over Duquesne at Ambrose Urbanic Field.
– The seven goals were the most since Pitt's seven in a shutout victory against West Virginia at home Sept. 26, 2017.
– Six different Panthers scored while six assists were tallied. Veljko Petkovic recorded two goals and two assists, while Luke Mort registered two assists.
PETKOVIC PRECISION
– Junior midfielder Veljko Petkovic began the 2021 season with a career night against Duquesne at home, scoring two goals and tallying two assists for a career-high six points in Pitt's 7-0 victory.
– Petkovic scored two goals midway through the first half one minute and eight seconds apart, setting a school record for fastest consecutive goals scored by the same player.
– The Queens, N.Y., native was named TopDrawerSoccer's Player of the Year last season and was named to its Pre-Season Best XI First Team.
NOEL MAKING NOISE
– Junior midfielder Valentin Noel had one of the best single-season performances in Pitt men's soccer history a year ago.
– He finished second in the nation in goals (14), third in points (30), 13th in goals per game (.74) and 23rd in points per game (1.58).
– The Niort, France, native scored eight goals and tallied two assists during the fall campaign and finished with six goals during the spring. He registered three multi-goal games in total last year.
– His total goal and point totals each finished tied for fifth in a single-season at Pitt.
– Noel earned a plethora of accolades, including United Soccer Coaches and College Soccer News First Team All-America, becoming the first First Team All-American in program history. He was also named United Soccer Coaches South All-Region First Team, ACC Offensive Player of the Year, All-ACC First Team and All-ACC Tournament Team.
– Noel was invited to the prestigious MAC Hermann Trophy presentation in St. Louis, Mo., as a finalist for the MAC Hermann award, given to men's and women's soccer's national player of the year.
– Noel scored one goal and recorded one assists in Pitt's season-opening 7-0 shutout of Duquesne Aug. 26.
UP NEXT
– The Panthers return home Friday, Sept. 3 for a 7 PM kick-off against Lehigh.
– It is a re-match of Pitt's first ever NCAA Tournament game, a match in which the Panthers won 2-0 at home Nov. 21, 2019.
– Live coverage can be found on ACCNX.
Sounding Off on Soccer: Riverhounds Road Woes
Subscribe to PGH Soccer Now