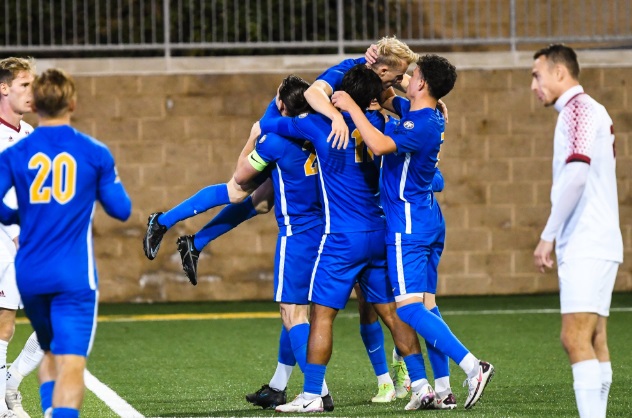 FINAL: No. 10 PItt 5, UMass 1
From Pitt Athletic Department report / Nick McDonald 
The No. 10 Pitt men's soccer team extended its home winning streak to 17 games with a 5-1 victory over non-conference opponent UMass Monday evening.
How It Happened 
The Panthers got out to a fast start, registering the first shot in the second minute off the foot of Jacquesson. In the fifth minute, Almeida led graduate student Matt Bailey down the left sideline, who crossed it inside the box to Feitosa who headed it in for the first goal of the match. Feitosa's goal was his third of the season.
UMass (8-4-4) knotted the game up at 1-1 in the 24th minute, as Yosuke Hanya scored from seven yards out. The score remained the same after 45 minutes.
Pitt held a 9-3 advantage in shots and led 7-0 in corner kicks at halftime.
Six minutes into the second half, Löeffelsend scored his first career goal from atop of the 18-yard box. The defender received a pass from Jacquesson and took one touch before sending a low line drive shot on net. The Cologne, Germany, native scored 16 minutes later ('67), this time from 23 yards out as he gave Pitt a 3-1 lead. Löeffelsend entered the evening first in the ACC in assists with seven.
Senior Arturo Ordoñez scored Pitt's fourth goal (72') via header inside the box off a corner kick cross from Feitosa. Pitt scored its fifth and final goal in the 77th minute as graduate student Alexander Dexter fired a shot toward the upper left 90 off a pass from Almeida. The goal was Dexter's 20th of his career as he moved into fifth all-time with 60 career points at Pitt.
The Panthers outshot the Minutemen 18-9 and totaled 11 corner kicks to UMass' two.
Pitt concludes the regular season at home Friday with conference opponent Virginia Tech for senior day. Start time is set for 7 p.m. with live coverage on the ACCNX
NEWS & NOTES
–        The Panthers improve to 9-4-1 overall. They finish with a 5-2 regular season non-conference record.
–        Four different Pitt players scored, with four players earning assists. Graduate student Jasper Löeffelsend led the way with four points off of two goals scored.
–        Senior Rodrigo Almeida tallied three assists, a mark tied for second in a single match at Pitt. He joins freshman Guilherme Feitosa, sophomore Bertin Jacquesson and Löeffelsend as players in the past two seasons to record three assists in one match.
–        Pitt's three goals scored in the 67th, 72nd and 77th minute broke a school record for fastest three consecutive goals as a team. The 9:43 timeframe surpasses the previous record of 11:56 set back in 2013 vs. Howard.
Bailey 🤝 Feitosa

That's G's third goal of the season.

💻 – https://t.co/ltiYLMwx4x (ACCNX)#H2P pic.twitter.com/wBbf1UbXGb

— Pitt Men's Soccer (@Pitt_MSOC) October 25, 2021
Never to late for your first career goal ⚽

Jacquesson finds Löeffelsend for Pitt's second goal of the evening.

💻 – https://t.co/ltiYLMwx4x (ACCNX)

Pitt 2, UMass 1#H2P pic.twitter.com/IYMRuPtSzQ

— Pitt Men's Soccer (@Pitt_MSOC) October 26, 2021
Riverhounds MF Danny Griffin
Subscribe to PGH Soccer Now