USL Championship
Las Vegas Lights FC 1, Pittsburgh Riverhounds SC 0 
Box Score: USL Championship Match Center
Match Summary
For the first time in 2022, the Riverhounds SC tasted a bitter defeate as the Las Vegas Lights FC blanked Pittsburgh, 1-0, at Cashman Field on a windy late Saturday afternoon in Sin City.
With the loss, the Hounds drop to 4-1-1, while LVLFC improve to 3-2-0.
"We just didn't put enough urgency or energy into the game. Obviously the goal was a mistake, but we weren't creating chances and there wasn't enough impetus going forward," Riverhounds head coach Bob Lilley said.
Neither team was particularly sharp with their passing — both completing less than 76 percent — as winds gusting over 25 miles per hour seemed to affect both teams' play and contributed to some sloppy play.
Pittsburgh looked strong in keeping the ball and working through the wide channels in the first ten minutes despite unfavorable conditions which included a blustery wind, but Las Vegas's high pressure and steadier possession started to give the Hounds fits throughout the first half.
The Hounds began to look hesistent in playing the ball through the middle of the field. Following a Pittsburgh turnover at midfield in the 27th minute, LVLFC made the Hounds pay.
Alvaro Quezada pounced on a pass out of the defense and quickly played the ball forward to Trejo. One-on-one, Trejo was able to switch the ball over to his right foot despite a touch on the ball by Arturo Ordóñez, who also began the sequence a bit out of position.
Trejo placed a shot into the bottom right corner of the net
.@dtrejo_10 scores his sixth goal of the season 😯#LVvPIT | @lvlightsfc pic.twitter.com/5WLvPaVCUl

— USL Championship (@USLChampionship) April 16, 2022
Hounds Head Coach Bob Lilley made a few moves shortly after the goal, bringing on Alex Dixon and Nathan Dossantos in for Marc Ybarra and Robby Dambrot for a rare first half line-up change.
In the second half, Pittsburgh started to sharpen its passing and began to get deeper into the final, attacking third, generating 11 shots, with five on frame. The Hounds were unable to convert in their late push as they ended the match holding a slight possession edge (51%/49%).
Look for a more complete recap here later in the evening.  
FULL TIME:@lvlightsfc – 1@RiverhoundsSC – 0 #LVvPIT | https://t.co/aRQhLMsTwr pic.twitter.com/ryAGfZiRZd

— USL Championship (@USLChampionship) April 17, 2022
Match Day Updates 
Look for starting lineups to be posted here plus in-game updates and post match reaction to follow.
---
FINAL:  LVLFC 1, HOUNDS 0
Trejo's goal holds up. The Hounds made a push late, but couldn't find the answer.
90′ –Corner chance for Hounds as stoppage time begins (4 mins added!) — and Argudo service nearly connects.
82′ — Dani Rovira comes on for Shane Wiedt now as the Hounds look to push for the equalizer.
70′ — Dane Kelly shows his experience and ability to anticipate passes with a nice interception that leads to a run to right side of box — but his shot is right at Romaro.
65′ — Dixon unleashes a quick shot after nice feed from Kelly, but it's right at keeper. Then he finds Kelly who is not only robbed by LV's Romaro, but also bulldozed over like an old Casino.
61′ — SUBS
IN: A. Dikwa & L. Argudo
OUT: Cicerone and Griffin
51′ – Arturo Ordóñez has picked up a yellow card. Announcers saying dissent, but might be persistent infringement, as well. Seems the referee was doing most of the talking.
2nd half underway — no more changes for now.
Here's a look at the Trejo goal…
.@dtrejo_10 scores his sixth goal of the season 😯#LVvPIT | @lvlightsfc pic.twitter.com/5WLvPaVCUl

— USL Championship (@USLChampionship) April 16, 2022
After changes, here's how the Hounds are lining up now…
40′ — Shot from Dixon but it's blocked by LV.
36′ – SUB!
Hounds making a (rare!) 1st half sub w/o any clear injury.
Lilley pulling Ybarra, who's been struggling to connect passes to attacking MFs, with Alex Dixon.
Nathan Dossantos also in for Robby Dambrot.
28′ – GOAL – LV LIGHTS 1, RIVERHOUNDS SC 0
Danny Trejo!
USLChampionship
's Player of the Month strikes.
Makes Hounds pay for some poor positioning after giveaway and quick through ball.
First time all season Hounds have trailed.
22′ — Erratic passing at times on both sides, but Vegas with more of the ball through first 20 minutes. Hounds going with four in the back. Neither side registering a shot.
15′ – Vegas gets a free kick from about 35 yards out. They try to serve the ball into the box, and the wind just helps the ball along and carries it well out of play.
12′ – Hounds having a good share of possession on the road to start this one, but neither team manufacturing much of a chance so far.
6′ — In the early going, the Hounds playing a lot through the left edge — with Kenardo Forbes sending in a few crosses from that side.
7:05 p.m. – they've kicked off on a windy day in the desert.
Starting Lineups…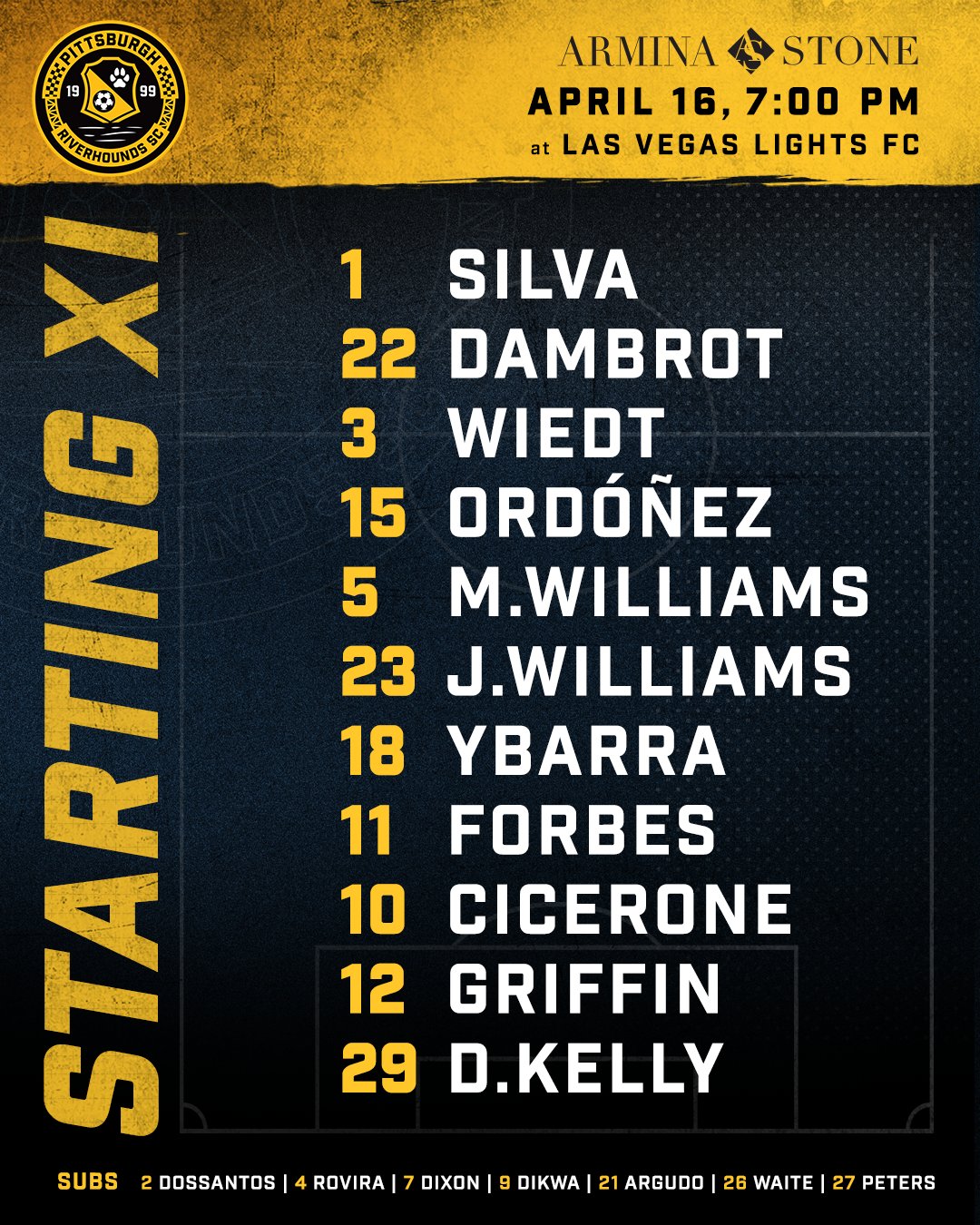 It's almost time to kick it in Downtown Las Vegas against @RiverhoundsSC

Here's our @CoinCloudDCM #StartingXI for today's match.#LVvPIT | #VivaLights ⚽️🎉 pic.twitter.com/Eo47pq0F9q

— Las Vegas Lights FC (@lvlightsfc) April 16, 2022
Pregame blotter…
WE HAVE ARRIVED!

Will you be joining us at Cashman Field today for "Bring Your Dog to the Match" day? Game starts at 4 p.m., get your 🎟 at https://t.co/S1RT2xVOZ5 #LVvPIT | #VivaLights ⚽️🎉 pic.twitter.com/62IPwikap6

— Las Vegas Lights FC (@lvlightsfc) April 16, 2022
Mark Goodman brings it with a Vegas Style preview…
Which is very different from having any injured players.

— Steel Army (@SteelArmy) April 16, 2022
Oh, and when in Vegas…
Nobody has an entrance like CASH THE SOCCER ROCKER has at Cashman Field!

Be there to experience it live tomorrow when we face @RiverhoundsSC at 4 p.m. 🎟️ https://t.co/S1RT2ydqnF

Cash's motorcycle 🏍️ is powered by the @reviewjournal & @eltiempolv. #VivaLights ⚽️🎉 pic.twitter.com/mAmojw5A9z

— Las Vegas Lights FC (@lvlightsfc) April 15, 2022
Preview / Key Storylines 
The Hounds have a busy stretch coming — and it's their desire to remain unbeaten in league play and advance in the Open Cup.
First things first — in Sin City for the first time in club history — Pittsburgh is looking to begin the busy slate on a positive note.
Once again, the Hounds are making a new acquaintance on the road; this will be their third consecutive road match against a first-time opponent after trips to Detroit and Tulsa over the past three weekends. And while many people travel to Vegas hoping for a big score, the attacking talent in Saturday's game could result in the scoreboard posting some big numbers.
The three top scorers in the USL Championship could end up on the field at the same time, as Las Vegas' Danny Trejo (five goals, four assists) and the Hounds' Albert Dikwa and Dane Kelly (both with four goals, two assists) should be on the team sheets. Trejo has been involved in nine of the Lights' 11 goals in their first six league matches, while the Hounds have scored 12 in just five matches — good enough to put Pittsburgh tied for third in total goals and tied for second in goals per game (2.4) league-wide.
The reason it is qualified that that three "could" be on the field at the same time boils down to a busy schedule for both teams. With a match at MLS club FC Cincinnati on Tuesday in the U.S. Open Cup, Hounds coach Bob Lilley will likely be monitoring minutes and have a rotation in mind to combat two games in a 72-hour span, so Kelly or Dikwa occupying a spot on the bench would not be a shock. The Lights have no such worries, having been bounced from the cup in the last round by USL League One's FC Tuscon and former Hounds midfielder Louis Pérez.
The good news for the Hounds is their clean bill of health through six matches in all competitions. While only those expected to be in the side made the trip to Las Vegas, all 24 members of the squad will be taking the trip to Cincinnati on Monday, and Lilley very well could utilize every single player in some capacity over the next three games in eight days — at Vegas, at Cincy and home next Saturday against Atlanta United 2.
Another concern for Lilley and his staff — and another reason squad rotation will be key — is the change in weather the Hounds will face. After playing their first handful of matches (and nearly all of their preseason) with temperatures never rising above 55, the team faced 70-degree afternoon heat last week in Tulsa, and some signs of late fatigue showed. That means today's match, which will kick off at 4 p.m. local time in the Pacific Time Zone, will certainly be the team's hottest so far this year with highs projected in the low 80s.
PSN Riverhounds SC Coverage 
Hounds Notebook: Despite 'wild' travel itinerary, Lilley's focused on buckling down and delivering more wins
Hounds forward Albert Dikwa earns USL Championship Player of the Week honors
Riverhounds MF Danny Griffin
Subscribe to PGH Soccer Now