FInal: PItt 1, Gongaza 0
From University of Pittsburgh and Gonzaga University reports 
Amanda West delivered a second-half goal and Caitlyn Lazzarini made a career-high 10 saves as the Pitt women's soccer team (1-0-0) shut out Gonzaga (0-1-1), 1-0, Thursday at South Campus Stadium in the opening game of the Rumble in the Rockies.
Pitt's all-time leader in points and goals, West found the back of the net for the 34th time in her career in the 57th minute, scoring on a rebound off a shot by Landy Mertz.
The Panthers are on the board! Who else but Amanda West to give us our first goal of the season! Her 34th career goal!

💻 ESPN+ https://t.co/vzMzkfumWd#H2P pic.twitter.com/gRJxh1cqht

— Pitt Women's Soccer (@Pitt_WSOC) August 18, 2022
The goal proved to be all the offense Pitt needed thanks to the efforts of Lazzarini. She kept the contest scoreless heading into the halftime break courtesy of six saves in the opening 45 minutes of play.
Zags nearly strike first pic.twitter.com/PXvtssS4zO

— Gonzaga Women's Soccer (@zagwsoccer) August 18, 2022
Braun inches away from giving GU the lead pic.twitter.com/BNX2znZx6z

— Gonzaga Women's Soccer (@zagwsoccer) August 18, 2022
She made two more key stops in the final 17 minutes of play to preserve the one-goal advantage for the Panthers.
The Panthers prevailed despite Gonzaga holding the edge in shots (17-16) and shots on goal (10-5).
A late chance here by the Zags pic.twitter.com/8UcgVD7vQX

— Gonzaga Women's Soccer (@zagwsoccer) August 18, 2022
Pitt had a 6-5 advantage in corner opportunities. West and Sarah Schupansky tied for the team lead in shots with four apiece, with West leading the squad with three on goal. Mertz, Ellie Coffield, Anna Bout and Ashton Gordon each accounted for two shots apiece.
What a save by Bosselmann! pic.twitter.com/OovPD3ykvM

— Gonzaga Women's Soccer (@zagwsoccer) August 18, 2022
Mood because regular season soccer's BACK ‼️#NCAASoccer x 📸 @Pitt_WSOC pic.twitter.com/RsMgZ8n1yZ

— NCAA Soccer (@NCAASoccer) August 19, 2022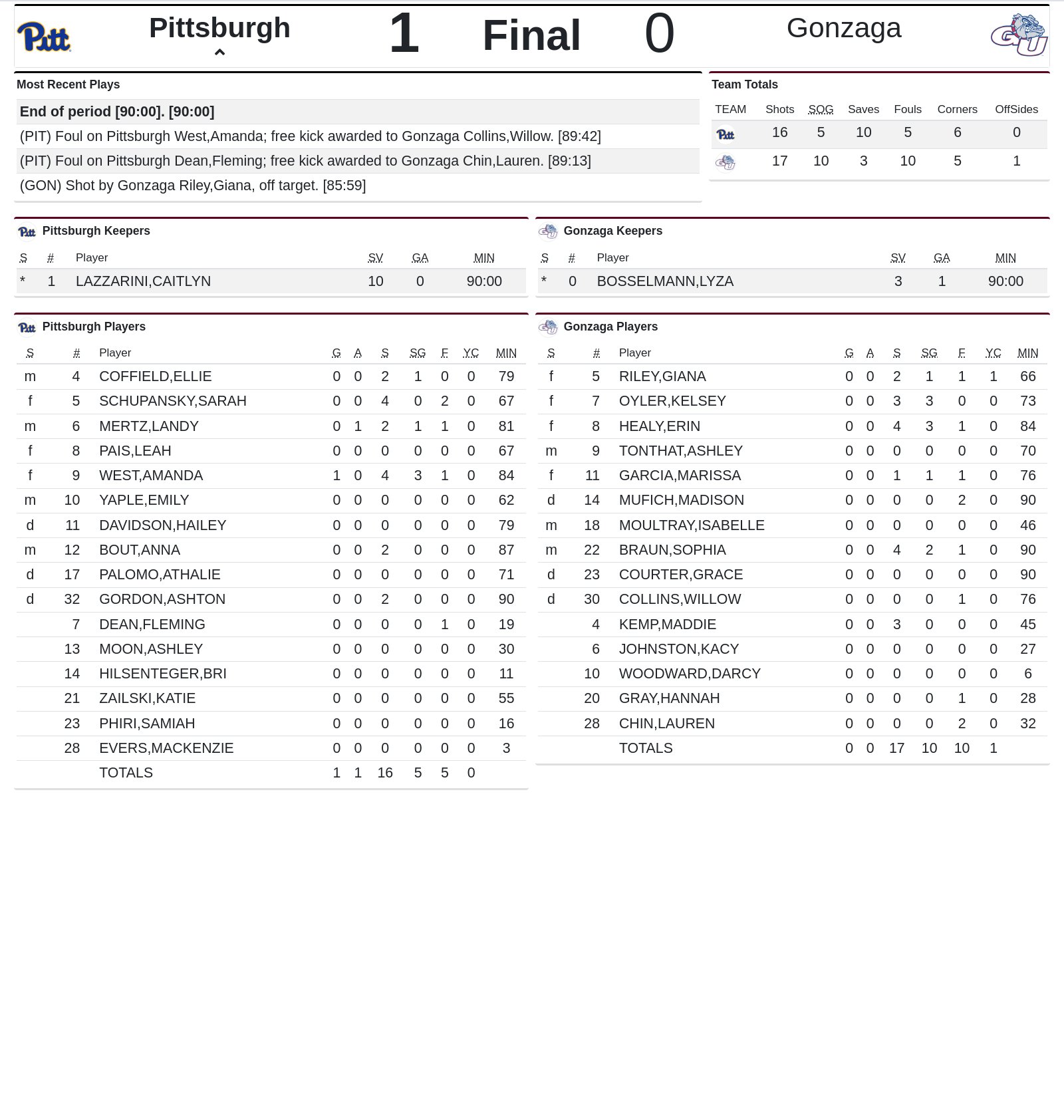 UP NEXT
Pitt closes out the Rumble in the Rockies and its trip to Missoula when it takes on host Montana on Sunday at 6 p.m. (ET).
PITT NOTES
Pitt prevailed over Gonzaga in the first-ever meeting between the two programs.
The Panthers improved to 17-7-3 record in season openers dating back to the program's inaugural season in 1996. Pitt has now won its last six season openers dating back to 2017.
Pitt is a perfect 5-0 in season openers under the direction of fifth-year head coach Randy Waldrum.
Pitt's starting lineup consisted of West, Mertz, Coffield, Bout, Gordon, Lazzarini, Sarah Schupansky, Leah Pais, Emily Yaple, Hailey Davidson and Athalie Palomo.
A trio of Panthers made their Pitt debuts in the win over Gonzaga. Freshmen Fleming Dean and Katie Zailski made their collegiate debuts while sophomore transfer Samiah Phiri saw action in the Blue & Gold for the first time after transferring from Oklahoma State.
West has now totaled 158 career shots, putting her third all-time in program history.
Lazzarini recorded her third career shutout and improved her career record to 3-3-0.
Riverhounds MF Danny Griffin
Subscribe to PGH Soccer Now