USL Championship Eastern Conference 
FINAL: Riverhounds SC 2, Loudoun United FC 1
Match Stats: USL Championship Match Center
Match Summary
The Pittsburgh Riverhounds SC took care of important business by defeating Loudoun United FC, 2-1, at Segra Field in Leesburg, VA, on Sunday night.
Russell Cicerone scored his team leading 12th goal of the season in the 26th minute, taking a well-played through ball from Albert Dikwa, and slotting into the left side of goal.  The Hounds added a valuable insurance goal in the 75th minute when Edward Kizza was there to redirect a cross from Shane Wiedt to give the Hounds 2-0 advantage.
Pittsburgh conceded a penalty in the 89th minute when Arturo Ordonez was called for a foul as Loudoun's Jonathan Benteke advanced into the box.
Benteke sent his penalty kick attempt past Hounds keeper Jahmali Waite to cut the lead in half in the late stages.
With the victory, the Hounds (14-7-6, 51 points) move into a tie for fourth place in the USL Championship's Eastern Conference standings with Birmingham Legion FC.
First half
The Hounds took some time to grow into the game on a heavy field, and the team got its first two shots from corner kicks in the early stages, including a header on goal by Danny Griffin.
Cicerone then opened the scoring in the 26th minute after the Hounds' press forced Loudoun to clear the ball wildly. Mekeil Williams won the header just inside the Loudoun half, putting the ball to the feet of Kenardo Forbes. Forbes then fed Albert Dikwa, who slipped a ball behind the defense for Cicerone to finish inside the near post for his team-leading 12th goal of the season.
Despite having just 46 percent of the ball in the first half, the Hounds limited Loudoun to just two shots (one on goal).
Second half
Dikwa nearly got things going shortly after the break, but his header from a Robbie Mertz free kick was met by one of four saves by Loudoun goalkeeper Luis Zamudio.
The hosts had their best chance to tie the game in the 58th minute, when Tyler Freeman shot through traffic from distance and forced one of two saves by Jahmali Waite in the Hounds goal. Jacob Greene got on the rebound, but the Loudoun midfield put the second effort over the bar.
The Hounds doubled their lead in the 74th minute when Kizza made a strong near-post run to head in a cross by defender Shane Wiedt, who got forward with an overlapping run on the right. The goal was the first with the Hounds and in the USL Championship for Kizza, who is on loan from the New England Revolution of MLS.
Loudoun got their goal in the 89th minute after Benteke won a foul trying to get around Arturo Ordóñezin the box. The Belgian finished into the left side of the net for a goal on his debut with Loudoun, but the Hounds were able to see out stoppage time allowing only one more shot — a last-ditch header by goalkeeper Zamudio, who was pressed forward for the final play.
What's next?
The Hounds will host Eastern Conference front-runner Louisville City FC on Saturday, Sept. 10 for a 7 p.m. kickoff at Highmark Stadium. Lou City (18-5-4) bounced back from just their second losing streak of the season last night with a 3-1 win over visiting Sacramento.
---
Riverhounds SC lineup (4-2-3-1) — Jahmali Waite; Dani Rovira (Jelani Peters 62'), Mekeil Williams, Arturo Ordóñez, Shane Wiedt; Kenardo Forbes, Danny Griffin; Russell Cicerone (Angelo Kelly 73'), Robbie Mertz (Luis Argudo 73'), Alex Dixon (Edward Kizza 62'); Albert Dikwa (Jesse Williams 86')
Loudoun United FC lineup (4-1-4-1) — Luis Zamudio; Gaoussou Samake (Abdellatif Aboukoura 82'), Nicky Downs, Jalen Robinson, Hayden Sargis (Kristian Fletcher 46'); Jeremy Garay (Abdoul Zanne 46'); Ted Ku-DiPietro, Skage Lehland (Jonathan Benteke 62'), Houssou Landry, Jacob Greene; Tyler Freeman
Scoring summary
PIT — Russell Cicerone 26' (Albert Dikwa)
PIT — Edward Kizza 74' (Shane Wiedt)
LDN — Jonathan Benteke 89' (penalty)
Discipline summary
PIT — Shane Wiedt 41' (caution – unsporting behavior)
PIT — Jahmail Waite 55' (caution – delaying restart)
LDN — Tyler Freeman 69' (caution – dissent)
PIT — Luis Argudo 90' (caution – unsporting behavior)
PIT — Mekeil Williams 90+2' (caution – delaying restart)
g+ GameFlow: USL Championship Regular Season @LoudounUnitedFC v @RiverhoundsSC on September 04, 2022. #LoudounUnitedFC #UNLEASH #LDNvPIT pic.twitter.com/zeFYqxRr1Y

— GameFlow (@GameFlowxPG) September 5, 2022
Match Day Updates 
Look for updates from the match to be posted here, including starting line-ups and highlights.
---
FINAL – HOUNDS 2, LOUDOUN 1
Despite a late push from the home side, the Hounds hold on for an important three points.
89′ – HOUNDS 2, LOUDOUN 1
Hounds concede a penalty.  Jon Benteke is there to send it home.
It must run in the family, @jonbenteke 🫡#LDNvPIT | @LoudounUnitedFC pic.twitter.com/PqlXI7G8yx

— USL Championship (@USLChampionship) September 5, 2022
86′ – Jesse Williams will be the last Hounds substitute, and he gives Albert Dikwa a well-deserved break for the final 5+ minutes.
75′ – HOUNDS 2, LOUDOUN 0
Edward Kizza's first goal as a member of the Riverhounds, and he gets a nice feed on cross from former Pitt teammate Shane Wiedt.
.@wiedt_bread23 ➡️ @edwardk_19 #LDNvPIT | @RiverhoundsSC pic.twitter.com/oZDbVbwqhD

— USL Championship (@USLChampionship) September 5, 2022
66′ – Big diagonal ball by Griffin hits Dikwa, wide open and in stride, but Zamudio is off his line to deny him once again!
61′ – First two Hounds changes tonight. IN: Jelani Peters, Edward Kizza OUT: Dani Rovira, Alex Dixon
52′ – Dikwa turns a header toward goal off a Mertz free kick, but it's met by a good lunging save by Zamudio for Loudoun!
50′ – Dikwa cuts inside in a 3-on-3 situation. He created room to shoot, but he scuffs the shot across the face of goal.
HALF – HOUNDS 1, LOUDOUN 0
26′ — HOUNDS 1, LOUNDON 0
Russ Cicerone with goal, nice through ball from Albert Dikwa.
It's Cicerone's 12th goal of the season.
Cut through the defense like butter 🔪#LDNvPIT | @RiverhoundsSC pic.twitter.com/SinNwsWmyw

— USL Championship (@USLChampionship) September 5, 2022
Hounds Starting XI: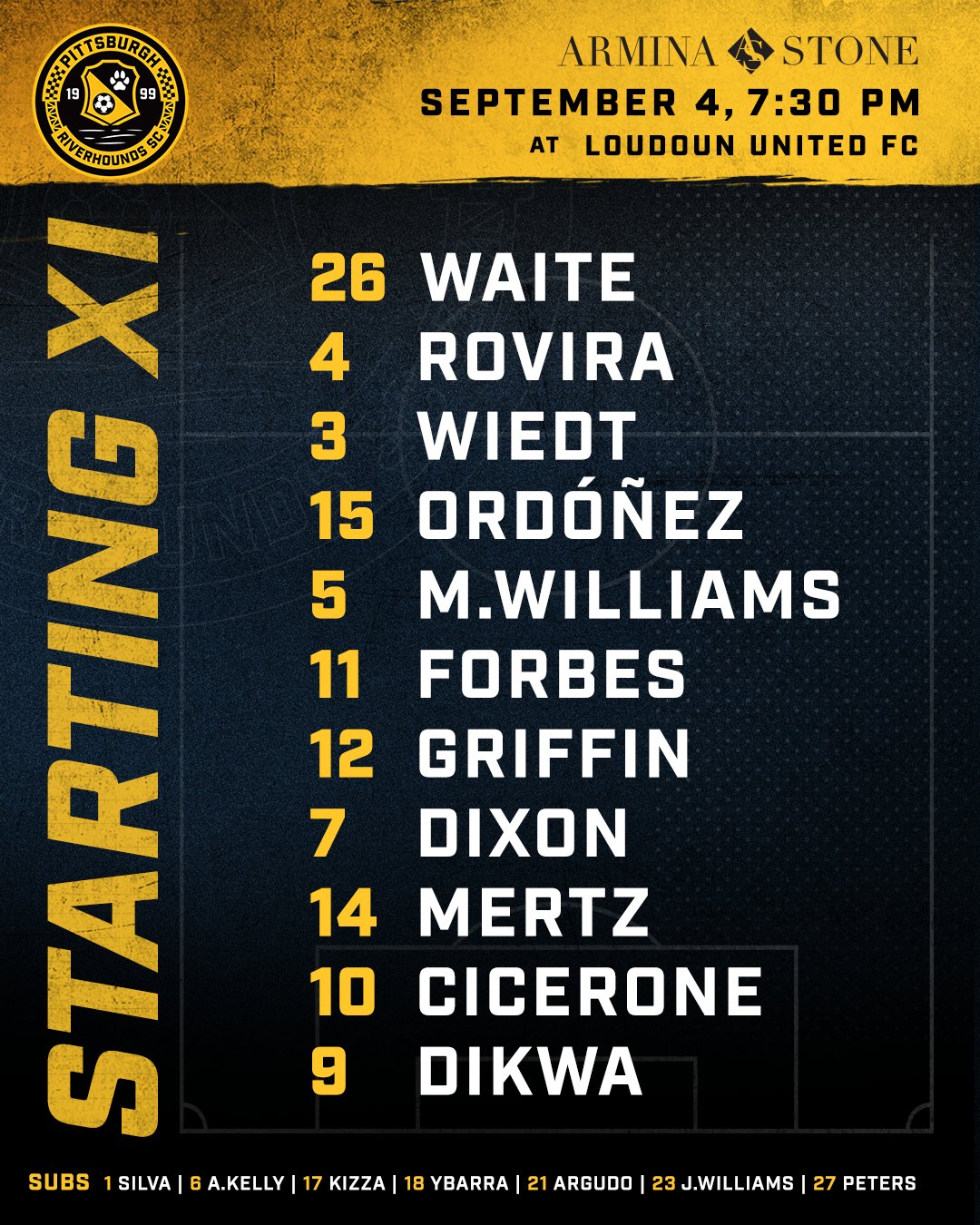 Loudoun United FC : 26.89
Draw : 24.2
Pittsburgh Riverhounds : 48.91#Football#LoudounUnitedFC#PittsburghRiverhounds

— Proballbility (@proballbility) September 4, 2022
Ahead of tonight's @RiverhoundsSC vs @LoudounUnitedFC clash in Virginia, the Hounds listing one player on Injury Report:

Nate Dossantos (knee)#LDNvPIT

— John Krysinsky (@JohnKrysinsky) September 4, 2022
PSN Recent Riverhounds Coverage 
Preview 
It's the final full month of the regular season is upon the Hounds, and they will kick September off with the shortest road trip of the season to face Loudoun United FC tonight in Northern Virginia.
Though the Hounds were hoping to get more from their Wednesday match with Charleston that ended as a scoreless draw, the team has lost only once in the past two months — a string of 11 matches — and they have won their last three road matches. Coupling that with the team's 19-1-1 record in its past 21 games against MLS "2" sides, the Hounds enter this week's lone Sunday match in the USL Championship expecting to get a result.
Loudoun posed a stiff challenge to the Hounds in the teams' first meeting way back on April 2 in Pittsburgh, but Dane Kelly made the difference in that game by coming off the bench to score both goals in a 2-0 win. Kelly started on Wednesday against Charleston, so it's quite possible he again will be the striking option to come off the bench with Albert Dikwa being the forward who took the bench role five days ago.
Kenardo Forbes, Robbie Mertz, Mekeil Williams and Alex Dixon all logged substitute roles or did not play midweek for the Hounds, so all should be ready for a full shift Sunday if called upon. Nate Dossantos remains the only Hounds player ruled out, but both Dani Rovira and Luke Biasi have filled in capably at the left back spot in his stead.
The home side will be no pushover, especially on their home turf. Loudoun has won three of its past five matches to stay mathematically alive in the playoff race, and the two losses were both 2-1 defeats on the road against league-leading San Antonio and playoff-battling Tulsa. At Segra Field, Loudoun is 4-3-2 in its past nine matches, and only Tampa Bay was able to win at Loudoun by more than one goal in that period.
Loudoun, as is the norm, is a youthful side, and 19-year-old Tyler Freeman leads the team with six goals on the season. Jacob Greene, another 19-year-old and a homegrown signing of D.C. United, netted the winner in Loudoun's best result of the season on Wednesday, a 1-0 road win at Memphis. And one of Loudoun's most experienced players is former Hounds defender Jalen Robinson, who is back in the D.C. United system where he first broke into the pro ranks.
Sunday's match is one of the last road games of the year, as the Hounds will play four of their final six at home.
Match Notes 
For the third time in four matches, the Hounds take on an MLS-owned side. The Hounds are 19-1-1 in their past 21 matches against the MLS "2" teams, dating back to the 2020 season. The one loss in that stretch was also Loudoun's only win ever against the Hounds, a 2-1 game in Leesburg on June 30, 2021.
• Dane Kelly, who Wednesday became the first player to appear in 250 USL Championship matches, came off the bench to score both goals for the Hounds in the first meeting this season between these teams on April 2.
• Albert Dikwa powered the Hounds to a win last Saturday with both goals in a 2-1 road victory at Atlanta. It was the second two-goal game of the season for Dikwa, and the 24-year-old striker has a career-high nine goals this year. The performance also earned his second USL Team of the Week honor for 2022.
• For the second year in a row, Russell Cicerone has hit his stride in the summer months. In 17 appearances since May 14, Cicerone has nine goals and four assists. He leads the Hounds with 11 goals on the season — good for 10th in the league — and he is just the third player in team history with consecutive double-digit goal seasons.
• Danny Griffin has played all but 17 minutes since the beginning of the 2021 regular season, starting every league match during that time. He has not missed a league game since turning pro with the Hounds in 2020, appearing in 76 consecutive USL Championship contests.
• Mekeil Williams scored his first goal with the Hounds and first in the league since 2019 with a headed finish from a corner kick against New York on Aug. 20. The Trinidadian international also played his 100th USL Championship match last month against Memphis.
• Hounds captain Kenardo Forbes continues to hit playmaking milestones. The midfield veteran recorded his 40th assist with the Hounds — pushing his USL Championship record total to 54 — with his service on Williams' goal against New York. With nine assists on the season, he is second in the league and on the verge of his first double-digit assist season.
• The Aug. 6 game against Indy was the 150th game for head coach Bob Lilley in all competitions with the Riverhounds. The club's all-time wins leader is 81-33-40 overall as he continues his fifth season in charge.
• In 154 matches under Lilley in all competitions, the Hounds have allowed just 144 goals, an average of 0.94 goals per game.
Riverhounds MF Danny Griffin
Subscribe to PGH Soccer Now