USL Championship Eastern Conference
FINAL: Pittsburgh Riverhounds SC 0, Louisville City FC 0
Match Summary
In a hard-fought, intense affair, the Pittsburgh Riverhounds SC played first place Louisville City FC to a scoreless draw at Highmark Stadium on Saturday night before 4,233 fans.
"This is exactly what we expected. They think they were trying to slow us down. Neither team giving an inch," Riverhounds SC midfielder, Robbie Mertz said after the match. "We want to win, but every point matters at this point of season."
The Riverhounds and Louisville were dead even in terms of possession and shots (8-7, 2-2 on frame) with neither side giving much opportunity for the other to have any clear-cut chances.
"Proud of effort tonight. It was a playoff type feel. We're going to have to get used to it," Riverhounds Head Coach, Bob Lilley said.
"There were moments to grab a goal so that was disappointing. But one of our better efforts team-wise."
The Hounds (15-7-7) and Louisville (18-5-6) hold on to their spots in fourth and first, respectively, in the USL Championship Eastern Conference.
Goalkeeper Jahmali Waite made two saves for his seventh shutout of the season, while Louisville goalkeeper and former Hounds backstop Kyle Morton made one save and was helped by a goal-line clearance to keep his clean sheet.
The closest either team came to scoring occured when the Hounds forward Albert Dikwa advanced into the box in the 54th minute, but his shot attempt was deflected, then an all-out scrum ensued as three Louisville defenders stepped into the space in the goal box left open to attempt to clear the ball,  Mertz came charging in to knock the loose ball into the goal, but was blocked.
.@Tophcity. Goal line clearance. My goodness. 👀 pic.twitter.com/JRVJOFAXJj

— Louisville City FC (@loucityfc) September 11, 2022
First half
The Hounds worked to keep a territorial edge and prevent Louisville from pressing high up the field, and they had some success, forcing Louisville into taking five yellow cards in the match, the first after just 15 minutes to Wes Charpie.
Arturo Ordóñez nearly opened the scoring in the 13th minute after Jelani Peters headed the ball back across goal on a set piece. Ordóñez's header beat Morton, but bounced just wide of the left post.
Waite made his biggest play of the night in the 28th minute, when he came off his line to deny Wilson Harris with a brave sliding grab. Trainers checked on the Hounds goalkeeper after the collision, but he remained in the game.
The Hounds had a late penalty shout when Mekeil Williams was knocked over before the ball arrived from an Alex Dixon cross in the 41st minute, but play was waved to continue.
Second half
A wild play in the 53rd minute saw the Hounds nearly pull ahead via an own goal after an Albert Dikwa cross from the right side. Louisville's Oscar Jimenez turned the ball toward his own goal, and as players scrambled to keep it from going over the line, it was Jimenez who recovered in time to clear it off the line.
The Hounds continued to press with Dikwa nearly winning the ball off the feet of Morton at one point, but neither team was able to get on the end of passes in the box.
Substitute Edward Kizza nearly stole the win for the Hounds in stoppage time when he caught the defense napping on a ball back toward Morton. Kizza was first to the ball, but the Louisville goalkeeper was far enough off his line to have the angle cut off on the shot.
The close nature of the match was borne out on the final stats sheet. The Hounds had 50.5 percent of possession, Louisville had an 8-7 edge in shots, and both teams were limited to only two shots on goal.
What's next?
The Hounds have their last game on short rest Wednesday, when they travel to face Birmingham Legion FC (15-8-6) at 8 p.m. on Sept. 14 at Protective Stadium in Birmingham, Ala. The Legion are coming off a 4-3 loss tonight at Indy Eleven, but they remain in the hunt for a top-four finish in the East.
---
Riverhounds SC lineup (4-2-3-1) — Jahmali Waite; Jelani Peters, Mekeil Williams, Arturo Ordóñez, Angelo Kelly; Danny Griffin, Kenardo Forbes; Russell Cicerone (Edward Kizza 74'), Robbie Mertz (Marc Ybarra 88'), Alex Dixon (Luis Argudo 74'); Albert Dikwa
Louisville City FC lineup (4-3-3) — Kyle Morton; Amadou Dia, Wes Charpie (Josh Wynder 21'), Sean Totsch, Manny Perez (Oscar Jimenez 46'); Jorge Gonzalez (Elijah Wynder 90+3'), Tyler Gibson, Paolo DelPiccolo; Enoch Mushagalusa (Ray Serrano 69'), Wilson Harris, Brian Ownby
Scoring summary
None
Discipline summary
LOU — Wes Charpie 15' (caution – unsporting behavior)
LOU — Josh Wynder 45' (caution – persistent infringement)
LOU — Oscar Jimenez 60' (caution – unsporting behavior)
LOU — Paolo DelPiccolo 73' (caution – persistent infringement)
LOU — Jorge Gonzalez 81' (caution – unsporting behavior)
Former Hounds coach, general manager and TV broadcaster Gene Klein was honored at halftime with a celebration of his induction last night as the sixth member of the Riverhounds SC Hall of Fame.
Hounds up to fourth, a point up on Birmingham and two back of Tampa.

Wednesday night at Birmingham is kind of a big deal.

Mid-week watch party?#UNLEASH pic.twitter.com/iqHMqCUSAN

— Steel Army (@SteelArmy) September 11, 2022
Match Day Updates 
Look for starting lineups and game updates to be posted here.
---
74′ — Hounds bringing subs on:
IN: Luis Argudo and Edward Kizza
OUT: Alex Dixon and Russell Cicerone
Kizza moves up higher, while Dikwa drops a bit. Mertz moves to left and Argudo is wide right where Dixon was.
71′ – Fourth yellow card of evening assessed to Louisville as this time it's Jorge Gonzalez who nicks Robbie Mertz.
63′ – Russ Cicerone draws another corner as Hounds continue to press forward but the set piece from Forbes is played right to LouCity keeper Kyle Morton. Hounds with six shots, only one on frame.
54′ -Mayham in past 45 seconds as Hounds pressed forward into box with chances — Dikwa shot deflects toward goal. Mad scramble of LouCity defenders falling over in box trying to clear ball, then Robbie Mertz comes charging in for putback and it's blocked on the line!
HALF — RIVERHOUNDS 0, LOUISVILLE CITY FC 0
40′ – How intense and physical has it been? We now have the third stoppage of play due to an injury. Another LouCityFC player down, but back up after collision\ w/ Dikwa on Dixon cross. Wes Charpie already came out (Josh Wynder came in for him)
28′ –  Jahmali Waite goes down with injury after collision, but gets back up.
19′ – Interesting that Louisville City playing more direct than we've seen them in past. They're trying to get behind Hounds defenders. In last sequence, Angelo Kelly-Rosales is there to help the center backs to recover as Enoch Mushagalusa almost takes one into box.
14′ – Hounds looking like the better team thus far. Another chance — and Dikwa finds CIcerone and former Hound Kyle Morton makes a great save — however it's all nullified by Russ being offside.
12′ – Mertz earns a free kick.  It's played past far post on right — Peters header on goal for Ordonez who just misses his header chance.
8′ – Kenardo Forbes and Paolo DelPiccolo getting tangled up — and the Hounds cap't with the professional foul. The two with a bit of a staredown. Not the first time these two have done battle in the middle of the pitch. Lot of history between those guys. 9′ 0-0
4′ – Hounds starting with four in the back (4-2-3-1) — the surprise start is Angelo Kelly-Rosales at right back. Otherwise, they Forbes/Griffin holding, with Mertz in center of attacking mid line with Cicerone on left, Dixon on right and Dikwa as target forward.
Riverhounds starters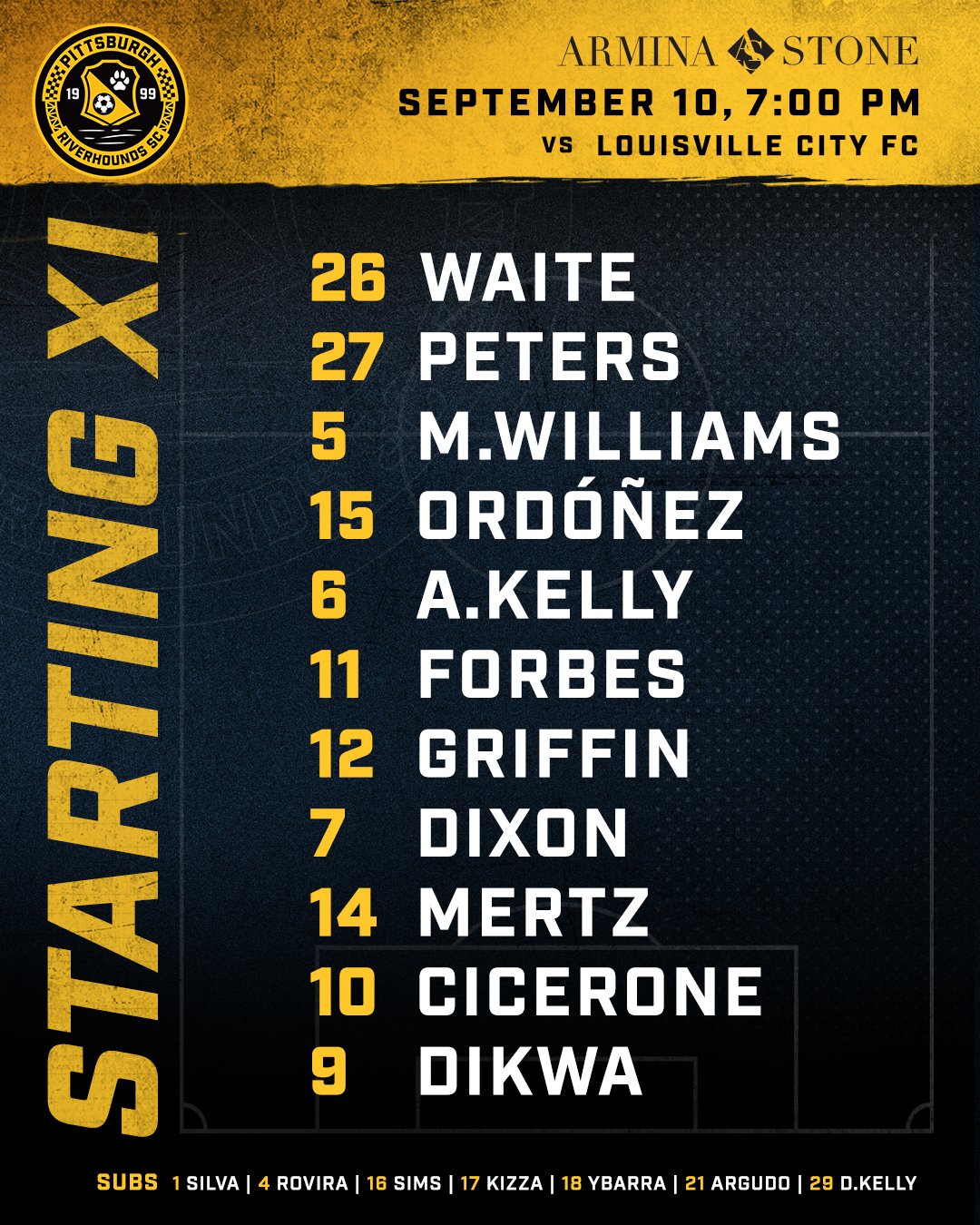 Louisville's starting XI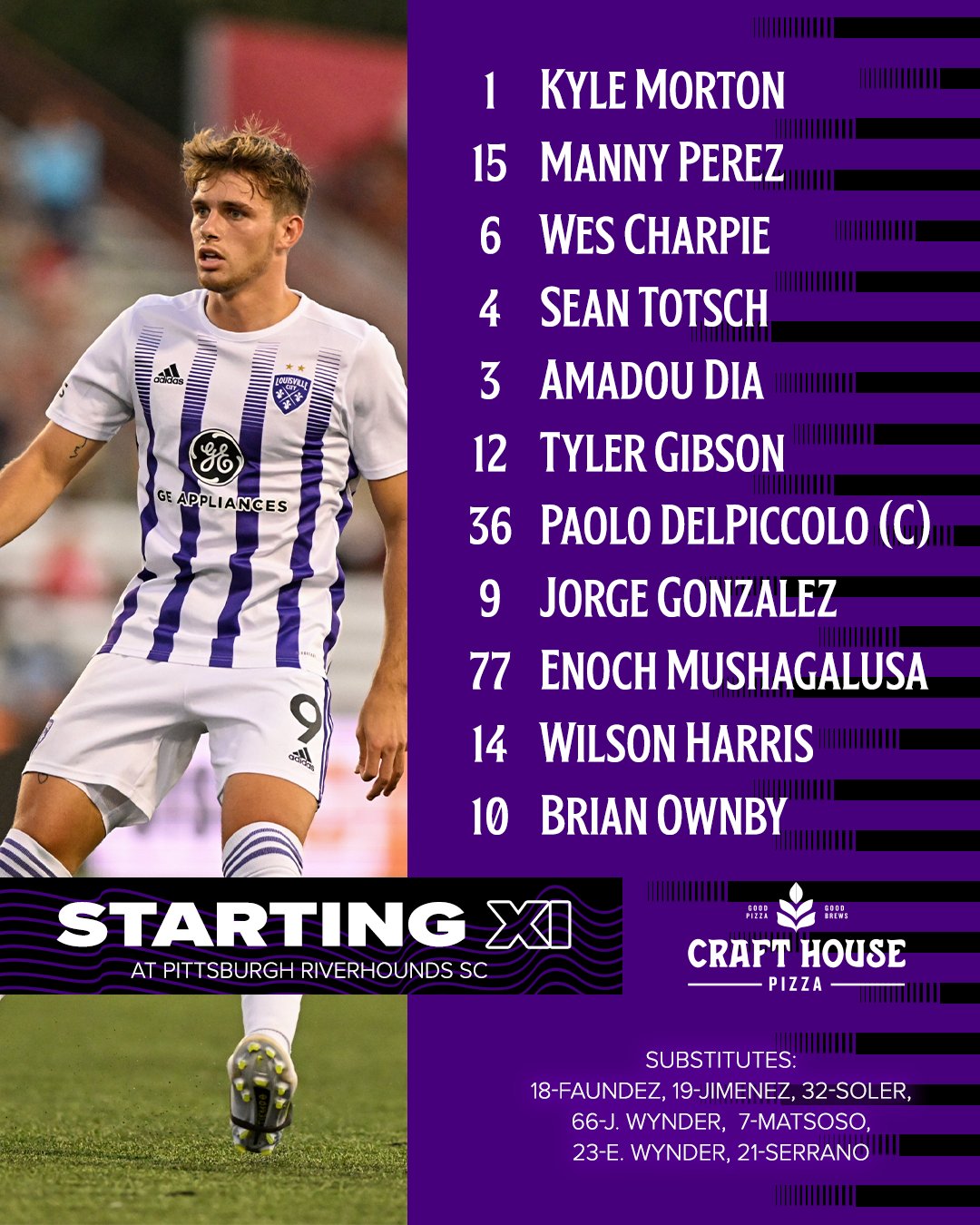 Oh, in case you missed it, the Hounds didn't play on Wednesday, but thanks to Tulsa's draw against Saturday's opponent, Louisville City FC, Pittsburgh officially clinched a playoff spot for the fifth straight season.
Postseason-bound for the 5⃣th year running!

Tonight's results around the @USLChampionship have clinched our spot in this year's playoffs. 🏆

Full story: https://t.co/FTxK6iMs6I#HOUNDTAHN pic.twitter.com/7KRfAjZRzC

— Pittsburgh Riverhounds SC (@RiverhoundsSC) September 8, 2022
PSN Riverhounds SC Coverage 
Riverhounds SC midfielder, ironman Danny Griffin on Pittsburgh Sports Live
Preview 
It's 90's Night at Highmark Stadium!
And, the Hounds will also be honoring Gene Klein, who has served as club's General Manager, Head Coach, Assistant Coach and Technical Director — and into the 2010's, he became part of the broadcast crew that called games from Highmark Stadium from 2013 to 2019.
It would be an understatement that Klein has been 'ever-present' throughout the club's history which began in 1999.
PSN's John Krysinsky caught up with Klein ahead of his induction this week for the Sounding Off on Soccer Podcast.
The Hounds might party like its 1999 if they can pick up a win against the conference leaders Louisville City FC, an enduring rival who, since they began playing against in 2015, have never lost a match at Highmark Stadium (including a US Open Cup win vs Tartan Devils FC in 2017).
But, the bigger picture for both clubs – makes this a crucial game in terms of playoff seeding.
For the Hounds, there the importance of picking up three points ahead of a second consecutive key game against Birmingham Legion FC next Wednesday night, while Louisville needs to take victory to ward off the potential challenge of the Tampa Bay Rowdies for top spot, and to try and remain in the hunt for the best record in the league with Western Conference leader San Antonio FC also facing its own challenging fixture later in the night.
Louisville had to play a midweek contest (the above mentioned 2-2 draw vs Tulsa), while the Hounds played on Sunday night at Loudoun, winning 2-1.
The Hounds might be catching the league leaders at a good time.
It will be the fifth game in 15 days for the boys in purple, with four of those games on the road. City is 1-1-2 in that stretch, coming off a 2-2 draw at FC Tulsa on Wednesday.
"Obviously (we're) really frustrated," City coach Danny Cruz said on Wednesday.
"This is certainly a difficult stretch of games – four on the road, five total in 15 days is not easy. We're carrying a lot of knocks at the moment. We have to turn it around tomorrow, get our legs right, fly to Pittsburgh and respond this weekend."
Cruz said the rigors of the schedule required squad rotation as his team prepares for a key home stretch to finish out the regular season and ready for the playoffs. After Pittsburgh, City has four home games and one road trip in the final month of the season.
"We're beat up at the moment – guys are feeling tired legs and I have to rotate the roster and make sure we don't pick up injuries," Cruz said. "It's been a difficult stretch, but it's no excuse. We have the quality on the team to get these results."
Out for LouCity will be two key veterans, Cameron Lancaster and Niall McCabe.
Bob Lilley also confirmed to Pittsburgh Soccer Now this week that Nathan Dossantos had knee surgery and will be out for the season.
This is an important stretch for the Hounds, as they must turn around, travel to Birmingham following this match to take on the team that they're battling, neck-for-neck with in the standings for 4th place and a home playoff spot.  In fact, Pittsburgh and Birmingham have identical records and have both played the same amount of matches (28).  BIrmingham takes on Indy Eleven at the same time on Saturday.
Anything less than four out of a possible six points in these next two matches will likely put the Hounds in precarious position for a home playoff match heading into what appears to be an interesting final stretch of four matches in four weeks, with three of those at home.
Against the top three teams in the Eastern Conference standings, Louisville City FC, Tampa Bay Rowdies and Memphis, they're are a combined 1-4-0, having been outscored 12-5 in these games.  The lone win and three of those goals came in opening week, when a well-prepared and fresh Pittsburgh squad scored a 3-0 win vs a Memphis side that was still trying to figure things out.
Lilley, who loves to tinker with his lineups and adjust to every opponent, has implored an aggressive tactical approach in recent matches against Louisville, all at Lynn Family Stadium, with mixed results.  Louisville has always been — and still are — a very good possession team. Lilley knows that the best way to disrupt a team like Louisville's build-up play is to come at them with a high-press, keep enough of the ball to help dictate tempo and make the most of scoring chances.
The Hounds will have to check off all those boxes if they want to win on Saturday.
Of course, the most glaring of their losses to Louisville came in the two most recent postseason defeats in 2019 when Pittsburgh was the top seed in the Eastern Conference, and again in 2020.
Additionally, at Highmark Stadium, LouCity has never suffered defeat, going 4-0-3 away from home in the rivalry between the two clubs.  Pittsburgh's four wins in the series have come in the Derby City in 2015, 2018, 2019 and in 2020's season opener.
Game Notes (from both clubs) 
The Hounds, who have a 15-7-6 record and are currently fourth in the Eastern Conference. By clinching its playoff spot this week, the Hounds join Louisville as the only two clubs to have qualified for the USL Championship playoffs each of the past five seasons, a group that could also include Phoenix Rising FC should they qualify out of the Western Conference this season.
The playoff berth also extends two remarkable career runs for head coachBob Lilley. The Hounds' coach has never failed to reach the postseason, nor has he had a team finish below .500 in his professional coaching career spanning 22 seasons in Hershey, Montreal, Vancouver, Detroit, Rochester and Pittsburgh.
Dane Kelly, who last Wednesday became the first player to appear in 250 USL Championship matches, and is the USL Championship's All-Time leading goal scorer, has not scored a goal since early July. Kelly has seven goals on the season.
Albert Dikwa powered the Hounds to a win last Saturday with both goals in a 2-1 road victory at Atlanta. It was the second two-goal game of the season for Dikwa, and the 24-year-old striker has a career-high nine goals this year. The performance also earned his second USL Team of the Week honor for 2022.
For the second year in a row, Russell Cicerone has hit his stride in the summer months. In 17 appearances since May 14, Cicerone has 10 goals and four assists. He leads the Hounds with 12 goals on the season — good for 10th in the league — and he is just the third player in team history with consecutive double-digit goal seasons.
Danny Griffin has played all but 17 minutes since the beginning of the 2021 regular season, starting every league match during that time. He has not missed a league game since turning pro with the Hounds in 2020, appearing in 77 consecutive USL Championship contests.
Mekeil Williams scored his first goal with the Hounds and first in the league since 2019 with a headed finish from a corner kick against New York on Aug. 20. The Trinidadian international also played his 100th USL Championship match last month against Memphis.
Hounds captain Kenardo Forbes continues to hit playmaking milestones. The midfield veteran recorded his 40th assist with the Hounds — pushing his USL Championship record total to 54 — with his service on Williams' goal against New York. With nine assists on the season, he is second in the league and on the verge of his first double-digit assist season.
The Aug. 6 game against Indy was the 150th game for head coach Bob Lilley in all competitions with the Riverhounds. The club's all-time wins leader is 81-33-40 overall as he continues his fifth season in charge.
In 155 matches under Lilley in all competitions, the Hounds have allowed just 145 goals, an average of 0.94 goals per game.
Away days: In addition to the draw against Tulsa, LouCity suffered back-to-back losses on the road to Miami FC and Indy Eleven on its most recent road trips. The boys in purple are still 8-4-3 on the road this season, an improvement over last season and the second-best record away from home in the Eastern Conference.
No bagels: Louisville City has gone an unlikely four matches without recording a clean sheet – the longest streak of the season. The previous longest run was three matches, from May 28 to June 18. LouCity is now tied with San Antonio for second in the league in clean sheets at 13. Goalkeeper Kyle Morton is also in a three-way tie for second in the league with 11 clean sheets.
Musha-goal-usa: Enoch Mushgalusa scored both goals for LouCity in the last match against FC Tulsa. This marks his second multigoal game for the club. His other time was a hat trick against New York Red Bulls II on July 9.
Wynder-ful moment: Elijah Wynder earned his first Louisville City FC start on Wednesday, playing 45 minutes at Tulsa. Wynder scored his first professional goal after coming on as a substitute on Saturday against Sacramento. Wynder created two chances against Tulsa and was responsible for the hustle-play deflection that led to Mushagalusa's first goal. He also won five duels and completed 71% of his passes.
Riverhounds MF Danny Griffin
Subscribe to PGH Soccer Now