NCAA Men's Soccer – The City Game
Pitt 5, Duquesne 2
Match Summary
In what proved to be one of the more lively editions of the City Game, Pitt outlasted Duquesne, 5-2, as the Panthers needed a pair of late goals to pull away at Ambrose Urbanic Field on Monday night.
The Panthers had five different players score goals, including two former WPIAL standouts, Michael Sullivan and Josh Luchini contributing with second half tallies.  Luis Sahmkow had a goal and an assist for Pitt, while Valentin Noel and Jackson Walti also added goals.  Ask Ekeland scored just 35 seconds after Sullivan gave Pitt a three-goal advantage in the 60th minute.  The Dukes narrowed the lead to 3-2, when West Allegheny alum Nathan Dragisich's free kick from the edge of the attacking third was redirected by a Pitt defender for an own goal.
Pitt now holds a 10-0-2 advantage against Duquesne in the all-time series.
The match opened with Duquesne getting the first real dangerous chance for either side when Maxi Hopfer's shot attempt in the 17th minute had to be saved by Pitt's Joe van der Sar at the near post.
The Panthers took advantage of a transition opportunity when Luis Sahmkow scored for the third straight match, as Lucas Rose delivered a pinpoint cross into the box in the 23rd minute.
While Pitt held a decided possession edge for much of the first half, they needed a second shot on frame to double the lead when Guilherme Feitosa played a ball through for Noel with just 24 seconds left before the whistle.
Following a goal scoring flurry, that included Sullivan's shot from 17 yards, just inside the center edge of the box and the two Duquesne goals, the match was very much up for grabs.
The Panthers put an end to the Dukes' hopes for a comeback win, as veterans Walti and Luchini converted on their chances as things opened up in the final 10 minutes.
Pitt (7-3-3, 3-2-1 ACC) will now face Duke in Durham, NC on Friday in a pivotal ACC match, while Duquesne (10-2-2) will now return to Atlantic 10 action when they face Fordham on Saturday.
Look for more on this match from PSN's Zac Weiss, including post match reaction from Ambrose Urbanic Field and photos from the sidelines. 
Final Team Totals
| TEAM | Shots | SOG | Saves | Fouls | Corners | OffSides |
| --- | --- | --- | --- | --- | --- | --- |
| Duq | 16 | 4 | 1 | 13 | 4 | 2 |
| Pitt | 15 | 6 | 3 | 9 | 4 | 5 |
Post game notes:
*** The five goals tied a season-high for Pitt who also netted five in a home win over Howard
*** With his goal, Noel has now recorded at least one point in five straight and in a total of nine games. He shares the team lead with 15 points (6G, 3A) on the year
*** Noel is now tied for third in program history with 30 career goals while also ranking third in career points (73)
*** Sahmkow netted his third of the season and has now scored in three straight for Pitt. He has a career-high eight points on the year
*** Mirkovic collected two assists on the night and now has an ACC-high nine helpers on the year. For his career, he ranks sixth in program history with 16 assists
*** Sullivan netted his first goal of the season and second of his career in the win
*** Feitosa notched two assists in the win marking his second career game with multiple assists
Match Updates
Look for pregame updates, starting lineups and game highlights to be posted here.
You can also follow Zac Weiss on Twitter for updates.
---
FINAL — PITT 5, DUQUESNE 2
Unlike the match a year ago, the Dukes didn't lie down after trailing 3-0.  Instead they fought back to make things interesting halfway through the 2nd half.
But, as things opened up, Pitt picked apart the Dukes, who only suffer their second loss of the season.
89′ — PITT 5, DUQUESNE 2
What a final icing on the cake for @Pitt_MSOC to put the game away with a goal from another former WPIAL standout, Josh Luchini.

It's now 5-2 Pitt over @DuqMSoccer

89'

— John Krysinsky (@JohnKrysinsky) October 18, 2022
79′ — PITT 4, DUQUESNE 2
JACKSON. WALTI. 🫶

Our captain gives us the 4-2 lead after a great play by Sahmkow to chest the ball down.#H2P pic.twitter.com/6cD4lmNz9m

— Pitt Men's Soccer (@Pitt_MSOC) October 18, 2022
Pitt with a big goal at 79' and Duquesne was furious with the side official. Jackson Walti with the goal and Sahmkow with the assist. 4-2 Pitt in front. @pghsoccernow

— Zachary Weiss (@ZacharyMWeiss) October 18, 2022
The energized Dukes with a 6-1 advantage in shots this half. Still in search of the equalizer with 15 minutes to go.#GoDukes pic.twitter.com/HPCqBUmb1i

— Duquesne Men's Soccer (@DuqMSoccer) October 18, 2022
60′ — GOAL — PITT 3, DUQUESNE 2
Only 35 seconds after the
#DuqMSoccer on the comeback trail? Own goal an unforced error for Pitt at 60'. 3-2 Pitt. @pghsoccernow

— Zachary Weiss (@ZacharyMWeiss) October 18, 2022
60′ — GOAL — PITT 3, DUQUESNE 1
Ask Ekeland takes advantage of Pitt not in formation following the goal. Took all of 12 seconds. It is Ekeland's seventh goal of the season. 3-1 Pitt in front.
60′ — GOAL — PITT 3, DUQUESNE 0
PITT GOALLL‼️@Msullivan_09 buries his first of the season to give Pitt the 3-0 lead. Feitosa and Mirkovic collect the assists.

Pitt 3, No. 25 Duquesne 0#H2P pic.twitter.com/5AVUYwNR0B

— Pitt Men's Soccer (@Pitt_MSOC) October 18, 2022
First goal of the season for former @BoysLakes standout @Msullivan_09 who's been putting in the minutes.

Gives @Pitt_MSOC 3-0 edge in City Game vs @DuqMSoccer#WPIALSoccer https://t.co/Suc6sZvGds

— John Krysinsky (@JohnKrysinsky) October 18, 2022
HALF — PITT 2, DUQUESNE 0
eam Totals
| TEAM | Shots | SOG | Saves | Fouls | Corners | OffSides |
| --- | --- | --- | --- | --- | --- | --- |
| DUQ | 4 | 1 | 0 | 6 | 2 | 2 |
| PITT | 8 | 2 | 1 | 1 | 3 | 2 |
45′ — GOAL — PITT 2, DUQUESNE 0
Beautiful give-and-go 🤩@gc_feitosa 🤝 @Vlnt_Noel

Pitt 2, No. 25 Duquesne 0#H2P pic.twitter.com/Mr6cWJilMM

— Pitt Men's Soccer (@Pitt_MSOC) October 17, 2022
Pitt with a lot of space in transition. Too much space for @DuqMSoccer to concede

A tough one for the Dukes to give up just before the half.

Panthers have been in control, but Duquesne had one quality chance in 17' when van der Sal saved dangerous Hopfler chance. https://t.co/c18rH8CN11

— John Krysinsky (@JohnKrysinsky) October 17, 2022
24′ — GOAL — PITT 1, DUQUESNE 0
Luis Sahmkow
Heads in cross from Lucas Rosa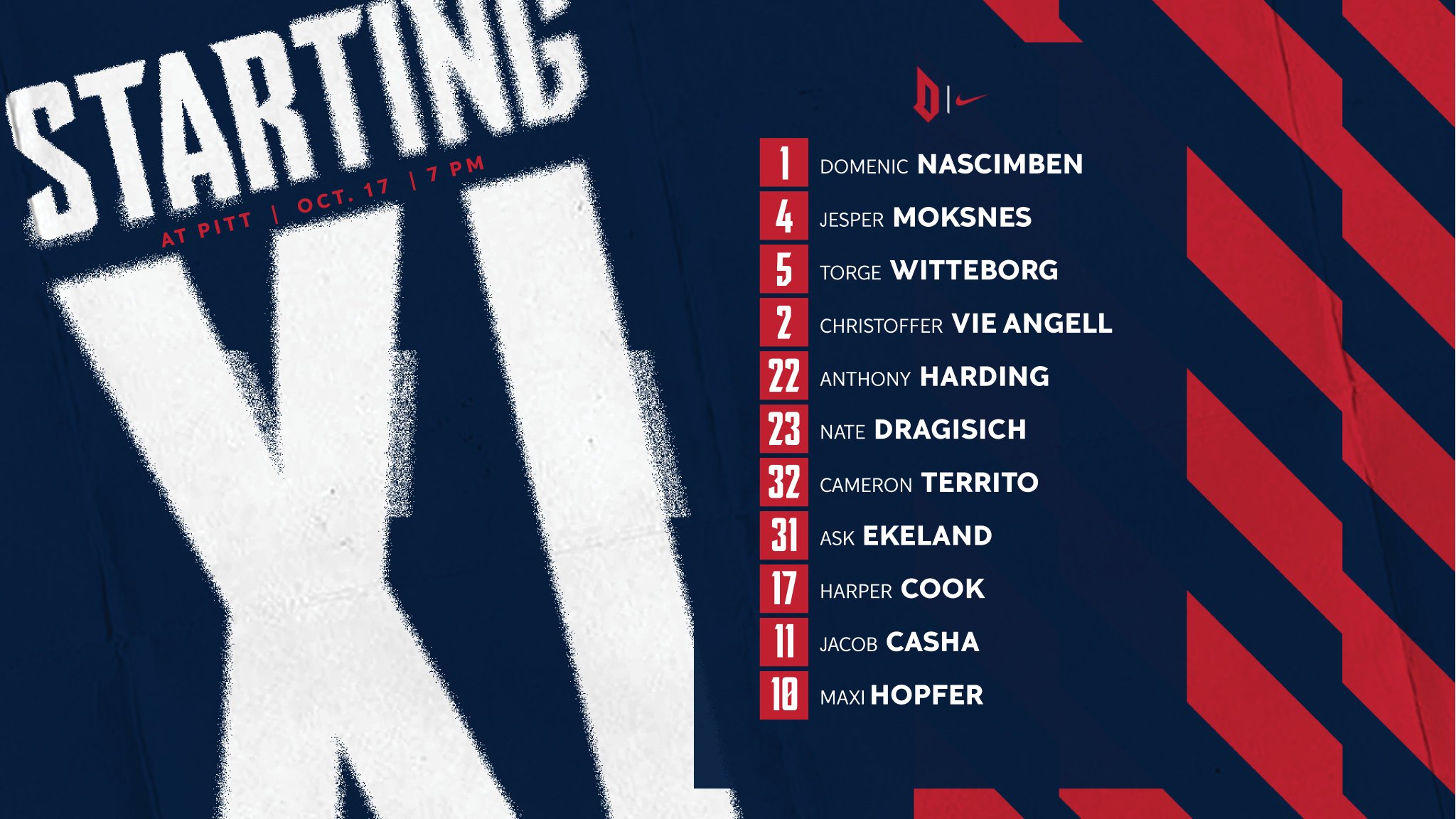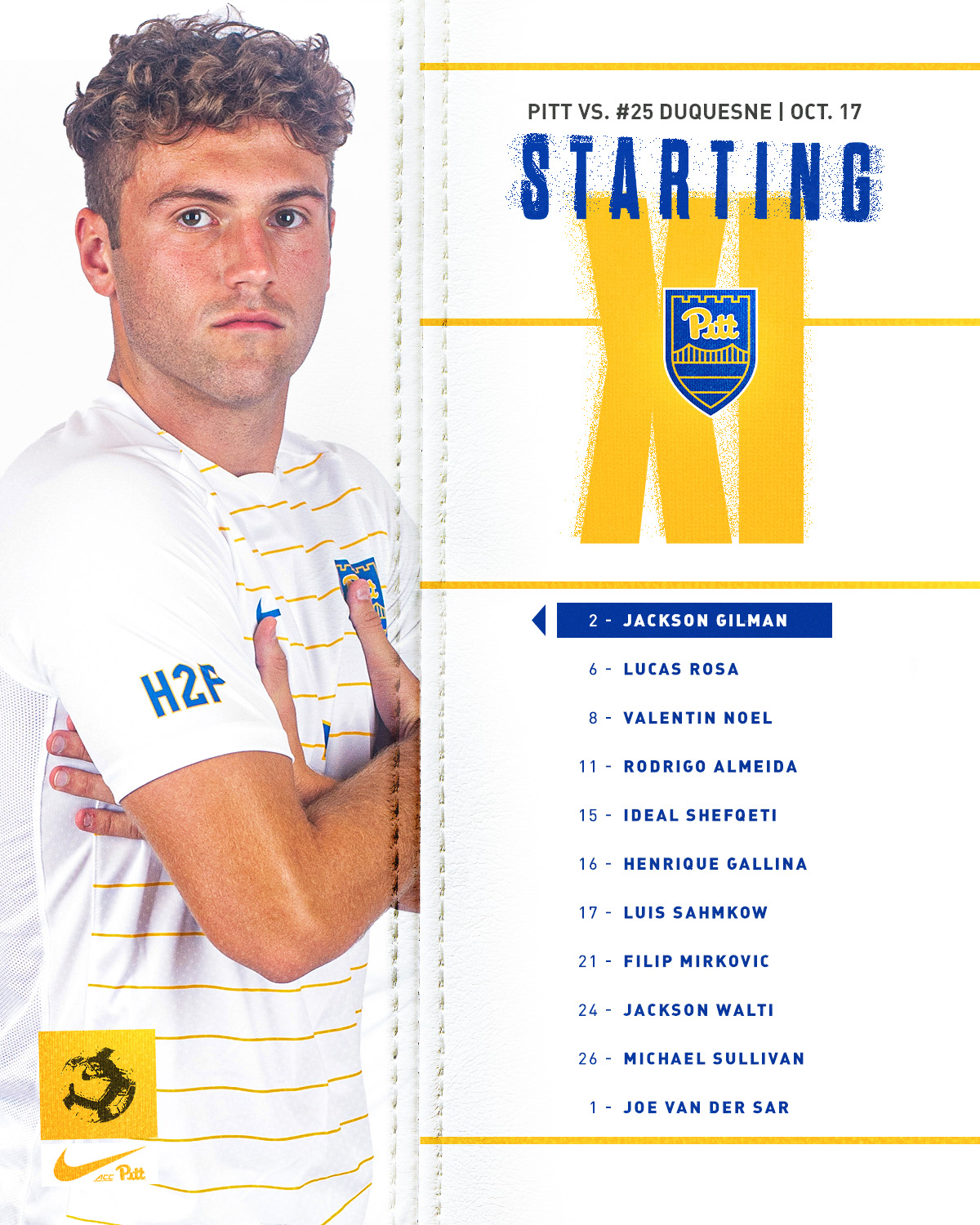 Granted there are two other non-conference games including tomorrow's soccer version of the City Game, which of course has huge bearing, but are not directed towards conference standings. https://t.co/y2rYQPFYX6

— Zachary Weiss (@ZacharyMWeiss) October 17, 2022
PSN's Recent Pitt & Duquesne Men's Soccer Coverage
John Krysinsky's match preview.
Preview: A Pitt-Duquesne men's soccer 'City Game' like we've never seen before
Game Notes
The Panthers will be looking for their third win over a ranked opponent on the year and their fifth straight against the Dukes.
Pitt's Match Notes 
THE SERIES – PITT v DUQUESNE 'THE CITY GAME'
This meeting marks the 12th meeting of all-time between the two programs with Pitt owning the 9-0-2 advantage in the series.
The Panthers have won four straight in the series including a 7-0 season opening victory against the Dukes last year at Ambrose Urbanic Field. Valentin Noel, Bertin Jacquesson and Rodrigo Almeida each netted goals in the blowout win for Pitt last year.
The Panthers are 6-0-1 against the Dukes at home while outscoring them 16-1 in those matches.
Overall in the series, Pitt is outscoring Duquesne 23-3. The Dukes haven't scored more than one goal in any match against the Panthers in the all-time series.
THE DUKES
Duquesne enters Monday's match with a 10-1-3 overall record and a 4-0-2 A-10 mark. The Dukes have won three straight overall including a 2-1 home win over Davidson Saturday night.
The Dukes are currently ranked No. 25 in the latest United Soccer Coaches Top-25 Poll while also earning an RPI ranking of No. 41.
The Dukes are led offensively by Ask Ekeland who has a team-high six goals, one assist and 13 points on 27 shots while Maxi Hopfer has five goals, three assists and 13 points on a team-high 45 shots. Junior Nate Dragisich leads the squad with seven assists on the year.
Defensively, the Dukes have been great all year long as they have allowed just seven goals through 14 matches. They haven't allowed more than one goal in any game this season.
In goal, Domenic Nascimben has started all 14 matches and owns a 10-1-3 record to go along with a 0.53 goals against average, .900 save percentage and seven clean sheets.
PITT FACING RANKED OPPONENTS
The Panthers are no stranger to nationally ranked opponents. Pitt has played a total of seven nationally ranked opponents through their first 12 games of the season for the first time in program history.
Pitt opened the season with back-to-back wins over top-10 programs for the first time in program history as they downed No. 2 Georgetown 2-1 and No. 6 West Virginia 3-0.
Pitt is 4-0-1 against top-5 opponents over the last two seasons as they downed Georgeotwn (No. 2), Clemson (No. 2), Duke (No. 3) and North Carolina (No. 4) during the regular season and tied Notre Dame (No. 4) in the Elite Eight last season.
Overall, Pitt is 6-2-4 against nationally ranked foes over the last two seasons.
Over the last three seasons, Pitt owns a 10-5-4 record against ranked opponents.
Currently, Pitt has two more ranked opponents remaining on their regular season schedule including Monday against #25 Duquesne.
SCORING FIRST A MUST FOR PITT
One of the keys to victory for the Panthers over the last four seasons has been scoring the first goal of the match.
Since 2019, Pitt owns a 38-1-2 overall record when they record the first goal of the match.
The Panthers are 5-0 this year when scoring the first goal while being just 1-3-3 when allowing the first goal of the match.
Pitt hasn't lost a game when scoring the first goal since falling to #2 Indiana 3-2 in double overtime on August 30, 2019.
Season             Record             Win %
2022                 5-0-0                1.000
2021                 11-0-2              .923
2020-21            14-0-0              1.000
2019                 8-1-0                .889
SAHMKOW FINDING HIS GROOVE
After fighting injuries early in the season, sophomore Luis Sahmkow has fianlly settled into his improtant role for the Panthers.
Sahmkow has been one of the best players on the pitch for Pitt of late as he has netted a goal in back-to-back matches for the first time in his career. He buried the game-tying goal in the 2-2 draw against No. 10 Denver and then his first career game-winner in the 1-0 road win over Virginia Tech Friday.
On the year, Sahmkow has two goals, two assists and six points on nine shots. His two goals and two assists are both career-highs.
HOME TURF ADVANTAGE
The Panthers have been one of the best teams in the country on their home turf over the last four seasons as they own a 28-4-4 record at Ambrose Urbanic Field.
Pitt held a 19-match home winning streak from Oct. 7, 2019 to Nov. 10, 2021, which at the time was the longest streak in the ACC and second longest unbeaten streak in the nation.
Head coach Jay Vidovich is 34-17-6 at home in his seven seasons at Pitt.
Since the start of the 2019 season, Pitt has outscored its opponents 104-38 at home including a 20-10 advantage this season.
The Panthers win percentage (.833) at home over the past four seasons is the best in the ACC and 7th best overall in the NCAA.
Home Win % Since 2019
# TEAM                  RECORD             %
1. Georgetown        35-2-5           .893
2. Missouri State     32-3-2           .892
3. New Hampshire   28-2-4           .882
4. Campbell             28-2-5           .871
5. Washington         32-4-2           .868
6. Kentucky             33-3-5           .866
7. Pitt                     28-4-4           .833
8. Yale                    13-2-2           .824
9. Cornell                14-2-3           .816
10. Clemson              34-7-4            .800
UP NEXT FOR PITT
Pitt hits the road Friday night for a big road test as they travel to Durham, NC to take on No. 3 Duke.
Friday's match will air live on ACC Network at 8 p.m.
The Panthers are 4-6-2 all-time against Duke.
Pitt has won four straight against the Blue Devils including a 3-2 home victory last year as Mirkovic netted two goals and Jacquesson scored the other.
Duquesne's Match Notes 
TEAM NOTES
Duquesne entered the Untied Soccer Coaches Top 25 for the first time since November of 2005 on Sept. 20. The Dukes moved up from No. 25 to No. 24 on Sept 27 and dropped out of the poll on Oct. 4. The Dukes returned to the poll at No. 25 on Oct. 11.
DU's lone loss came at then-No. 25 Akron (0-1) on Sept. 28. The game at Akron marked the first time in program history that the Dukes faced a ranked team while ranked (the Dukes were No. 24 at the time).
Duquesne (10-7-2 last year) has posted back-to-back 10-win seasons for the first time since 2005 & 2006.
DU got off to the first 5-0 start in program history.
Duquesne set a new school record for most games without a loss (eight at 6-0-2) to open the season. The previous mark was seven by two teams.
DU is undefeated in its past 14 home games (12-0-2, 5-0-1 this year). The last home loss occurred during the pandemic-related spring season on Mar. 27, 2021 (2-0 to St. Bonaventure).
Duquesne opened with three consecutive road games (all wins) for the first time in program history.
Duquesne's three-straight road wins to start the season were one shy of the school record for consecutive road victories (accomplished three times).
DU's five road wins (5-1-2) are the program's most since 2004 (5-3-1). DU was 2-7-1 on the road last season.
Duquesne's season-opening 1-0 win at Michigan was the program's first victory over a Power 5 team since 2003.
DU's seven goals in the 7-0 win over Howard tied the third-highest single-game goal total in program history. The seven scores were the most since a school record 10 in a 10-0 win over Fordham in 2002.
Duquesne's captains for 2022 are M Nate Dragisich, F Maxi Hopfer, GK Domenic Nascimben and D Torge Witteborg.
PRESEASON HONORS
Maxi Hopfer and Nate Dragisich were both named to the 12-man A-10 Preseason All-Conference Team.
Hopfer was also named as one of United Soccer Coaches' 30 Division I "Forwards to Watch."
Duquesne was picked to finish 7th of 14 teams in the Atlantic 10 preseason coaches poll. The top eight regular season finishers qualify for the Atlantic 10 Championship.
QUICK HITS
Duquesne is in its tenth season under head coach Chase Brooks. Brooks has led the Dukes to four Atlantic 10 Conference tournament appearances (2013, 2015, 2016 & 2021), including an A-10 Championship game appearance – the program's first since 2002 – last season.
DU has 16 newcomers – including 10 freshmen – on the 2021 roster.
Incoming transfers include: D Anthony Harding (Pitt), Tate Mohney (Elizabethtown), Jesper Moksnes (Virginia), Cameron Territo (Western Illinois) and Christoffer Vie Angell (UAB). All five have played significant roles in their first season at Duquesne.
Duquesne's 26 goals have come from 10 players. Freshman Ask Ekeland leads the team with six scores, including a brace vs. St. Bonaventure on Oct. 12.
Maxi Hopfer, a United Soccer Coaches Second Team All-Southeast Region and First Team All-Atlantic 10 performer in 2021, leads the Dukes with 18 career goals (five this season). The Styria, Austria native, who made the A-10 All-Rookie team as a freshman, led the Dukes in points (28) and goals (11) last season.
Fourth-year junior M/F Nate Dragisich, who earned Second Team All-A-10 honors as well as a spot on the A-10 All-Championship Team in 2021, leads all returnees in career games played (57) and started (56). Dragisich has posted a point in seven of 14 games, including a streak of five in a row snapped at UMass. His seven assists ranked second in the Atlantic 10 and tied for 7th nationally through Thursday. Dragisich's 19 career assists rank third on DU's all-time list.
Graduate student Domenic Nascimben has played every minute in net for the Dukes for the past two-plus seasons (includes the abbreviated 2021 spring campaign). Nascimben, a native of Sydney, Australia, has posted seven shutouts this season. He turned away a career-high 11 shots – including penalty kicks in the 82nd and 87th minute – in the 7-0 win over Howard.
Through Thursday's games, Nascimben ranked tied for 3rd nationally in shutouts (7), tied for 1st in save percentage (.906) and 6th in goals against average (.462).
DU has been recognized by the United Soccer Coaches for its outstanding academic performance with a Team Academic Award (minimum 3.0 team GPA) 20 times in the past 23 years. No other Atlantic 10 men's soccer program has been recognized more than Duquesne since the award was instituted in 1996.
Duquesne produced at least one Atlantic 10 All-Rookie Team member in eight of the past nine years including current roster members Nate Dragisich (2019), Maxi Hopfer (2020) & Jack Emanuel (2021).
DUQUESNE'S ALL-TIME ASSIST LEADERS
28 — Derek MacKenzie (2001-04)
27 — Simon Gomez (2010-13)
19 — Nate Dragisich (2019-current)
Riverhounds MF Danny Griffin
Subscribe to PGH Soccer Now