NCAA Women's Soccer Tournament Round of 16
FINAL: Florida State 3, Pitt 0
Match Summary
Pitt remarkable season and ride to through the NCAA Women's Soccer Tournament came to a crushing halt, as the Panthers lost to the defending National Champions, Florida State, 3-0 at Seminole Soccer Complex in Tallahassee, FL, on Sunday afternoon.
Florida State scored goals early in the first half and again at the outset of the second half too, to deflate the Panthers inspired effort and made it difficult to stay with the Seminoles on their home turf.
With the loss, the Panthers end the season with a program best 14-5-3 overall record.
Look for a more detailed recap to follow here later in the evening.  
Updates
FINAL — FLORIDA STATE 3, PITT 0
Super proud do this @Pitt_WSOC program's progress and toughness! We will be back! #H2P https://t.co/tT0xCzBgwR

— Heather Lyke (@Pitt_LykeAD) November 21, 2022
57′ — FLORIDA STATE 3, PITT 0
Ouch — that one hurts for the Panthers.

Jody Brown gets behind the back line for the goal — and it's now 3-0.

Again, FSU plays direct and burns Pitt. @pghsoccernow @NCAASoccer

— John Krysinsky (@JohnKrysinsky) November 20, 2022
No one is stopping Jody Brown! #OneTribe

📺: ESPN+ pic.twitter.com/HVhCxN9JWe

— FSU Soccer (@FSUSoccer) November 20, 2022
47′ — FL. STATE 2, PITT 0
Another early half letdown for @Pitt_WSOC…

this time as Leilanni Nesbeth gets a hold of a clearance, with an outstanding strike from beyond the box which gives @FSUSoccer the 2-0 lead early in the second half.@pghsoccernow @NCAASoccer

— John Krysinsky (@JohnKrysinsky) November 20, 2022
HALF — FLORIDA STATE 1, PITT 0
27' | We currently hold a 5-3 shots advantage with two shots on goal and a 1-0 lead! #OneTribe pic.twitter.com/bFIpzdvmuN

— FSU Soccer (@FSUSoccer) November 20, 2022
22' | FSU has been most dangerous with his speedy forwards getting behind Pitt's back line. Again, it happens again, but Panthers scramble to avoid damage. @pghsoccernow

— John Krysinsky (@JohnKrysinsky) November 20, 2022
20' | Great chance for the Panthers. Another free kick, this one from the far right corner. Left footed from Schupansky, right to Samaih Phiri, who heads it clean but just misses, going over bar.

1-0 FSU @NCAASoccer @pghsoccernow

— John Krysinsky (@JohnKrysinsky) November 20, 2022
2- FLORIDA STATE 1, PITT 0
That was quick!

Pitt pushed numbers forward right way, but got caught on the loooong direct ball counter, and just like that, FSU is in the lead, 1-0. https://t.co/uWo4LLeJF3

— John Krysinsky (@JohnKrysinsky) November 20, 2022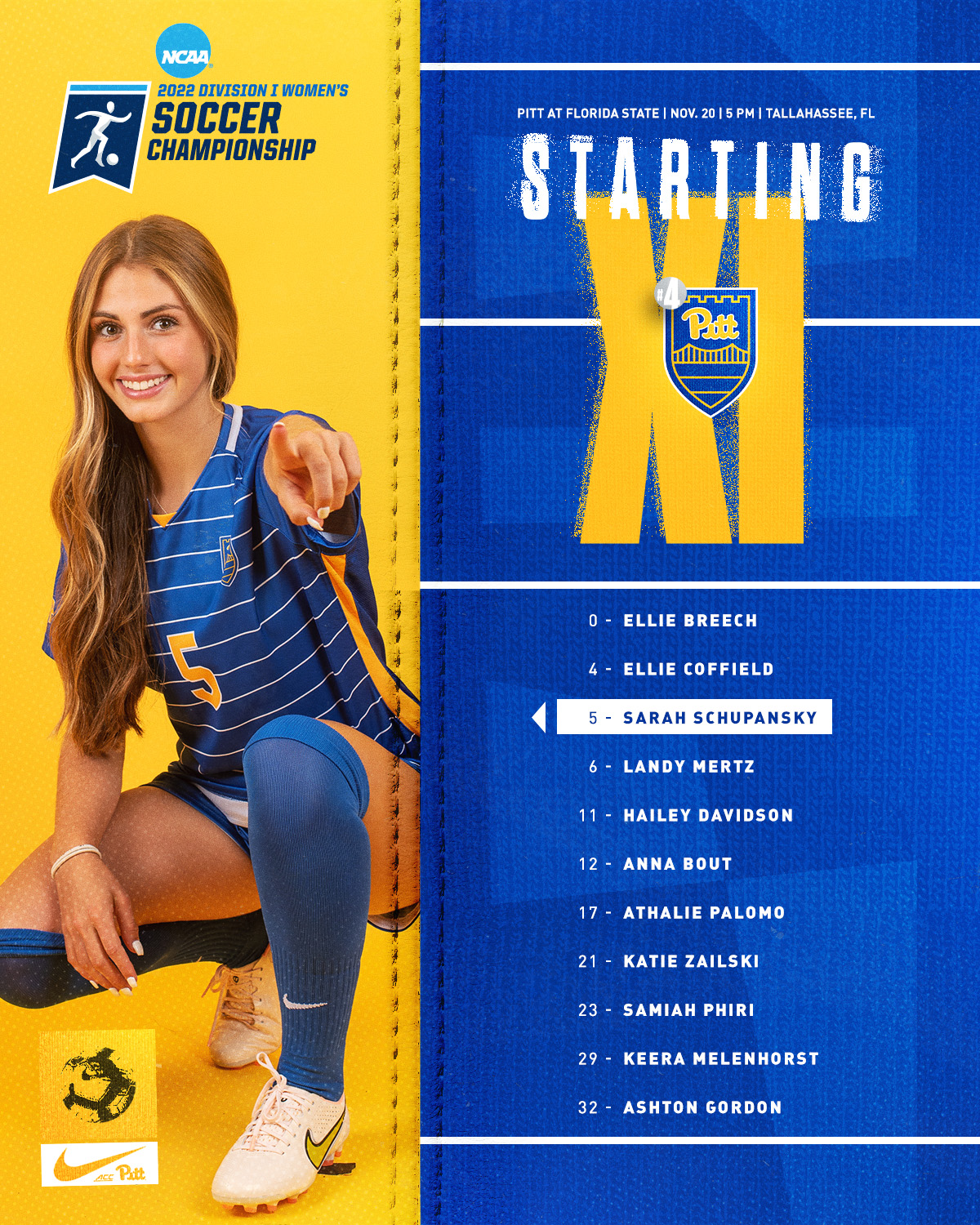 Here is today's 𝙎𝙩𝙖𝙧𝙩𝙞𝙣𝙜 𝙓𝙄 #OneTribe

📺: ESPN+ pic.twitter.com/07bi0yFIaq

— FSU Soccer (@FSUSoccer) November 20, 2022
Match Preview 
The Pitt Panthers women's soccer team has boldly gone where it's never gone before throughout the 2022 season, reaching many program firsts, including making it to the ACC tournament, reaching the NCAA tournament and winning its first two matches against Buffalo and Georgetown.
Now Pitt has a chance to really shake up the establishment, as they'll face the top seeded team in its region, ACC foe and the defending National Champions, Florida State on their home turf.
Late in the regular season, the Panthers gave the Seminoles a tough battle, losing 1-0, at Ambrose Urbanic Field.
Pitt women fall in close match to Florida State; focus goes to Clemson for ACC berth
After the match, following many years of losing one-sided matches to the 'Noles, the Panthers super sub Leah Pais declared there's a new team on the block that can play with the best.
"It's a new era for Pittsburgh against Florida State," Pais said to PSN's Rachael Kriger after that match.
"We've always been beaten by large amounts. This time we were battling: every single ball, every single opportunity to move forward, we took advantage of it. I thought a few of ours were going to go in, and we had some good chances, but at the end of the day, we took our foot off the pedal for a minute and they capitalized. We kept pushing right until the very last minute."
On Friday, the Panthers showed  its attacking firepower in the first half in a more open-ended match, scoring early, thanks to North Allegheny alum Sarah Schupansky's goal, then they responded after Georgetown found the equalizer, by scoring just two minutes later when Schupansky's corner kick connected with Katie Zailsky at the back post.
Pittsburgh showed lots of resolve and grit in the second half, in holding on to the 2-1 victory.
"(We are) excited about moving on, the result for sure," Pitt's Head Coach Randy Waldrum said after Friday's win vs Georgetown.
"If it were a regular season game, I would say that I was not happy with how we played in the second half. It's not the regular season, its playoff time, and you just find ways to grind out results, and with that, I am estatic."
Even as Waldrum acknowledged that his Panthers didn't stay on the front foot as much as he would have hoped, he also added that his group did a good job of being focused on closing out the match.
"I thought they did a really experienced, professional job of closing out that match," Waldrum stated.
On Friday, Florida State on the other hand, showed some rust early on, even trailing against LSU early, but then turned things up several notches en route to a 4-1 opening round win.
Pitt did a good job of keeping the Seminole attack in check, but keeping a great team from creating too much chaos doesn't eliminate individual talent from shining through in one big moment.
And that's exactly what happened at Ambrose Urbanic Field in late October.
Leilanni Nesbeth, whom Seminoles head coach Brian Pensky called the "unsung hero" of the team, scored the game-winner in the 67th minute. Nesbeth volleyed the ball to herself and fired, hitting the post and getting a lucky bounce in. There wasn't much Panthers goalkeeper Caitlyn Lazzarini could do.
Oh my 🤩🤩#NCAASoccer #SCTop10 x 🎥 @FSUSoccer
pic.twitter.com/0ttknJTrap

— NCAA Soccer (@NCAASoccer) October 23, 2022
After Friday's win, Florida State's players started to hone in on the match-up vs Pitt, saying that they left plenty of chances on the table in the first match in October.
"We know we can handle it, we can get up and score some goals," Ran Iwai, who scored the go-ahead tally on Friday said. "Last game it was 1-0, but we had many chances. So I think if we prepare well we will have a lot of chances."
The Panthers have confidence and with every win, they are believing more and more that they can continue this remarkable season and run in the NCAA tournament, no matter who they face and where they play.
There are some potential challenges, as goalkeeper Caitlyn Lazzarini went down with an apparent knee injury.  Immediately after the match, there wasn't much word on the severity of the injury to the Pitt senior keeper, but Waldrum was confident that back up keeper Ellie Breech, who played the final six minutes-plus of the win on Friday, will be more than up to the task.
"I think our players are full confident in Ellie Breech," Waldrum said. "I've said it all year, we have three really good goalkeepers. Ellie could have easily been our starter this year, as (Caitlyn) Laz(zarini)."
The team will be sticking with its routines and Waldrum is hoping they are able to get plenty of rest in the 48 hours between matches, while he and his staff watched the Seminoles in person, then looked at more game film.
"We're going to be doing what we've been doing the past few days," Zailsky said. "Hydrating. Getting enough sleep and recovery."
Schupansky added: "The fact that we've come this far, and done what we've done, we going to go as far as we can."
---
Pitt vs Florida State: Game Notes 
No. 19-ranked Pitt women's soccer team (14-4-3, 5-3-2 ACC) makes its first Sweet Sixteen appearance in its first trip to the NCAA Tournament, taking on No. 5-ranked Florida State (15-2-3, 8-2-0 ACC) Sunday in the 2022 NCAA Championship Third Round. The opening kick is slated for 5 p.m. at Seminole Soccer Complex in Tallahassee, Fla. The contest will be streamed live on ESPN+.
The No. 4 nationally seeded Panthers won their NCAA Second Round matchup with No. 18-ranked Georgetown, 2-1, on Friday in Tallahassee. Pitt opened NCAA Tournament play with a 1-0 triumph over Buffalo on November 12 at Ambrose Urbanic Field in Pittsburgh.
The winner of the matchup between Pitt and No. 1 overall seed Florida State will take on either No. 3 nationally seeded Arkansas or Memphis in the NCAA Championship Quarterfinals next weekend.
RESILIENT PANTHERS TOP HOYAS
Pitt potted a pair of goals in the first half, then held on in the final 45 minutes to shut out the Hoyas in the second half and score the one-goal win.
The Panthers put the first goal of the game on the board in the 19th minute, Pitt broke down the Georgetown defense, starting with Samiah Phiri feeding a through ball to Landy Mertz, who then got it inside to Sarah Schupansky who finished with the one timer. The goal marked Schupansky's seventh of the season.
Georgetown evened the score in the 37th minute, though, as Claire Manning found the back of the net.
Pitt wasted no time responding to the challenge, however, scoring off a corner. Schupansky took the corner and sent the ball toward the net. It deflected off of Katie Zailski and into the goal to give the Panthers a 2-1 advantage.
The second half saw Georgetown outshoot Pitt, 6-1, and control possession for much of the half. Pitt was able to hang on, though, and punch its ticket to the Third Round of the NCAA Championship.
Pitt earned the win despite being outshot by a 12-9 count. Schupansky tallied a game-high four shots, with two coming on goal. She tallied her third game of the season with at least three points and seventh of her career. Zailski finished with two shots.
Caitlyn Lazzarini finished with four saves before exiting the game with an injury late in the second half. Freshman Ellie Breech played the final 6:06 in goal to finish off the win.
HISTORY MADE
Pitt has been growing accustomed to making history.
The Panthers qualified for both the ACC Championship and NCAA Championship fields for the first time in program history in 2022. Pitt joined New Mexico State and Omaha as first-time participants in the NCAA Tournament this season.
Pitt clinched its first-ever berth in the ACC Championship field courtesy of a 0-0 draw with Clemson to close out the 2022 regular season. The Panthers had last appeared in postseason play in 2010 – a 1-0 loss at DePaul in the Big East Tournament First Round.
BUILDING THE PROGRAM
The Panthers are now 45-38-7 under the leadership of fifth-year head coach Randy Waldrum. After going 9-22-4 in the first two years of a massive rebuild, Pitt has gone 36-18-3 over the last three seasons.
PILING UP POINTS
Pitt has set a program record for points in a single season with 138 (47 goals, 44 assists). The previous high-water mark was shared by the 2020-21 and 1998 teams with 104.
OFFENSIVE ONSLAUGHT
Pitt has outscored the opposition 47-18 so far in 2022. The Panthers' 47 goals are a program record.
FINDING BALANCE
The Panthers have seen 13 different players find the back of the net so far this season. Leah Pais is pacing Pitt, scoring a team-high eight goals.
HOW MAY WE ASSIST?
Eleven different Panthers have distributed assists this season, with Sarah Schupansky leading the way with a career-high eight.
SCOUTING FLORIDA STATE
Pitt and Florida State meet for the 11th time on Sunday and second time this season, with the Seminoles leading the all-time series, 10-0-0. In this season's meeting on October 23, Florida State earned a 1-0 win courtesy of a goal by Leilanni Nesbeth in the 67th minute.
The Seminoles are the No. 1 overall seed in the NCAA Tournament after earning their ninth ACC Tournament Championship and third in a row. Florida State reached this year's Sweet Sixteen courtesy of 3-0 shutout of Florida Gulf Coast in the First Round and a 4-1 win over LSU Friday in the Second Round.
Florida State saw a league-high nine players named to the All-ACC teams, highlighted by Cristina Roque was named the ACC's first Goalkeeper of the Year. Roque has started all 14 games she's played in, making 50 saves while conceding 12.
The Seminoles boast three 20-point scorers, led by Jenna Nighswonger, who leads the squad with 28 points off of six goals and a team-high 16 assists. Onyi Echegini has scored a team-high 10 goals and has added three assists for 23 points. Jody Brown has 22 points off seven goals and eight assists. Nightswonger and Brown both garnered All-ACC First Team selection.
Subscribe to PGH Soccer Now