USL Championship – Week 7
FINAL: El Paso Locomotive FC 2, Pittsburgh Riverhounds SC 0
Match Statistics: USL Championship Match Center
Match Summary
The Pittsburgh Riverhounds SC allowed two preventable goals on the road, losing 2-0, to El Paso Locomotive FC at Southwest University Park on Saturday night.
Despite holding the slight edge in shots  8-7 (4-3 on frame) and possession (52/48), the Hounds weren't able to convert on their chances en route to their second straight road loss.
After a slow start, the Hounds were starting to turn the match in its favor in the latter portion of the first half.  The Locomotive turned the tables though, in the 39th minute, when Petar Petrovic found himself on the receiving end of a well-placed ball over the top from Denys Kostyshyn.
Petrovic took a touch, then sent a right-footed finish past Hounds keeper Jahmali Waite to give the home side the 1-0 lead.
Again, the Hounds turned up the pressure in the second half, but saw its efforts tarnished when goalkeeper Jahmali Waite made an inexplicable error, coming way off his line — about 15 yards from the edge of the box to attempt to head a long ball off the bounce.  Waite couldn't connect with the ball, allowing El Paso's Lucho Solingnac to waltz toward goal unchallenged for the easy finish.
One of those nights. It happens. https://t.co/metvC1w4i9

— Matt Popchock (@PopchockSays) April 23, 2023
With the loss, the Hounds drop to 2-2-3 overall.
Pittsburgh will turn its attention to the US Open Cup Third Round, as they'll take on Maryland Bobcats on Tuesday night at Highmark Stadium (7 p.m. kickoff).
The Hounds' next league match will be next Saturday at Indianapolis, when they face Indy Eleven for the first time this season.
Look for more reaction and analysis from this match to come Sunday.  
Match Updates
Follow along for the latest updates including starting lineups, match highlights and more from the match here.
---
FINAL:   EL PASO 2, PITTSBURGH 0
90′ ++ — YELLOW CARD – Arturo Ordonez
Another stoppage time booking for Ordonez.
85′ — DIkwa with a chance as he slips behind last defender as Diaz comes way off his line but the chip attempt is stopped by Diaz.
79′ — SUB HOUNDS — Harmon comes out — as he's replaced by Burke Fahling.
78′ — Harmon again creating something on the right side, for Showunmi — but shot is denied.
76′ — Good chance for Hounds — but Harmon low cross for Dikwa is denied.
72′ – Two more El Paso substitutions. Each team with two changes remaining. IN: Josué Gomez, Louis Herrera OUT: Ricardo Zacarias, Denys Kostyshyn
69′ — GOAL — EL PASO 2, RIVERHOUNDS 0
An absolute gift for Luis Solingnac as Hounds keeper Jahmali Waite comes way out to play long ball, but it bounces over him and an easy goal for 'Lucho' who becomes El Paso's all-time leading scorer.
68′ — YELLOW CARD – Joe Farrell  (Hounds)
65′ — lots of possession for the Hounds, but the best they can do is set up a corner when Dikwa gets forward but Yuma with the sliding poke to the end line.
59′ — SUBS for Hounds
DZ Harmon, Tola Showunmi and Trevor Zwetsloot are in.
Coming out… Pat Hogan, Luke Biasi, Edward Kizza
HALF — EL PASO 1, RIVERHOUNDS 0
The Hounds were better in the last 25 minutes, except for one long ball where the three center back were stretched — allowing for Petrovic to get the game's lone goal.
Here's a look at the goal the Hounds gave up in the first half.

Ironically, they've played a lot of 4-man back line early this season, but now with three center backs, as they did last year a few times, they get burnt on a direct ball. #ELPvPIT https://t.co/iYHODMiAbZ

— John Krysinsky (@JohnKrysinsky) April 23, 2023
39′ — GOAL – EL PASO 1, RIVERHOUNDS 0
Petar Petrovic with the finish after a terrific ball over the top from Denys Kostyshyn
30′ — Edward Kizza header attempt is just wide!
28′ — In-swinging corner — and Waite punches it away.  Looked like that one was going in.
25′ — Good battle on the right (attacking side) for the Hounds between Biasi and Borelli.  This time Borelli slide tackle sniffs out Biasi attempt to make a run up the endline.
22′ — By the way, it's a full complement of experienced center backs in the lineup for the Hounds tonight, as this is the first match where Farrell, Ordonez and Hogan all in the lineup.
20′ — after playing it long a few times, the Hounds exercising more patience, and taking more time on the ball in the past 5-7 minutes.
15′ — That's two diagonal ball attempts that go to long — as this time Farrell over shoots his mark to the right.
11′ — YELLOW CARD — Luke Biasi takes down Borelli – -and gets booked too.
10′ — Hounds press causes turnover — but another shot this one from Forbes after a few passes connect, is deflected and pretty easy save for Benny Diaz
6′ — Dikwa shot blocked by MIles Lyons on the counter
4′ — SAVE Jahmali Waite — Lucho Solignac unleashes shot from pretty close range as he gets inside Ordonez
9:35 p.m. ET — Match has kicked off.
9:15 p.m. ET — Hounds starters have been posted…
Very few surprises.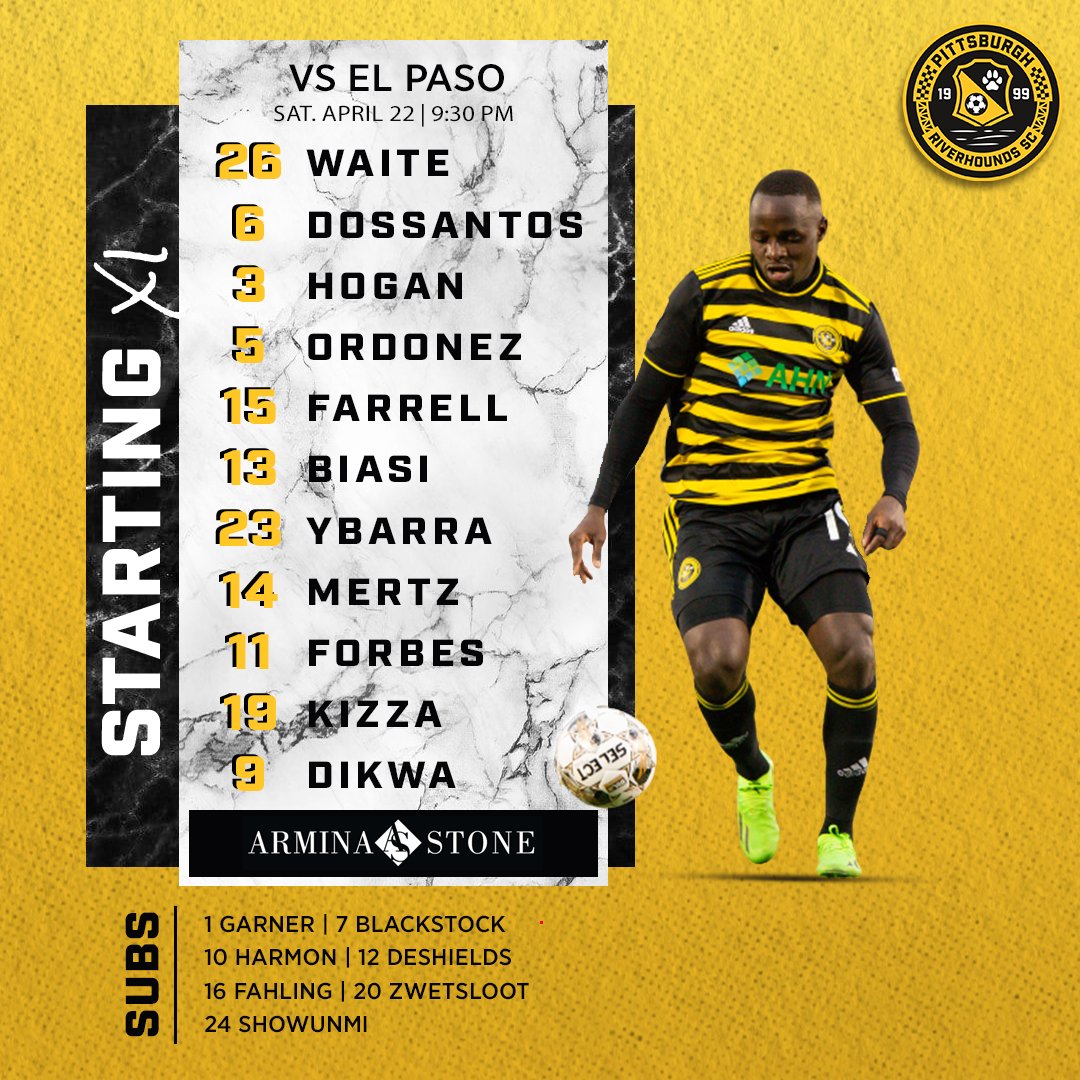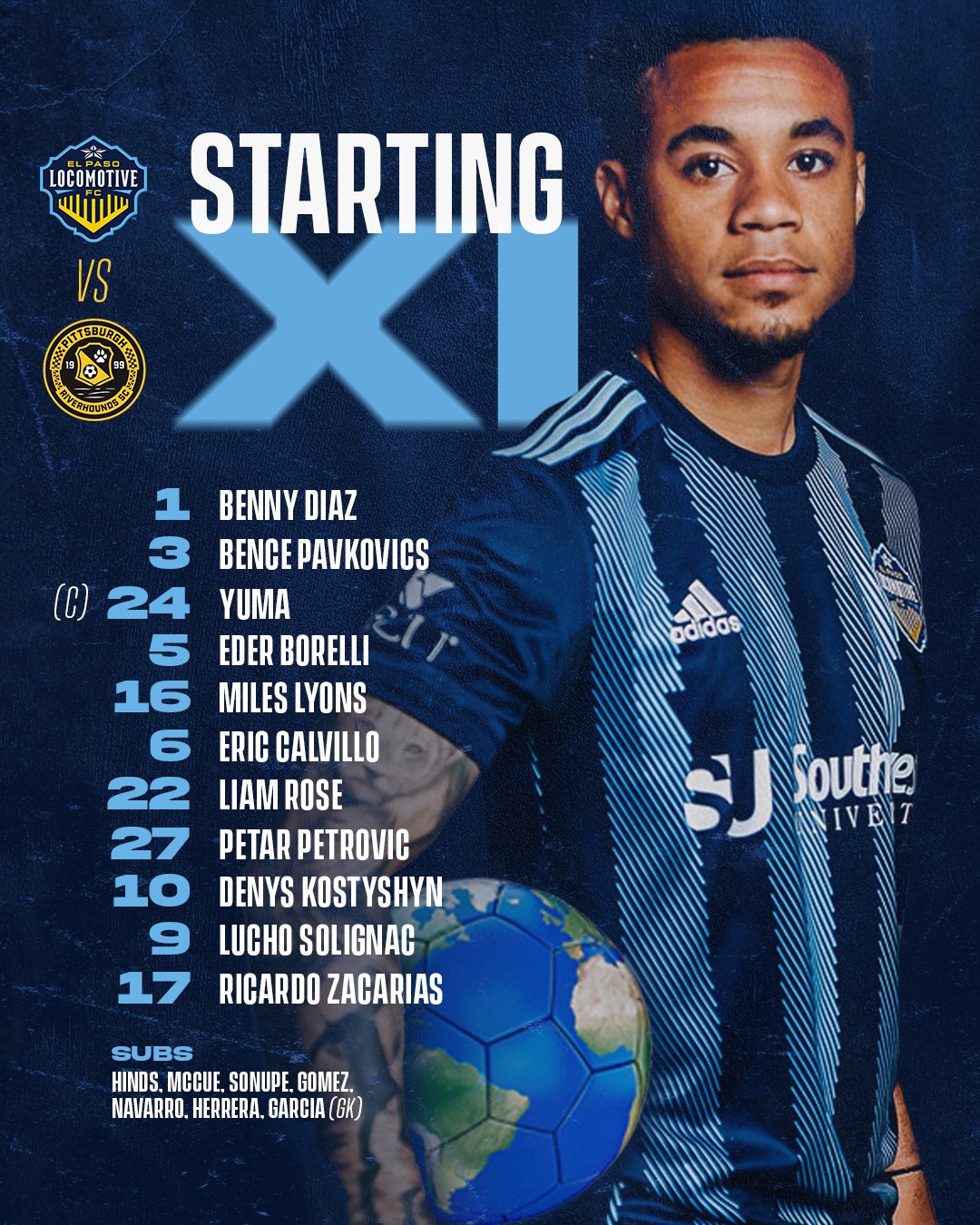 Ahead of tomorrow's @RiverhoundsSC match at El Paso, the team's injury/inactives report is back to one…

Junior Etou (Out – Arm injury) #ELPvPIT @PghSoccerNow

— John Krysinsky (@JohnKrysinsky) April 21, 2023
Match Information
Saturday, April 22 |  9:30 p.m.  |  Southwest University Park, El Paso, Texas
Odds: Hounds +220 / Draw +230 / El Paso +105 (FanDuel)
Live updates: @RiverhoundsSC on Twitter
Match hashtags: #ELPvPIT and #HOUNDTAHN
PSN's Riverhounds SC Coverage 
Preview and Scouting Report: Riverhounds look to stay on track against revived El Paso Locomotive
Hounds Notebook: Early season 'Togetherness' contributes to solid defending regardless of who's in the starting XI
Takeaways and Player Grades: Second half breakthrough ends Hounds scoring drought

Riverhounds MF Kenardo Forbes
Subscribe to PGH Soccer Now