Lamar Hunt U.S. Open Cup – Third Round 
FINAL: Pittsburgh Riverhounds SC 2, 
Maryland Bobcats FC 0
Match Summary
The Pittsburgh Riverhounds SC found two late second half goals to defeat the Maryland Bobcats FC, 2-0, in the Third Round of the Lamar Hunt U.S. Open Cup tournament on Tuesday night at Highmark Stadium.
Forward Edward Kizza came off the bench as a second half substitute to score the game's breakthrough goal in the 81st minute, then Burke Fahling added the insurance late in the 90th minute.
For much of the match, Bob Lilley's squad played on the front foot, but had nothing to show for it.
However, the Hounds took care of business to shake off a challenge from a pesky third division Maryland Bobcats side that showed plenty of confidence and willingness to keep bringing transition opportunities when they presented.
"It was nice to see the quality of those two goals.  It was nice to see the resiliency and the toughness to keep going," Lilley stated after the win.
The Hounds entered the match with a handful of players making their first starts for the club.
Lilley felt it was important for those players to fight through the difficult moments, and find a way to pull through for the victory.
With only a few mainstays in the starting eleven including Robbie Mertz in the holding midfield spot, Tony Lopez in the attacking midfield line and Luke Biasi starting at right back, the Hounds dictated terms of the match for long stretches, holding 58 percent of possession and a 22-6 edge in shots.
Pittsburgh struggled to hit the target with their first-half chances, however, as Fahling was the first to force saves by Bobcats goalie Alex Sutton with consecutive shots in the 36th and 38th minute.
"We were getting behind them. It was a game, early, where there were a couple goals in it (for us). We had some corners, but weren't finishing in the final third," Lilley said.
"When you don't get the goals, they (Maryland) went into the half, thinking, it's 0-0. Then stepped up the pressure, ran at our back line, and caused us some problems."
The Bobcats threatened early in the second half, and their leading scorer and former Tampa Bay Rowdies and DC United Academy product, Darwin Espinal, weaved into the penalty area after squeezing through a pair of Hounds defenders to force one of three saves by Garner in the 57th minute.
The Hounds did go to the bench with 20 minutes to play, and one of the fresh faces into the game was Kizza, whose last two goals for the club came as a substitute in last year's USL Championship playoff win over Birmingham.
As the match entered the final 10 minute stretch, it remained scoreless, but the Hounds kept pushing forward.
Eventually they found the game-breaking moment when Luke Biasi chipped a ball from the right side to the back post area, where Tola Showunmi rose to head the ball back to the front of the goal for Kizza.
The former Pitt star had no problem driving home his one-time finish to give the Hounds the elusive lead.
Kizza credited Tola Showunmi with setting him up for what turned out to be a tap-in goal.
"The biggest thing (as a substitute) is asking how you can influence the game," Kizza said. "The guys who have been playing have already been giving all they can, so it's about what you can do to help the team get a result and tonight, it doesn't matter who the opponent is, you just want to make a difference."
As the game entered stoppage time, the Hounds Academy product getting his first action with the senior club, Anders Bordoy, found himself with room to shoot from the top of the box and drilled a low shot toward the back post.
Sutton made the initial save, but Fahling was in the right spot to put home the rebound.
GOAL RIVERHOUNDS!@RiverhoundsSC double their lead through Burke Fahling on the rebound!#USOC2023 pic.twitter.com/iG07JnWYVC

— U.S. Open Cup (@opencup) April 26, 2023
A senior at Kiski Area High School and a Hounds Academy product who had his first Open Cup experience in 2015, as a ball boy in the frantic match played before a rabid, overflow crowd at Highmark Stadium vs DC United, made the most of his first playing experience in the Cup.
"I just walked out there, and it felt surreal," Bordoy said about entering his first professional game. "To make an impact too for a goal was special. It was one of the best feelings I've felt in my life. Hopefully there's more of those to come."
Lilley was impressed by his youngest player.
"For Anders to come on and recognize the space … there was no hesitation there," Lilley said.
"He's got a gifted left peg and that ball was true. There wasn't any spin on it. I don't know if it was going in or was going to hit the post, but you can't tag a ball much better. Anyone in our league would be happy with that quality of a strike."
Despite his squad's inability to find the back of the net for 80 minutes, despite being in control for much of the match Lilley never thought much about making drastic lineup changes, as he kept plenty of belief in his lineup selections and the players he used in the match.
"We could have gone to the bench a lot earlier, but I wanted the guys to find a way," Lilley said.
"I wanted to put the responsibility on them, to step forward, and they were able to do that."
Riverhounds SC lineup (4-2-3-1) — Christian Garner; Langston Blackstock (Anders Bordoy 89'), Mike DeShields, Pat Hogan, Luke Biasi; Trevor Zwetsloot, Robbie Mertz (Marc Ybarra 84'); Tony Lopez (Nate Dossantos 69'), Burke Fahling, DZ Harmon (Edward Kizza 69'); Tola Showunmi (Arturo Ordóñez 84')
Maryland Bobcats FC lineup (4-4-2) — Alex Sutton; James Filerman, Abdul Kooistra (Karl Mbouombouo 89'), Abdellah Mansour, Phillip Brown (Nicolas Likulia 71'); Darwin Espinal, Manny Gonzales, Josselin Possian, Andrew Wivell (Mohamed Conteh 82'); Akingbolahan Akinkoye (Abdulrahmane Madad 82'), Caleb Pritchett (Samuel Solomon 82')
Scoring summary
PIT — Edward Kizza 81' (Tola Showunmi)
PIT — Burke Fahling 90+1'
Discipline summary
MD — Josselin Possian 39' (caution – tactical foul)
MD — Manny Gonzalez 45' (caution – dissent)
PIT — Langston Blackstock 57' (caution – tactical foul)
Match Updates 
All match updates/commentary including starting lineups and highlights to be posted below:
---
FINAL: PITTSBURGH 2, MARYLAND 0
89′ — GOAL RIVERHOUNDS 2, MBFC 0
Pounces on rebound with blast from right post side after Bodroy's terrific low shot forces Alex Sutton save.
81′ — GOAL – RIVERHOUNDS 1, MBFC 0
EDWARD KIZZA
GOAL RIVERHOUNDS!@RiverhoundsSC has been knocking and Edward Kizza finally gives the home team the lead. pic.twitter.com/x5NkZMytZN

— U.S. Open Cup (@opencup) April 26, 2023
76′ — Hogan almost the hero! Mertz free kick from left endline connect with Hounds 6'4″ defender, but great save by Bobcats GK Alex Sutton.
68′ — Hounds Subs: IN: Edward Kizza, Nate Dossantos OUT: DZ Harmon, Tony Lopez
57′ — Best chance for Maryland, as Espinal squeezes through a pair of Hounds defenders on left side, and somehow gets away a low shot that forces as Christian Garner save.
57′ – YELLOW CARD — HOUNDS — And now a card shown to Langston Blackstock, which gives the Bobcats a free kick along the right sideline.
50′ — Hounds definitely on the front foot in the first five minutes of the 2nd half. Couple corner kicks — nearly an own goal on the first and MBFC clearance on the second keeping this one scoreless.
HALF — PITTSBURGH 0, MBFC 0
45′ — Fahling takes the free kick, but it goes into wall and out.
45′ — Harmon fouled on the edge.  YELLOW CARD on MBFC's Manuel Gonzalez.
41′ — MBFC with free kick from right side that creates some danger but eventually cleared by Pittsburgh.
39′ — YELLOW CARD – MBFC – Josselin Possian drags down Fahling.   Free kick spun in from Mertz doesn't materialize.
38′ — Another chance from Showumni backheel to Fahling, but the latter can't get a strong foot on it, and weak shot is easily saved by Sutton.
.@RiverhoundsSC starting to put some pressure on! @MDBobcatsFC
holding tough, still 0-0.

B/R App ➡ https://t.co/wADT99Fhdk
B/R Football YT ➡ https://t.co/LicxwO6nXI#USOC2023 pic.twitter.com/RCriLQJEIO

— U.S. Open Cup (@opencup) April 25, 2023
36′ — Burke Fahling with a chance just inside middle of the box, but is denied by diving save from MBFC's Alex Sutton.
31′ —  Hounds with its most enlightening build-up thus far. Mertz with the diagonal ball to Harmon who gets behind defender. DZ serves up a ball on a platter for Showunmi, who misses a point blank shot attempt wide right. 27′ — Harmon played through by Tola, but his shot sails high with the defender leaning on him. DZ looks for a penalty, but none given.
22′ — Mertz free kick nearly connects with Blackstock, but MBFC defender right there.
19′ — Shot attempt from outside the box from the Bobcats' saved by Hounds GK Christian Garner.
The visitors not backing down so far, still 0-0 after 20.

B/R App ➡ https://t.co/wADT99Fhdk
B/R Football YT ➡ https://t.co/LicxwO6nXI#USOC2023 pic.twitter.com/rkxnsqEc5d

— U.S. Open Cup (@opencup) April 25, 2023
9′ — Lopez gets a nice pass on left edge of box — rips shot that misses right.
8′ — Hounds earn match's first corner kick.  Long service from Mertz is booted wide and way over the next
Our Squad in the Maryland Red Today! #ForAll pic.twitter.com/lRoc9tZC2o

— Maryland Bobcats FC (@MDBobcatsFC) April 25, 2023
HOUNDS STARTING XI:
Academy product Anders Bordoy makes the 18 for the first time
Blackstock, DeShields and Harmon all make their first starts with the Hounds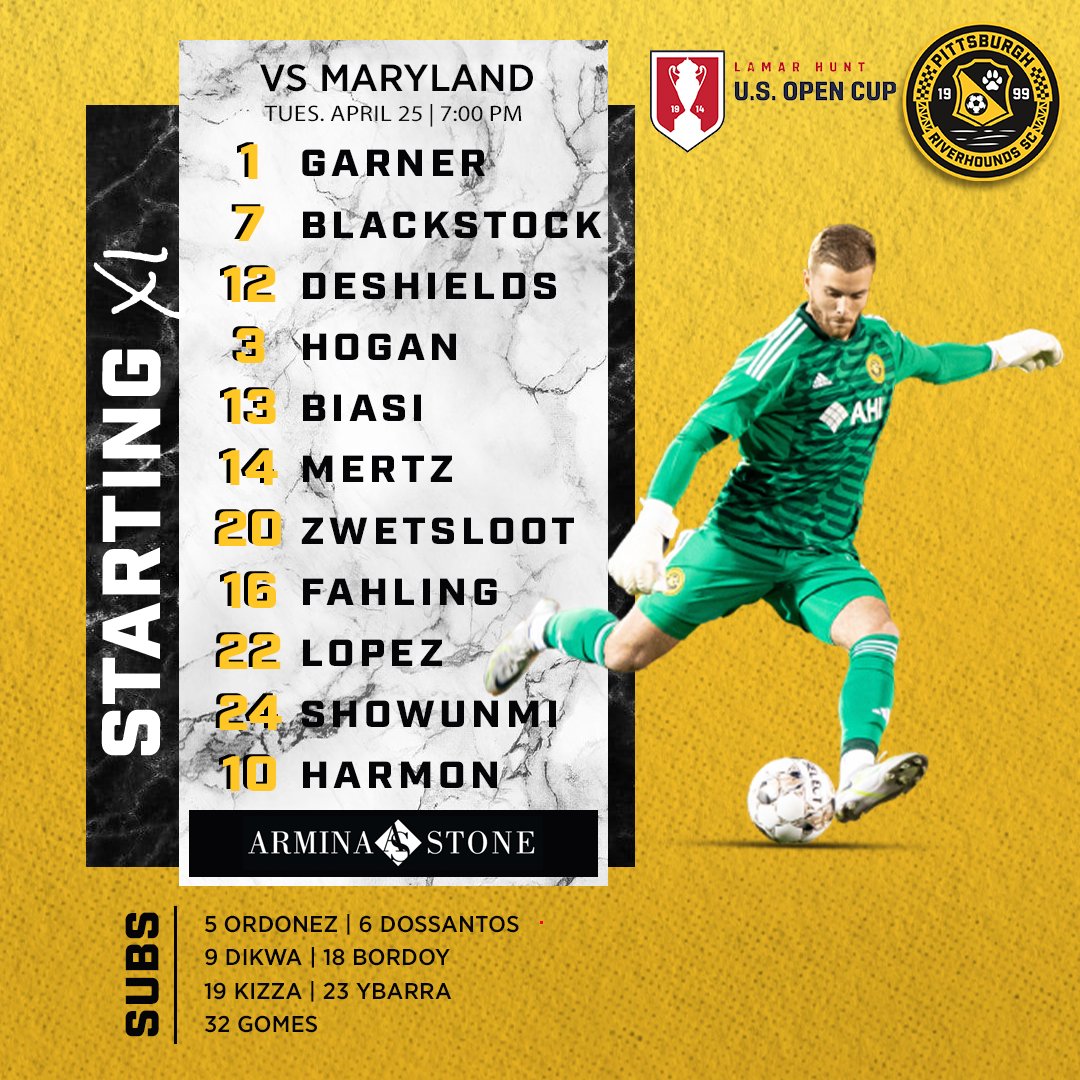 MD BOBCATS STARTING XI: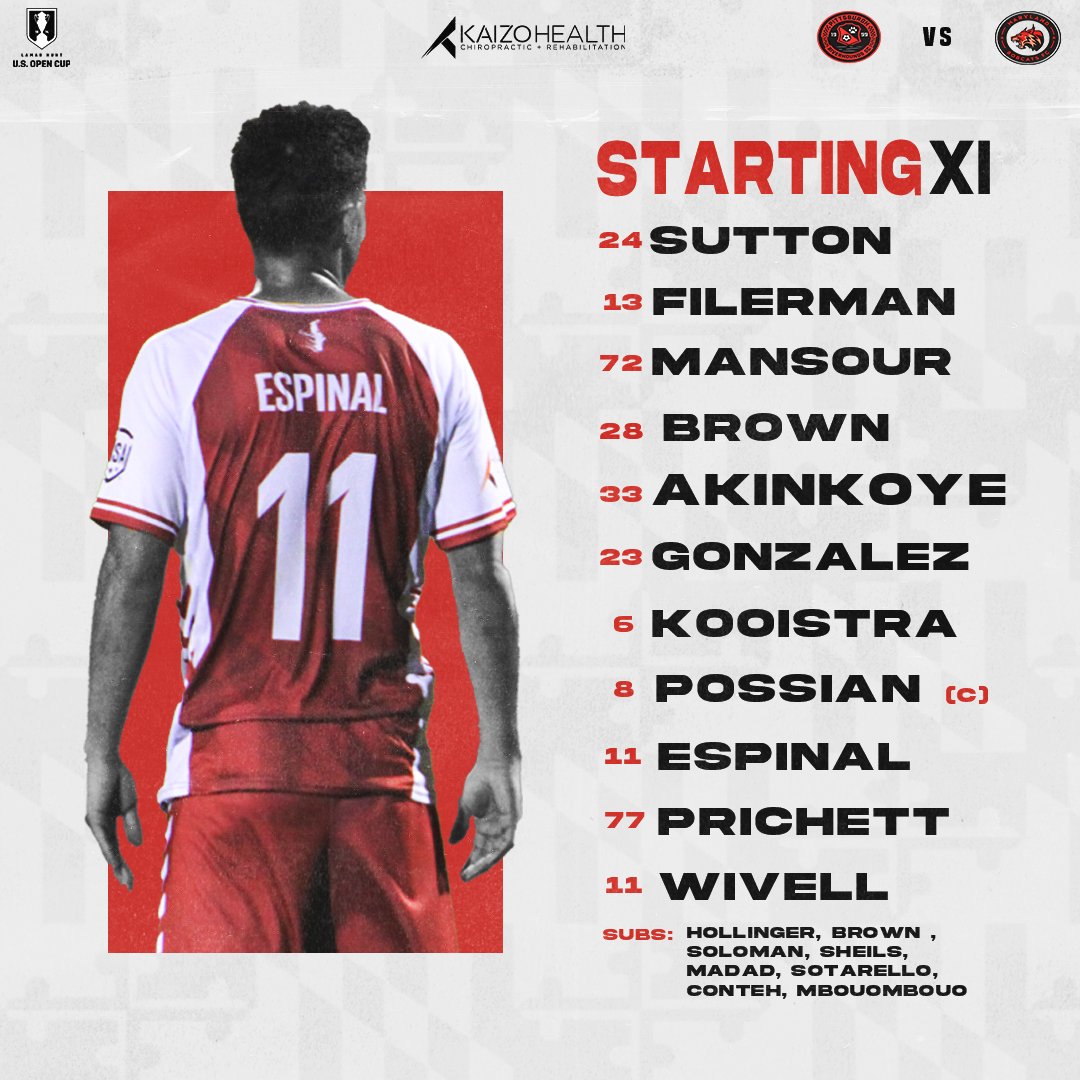 Ahead of @RiverhoundsSC #OpenCup2023 Third Round match vs @MDBobcatsFC on Tuesday night, here's a look at the injury/inactives report:

OUT
Junior Etou (arm)
Dani Rovira (knee)

— John Krysinsky (@JohnKrysinsky) April 25, 2023
John Krysinsky's Projected Riverhounds Starting XI:
---
Recent Riverhounds SC Coverage & Match Preview
Preview and Scouting Report: Maryland Bobcats are back in the 'Burgh for Open Cup rematch with Hounds

Riverhounds MF Kenardo Forbes
Subscribe to PGH Soccer Now