Riverhounds 2, Birmingham Legion FC 1
Match Stats: USL Championship Match Center
Match Summary
Albert Dikwa continued his hot goal scoring streak, leading the Pittsburgh Riverhounds SC to an important 2-1 victory over Eastern Conference rival Birmingham Legion FC before a sellout crowd at Highmark Stadium on Saturday night.
"It's a game we had to win. We're seeing a team that's starting to create a bit more," Riverhounds Head Coach Bob Lilley said after the match.
"We haven't scored a ton of goals, but today, as far as I'm concerned, we scored three. Overall, it was a good team effort."
With the win, the Hounds climb up in the USL Championship Eastern Conference standings, to 14 points (on 3-2-5 overall record). With two more goals, Dikwa now jumps into a two-goal lead in the race for the Golden Boot.
In the 11th minute, Dikwa's brace started with a first half tally after Danny Griffin's looping feed from the top of the arc found Kenardo Forbes' on the right edge of the box.
Forbes delivered a one-time, low cross right into the goal box for Dikwa.
He just can't stop scoring! 🤩@DikwaAlbert bags his league-leading eighth goal for @RiverhoundsSC!#PITvBHM pic.twitter.com/u8lLDpjDzo

— USL Championship (@USLChampionship) May 13, 2023
After taking the lead, Pittsburgh continued to match possession with Birmingham, but Lilley felt that his team lost its sharpness and overall shape, with the attacking midfield line, wingers and Dikwa pushing too far up the field.
As a result, Birmingham took advantage of a prime chance, when they had a free kick on the edge of the 18, following a foul called on Hounds' defender Pat Hogan.
One of the youngest players in the league, 17-year old former FC Dallas Academy product Matt Corcoran buried the close range free kick, with a brilliant strike that froze Hounds keeper Jahmali Waite, and flew into the left side of goal to level the match.
The Hounds made one lineup adjustment at start of the second half, as Lilley swapped holding midfielders, with Marc Ybarra replacing Trevor Zwetsloot.
More determined to stay connected and push forward collectively, the Hounds created a number of chances, including a 63rd minute Danny Griffin header which landed into the back of the net, setting off a celebration where the Hounds' newest returnee dashed to the Steel Army upon the apparent goal.
However, officials Adam Kilpatrick waved off the goal, with the match remaining level.
After the match, Pittsburgh Soccer Now submitted an inquiry with Kilpatrick and his crew, and received the following explanation on the disallowed goal.
As part of protocol, match media submitted a question on the disallowed Hounds goal.

Here's official Adam Kilpatrick's response:

"Prior to goal being scored, Pittsburgh Riverhounds #2 Danny Griffin committed a pushing foul on Birmingham Legion #13 Jake Rufe." #PITvBHM

— John Krysinsky (@JohnKrysinsky) May 14, 2023
The Hounds didn't let that set back discourage their push for the go-ahead goal.
"We had great fans. We had the energy. we knew we have to keep it coming," Dikwa said.
"I had to get myself in position to score."
In the 70th minute, Dikwa came through again, making a run toward a stinging Langston Blackstock cross, redirecting a quick flick header that spiraled into the goal for the 2-1 lead.
"It's hard to mark him. He's determined," Lilley boasted.
"He's going to drag center backs around. He's done really well for us. That's why he's getting it done. It doesn't surprise me. No one has worked harder in this team and in this league."
Lilley made a few more substitutions, and the team closed out the win by allowing only one more shot from Birmingham for the remaining 20-plus minutes.
"The team's operating well now. We have guys ready to stop up.
This team's still finding still finding its identity.
New guys are starting to step up.
"Good to be at home. Good to have a great crowd. We got the early goal. We flew out the gates in terms of going forward. Game turned. Disappointing. Game turned when they scored. Second half was much better."
"We're moving in the right direction."
Look for more to come on this match on Pittsburgh Soccer Now, including more Ed Thompson photos, and post match reaction videos and more. 
Match Updates 
Look for the latest match updates below
---
FINAL:  RIVERHOUNDS SC 2, BIRMINGHAM 1
Big league win for the Hounds, who are now 2-0-1 at home, as they climb up closer to Birmingham and Charleston at the top of the table. Albert Dikwa's brace leads the way.
Hounds record now stands at 3-2-5 good for 14 points in USL Championship play
84′ — LAST HOUNDS SUB — Forbes comes out — Michael DeShields enters.
Hounds are in a 5-3-2 shape trying to close out this one. The last two USLC matches, they've surrendered late equalizing goals.
76′ – Final Legion subs. The Hounds still with one remaining. IN: Collin Smith, Gabriel Alves OUT: Moses Mensah, Jake Rufe
74′ – Hounds look to solidify the middle of the park with their third substitution, and it's the first home game back from injury for Junior! IN: Junior Etou OUT: Langston Blackstock
70′ — GOAL — RIVERHOUNDS SC 1, BIRMINGHAM 1
ALBERT DIKWA WITH THE DOUBLE! Dikwa redirects a Langston Blackstock cross from left side with his head as he comes flying forward. Degree of difficultly on that one was pretty high. Goal number nine for AD for league leader!65′ — More subs in for Hounds: Edward Kizza and Luke Biasi in for Robbie Mertz and DZ Harmon.
63′ – Danny Griffin goal waved off.  Official ruled a push from behind.  Griffin ran to Steel ARmy and everything.
THIS JUST IN…   Hounds announcing paid attendance for tonight's match: 5,123 Another sellout!
46′ — At start of 2nd half. One change for the Hounds, as Marc Ybarra, fresh off his impressive performance vs New England, replaces Trevor Zwetsloot as holding midfielder
HALF — PITTSBURGH 1, BIRMINGHAM 1Hounds looked sharp early, and it paid off with Albert Diwka's league-leading 8th goal. Birmingham took advantage of close range free kick to equalize. Pretty even match overall (Shots PIT 4-3, 1-1 | Poss 51 BHM 49 PIT)34′ —
33′ — GOAL — BIRMINGHAM 1, PITTSBURGH 0
Matt Corcoran buries his close range free kick strike into the left side of goal.
Hounds keeper Jahmali Waite was frozen on that one.
Opportunity came after Pat Hogan foul on edge of box.
33′ — Hogan with the foul on the edge of the box
27′ — INJURY / SUB
Former Robert Morris University standout Neco Brett went down with an injury — and comes off with a wrap on leg. Looks like he's out for the rest of the match. Juan Argudelo — a former MLS / USMNT player — is now in the match for Neco.
He just can't stop scoring! 🤩@DikwaAlbert bags his league-leading eighth goal for @RiverhoundsSC!#PITvBHM pic.twitter.com/u8lLDpjDzo

— USL Championship (@USLChampionship) May 13, 2023
11′ — GOAL — RIVERHOUNDS 1, BIRMINGHAM 0
Albert Dikwa with the finish.  Great ball in one-touch cross from Kenardo Forbes.
Dikwa now alone in league lead with 8 goals.  Danny Griffin switched the ball over from the top of the arc with a short looping ball that landed right at Forbes' foot.
4′ – Mertz draws foul 35 yards out — Hounds go with the quick restart.
Hounds starting XI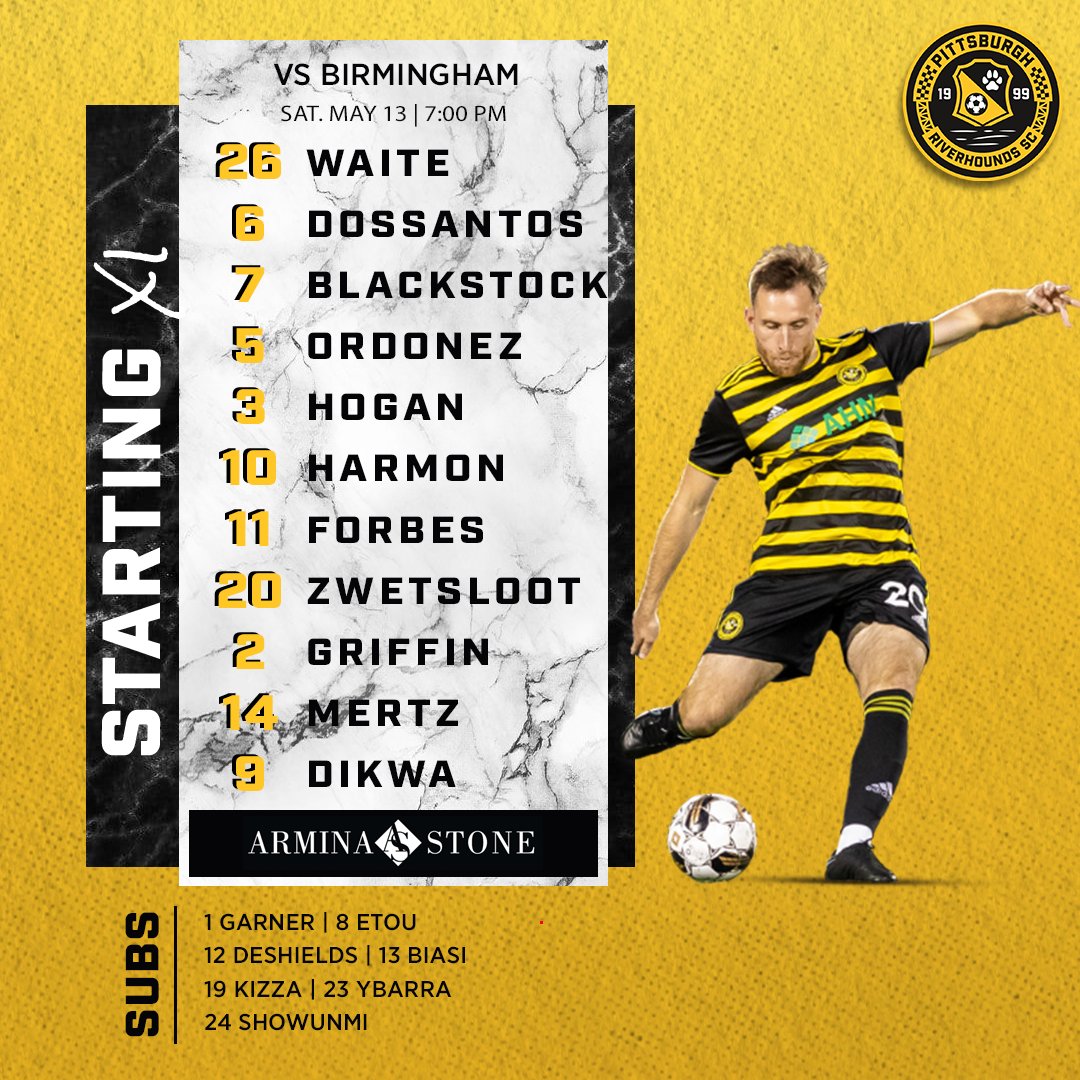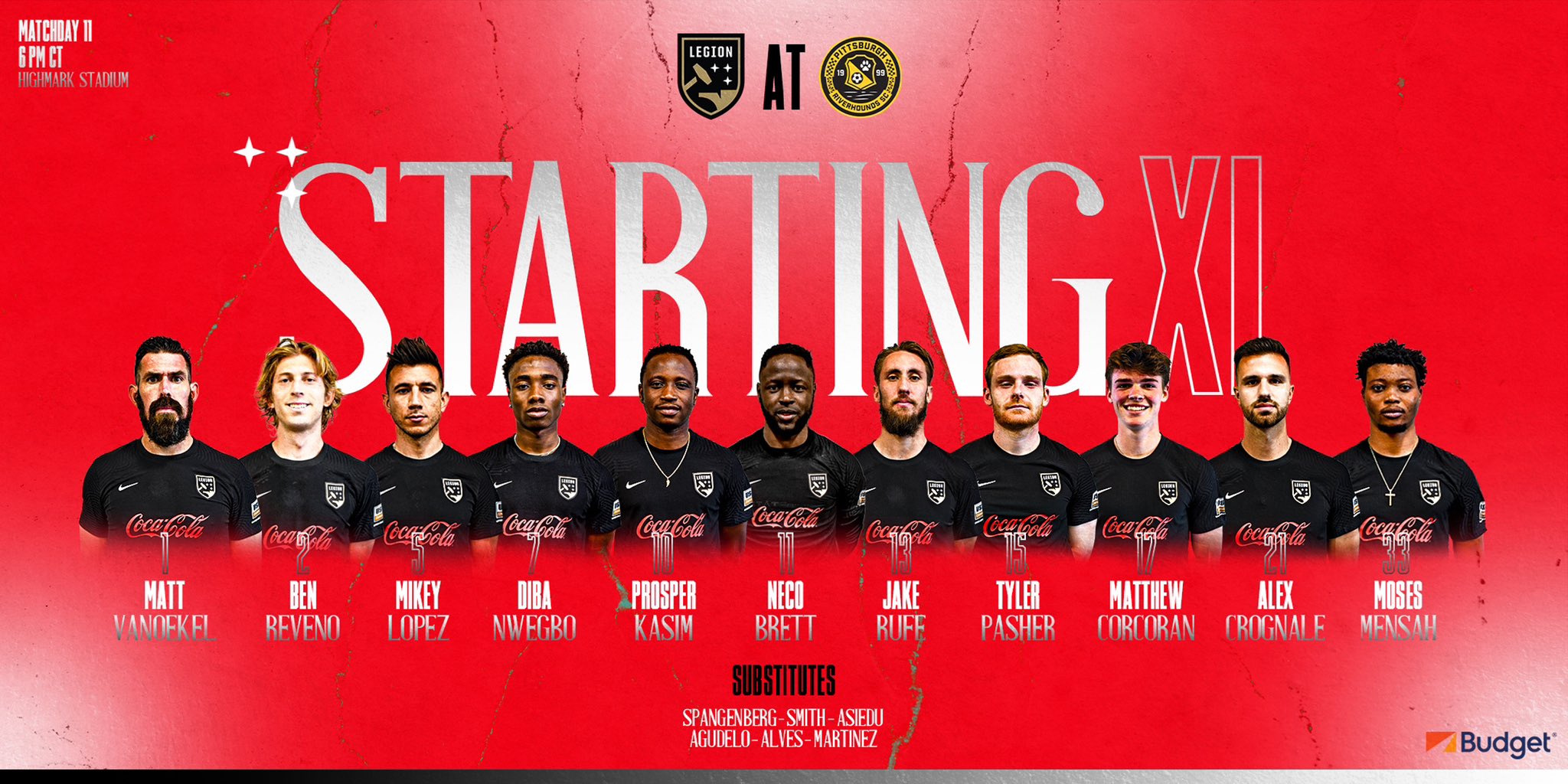 Riverhounds MF Kenardo Forbes
Subscribe to PGH Soccer Now