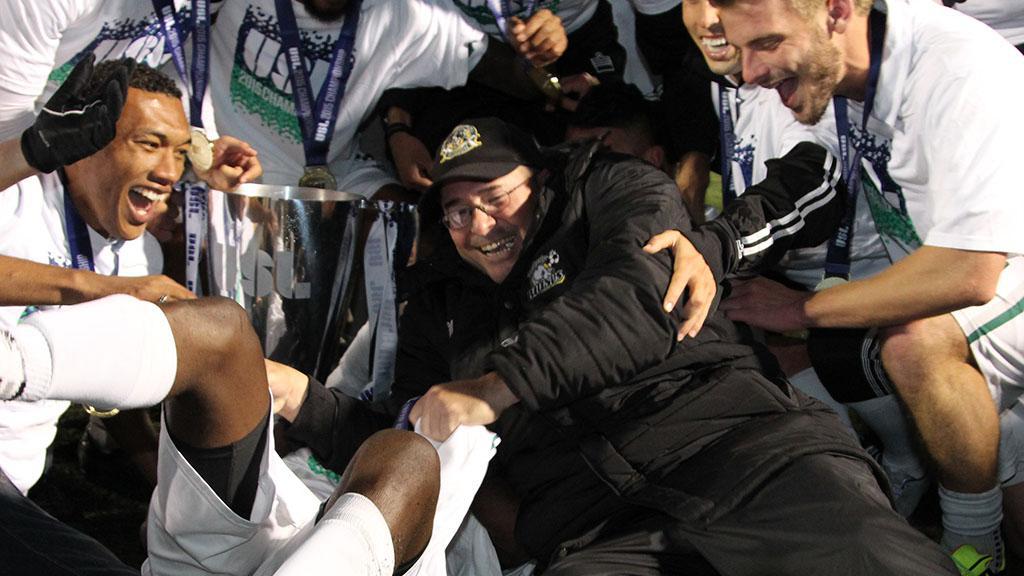 Tuesday, November 14 was a day Pittsburgh soccer fans may never forget for a long time.
The Riverhounds issued a one-sentence media advisory on Monday night announcing a 2 p.m. press conference for a 'major personnel change.'
There was a lot of speculation — and it was anyone's guess as to what would be happening as the Hounds organization were keeping things very tightly guarded.
While I did acknowledge that that it could happen, it still didn't seem possible that the Hounds would replace head coach Dave Brandt without some extenuating circumstance.
Then, shortly after 2 p.m. — Bob Lilley entered the Highmark Stadium suites.
What?
The same Bob Lilley who was gracious enough to grant me a long post-game interview on October 7, after Rochester jumped over the reeling Hounds to put the nail on the coffin of their 2017 campaign — and providing me with his thoughts about how tough the Hounds were to face this past season.
The same Bob Lilley who has won everywhere he's been as a pro soccer coach.
The same Bob Lilley who led Rochester to the USL Cup title in 2015.
Yes — that Bob Lilley…
Bob Lilley!! pic.twitter.com/keb09ZR6YJ

— John Krysinsky (@PghSoccerScribe) November 14, 2017

Of course, as Riverhounds owner Tuffy Shallenberger introduced Lilley to Pittsburgh, there were extenuating circumstances that led to this stunning coaching change that has made Lilley the 10th coach in the 18-year history of the franchise.
For complete coverage of the press conference, read my detailed, full-report filed for DK Pittsburgh Sports here.
Kudos to Shallenberger for acting quickly — and making the most out of a tough situation.
No one was more disappointed in what had happened with Brandt than the Hounds owner, who really believed in Brandt — a coach he had brought to Pittsburgh to help change the culture and bring a winner to his franchise who was deemed ineligible due to US Soccer Federation's coaching license standards.
We can tackle that issue in the coming weeks and months. Despite Brandt having an advanced National License with NSCAA, with over 20 years of experience as a coach, and was the winningest coach in NCAA at the time of his departure from Navy, the Hounds and the USL were not in a position to be granted any special provisions or waivers.
There's no doubt that it is an unfortunate situation for Brandt, who was working hard and preparing for the 2018 campaign.
Tuesday's spotlight certainly shone brightest on Lilley, who provided for an engaging press conference, acknowledged what he called a 'tricky' and tough situation for Brandt, who he said has been helpful with the transition.
VIDEO driven by @ExpressPittsN: @Dejan_Kovacevic goes in-depth with the new coach of the @PghRiverhounds, Bob Lilley: https://t.co/r8h8YmM3U0

— DK Pittsburgh Sports (@DKPghSports) November 15, 2017

Lilley stuck around after the press conference — speaking with some of us — and then had an enlightening sit down with Dejan Kovacovic — in DK Pittsburgh Sports studio. If you get a chance, check out the interview, which Lilley shares his thoughts on coming to Pittsburgh — and the current situation of the state of U.S. Soccer.
Still, the more Lilley spoke about the things that have been going on here in Pittsburgh in terms of growing the game, he highlighted many positive aspects about soccer in our area, and spoke glowingly about what the Hounds have done, particularly in building an foundation to be successful but have not yet reached its full potential — especially on the field.
While the Rochester Rhinos franchise led by Lilley through this decade has carried on a strong winning tradition on the field, it' has been the problems they've had off the field have continued to develop – as their future remains in doubt.
And at least for Lilley — Pittsburgh provides greener pastures — thanks in large part to the foundation that the Hounds and Shallenberger have established — and the unlimited promise of soccer reaching a much higher ceiling in this area.
"Seeing everything that's being done with the youth here. We lacked that model in Rochester, and Jason (Kutney) and the staff here have done to grow that. The new field being put in (in Montour Run). Corporate sponsors that are on board. It's a different Pittsburgh than five, seven, eight years ago," Lilley boasted.
Only three years ago, the franchise was facing a desperate hour — and Shallenberger was able to keep the team afloat after financial overruns from previous ownership mostly due to overflowing costs of building Highmark Stadium. Shallenberger and his accountants were able to engineer a restructuring that saw the organization work its way in and out of bankruptcy court.
Shallenberger hasn't escaped a fair share of growing pains for the Hounds franchise under his watch, While there was an exciting season in 2015 that provided for a playoff berth, the team has since stumbled and underachieved in the past two years.
Shallenberger has said that he desperately wants to win.
Don't believe me?  Listen to his in-depth interview on MonGoals podcast from Tuesday evening.
We got @Tuffy_Shall to give us all the details about @PghRiverhounds new coach Bob Lilley and what it means moving forward. Great stuff as always, go listen: https://t.co/okhfceovoQ

— Mon Goals (@mongoals) November 15, 2017

With Lilley, he's brought in a proven winner who believes the Hounds franchise is on the precipice of great things.
"This club is generally poised to jump to the next level," Lilley said on Tuesday. "I think hopefully – getting a little more on the winning side will help propel that a little more.  Because I think it's a great market, it's a great city. I've been all over, but I am excited about this project because I want to experience this city because it's such a great sports city."
Now we'll get a chance to see a USL Hall of Fame coach go to work and do something we haven't had here — consistent winner that will contend for championships and trophies.  And while he's been known for being a defensive-first coach — building teams that are so tough to score on — Lilley believes in building a team that will be entertaining too.
"We dictate and play on our terms – and I think that's a Pittsburgh feel – to be gritty, to be tough and hopefully that's what we're going to bring to the table game in and game out."
Gritty
Tough
Winners
Yes Bob, those are qualities that Shallenberger, the Riverhounds — and Pittsburgh sports fans love.
And it will be exciting to see how it all comes together and if the Hounds can indeed get to the next level.
MORE TWEETS FROM THE DAY THAT WAS AND THE AFTERMATCH…
Brandt out. Lilley in.

Stunned.#UNLEASH

— Steel Army (@SteelArmy) November 14, 2017
"Riverhounds Purchase New Bus"

— Sean H. – WE SMASHED THE NASH!!! (@PancakeHat) November 14, 2017
Awful news for the Rhinos. Does this move say more about the Rhinos or the Riverhounds? Are the Rhinos destined to fold or are the Riverhounds closer to possibly becoming an MLS Franchise and Lilley wanted in on the ground floor? https://t.co/UdShQNqtCK

— Stephen Bond (@SportsByBond) November 14, 2017
Bob Lilley is a great hire for the @PghRiverhounds …Great lower div. Win %. Lots of experience working in small budget situations. The Riverhounds should benefit from this hire.

— Alex Fydryszewski (@AFydryszewski) November 15, 2017
"It was very important to Wendy and I to look after Bob's best interest." #Rhinos owner David Dworkin on Bob Lilley

Read between the lines much? #USL https://t.co/wiFqPgnjCg via @DandC

— Jeff DiVeronica (@RocDevo) November 14, 2017
Good Morning!
We have Bob Lilley
Harrisburg is rebranding and who knows that Rochester will be saying today.
This is the silly season.

— Steel Army (@SteelArmy) November 15, 2017
Riverhounds MF Danny Griffin
Subscribe to PGH Soccer Now