Riverhounds SC 3, Hartford Athletic 1 
Highmark 'originals' Kerr and Angulo steal the show in Hounds 3-1 win (inc. player grades)
Game Day Updates
Second Half notes
46′ – Hounds open 2nd half drawing a free kick. Forbes takes it, ball into box for Greenspan who redirects to Dos Santos who's shot is saved by Kempin.
49′ – GOAL – JOSE ANGULO!!
Wow. Jose Angulo strikes at Highmark again! Catches Hounds keeper Lundgaard off his line and bends it in from distance!
63′ – Velarde gets a nice feed on left side of box — tries to bounce it past Kempin, but shot is saved!
74′ – GOAL – KEVIN KERR!
Bends it in from the top of the box! Hounds take 2-1 lead. That's 20th all-time goal for the Scotsman in Highmark Stadium.  Assist from Anthony Velarde
75′ – Subs — Velarde and Kerr are out, making way for Mouhammad Dabo and Noah Franke.
79′ – PENALTY!  Dos Santos draws foul on edge of box.
GOAL – Neco Brett – scores his second PK goal of season to give Hounds 3-1 lead!
84′ – Hometown boy Robbie Mertz is the Hounds final sub. In for Neco Brett.
Rachaell McKriger Gallery
This slideshow requires JavaScript.
First Half notes
1′ – In the lineup for Hartford includes both former Hounds, Jose Angulo and Ray Lee.
4′ – Columbus Crew loanee Luis Argudo in his first start with HFD, making an early physical play on Jordan Dover, knocking Hounds outside back to the ground. No call
9′ – With Dabo out of the lineup, Thomas Vancaeyezeele is playing in the holding MF spot tonight and Kenardo Forbes dropping back there too. Kerr, Velarde and Brett are all in attacking MF spots. Dos Santos at the top.
10′ – Phillip Rasumssen played a nice through ball, between Adewole and Greenspan, but lunges on shot attempt that goes over bar.
14′ – GOAL – Steevan Dos Santos
Hounds patient in possessing it in the final third, swing it around to Kevin Kerr, who delivers a perfect ball in the middle of the box to Dos Santos who outjumped a pair of defenders to head the ball into the net.
HOW'S THIS FOR A HOME OPENER GOAL, @SantosSteevan!!! 💪 #UNLEASH | #PITvHFD pic.twitter.com/HjpjgmYejL

— Pittsburgh Riverhounds SC (@RiverhoundsSC) April 13, 2019
That was Kerr's 25th assist as a Hounds. Now tied for the top spot in club history with David Flavius in club history!
20′ – Brilliant ball through by Forbes, who drew a few defenders, for Dos Santos, but the low shot is right at Hartford keeper Jonathan Kempin.
28′ – After a few deflections, ball comes to feet of Dover, who's shot attempt bounces just wide right of goal.
34′ – Alex Dixon blows by Adewole and Ryan James to end line on right side — sends a rolling cross into the six. Angulo's there, but not ready quickly enough for it and Hounds dodge a bullet.
39′ – Dos Santos playing some 1-2s with James — and on getting ball back, sticks leg out and draws foul. Another FK coming. Kerr takes it, but its headed away.
43′ – James finds Brett — but after keeper Kempin comes out to take away shot angle, Neco slide ball through the six for nobody.
Starting IX
Riverhounds SC
GK 
Ben Lundgaard
Back line 
Joe Greenspan, Tobi Adewole , Thomas Vancaeyezeele, Ryan James, Jordan Dover
Midfield 
Kenardo Forbes 
Kevin Kerr 
Anthony Velarde
Neco Brett 
Forward 
Steevan Dos Santos 
Hartford Athletic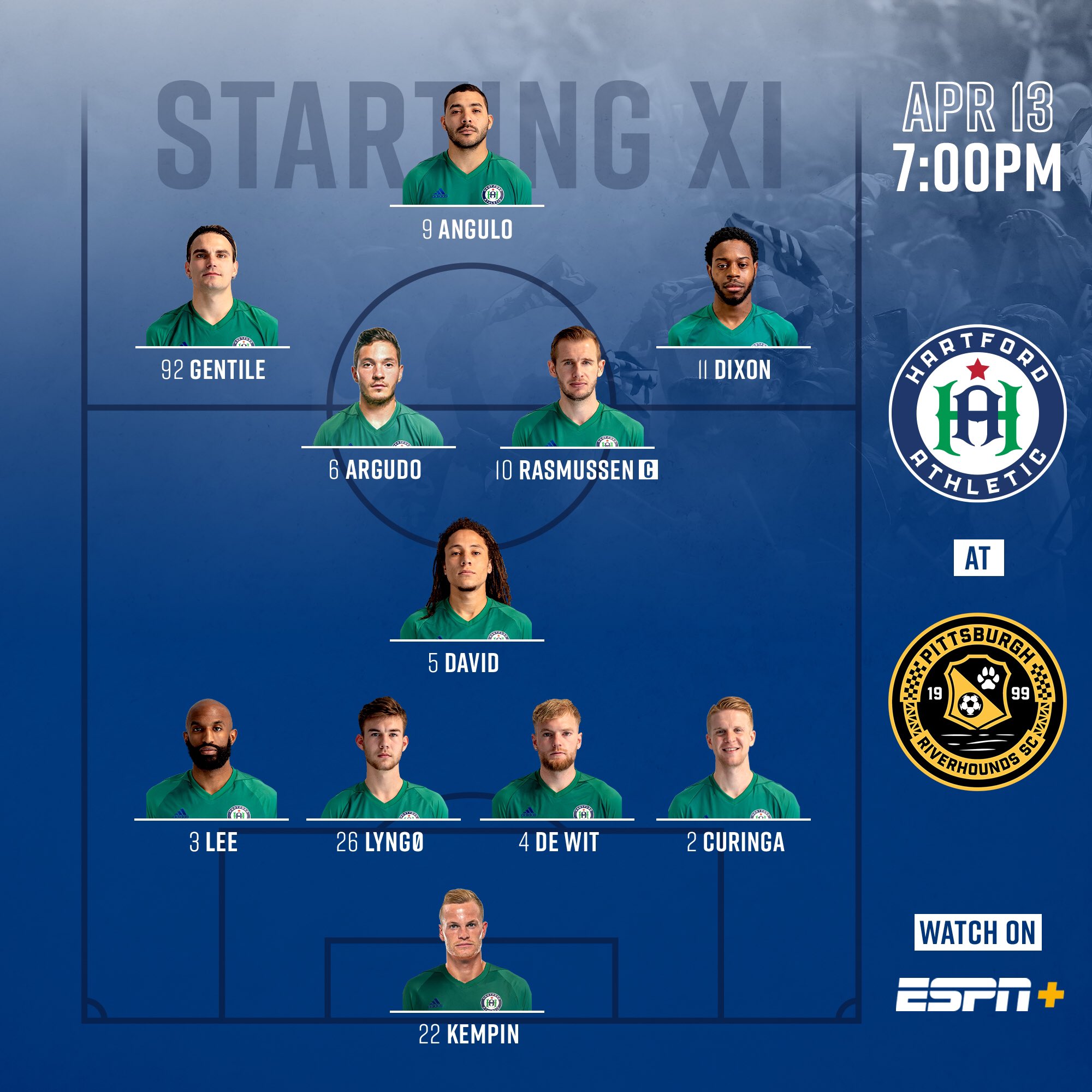 Well no surprise.
Spring road construction in Pittsburgh. On Carson right by @highmarkstadium. Wonderful to see them tearing up road on day of @RiverhoundsSC home opener. pic.twitter.com/eODo0LhjNv

— John Krysinsky (@PghSoccerScribe) April 13, 2019
Media Notes
ON THIS DAY: The Hounds opened Highmark Stadium on April 13, 2013, losing to Harrisburg City Islanders.
This will mark the second return to Highmark Stadium for former Riverhounds forward Jose Angulo, who won the USL Golden Boot and MVP honors in 2013. Angulo returned to Pittsburgh in April 2017, scoring a goal to lead Saint Louis FC past the Hounds, 2-1.
Kevin Kerr and Angulo were the only two players who played in Highmark's first game.  Kerr is moving up the ladder in Hounds history books as he's second all-time in appearances. He currently has 25 goals (tied for 8th in club history with Rob Vincent) and 24 assists, which is one away from the all-time club record.
Pregame Coverage on Pittsburgh Soccer Now and more
Preview and Scouting Report: Pittsburgh Riverhounds vs Hartford Athletic
"A better surface helps the better team. I happen to think we're one of the better teams." Hounds head coach Bob Lilley
Preview and Scouting Report: Pittsburgh Riverhounds vs Hartford Athletic
Column: Not so new anymore, Highmark Stadium now hosts a nostalgic Hounds home opener
View From The Booth: A touch of 'sophistication' is the goal
"Words can't express how excited I am," Adewole said. "It's been very long, these last couple months we've been practicing in Coraopolis. So it's good to get on our feet at home and get the ball running. I'm excited to see all the new fans how they open us up."
Staying Lavish: Tobi Adewole becoming a leader in his third Riverhounds season
Joe Greenspan shooting on… Steevan Dos Santos!? 🤔 pic.twitter.com/zNmW9X9Vx7

— Pittsburgh Riverhounds SC (@RiverhoundsSC) April 12, 2019
Subscribe to PGH Soccer Now