Riverhounds SC 0, Saint Louis FC 0 – Final 
PITvSTL Takeaways: Hounds attack falls short in soggy, scoreless draw
9:56 – GAME OVER – Game ends in scoreless draw.
On a very soggy night in Pittsburgh, the Hounds (now 2-1-3) extend unbeaten streak (2-0-3) to five games, while St. Louis remains at the top of USL Eastern Conference table with 15 points (4-1-2).
The match was delayed for an hour, and finally kicked off at 8:05 p.m.
Hounds goalkeeper Ben Lundgaard made one save, while Pittsburgh could only muster one shot on target from Neco Brett.
Final Game Key Stats:
Shots: 7-6 (Pgh), 1-1 on target
Possession:  50/50
Corners: 6-3 (Pgh)
Crosses: 33-11 (Pgh)
Yellow cards:  Pittsburgh 4, Saint Louis 0
FULL TIME: 0-0 | #PITvSTL pic.twitter.com/8TV9vkkSuU

— USL Championship (@USLChampionship) April 21, 2019
Look for additional post-game reaction, takeaways and more to follow late Saturday, and Sunday morning.
9:53 – Hounds caught scrambling, Tobi Adewole gets bumped,clearing space and somehow — St. Louis can't capitalize on chance on right side of box. 88′
9:51 – Noah Franke delivers ball in for Volesky who almost redirects it as a back-flick — from behind the back — and nearly goes in!
9:49 – Hounds make final sub. It's Noah Franke is in for Neco Brett
9:41 – both teams still can't find final magic in final third.
9:34 – Christian Volesky comes in for Kevin Kerr (69′) — second sub for Hounds.
9:30 – first sub for Hounds (62′). Anthony Velarde in for Mo Dabo.
9:28 – Neco Brett almost nudges a shot through into near post side with help from deflection, but STL keeper Fenlason quick enough to react to stop it from going in.
9:20 – Jordan Dover issued yellow card. Tangled up on the sideline — a little push off.  58′
9:15 – STL getting close. Kadeem Dacres gets a chance after being played through but his shot goes wide.
9:14 – Kerr delivers another dangerous ball for Dos Santos to middle of box, but the big guy can't get it on frame.
9:13 p.m. – Saint Louis creating some chances early in 2nd half.
8:56 p.m. – key halftime stats
Possession -50/50
Shots – 6-3 Pgh,(on target 1-1)
Crosses – 15-6 Pgh
8:52 p.m. – halftime arrives — as Saint Louis with its first shot attempt on frame in the late stages of the half. It was Joaquin Rivas with a left footed shot from outside the box is saved in the center of the goal — as Ben Lundgaard, Hounds keeper, dove to his left to secure the ball.
8:46 p.m. – Hounds with a few chances. Neco Brett from right side, but saved by Fenlason.
YELLOW CARD: Steevan Dos Santos follows a ball played back in box, colliding with Fenlason and the Hounds big target man called for a yellow card for what ref believes was a late arrival. Dos Santos argues to no avail.
8:40 p.m. – tight defensive match in driving rain with only one shot on target for each side thus far.
8:08 p.m. – They've kicked off.
7:45 p.m. – Hounds announcing that they're gong to try to get this one started around 8:05 p.m.
Signs of life! Warm-ups resuming in Pittsburgh. #PITvSTL pic.twitter.com/phv5Df0ud5

— Matt Grubba (@Matt_Grubba) April 20, 2019
6:45 p.m. – a lightning strike was sighted, and now there's a weather delay.  Kickoff pushed back at least a half hour.
Starting IX 
Riverhounds SC Starters and full 18…
Quick notes:
Third Straight start for GK Ben Lundgaard
Anthony Velarde is the odd man out of the midfield tonight. Mouhamad Dabo is in the 11.
Christian Volesky, who was in street clothes last week, is back in the 18 tonight.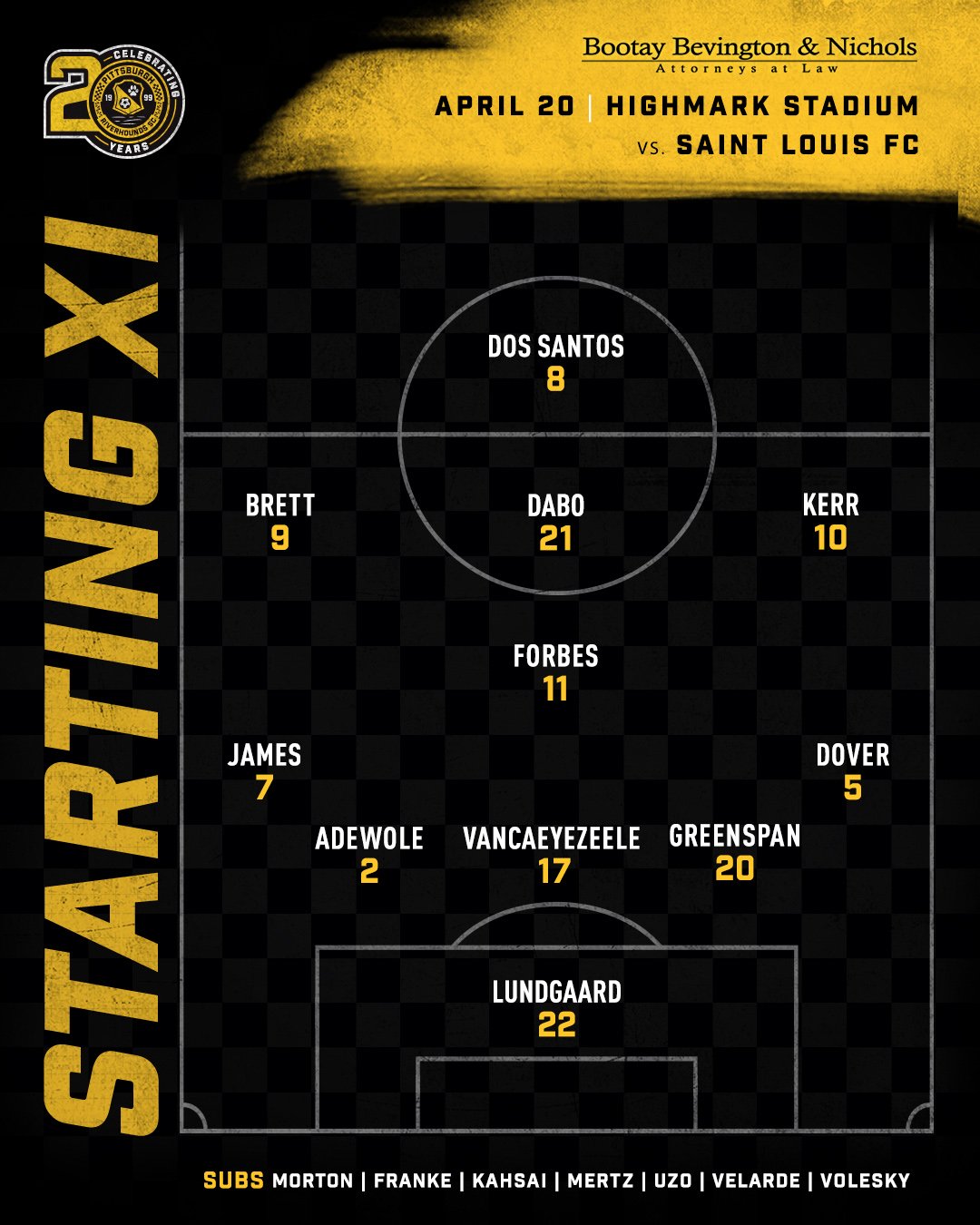 Saint Louis FC starters…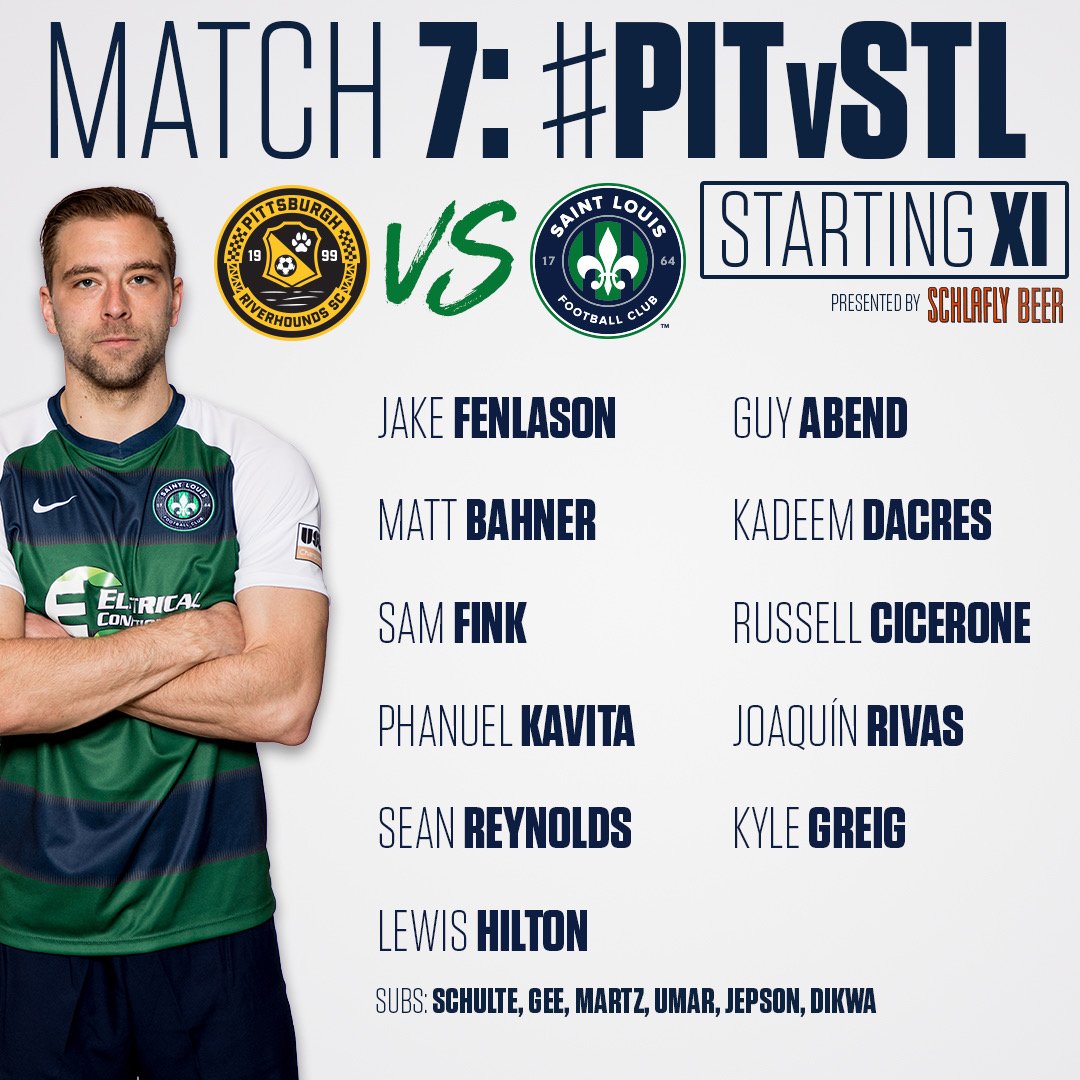 Injury Report / Discipline Report 
The Hounds don't have any injuries to report and no player has landed on the USL Championship's Disciplinary Report
Pregame Notes
The last time these clubs met at Highmark Stadium (April 12, 2017), Saint Louis FC won 2-1. Forward Christian Volesky, now a Hound, scored a goal for Saint Louis in this match. Another former Hounds, Jose Angulo, who scored last week for Hartford, scored the first goal in that match too.
Historically, Saint Louis FC and the Hounds have been evenly matched across the board. Pittsburgh holds an all-time record of 1-1-2 against the foe, including a 0 goal differential. • Leading the Black and Gold with 13 shots and five shots on target, Steevan Dos Santos notched his first goal of the season last time out against Hartford Athletic.
Dos Santos' work rate has been unmatched this year, as the forward leads the club with 144 duels, which is more than double any other Hound. Defender Jordan Dover has the second-most duels (67) on the club.
 In four straight matches, the Black and Gold have been awarded a penalty kick. The club has converted three of these four chances from the penalty spot. Forward Neco Brett has scored on a penalty kick in two straight games.
The Hounds are scoring 1.60 goals per game. This is their highest per-game average since they averaged 1.89 goals per game during the 2015 season.
In regular season matches, Pittsburgh holds a nine-game unbeaten streak at Highmark Stadium. The last time the Black and Gold dropped a regular season tilt at the venue was a 1-0 defeat to the Charleston Battery on July 21, 2018. Also of note, the squad lost its 2018 playoff match against Bethlehem Steel FC, 2-2 (8-7 penalties), at Highmark Stadium.
Pittsburgh is one of three teams in the USL Championship Eastern Conference to currently hold a four-game unbeaten streak (Tampa Bay Rowdies and New York Red Bulls II).
Last time out, the Black and Gold out-touched Hartford Athletic inside of the attacking penalty area, 32-11.
On the club's all-time home-goal leaderboard, Kevin Kerr ranks second with 22 tallies and Brett places tied for ninth (Gary DePalma) with 12 tallies at friendly confines.
This week's coverage on Pittsburgh Soccer Now and more
View From The Booth: Three ways Hounds started on front foot
Riverhounds SC Notebook: Target man Dos Santos adds versatility to attack
Column: Big crowd, win provide promise for Riverhounds SC 'to build something bigger'
"We have to make sure we are ready for battle…"

Hear more insight from Head Coach Anthony Pulis before our #PITvSTL match in this week's Blue Chip Bugging the Coaches! pic.twitter.com/q2gvEPDACQ

— Saint Louis FC (@SaintLouisFC) April 19, 2019
Talked to @RiverhoundsSC outside back @J_dover this week on playing at Highmark Stadium and chirping his old teammate Ray Lee last week when they squared off …

Hounds at home again tonight vs. @SaintLouisFC! 7 p.m. kick. pic.twitter.com/s1ntBnG8aC

— Matt Gajtka (@MattGajtka) April 20, 2019
Subscribe to PGH Soccer Now