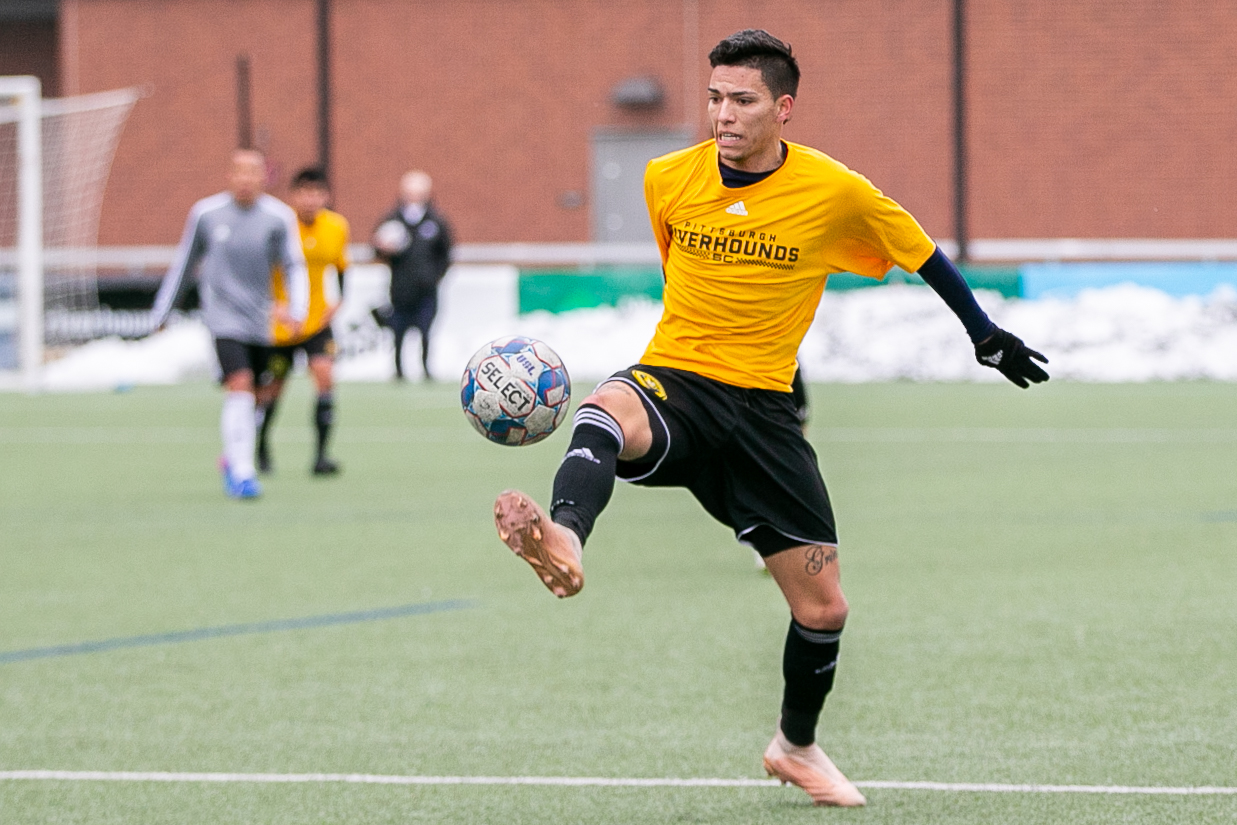 Other than one signing, and a pair of impact players signing elsewhere, things have been fairly quiet for the Riverhounds SC news front through the late December, early January holiday period.
Hounds head coach Bob Lilley said that if he made any roster moves before the holidays, it had to make sense.
Expect some news to start coming in soon.
For starters, it appears that according to Neil Morris, the USL Championship will be announcing a full schedule reveal, beginning with the announcement on Monday of the home openers for each team.
Looks like the wait is almost over!

CC: @SteelArmy, @JohnKrysinsky https://t.co/x3moTTxDuu

— Rachael Kriger (@RachaelKriger) January 2, 2020
As for the Hounds' efforts to continue to build its roster, some announcements may be coming too, but more than likely this team as it currently exists will head to training camp with a roster somewhere — at most — around 15-16 signed players. As the preseason process will see players coming in and out on trial plus more movement from prospects not making it through MLS training camps and others on the market still pressing for job opportunities
This is nothing new to Hounds Head Coach Bob Lilley, who will be working with a core returning group, but will have to plug a bunch of key pieces.
Roster breakdown for 2020 season:
Forwards (3): Steevan Dos Santos, Lukas Fernandes, Mark Forrest
Midfielders (4): Kenardo Forbes, Robbie Mertz, Dani Rovira, Anthony Velarde
Defenders (2): Ryan James, Thomas Vancaeyezeele
PSN's Mark Goodman has been taking a position-by-position look at the Hounds in the off season, and here's his write-up on the Hounds' defenders from last year, and where things stand. And look for another to drop on midfielders very soon.
'With every day that passes…'
"With every day that passes, I learn more about the market. I'll make better decisions,the more I know," Lilley said in December. "What types pf players are available. What positions are deeper. Prices go down if there are more players available. If there's a shortage of jobs. Then we may have to move quicker. All those things you learn. Once you have all this information, you can make better decisions." 
It's safe to say that Lilley hasn't felt the need to rush to sign too many players. He has a core group of returning players that he exercised contracts.
While there's truth that he is still trying to sign a few players that are now free agents from last year's roster, he's also already moving on with a focus on making this coming year's roster stronger.  Lilley's ready to add a lot of new wrinkles to the current core group.
Riverhounds SC Notebook: Lilley on tryouts, free agency, off season roster building
The first step has come from the tryout process, from which he's already signed one player. Lukas Fernandez.
"Every year, my roster's different. I have to adapt to what suits our players, and our characteristics, and build a system that our principles can be the same. We want to be difficult to play against. We want to play on the front foot. We want to attack in numbers," Lilley explained. "The principles can be the same, but the shape and system can be different, and can be tweaked. That's an important thing for me to do, is the make sure everyone understands their individual responsibilities."  
Lilley always wants to make sure he'll have a team that's all on the same page and putting in the work that's required when playing under him.
"Lot of times, if we're struggling, I'll say to the players, you need to do the work, and we need to be together on this. If it's not working, I don't like losing any more than you guys. We'll change it. We'll figure something out. When we're putting a game plan together. We don't know if it works or not. We're not going to know, until you adjust accordingly. We have to make sure you're all centered. See if it lines up, and we go forward. If it doesn't, we make changes," Lilley said. 
In the USL Championship, as things continue to evolve, Lilley is well aware that it's going to tougher to finish at the top of the table again in the Eastern Conference.
"As much talent as Lousiville, Tampa, Indy have, we have to get better," Lilley said. "We're always looking to get better depth-wise. Get the quality we need to be successful."
Lilley believes the Hounds are in direct competition for players with the other teams at the top of the USL Championship hierarchy and sees them competing for top players — and said they've been in the running for a few.
"Moving it forward. We will have to be able to build bigger and bigger budgets. Even teams that are spending more than us now. They're going to keep being aggressive," Lilley said. "Look at New Mexico. They had a great first season. They have 14,000 fans a game. They have whole state behind them. We don't have some of those things. But we do have new facilities coming (Montour Junction) in Coroapolis, and we have momentum as an organization." 
Lilley also added that he's looking for more leadership in the group, and believes that Pittsburgh, with the success the team has had the past two years, has become a more attractive place to play. 
Higher expectations from second-year pros 
Last season, Lilley opted not to re-sign veteran defender Hugh Roberts, who came in to provide veteran leadership to the Hounds back line in 2018, along with Joe Greenspan, and Tobi Adewole. 
Lilley primarily knew he could afford to let Roberts go because he felt Adewole, heading into his third season (but second full season since he only played half of 2017) was ready to ascend into an even bigger role on the back line, playing alongside Joe Greenspan and Thomas Vancaeyezeele. While there were some struggles early in the season, the Hounds ended up having one of the best defensive units again, and Adewole had an excellent campaign. Adewole is one of those remaining players that was out of a contract after December 1, and it still remains to be seen where he'll sign for this coming season.
Lilley is using that same approach with a number of second year players, the same way he looked at Adewole a year ago, and acknowledged heading into the 2020 season "I have to get the most out of this group."
The Hounds picked up options on second year pros Mark Forrest, Robbie Mertz, Anthony Velarde and Dani Rovira this offseason, Lilley has expectations that these young players can each take their games to another level, and compete hard for playing time in year number two in Pittsburgh.
Lilley cited Mertz, the local product from Upper St. Clair, "definitely knocked the door down" when he got his chance, scoring seven goals, with four assists in 28 appearances.
"(Mertz) worked so hard before, and in every game. He was ready from the beginning," Lilley said. "He kept doing the work. Kept the mentality. Did the simple things well. Play through difficult situations. In those instances All it took was a little bit of reassurance, and he was more than ready." 
Heading into 2020, Lilley will be challenging Mertz and the others to take their game to another level.
In Mertz' case, Lilley believes he can look over every day in training, and play alongside his veteran captain and All-USL first-team midfielder, Kenardo Forbes, as someone not just to play with, but to chase. LIlley has veteran players who fully know the 'Lilley way' alongside these young players at most every position.
For Mertz and Velarde, it's Forbes.
For Forrest, it's Steevan Dos Santos.
For Rovira, it's Ryan James.
"I don't want them to take anything for granted. Plenty of players that come in their second year, have a drop off. Don't think as a player you can ever let your guard down. There's other players out there, that come in.  I trust these players that I've signed, but they have to prove themselves again."
Lilley added: "There's supposed to be competition, and if we get certain pieces they could be the odd man out. I've told them, if I make this team better, you're going to have to work your tail off"  
 Lilley believes Velarde, Forrest and Rovira can have a bigger roles in 2020. 
Velarde has a chance to seize a spot most likely as an attacking midfielder, after an up and down rookie campaign that included 25 appearances, three goals and four assists. Rovira made nine appearances, and filled in nicely when Jordan Dover was out on international leave at right back/wing.
As for the 6-foot-4 inch forward, Forrest, who came in halfway through last season so that he could finish his degree at Lehigh University, Lilley expects him to have a bigger impact now that he'll have a full preseason.  It was Forrest, who came off the bench a number of times late last season, including scoring the goal in the dying moments of the top-of-the-table clinching win at Birmingham.
"He started off behind the eight ball. But should make more contributions with a full preseason," Lilley said. "His movement is good. He's a big body. I'm still questioning some things. But he's someone who in year two has room to move." 
And now, we'll await what the rest of the competition will look like come preseason.
Riverhounds MF Danny Griffin
Subscribe to PGH Soccer Now