FINAL: Riverhounds SC 2, Loudoun United FC 0 
Look for Pittsburgh Postgame on Pittsburgh Sports Live with Matt Gajtka and Matt Grubba
MATCH SUMMARY
The Riverhounds SC didn't waste any time to getting on the scoreboard, scoring two early first half goals en route to a 2-0 win at Loudoun United FC on Wednesday night.
With the win, the Hounds (5-3, 15 points) move back into a tie for first place with Hartford Athletic.
"I think Loudoun showed they have the ability to be a dangerous team," head coach Bob Lilley said. "We did better as the game went on. We got two pretty good goals early and that certainly helped. It wasn't an artistic game, but we were able to rest some guys and rotate the squad. It's a good road win. I think we did a good job of coming into a difficult game and coming out with our three points.
The match opened with Loudoun's young striker Ali Ndour forcing Hounds keeper Danny Vitiello into making a diving save in the fifth minute.
One minute later, the Hounds struck when Dani Rovira sent a ball from midfield over the top, where Steevan Dos Santos took a one-time, left footed volley that ripped right through Loudoun keeper Colin Miller.
The 𝑯𝑶𝑼𝑵𝑫𝑺 are 𝑯𝑼𝑵𝑻𝑰𝑵𝑮 tonight.@SantosSteevan gives @RiverhoundsSC the early lead!#LDNvPIT | https://t.co/yQ9SDvnhVM pic.twitter.com/Ffj2tvzrkX

— USL Championship (@USLChampionship) August 19, 2020
Ndour continued to find opportunities to find the equalizer. In the 11th minute, when Kairou Amoustaufa found the Loudoun striker with a terrific pass with space in the attacking third. The Hounds defenders closed down on Ndour, who took a shot that hit the side of the net.
Again, the Hounds responded with another goal build on precise passing in the final third.  Robbie Mertz receved a ball on the inside right edge of the box along the endline.  Mertz sent a short, low cross to the near post for Lukas Fernandes. The rookie forward from Temple University converted his one-time chance to give the Hounds a 2-0 lead.
More goals for your viewing pleasure. #UNLEASH #LDNvPIT pic.twitter.com/LJCtg3gBL5

— Pittsburgh Riverhounds SC (@RiverhoundsSC) August 19, 2020
Even with a two-goal lead, the Hounds struggled to put the clamps down in their effort to slow the pace against the young Loudoun squad.
Again it was Ndour in the 27th minute, who got behind the Hounds back line, but his chip attempt was denied by Vitiello, who came off the line to make the fingertip save to preserve the shutout.
*Insert Mutombo finger wag*#UNLEASH #LDNvPIT pic.twitter.com/Y6G0suHPBx

— Pittsburgh Riverhounds SC (@RiverhoundsSC) August 19, 2020
The Hounds started to start knocking the ball around better toward the end of the first half.
Loudoun's Nelson Martinez came flying in late to take out the Hounds' Ryan James in the 45th minute.  It was Martinez's second yellow card — resulting an ejection.
For the second game in five days, the Hounds would play the second half with a man advantage. And once again, despite owning much of the possession, Pittsburgh couldn't add to the scoreline, as they failed to get another shot on frame in what turned out to be a mostly lackluster second half.
Loudoun outshot Pittsburgh 10-6, with both teams getting three shots on target.
Next up for the Hounds, they'll return home to face a well-rested Saint Louis FC, currently the second place club in Eastern Conference's Group E, in its final 'out-of-group' match of the regular season.
"The short turnaround into the Saint Louis game this Saturday will be a challenge. Saint Louis doesn't play tonight," Lilley added.
"They have a whole week to prepare for our game and we're going to have short rest. It's another important game. There's no question the Saint Louis game on Saturday will be a difficult game for us."
GAME DAY UPDATES
8:57 – 86′ – Hounds final two subs:
Ropapa Mensah and Mark Forrest IN
Lukas Fernandes and Anthony Velarde OUT 8
8:50 – 80′ – Rare yellow card for Thomas Vancaeyezeele — leads to dangerous free kick for Loudoun, but it sails past the post.
8:33 – 65′ –
Couple of subs for Riverhounds
Danny Griffin and Skylar Thomas IN
Dakota Barnathan (on a yellow) and Mark Lindstrom (in his first start) OUT
8:26 – 59′ – Yellow card former
@Pitt_MSOC
Shane Wiedt right on the edge of box. Hounds with free kick from the 18. Forbes going for this first goal of season, tries to go low and left, but Miller is there with the save.
8:22 – 55′ – Ndour gets into the box on right side after beating a pair of Hounds defenders, but Tommy Vancyaeyezeele with brilliant tackle to knock it away.
8:18 – 51′ – Barnathan earns a yellow card for a rough challenge.
8:13 – 46' | LUFC substitution, Josh Fawole on for Peabo Doue
Stats at the half, presented by Beyond Self Storage. #LDNvPIT pic.twitter.com/yygWwp4vte

— Pittsburgh Riverhounds SC (@RiverhoundsSC) August 20, 2020
Thoughts at the half:
Pittsburgh
finally starting to dictate a slower pace & more possession. Lilley's going to tell the boys to play lots of keep-away in the 2nd half half. He'll want to keep Mertz/Forbes in until 70th minute or so. We might also see Dos Santos and Fernandes give way for Ropapa Mensah and Mark Forrest.  
7:47 – HALF – Hounds lead 2-0
Two shots — two goals!
40′ – Jordan Dover coming on for Dani Rovira, who came off after getting knocked to the ground with an injury.
7:34 – 27 – Ndour keeping Vitiello and Hounds back line busy.
Gets behind back line, but chip attempt is tipped and controlled by Pittsburgh keeper.
7:25 – 18′ – wide open pace continues. I know Hounds are up 2-0, but not exactly what Bob Lilley wants to see for 90 minutes, especially with his team playing a well-rested Saint Louis on Saturday.
Here's a look at the second goal…
7:18 – 11′ – GOAL – RIVERHOUNDS
Lukas Fernandes!
The rookie from Temple makes run to near post — and buries it after short cross from Robbie Mertz on right side.
7:16 – 9′ – Ndour looking dangerous again getting forward. Takes on few Hounds defenders. Barnathan tracking back pokes at it but Ndor gets another shot that hits side netting.
That pass came from Dani Rovira…
7:13 – 6′ – GOAL – RIVERHOUNDS 
Steevan Dos Santos with a left footed blast that Loudoun keeper mishandles. Unusual goal for SDS as ball was played over the top to him, and he got behind defender. 1-0 PIT
7:12 – 5′ – SAVE – Vitiello forced into extending to his right to make match's first save on a low bending shot from Loudoun striker Ndour, from 20 yards out.
7:06 – match has kicked off
Off my pregame projections by one player: I had Jordan Dover in the 11, not Dakota Barnathan. Makes sense though. Dover's played a lot of minutes on wing this year.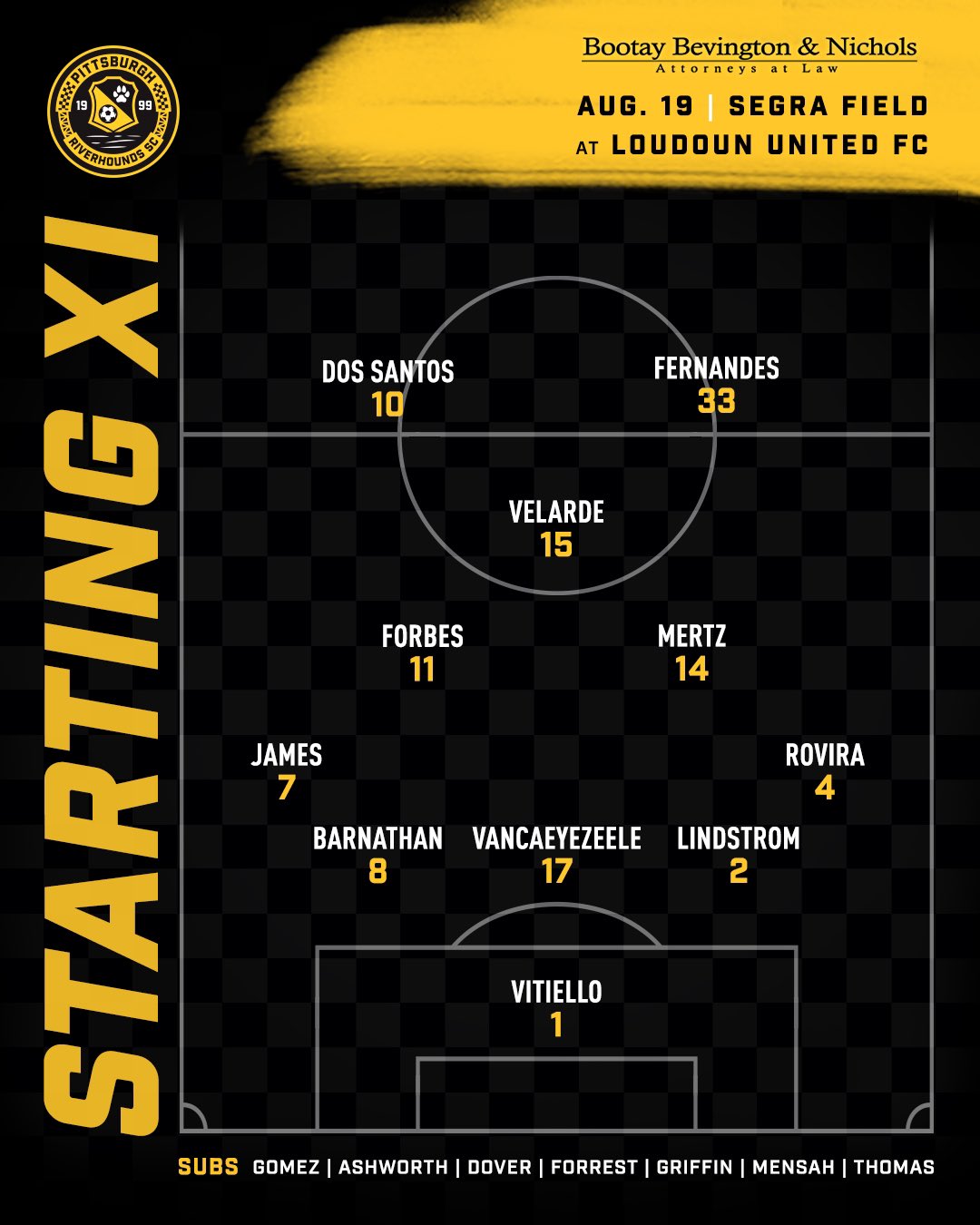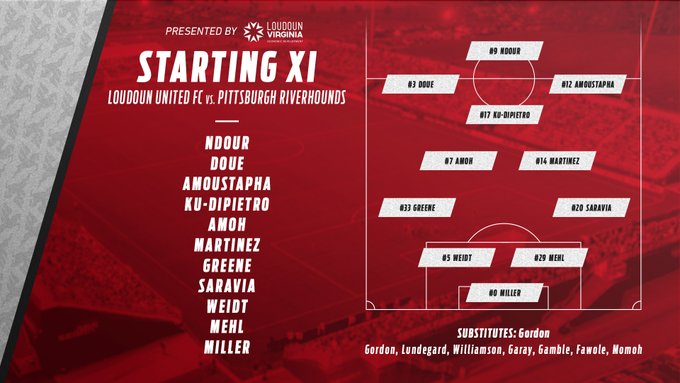 The Struggle Is Real Derby https://t.co/KMDkoi5Ptr

— Wes Burdine, PhD in being Antifa (@MnNiceFC) August 19, 2020
Look for line-ups to be posted here at approximately 6:30 p.m.
Lets see how close I can project tonight's Riverhounds SC line-up:
GK – Danny Vitiello
CENTER BACKS – Thomas Vancaeyezeele, Mark Lindstrom, Ryan James
WINGERS – Dani Rovira, Jordan Dover
MF – Anthony Velarde, Robbie Mertz, Kenardo Forbes
F – Steevan Dos Santos, Lukas Fernandes
Here's the @RiverhoundsSC Players Unavailable for Selection list for Wednesday's match at @LoudounUnitedFC

Xhelil Asani
Patrick Bunk-Andersen
Albert Dikwa
Tony Walls#LDNvPIT

— John Krysinsky (@JohnKrysinsky) August 18, 2020
MATCH NOTES 
The Hounds look to rebound after losing to Indy Eleven, 1-0, at Lucas Oil Stadium this past Saturday. The loss drops the Hounds to second place in Group F, just three points behind Hartford Athletic.
Loudoun will also look to get back on track after losing to Louisville City FC, 2-0, this past Saturday. Loudoun sits in fourth place in Group F, eight points behind the Hounds.
Last season, Loudoun's inaugural USL Championship campaign, the teams met twice. The Hounds used an early goal (5') from Steevan Dos Santos to win the matchup at Highmark Stadium, 1-0. When the teams met at Segra Field, the Hounds came from behind in the second half to win, 2-1.
PITTSBURGH SOCCER NOW COVERAGE THIS WEEK 
Bob Lilley Press Conference: Week 7 vs. Loudoun, Saint Louis
Takeaways/Grades: Lack of creativity in final third haunts Hounds in second loss to Indy
Riverhounds MF Danny Griffin
Subscribe to PGH Soccer Now