ACC Men's Soccer Semifinal
FINAL: Pitt 3, Notre Dame 1
Match Recap
For the first time in program history, the University of Pittsburgh men's soccer team will play in the ACC Championship Final after a 3-1 victory Wednesday evening over Notre Dame in the semifinal round at Dail Soccer Field/Track Complex.
Sophomore Veljko Petkovic got Pitt on the board first with a goal in the 21st minute, taking a free-kick into the upper right 90 from 23 yards out. Pitt has scored the first goal in every contest in 2020. Notre Dame (5-4) had a chance to tie it shortly after the goal, heading a ball directly on goal off a free-kick. Campuzano made a diving save and deflected the ball over the cross bar, forcing a corner kick.
Noel added to Pitt's lead in the 34th minute, taking a pass from sophomore Raphaël Crivello and using his left foot inside the six-yard box for the score. Noel, who recently set a record for consecutive games played with at least one goal at four against Duke, is now tied for first in the country in total goals with seven.
Ten minutes later, Petkovic netted his second goal of the game – his second multi-goal game of his career – and gave the Panthers a 3-0 lead late in the first half. Graduate student Jasper Löeffelsend tallied his sixth assist of the season on Petkovic's second goal and is now in sole possession of first-place in total assists in the country.
Notre Dame had another opportunity to put a goal on the board, as the ball trickled into the box off a shot deflection. The Irish had an open net, but senior Jackson Walti used his body to stop the shot and keep the shutout intact.
Pitt outshot Notre Dame 8-6 in the first half and registered four saves to the Irish's one.
Notre Dame put pressure on Pitt's back line early in the second half, totaling five shots in the first six minutes of play. The Irish got on the board late, as Jack Lynn converted a penalty kick in the 87th minute to cut the lead 3-1. Pitt kept Notre Dame at bay the rest of the way, securing the victory and clinching a spot in the ACC Championship Final for the first time in program history.
The Irish finished the contest with 18 shots compared to Pitt's 13. Notre Dame tallied 10 corner kicks, while the Panthers had zero for the night.
The No. 1 Panthers face Clemson in the ACC Final Sunday, Nov. 22 at 12 PM at WakeMed Park in Cary, N.C. The game will be broadcast on ESPNU.
News & Notes
–          With the win, No. 1 Pitt keeps its undefeated season alive and is now 7-0 overall on the year. The 7-0 start is the best start to a season in school history.
–          The Panthers are now 4-1-1 in the past three seasons in ACC Tournament play. Head Coach Jay Vidovich improved his Pitt ACC postseason record to 4-3-1.
–          Sophomore Valentin Noel continued his scoring streak, netting his seventh goal of the season in the 34th minute. Noel has now scored in each of his past five games.
–          Graduate student goalkeeper Nico Campuzano totaled six saves on the evening, three in each half. Campuzano now has 24 saves on the year.
Postgame with Mark Goodman

Gameday Updates 
FINAL – PITT 3, NOTRE DAME 1
87′ – GOAL ND!  PITT 3, ND 1
Jack Lynn converts a PK for the Irish to spoil Pitt's shutout bid.
76′ – Nico Campuzano with sixth save of the game!  THis one from a ND free kick after Petkovic foul.
73′ – Pitt going with another bench player, Luis Lara in now.
71′ – Anas Amrani and Matt Bailey also in the line-up for Pitt now.
63′ – Jasper Loffellsend down with an injury after getting clipped. Luke Mort comes in for him.
60′ | Notre Dame has six shots in the second half.
52′ – early stages of second half — as you might expect Notre Dame pushing really hard for goal, have already earned three corners this half but Pitt doing decent job of defending.
Campuzano with two HUGE saves early in the second half again. Could be a different game.
HALF – PITT 3, ND 0
This one could very well be 3-2.   Total shots are 8-6 in favor of Pitt and shots on target are even at 4-4. Couple great saves from the Panthers keeper Campuzano.
Other stats:
Corners 2-0 (ND)
Fouls 7-6 (ND)
44′ – GOAL – PITT 3, ND 0
Petkovic gets credit for it — with hard shot deflects off ND defender and into goal. 3-0 Panthers 44′
We will say it again.

THE FRENCH CONNECTION 🇫🇷

📺 (ACC Network) – https://t.co/W6XdLZ2ARR#H2P | @accnetwork pic.twitter.com/l1hA3AKJED

— Pitt Men's Soccer (@Pitt_MSOC) November 19, 2020
35′ – GOAL – PITT 2, ND 1
Raphael Crivello with a low cross to near post and Valentin Noel was there to one-time it in.
They can beat you so many different ways.
26′ — The Irish have had their chances. After a few set pieces — Pitt GK Nico Campuzano comes up big!
Nico said not today ✋

Campuzano with an incredible save to keep up 1-0.

📺 (ACC Network) – https://t.co/W6XdLZ2ARR#H2P pic.twitter.com/2njmNtTo2z

— Pitt Men's Soccer (@Pitt_MSOC) November 19, 2020
20′ – ND with a number of set pieces — including a corner that nearly sees a redirected header goal, but Nico Campuzano with a big time save.
15′ – GOAL – PITT 1, ND 0
Fantastic ❗⚽

Petkovic's fourth goal of the season.

📺 (ACC Network) – https://t.co/W6XdLZ2ARR#H2P | @accnetwork pic.twitter.com/yfoZr6R2vI

— Pitt Men's Soccer (@Pitt_MSOC) November 19, 2020
Here's Pitt's starting XI for tonight…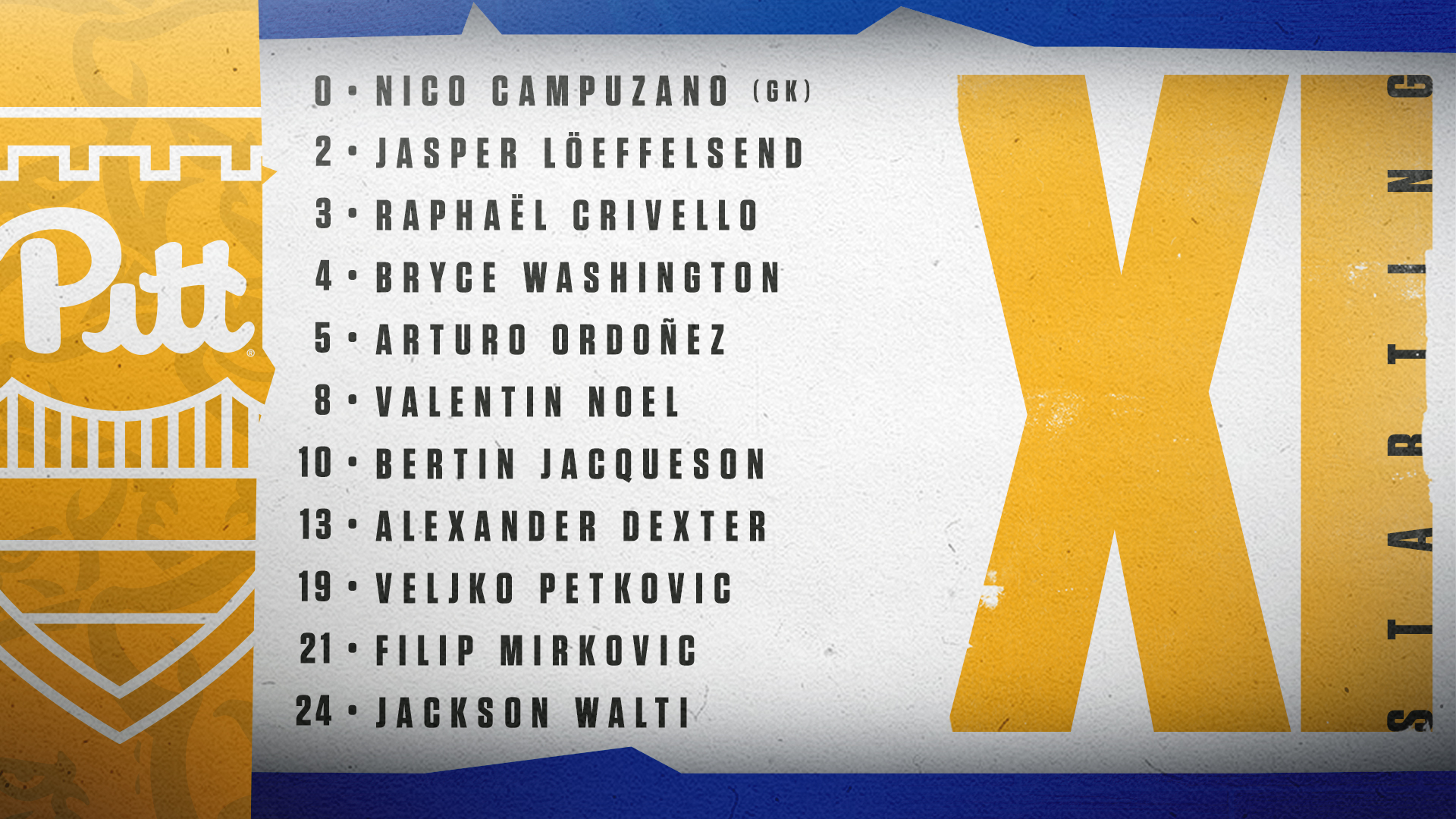 ---
Pitt vs Notre Dame
Wednesday, Nov. 18 | 8 p.m.
Dail Soccer Field/Track Complex, NC State in Raleigh, NC
Our Match Breakdown 
It wasn't pretty, but Pitt got the job done in Sunday's 2-1 win vs Duke.
Keep in mind, a few hours prior to the match, Pitt released a statement that a few players would still missing due to COVID protocols, as the Panthers were returning to the pitch after having the final two regular season games canceled.
This is the ACC — so no game will be easy — and that will be the case for Pitt as they face Notre Dame for the second time this year. Pitt opened its season with a 3-1 win at South Bend.
Pitt is playing through its talented midfield and getting into quick transition attacking mode, they can stretch and break down opponents in a moment's notice.
They're not reliant on any one player to pick up the scoring slack, as Valentin Noel, Alexander Dexter of Veljko Petkovic are key attacking threats.  Bertin Jacquesson, a talented freshman forward from France who started every match up until the ACC quarterfinal against Duke, did not play Sunday. If he's able to play — that could only add another dangerous weapon for Pitt's attack. In his place, Pitt started Luke Mort on Sunday. Pitt use Mort at the top of the formation, constantly pressing Duke's back line. Mort, who is from Greensburg and played at Greensburg Central Catholic/Riverhounds Developmental Academy was effective in 69 minutes of action, along with Luke Peperak, another local product, from Connellsville, who came in the second half for 20 minutes.
The Irish will have a talented group who will test Pitt's patience and be difficult to break down. Pitt will have to watch out for Jack Lynn and senior Aiden McFadden, who's been solid during his senior campaign.
Pitt's had an incredible run thus far this season, but they'll have to be on top of their game to make it to the ACC Championship game for the first time ever.
PSN Coverage of Pitt men's soccer
Taking a closer look at No. 1 Pitt men's soccer: Defenders / Goalkeepers
Previous Meeting This Year
Pitt's Game Notes 
The Panthers are playing in their second ACC semifinal game in program history and second in as many years. Pitt is 3-3-1 all-time in the ACC Tournament, all under head coach Jay Vidovich.
Vidovich and the Panthers are 3-1-1 in the past three seasons in the ACC Men's Soccer Championship.
THE MATCH
Heading into its second ACC Championship semifinal in program history, No. 1 Pitt looks to keep its momentum going against Notre Dame Wednesday, Nov. 18.
The Panthers return to the site of their quarterfinal match at Dail Soccer Field/Track Complex in Raleigh, N.C., for an 8 PM kick-off against the Fighting Irish. The game will be broadcast on the ACC Network.
Pitt is 0-1 all-time in the ACC Tournament against Notre Dame, losing a first round contest, 5-0, in 2017.
WHAT'S AT STAKE?
A trip to the ACC Championship Finals for the first time in school history is in the cards with a win for the Panthers.
A victory for Pitt would improve its overall record to 7-0. The 7-0 start would be the best start to a season in program history, dating back to 1954.
Coach Vidovich, one of the most respected coaches in college soccer, seeks his first ACC Tournament Championship. Vidovich has compiled a 12-21-7 record in ACC Tournament play, including a 3-3-1 record with Pitt.
PITT HOLDS OFF DUKE IN ACC QUARTERS
Pitt scored its lowest amount of goals on the season in a physical, defensive battle against Duke Sunday, Nov. 15, but came away with the 2-1 victory to advance to the ACC Championship Semifinals.
Junior Jackson Walti scored the games' first goal in the 34th minute, the third of his career and first score since the Panthers defeated Duke at home on Oct. 25, 2019.
Sophomore Valentin Noel broke the 1-1 tie in the 62nd minute, his sixth of the season. Noel's goal proved to be the deciding factor for the Panthers, as Pitt held off Duke's late minute attack.
Noel, senior Alexander Dexter and freshman Filip Mirkovic all tallied assists.
THE FIRST NOEL
Sophomore midfielder Valentin Noel has led the offense this season and leads the nation in multiple categories.
The Niort, France, native finished the regular season first in the country in goals per game (1.25), second in total goals (5), points per game (2.75) and shot accuracy (.727) and third in total points (11).
With his second half, game-winning goal against Duke in the ACC Quarterfinals, Noel became the first player in program history to score a goal in four consecutive contests (Oct. 10 – Nov. 15, 2020).
#1 SCORING OFFENSE
Pitt ended the regular season with the number one scoring offense in the country, netting 3.40 goals per game.
The Panthers enter the semifinal round with a 3.17 goals per game mark.
Pitt has scored at least three goals in four of its six games, including four goals in two contests (Virginia Tech, Louisville).
The Panthers finished regular season play leading the nation in assists per game (4.00), points per game (10.80) and are second in the country in corner kicks per game (6.40) and shot accuracy (.569).
DEXTER SECOND ALL-TIME IN ASSISTS
Senior Alexander Dexter moved into second place all-time in school history in assists Sunday, Nov. 15, with his 15th career assist against Duke.
The Bronx, N.Y., native is tied for third on the team with three assists this season, and sits 11 back from Eric Prex's record of 26 career assists (1991-1994).
THE SERIES
The Irish lead the all-time series 18-5-3. The meeting Wednesday night will be the second this season between the two schools, with Pitt prevailing 3-1 over then No. 5 Notre Dame in South Bend.
The Panthers are 0-1 against Notre Dame in the ACC Tournament, as the Irish defeated Pitt 5-0 on Nov. 1, 2017 in the first round.
Pitt's last two contests of the regular season were canceled due to COVID-related protocols, one of those games being Notre Dame at home Oct. 30.
SCOUTING THE FIGHTING IRISH
Notre Dame enters the semifinal round 5-3 overall and finished the regular season 2-3 in conference play.
After starting the year 1-2, the Irish won four of its last five.
Notre Dame defeated No. 3 North Carolina, 1-0, in overtime to advance to the semifinals.
Junior forward Jack Lynn leads the Irish and is tied for first in the nation with Pitt midfielder Valentin Noel in goals with six. Lynn has 23 shots, 10 shots on goal and two game-winners.
Senior midfielder Aiden McFadden played hero Sunday afternoon, scoring the game-winning goal against North Carolina in the quarterfinal round. The goal was McFadden's first of the year and he leads the team in assists with four.
Senior goalkeeper Keagan McLaughlin has 24 saves on the season and finished the regular season fifth in the country and second in the ACC in total saves.
UP NEXT
A win for the Panthers advances them to the ACC Championship Finals against the winner of Clemson and Virginia.
The game will take place Sunday, Nov. 22 at WakeMed Park in Cary, N.C., at 12 PM on ESPNU.
Riverhounds MF Danny Griffin
Subscribe to PGH Soccer Now