ACC Men's Soccer Championship Final
FINAL:  Clemson 2, Pitt 1
The Clemson Tigers proved to be a little too much for the Pitt Panthers, winning 2-1 by capitalizing on defensive miscues to win the ACC Men's Soccer Championship at WakeMed Park on Sunday.
"The things we were good at this year, cost us today," Pitt's Head Coach Jay Vidovich said after the match via Zoom call. "We were lacking both offensively and defensively."
Despite being outplayed for much of the first half, Pitt roared back into the match with an equalizer from Valentin Noel in the 47th minute, as Jackson Walti played a terrific pass over the top to set up the goal.
"That's what we needed more of, to keep working, to find ways to get behind the defense," Vidovich added. "We needed to be thinking faster. In the first half, we needed our guys to be better on the ball, and keep it."
Clemson bookended the match with a first half goal in the 14th minute from Mohamed Seye, after Pitt's goalkeeper Nico Campuzano's clearance was intercepted.
After Pitt leveled the contest early in the second half, Clemson, using more players off the bench, pressure continued to mount and eventually wore down the Panthers.
In the 71st minute, the Tigers' Grayson Barber advanced down the left side, then sent a cross into the middle of the box for an unmarked James Brighton.
As the Panthers pushed for a late goal, Arnass Amrani, who started in place of the injured Jasper Loffelsend, was sent off with a red card for a dangerous play on Armarni Smith.  Pitt was outshot 14-7 (9-5 on target), as Clemson earned more corners (6-3).
"The real issue today was our legs," Vidovich explained. "We need to sustain better play against an opponent like that. We've had a great season, taken this program to another level, but we have to keep working to do what we can to sustain this level of success."
The Panthers end the fall 2020 season with a 7-1 overall record, and will await to continue play to earn a spot in the NCAA tournament in the spring.
Three Pitt players were named to the ACC All-Tournament team.  Goalkeeper Nico Campuzano, Valentin Noel and Veljko Petkovic.
Kimarni Smith is our MVP ⭐️

Congrats to all members of this year's All-Tournament Team! pic.twitter.com/qsrIWu3IBx

— ACC Men's Soccer (@ACCMSoccer) November 22, 2020
News & Notes
Sophomore Valentin Noel scored in his sixth consecutive game, extending his school record streak. His goal in the 46th minute was the eighth of the season and is now tied for first in the country with Clemson's Kimarni Smith.
The runner-up placement is the highest finish in program history in the ACC Championship Tournament.
Gameday Updates
FINAL – CLEMSON 2, PITT 1
Clemson wins the ACC Championship. Pitt just couldn't put it together from start to finish — and sloppy giveaways led to Clemson's goals.
87′ | RED CARD!
Pitt's Anass Amrani sent off for the exchange off the ball with Smith
87′ |  Stoppage of play with 3:33 left. They're checking on a play off ball — and if Amrani had a dangerous foul against Smith.
84′ | Smith smacks back of Jacquesson's foot. Drawing another yellow card. Free kick from corner — in from Petvocic to open back post but a little too quick for a player to connect with it.
82′ | Clemson's John Martin picks up a yellow card. Hard foul on Luke Mort who made a nice move to try to evade him.
80′ | Mayaka shot — this time on frame with a slight deflection — and another solid save from Campuzano.
78 ' |  Nice free kick chance from Petkovic — swings it to upper left corner, but George Marks is there to grab it.
75' | Pitt sets up a corner — but it's cleared away by Clemson. Hard for Pitt to win those battles against a very athletic Clemson side on set pieces.
What a beauty! 🤩

James Brighton gets his head on it to put @ClemsonMSoccer up 2-1!

📺 ESPNU: https://t.co/trkn5HzISk pic.twitter.com/bbXOvWnAeR

— ACC Men's Soccer (@ACCMSoccer) November 22, 2020
71′ | GOAL – CLEMSON An unmarked James Brighton with the header. Nice ball in from Grayson Barber.
Pitt didn't get back after poor throw in on one end.
66′ | Pitt living dangerously again — oh my — Clemson should have converted on another giveway there.
Fortunately for Pitt, Philip Mayaka's shot goes wide!!!
65′ | Pitt comes back with cross from left side — and Jacquesson lunges to head it on frame but easy save for Clemson's George Marks
64′ | Shaky moment there when Pitt plays it back to Campuzano — Smith all over him — but the keeper smothers its.
60′ | Campuzano with six saves on the day, tying a career-high.
59′ | Jacquesson does nice job to get to end line — and cross attempt deflected for corner.
57′ | Pitt a lot more patient and methodical in possession out of the back, then they find an opening on left side to catch Alexander Dexter who gets behind Clemson back line. Tigers have to scramble to deny shot chance. More of that — and they'll get another one.
51′ | Mirkovic with a yellow card for a 'professional' foul at midfield after a careless giveaway.
46′ | GOAL – PITT – Valentin Noel!!
Great ball in from Jackson Walti. Fabulous first touch from Noel to keep it and put it in quickly.  Sixth straight game Noel has scored.  His eighth of the season.
Halftime stats in favor of Clemson:
Shots: 9-3 (Clem)

SOG: 6-2 (Clem)

Fouls 9-8 (Pitt)

Corners: 3-1 (Pitt)
HALF – CLEMSON 1, PITT 0
Pitt's Coach Jay Vidovich:
"We need to be more assertive when we're defending, and when we're on the attack. They've been better on the ball than us so far, but at same time, we've denied a few dangerous chances."
45′ | Barber shot on frame — saved by Campuzano.
Campuzano with his 4️⃣th save of the day.

Approaching 12 minutes left in the first, Pitt trails 1-0.

📺(ESPNU) – https://t.co/z0VhktW7v5#H2P pic.twitter.com/avfJCr4G5l

— Pitt Men's Soccer (@Pitt_MSOC) November 22, 2020
43' | As first half winds down, Pitt struggling even more just to get into the final third. Haven't had a shot attempt since the 23rd minute.

38' | Pitt sub: Luke Peperak in for Bertin Jacquesson.

37' | Pitt's LB Crivello picks up a yellow card for a late tackle. Clemson's close range free kick cleared by Panthers.


34′ | Pitt needs to be on the ball more and stop giving balls away in the midfield. It's just allowing Clemson to dictate tempo to this point of the match.
30' | Fernandez-Salvador free kick -- inswinging -- and on frame but Campuzano is there to grab it.

29' | Back and forth we go...


Nice quick transition for Pitt after quick restart – leads to Petkovic shot on frame.
Then Clemson comes right back — shot forces Campuzano to extend to make a big time save with his right hand.
25' | Fernandez-Salvador with shot from 20 yards -- off bounce saved by Campuzano.

23' | Jacquesson with terrific low cross into box for Pitt -- but it can't connect on far post for Petkovic.



19' | Geez -- Smith just a tough match up on the width for Armani. Just blew by him to get into box. Good recovery though by Pitt to prevent shot attempt. 
13' || MOHA STRIKES AND CLEMSON LEADS!

Take a look at the beautiful play that gave us a 1-0 lead!#ClemsonUnited
📺 – https://t.co/hvz3SubkJV
📊 – https://t.co/WpTDj7oYhS pic.twitter.com/hRCRpcB4RG

— Clemson Men's Soccer (@ClemsonMSoccer) November 22, 2020
14′ | GOAL – CLEMSON — Mohamed Seye! Pick apart the Panthers after bad giveaway by Campuzano.
13′ | Clemson bringing pressure. First shot on frame. 
6′ | Clemson with most of possession in first five mins, but Pitt shows quick strike ability getting into box — but shot attempt is blocked.
Pitt's Starting XI:
GK: CAMPUZANO

D: CRIVELLO, WASHINGTON, ORDONEZ

MF: AMRANI, NOEL, PETKOVIC, MIRKOVIC, WALTI

F: JACQUESSON, DEXTER
Jasper Loffellsend did go down w/ injury late vs ND. That might be reason for him being out.
Here's Clemson's starting XI: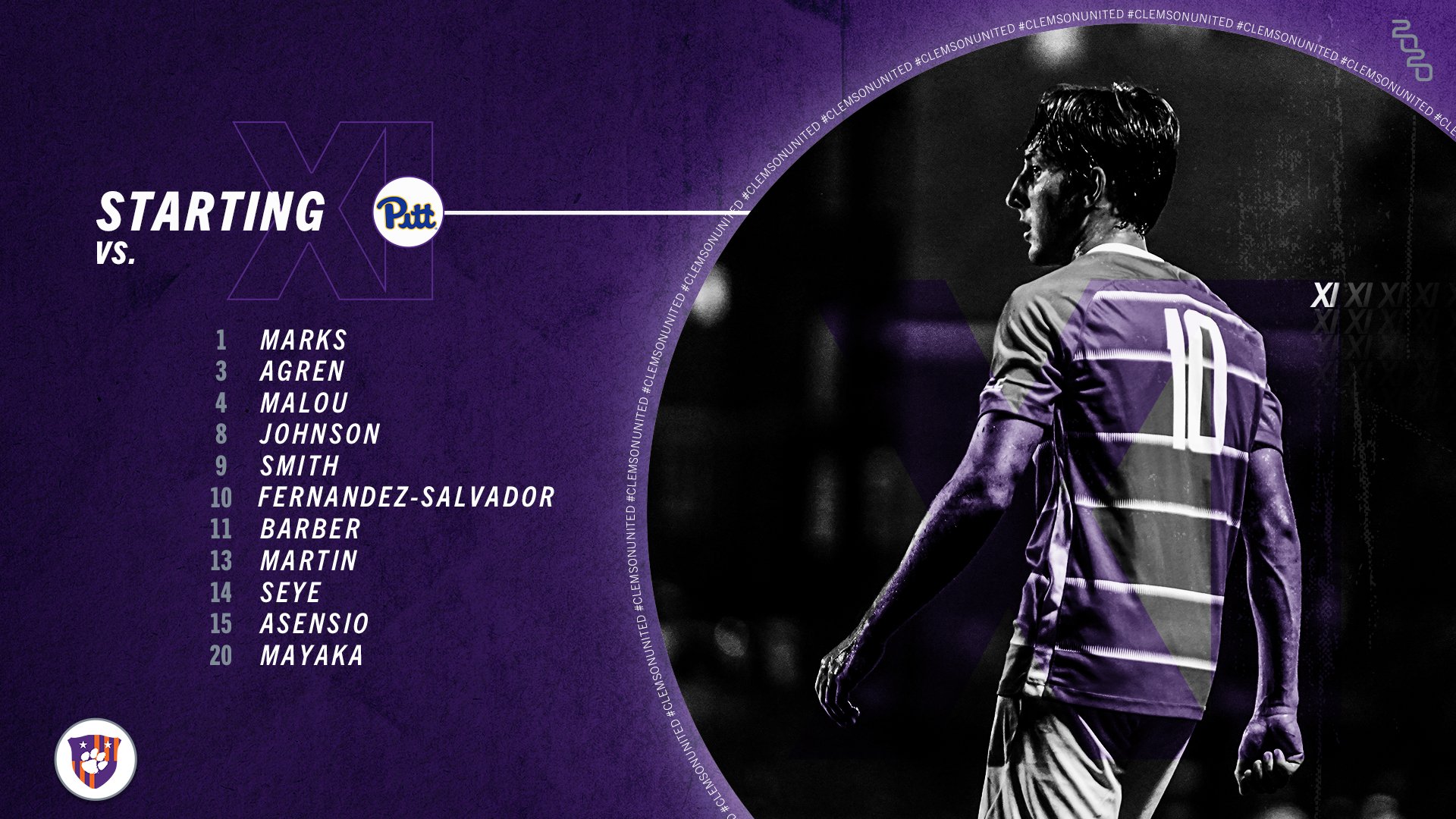 Here's Mark Goodman's scouting report of Clemson…
All that's left is ball ⚽#H2P pic.twitter.com/JHh2wg1yxo

— Pitt Men's Soccer (@Pitt_MSOC) November 22, 2020
Checking in for work ⚽️🧡💜#ClemsonUnited pic.twitter.com/9Qi0YSiMPK

— Clemson Men's Soccer (@ClemsonMSoccer) November 22, 2020
Preview: Pitt vs Clemson 
Sunday, Nov. 22 | 12 PM | at WakeMed Soccer Park
The Panthers are making their first trip to the ACC Championship game, while Clemson will play in their 11th ACC final in 34 appearances in the tournament.  With the ACC's vaunted reputation and with this being a match between the current United Soccer Coaches poll's top two ranked teams, many are considering this, in an unprecedented 2020 college soccer fall season, to be the 'de facto' national championship game since most of the other 'power five' conferences are not playing until the Spring.
The Tigers have won the ACC Tournament title three times, most recently in 2014 at WakeMed Soccer Park. It's hard to argue the notion that this is the biggest game in Pitt's men's soccer program history.
It has not been determined if this will be an automatic qualifier for the winner of the ACC Tournament to get into the NCAA Tournament. The ACC has still to decide on whether or not this tournament will be an AQ or not. That decision will be made post tournament. Of course, Pitt is playing to win it all if it is or isn't regardless.
NCAA that the spring season will be from February 3 to April 17, with the NCAA Tournament running April 30 to May 17.
It's time ‼️

A chance to capture a 🏆

🆚 No. 2 Clemson
🕰 12 PM
🏟 WakeMed Soccer Park (Cary, N.C.)
📊 https://t.co/XzdAnASDun
📺 (ESPNU) – https://t.co/z0VhktW7v5#H2P pic.twitter.com/r8DaFTbATt

— Pitt Men's Soccer (@Pitt_MSOC) November 22, 2020
Crowning champions today 🏆#ACCMSoccer pic.twitter.com/Syli2mJryU

— ACC Men's Soccer (@ACCMSoccer) November 22, 2020
Breaking Down the Match-Up
Heading into this match, it might be a safe bet that this could be pretty open-ended and possibly a high-scoring affair.
After all, Pitt is the highest scoring team in the nation this Fall featuring a balanced attack with attacking midfielders and a pair of forwards that attack from the width, but in addition, they've also yet to post a shutout. In the semifinal win against Notre Dame, the Panthers used its quick strike ability and frantic pressure to score three quick goals but after absorbing its share of pressure in the second half and despite a tremendous game from goalkeeper Nico Campuzano, they allowed a late second half tally to the Irish.
Meanwhile, Clemson is right there with Pitt in terms of scoring prowess.
The Tigers are ranked top-five in multiple offensive categories, including assists per game (4th – 1.60), points per game (4th – 5.40), shots per game (3rd – 14.10) and total goals (3rd – 19). The guy to watch in Orange and Blue will be senior forward Kirmani Smith leads the country in total goals with eight and became the second player in ACC Championship history to tally a hat trick. He also heads into the final tied for first in the ACC Championship record books for goals in a tournament with four.
Last year, when these two schools met in the ACC semifinal, the tide was turned. Clemson was the top-ranked team, with a dynamic attack and were the clear favorites. The Tigers dominated a hard-fought match, but Pitt showed a lot of resolve, in hanging on and playing right with them in a 1-0 loss.
After Pitt's win vs Notre Dame on Wednesday night, Pittsburgh Soccer Now's Mark Goodman started to discuss some of the keys to this match (see our postgame show link below). Goodman believes that Pitt's outside backs, Jasper Loffellsend and Rafael Crivello may be key to slowing down and winning important battles on the flanks, where Clemson excels in using its athletic attacking wingers. Goodman's additional assessment from watching both teams was that Pitt has earned its top-ranking in the polls and top-seed in the ACC as they bring the more technically proficient team that is extremely good on the ball with quality players at every position.  This, of course, is a testament to Jay Vidovich's remarkable ability to recruit and bring high-quality players to the program who can make an impact.
ACC Tournament Pitt Postgame Show with John and Mark 
PSN Coverage of ACC Championship Tournament & Pitt Men's Soccer 
Pitt beats Notre Dame, 3-1; will play in ACC Championship for first time
Taking a closer look at No. 1 Pitt men's soccer: Defenders / Goalkeepers
Pitt's Game Notes 
WHAT'S AT STAKE?
–          A victory in the ACC Championship Final would be the first ACC tournament championship captured in program history. Volleyball is the last Pitt team to be named ACC Champion (2019), while Gymnastics was the last team to win their respective conference tournament in 2016.
–          Head Coach Jay Vidovich, who has won one national championship in his career, (Wake Forest – 2007) is seeking his first ACC Tournament trophy.
A MILESTONE SEASON
–          This year has been a milestone season for Pitt, setting new program highs and making school history.
–          The Panthers earned a ranking of number one in the country on Oct. 20 for the first time in program history. Men's soccer joins football and men's basketball as the only Pitt athletics teams to earn the No. 1 spot in their respective polls.
–          Pitt's 7-0 overall start is the best start to a season in program history. No other team has started the season undefeated through its first seven games of the season.
–          The 4-0 record in the ACC is now tied for most ACC wins in a season. Pitt went 4-3-1 in league play last year.
–          Six of the seven victories have been on the road or at neutral site fields. Pitt won its first four road games of the season for the first time since 2000.
EARLY OFFENSE POWERS PITT TO ACC FINAL
–          Three first half goals and three key first half saves set the tempo for the No. 1 ranked Panthers Wednesday night in the ACC Championship Semifinal, as Pitt defeated Notre Dame 3-1.
–          Sophomore Veljko Petkovic scored two goals, including one from a free kick 25-yards out, to lead the Panther offense. The multi-goal game was the second of Petkovic's career.
–          Sophomore Valentin Noel scored his seventh goal of the season and kept his goal streak alive at five games.
–          Sophomore Raphaël Crivello and graduate student Jasper Löeffelsend each registered an assist, while graduate student goalkeeper Nico Campuzano tied a career-high six saves.
THE FIRST NOEL
–          One of the top goal scorers in the country, sophomore Valentin Noel has led the Panther offense in 2020 at a record breaking pace.
–          The Niort, France, native goes into the ACC Championship Final second in the country in total goals (7), second in total points (16), second in shots on goal per game (2.83) and first in goals per game (1.17).
–          On Nov. 15 vs. Duke, Noel set a school record for consecutive games played with a goal at four. The streak went to five games after his first half score against Notre Dame in the ACC Championship Semifinal on Nov. 18.
ACTION JACK-KAY-SON
–          Freshman Bertin Jacquesson has made an immediate impact for the Panthers since game one, totaling nine points including two goals and five assists.
–          The Frenchman totaled three points in each of his first three games, with highlighted moments including a goal at both Notre Dame and Syracuse and three assists at home vs. Virginia Tech.
–          Jacquesson ranks third in the country in assists per game (0.83), second in game-winning goals (2) and third in total assists (5).
#1 SCORING OFFENSE
–          The Panthers enter the ACC Championship Final with the number one scoring offense in the country, averaging 3.14 goals per game.
–          Pitt has scored three or more goals in six of its seven games and has scored four goals in two.
–          The Panthers are also the number one ranked team in points per game with a 9.86 mark, 2.69 points higher than second-place Kentucky and 4.46 points higher than fourth-place Clemson.
–          Pitt enters the game third in the nation in shot accuracy at .530, a number that is also best in the ACC.
–          In just seven games, Pitt has totaled 25 assists as a team. In 2019, the Panthers registered 29 assists in 20 games played.
MAKING THE STOPS
–          Graduate student goalkeeper Nico Campuzano came up big Wednesday night against Notre Dame, tying a career-high six saves and seeing a career-high 18 shots.
–          Campuzano (Comp-ew-thawn-oh) has not allowed the opposition to score more than two goals a game all season.
–          The Cantabria, Spain, native has recorded four or more saves four times this season and sits sixth in the country with 24 total saves.
THE SERIES
–          The Tigers lead the all-time series 4-1, with the latest contest a 1-0 Clemson victory in the ACC Championship Semifinals November 13, 2019.
–          Pitt's only victory over Clemson came at home Oct. 5, 2018 in 2-1, double overtime fashion.
–          Head coach Jay Vidovich's career record against the Tigers is 14-9-6.
SCOUTING THE TIGERS
–          Clemson enters the contest 7-2-1 overall and finished ACC regular season competition 3-2-1. It's two losses came against North Carolina and Wake Forest, with its tie also happening against UNC.
–          The Tigers enter the game ranked top-five in multiple offensive categories, including assists per game (4th – 1.60), points per game (4th – 5.40), shots per game (3rd – 14.10) and total goals (3rd – 19).
–          Senior forward Kirmani Smith leads the country in total goals with eight and became the second player in ACC Championship history to tally a hat trick. He also heads into the final tied for first in the ACC Championship record books for goals in a tournament with four.
–          Smith has eight goals, three assists, 28 shots, 16 shots on goal and a .571 shot on goal percentage. His .80 goals per game is fifth in the nation.
–          Junior forward Grayson Barber leads the team in assists with six, a mark that is tied for first in the country with Pitt defender Jasper Löeffelsend.
–          Barber has two goals, six assists, 27 shots, 11 shots on goal and a .407 shot percentage.
UP NEXT
–          The Panthers conclude the fall season, but will return for their second leg starting spring of 2021.
–          The NCAA announced teams may start spring action February 3. Pitt has yet to announce its spring schedule.
Sounding Off on Soccer: Riverhounds Road Woes
Subscribe to PGH Soccer Now