ACC Men's Soccer Semifinal
FINAL: No. 1 Clemson 1, No. 25 Pitt 0
 Box Score and Stats here
Game Summary
CLEMSON, S.C. – The 25th-ranked University of Pittsburgh men's soccer team dropped a 1-0 decision to top-seeded and ranked Clemson Wednesday night at Historic Riggs Field in the semifinal round of the ACC Championship.
With the loss, the Panthers move to 9-7-2 overall, while Clemson improves to 16-1-1. Pitt drops out of the ACC Tournament and the Tigers will face Virginia in the championship game Sunday, Nov. 17.
Clemson controlled the majority of the first half, finishing with an advantage in shots (10-4) and corners (6-2). The Panthers bounced back in the second half, finishing with more chances (9-6) and corners (6-3), but weren't able to find the back of the net.
Clemson struck in the 44th minute off the foot of Mohamed Seye. Off a free kick, the Tigers sent a long pass into the box on the left side, which was touched over to Seye who got it past senior keeper Arie Ammann.
Game Day Updates / Commentary 
FT | CLEMSON 1, PITT 0
Clemson hangs on. Pitt kept bringing pressure pushing for the equalizer, but couldn't do more than create numerous set piece chances. They were missing that final pass or two in the final third in the run of play. But credit to Clemson's defending.
The Panthers will now await next week's NCAA Tournament Selection Show to find out if they'll qualify for an at-large bid — and earn its first ever berth to the NCAA's since 1965! With an RPI of 30, and ranking in the top 25 this week, they're in solid position.
81′ | Pitt forces a few corners — but Clemson up to the task to clear both away.
75′ | Pitt continues to pressure Clemson. Have been the better team for much of the second half, but have been denied a few times. Latest coming from free kick from central midfield that was redirected and saved by Marks.
62′ | Another counter. Another corner for Pitt. And this time almost convert the corner — header is on target! They're getting close. Ordonez with a great header on goal but it's saved by the keeper. The sophomore George Marks, Clemson's goalkeeper, makes a series of saves to preserve the Tigers' lead.
60′ | Still 1-0. Pitt has raced forward with a few counter moments into open space, but can't get make that final pass count.
HALF | CLEMSON LEADS 1-0
42′ | GOAL – CLEMSON – 1-0
Mohamed Seye puts the Tigers in front!
Seye converted his opportunity after a wonderful series of passes from Oskar Agren and Tanner Dieterich.
17′ | Corner Clemson. Tigers attempt a shot that's deflected out for another corner. It's cleared by Pitt.
9′ | Dexter attempts a shot from the left side but it's stopped by the Clemson keeper.
7′ | SAVE AMMANN! What a stop by the keeper. Clemson gets the first corner of the night and can't get anything going.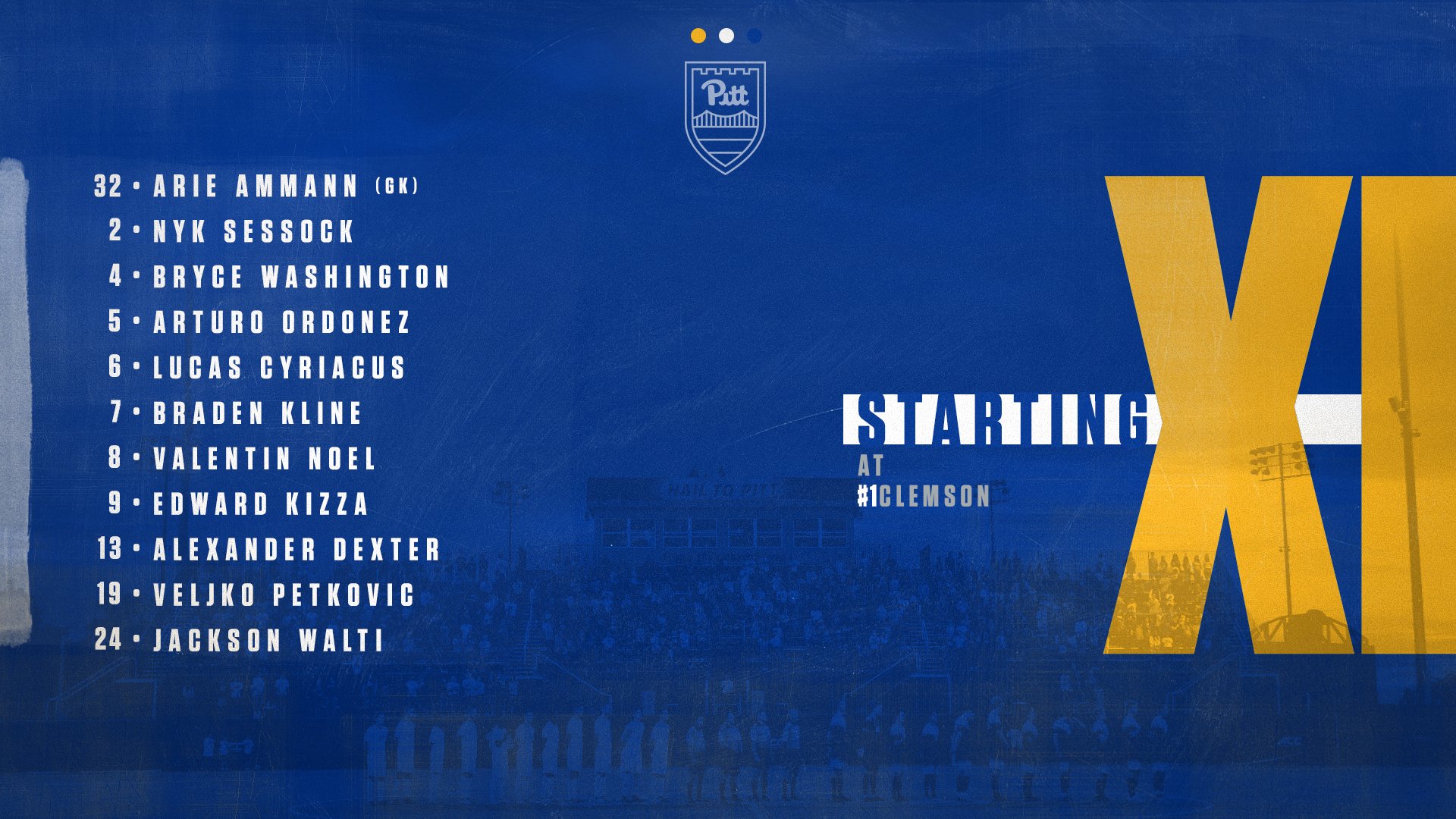 📍On site. #H2P | #ACCMSoccer pic.twitter.com/5RsTvQaHcg

— Pitt Men's Soccer (@Pitt_MSOC) November 13, 2019
It's #ACCMSoccer Semifinal GAME DAY!

4 pm – @WakeMSoccer at @UVAMenSoccer
6 pm – @Pitt_MSOC at @ClemsonMSoccer

Catch all the action on @accnetwork! pic.twitter.com/rDR5mY8DF7

— ACC Men's Soccer (@ACCMSoccer) November 13, 2019
Soccer Rabbi's Preview and Scouting Report on Clemson: 
LAST TIME OUT
·        Pitt hosted and won its first ACC quarterfinal game in program history, defeating NC State 2-1 in overtime Sunday, Nov. 3 at Ambrose Urbanic Field in Pittsburgh.
Pitt men reach another milestone with momentous home ACC playoff win
THE SERIES – CLEMSON
·        The Panthers and Tigers meet for the fifth time in program history with Clemson leading the all-time series, 3-1-0.
·        The two teams last met a year ago in Pittsburgh when Pitt defeated Clemson for the first time in program history, 2-0, in two overtimes. Edward Kizza scored both goals in the win.
·        Head coach Jay Vidovich owns a 14-8-6 record against the Tigers.
SCOUTING THE TIGERS
·        Clemson enters Wednesday's game 15-1-1 overall, 6-1-1 against ACC foes and as the No. 1 seed in the tournament.
·        The Tigers are ranked No. 1 in the latest United Soccer Coaches Poll and fourth in the NCAA RPI.
·        In their last time out, the Tigers shutout Notre Dame, 3-0, in the ACC quarterfinal game Sunday night.
·        Clemson's only loss of the season came in a 3-2 (OT) loss against Wake Forest in September. The Tigers also tied Virginia Tech 0-0.
·        Junior Robbie Robinson leads the Tigers with 39 points coming on 15 goals and nine assists. He leads the nation in points per game with 2.60 and is tied for first in total points per game. Junior Kimarni Smith is right behind Robinson with 31 points on 13 goals and five assists.
·        Clemson's goalies have combined for nine shutouts on the year.
·        The Tigers are led by 10th year head coach Mike Noonan. Noonan has a 331-179-70 career record.
·        Clemson finished the 2018 season 7-9-1, 2-6-0 ACC. The Tigers' season ended in a 2-0 loss versus Notre Dame in the first round of the ACC Tournament.
PANTHERS IN THE POLLS
·        For the first time since 2002, the Panthers have cracked the top 25 of the United Soccer Coaches Poll.
All-Time Rankings
·        11/9/96 – 23
·        9/22/97 – 14
·        10/6/97 – 16
·        10/13/97 – 18
·        10/20/97 – 16
·        9/11/00 – 18
·        9/18/00 – 14
·        9/25/00 – 15
·        10/2/00 – 9
·        10/9/00 – 7
·        10/16/00 – 9
·        9/9/02 – 20
·        9/16/02 – 18
·        11/12/19 – 25
MAKING HISTORY
·        For the first time in program history, Pitt men's soccer will advance to the ACC Tournament Semifinals. History will be made Wednesday, Nov. 15, at History Riggs Field, S.C. 
·        For the first time in program history, Pitt men's soccer hosted a round of the 2019 Men's Soccer ACC Championship when it defeated NC State, 2-1 (OT), Sunday, Nov. 10.
PITT IN THE RPI
·        The NCAA released the fifth RPI of the 2019 season Monday, Nov. 11.
·        The Panthers moved up to No. 32 after previously sitting at No. 36.
·        Pitt's highest RPI in program history came in October of 2017 at No. 14.
·        The Panthers have defeated two teams inside the top 25 in the RPI including #1 Virginia and #7 Virginia Tech.
·        Four ACC schools are among the top 10 including No. 1 Virginia, No. 5 Wake Forest and No. 4 Clemson and No. 7 Virginia Tech.
THE ACC CHAMPIONSHIP
·        The Championship is a 12-team single elimination tournament.
·        The semifinals will be held on Wed., Nov. 13 at campus sites. Pitt, Clemson, Wake Forest and Virginia will all be competing for a spot in the Championship Final.
·        The Championship Final will be held Sunday, Nov. 17 in Cary, N.C., at WakeMed Soccer Park. It will be aired on ESPNU at noon.
Sounding Off on Soccer: Riverhounds Road Woes
Subscribe to PGH Soccer Now