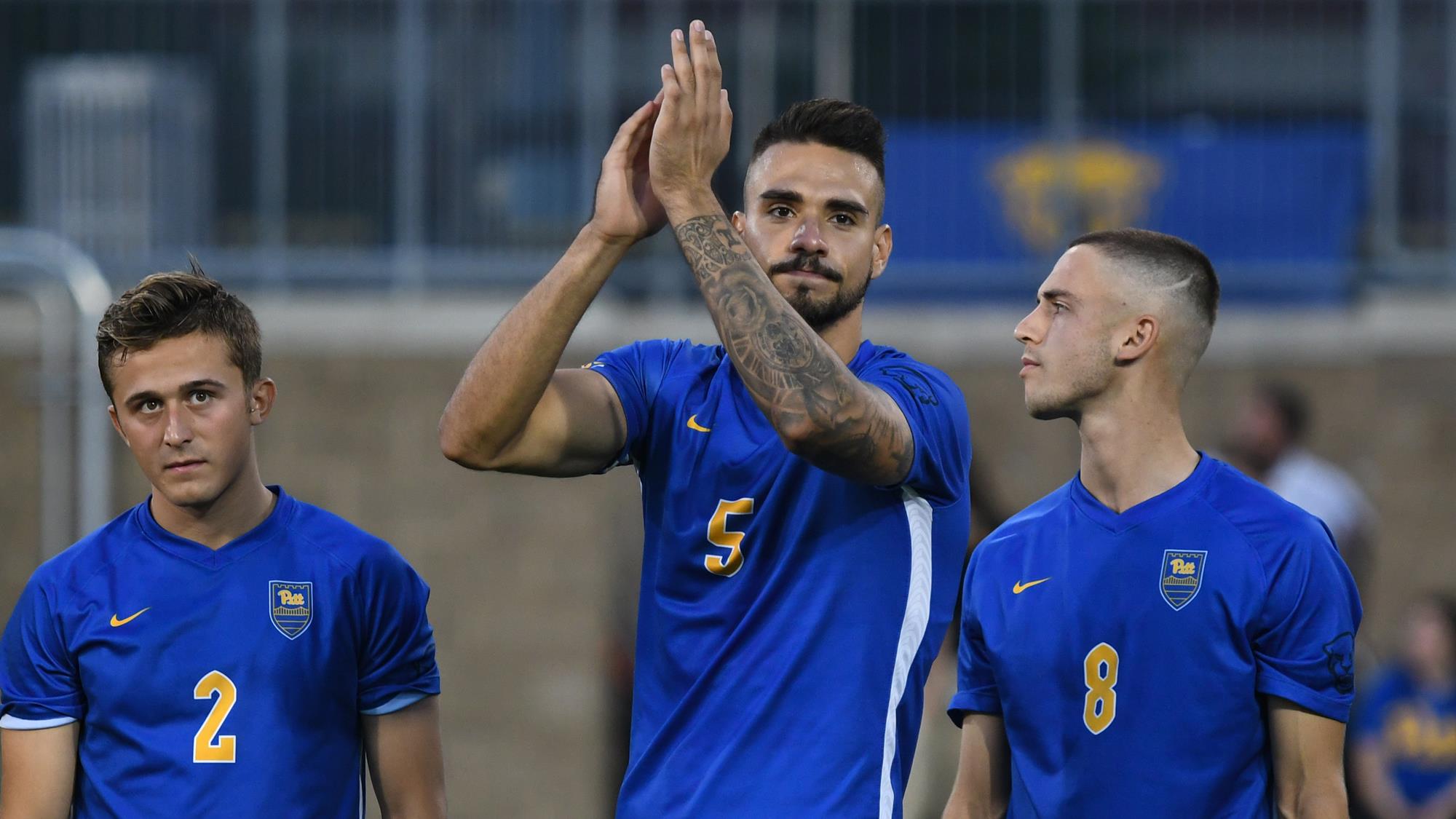 The start of the ACC's men's soccer tournament begins Sunday, along Tobacco Road in North Carolina, as the number one seed Pitt Panthers will open up by facing Duke in the quarterfinal round on Sunday (6 p.m. kickoff).
Thus far this week, Mark Goodman and I have already taken a closer look at the top-ranked Panthers' forwards and midfielders.
Now we'll wrap things up by taking an overview of Pitt's back line, which thus far has provided a stabilizing and steady unit for the Panthers as they've had an impressive 5-0 start to the 2020 fall season and have received numerous national accolades.
In the ACC, where offensive talent is abound, high pressing, open-ended play and forward-minded tactics are prevalent, has only added extra pressure on defensive players and goalkeepers.
As is typically the case, defenders are often overlooked and don't get a lot of the credit, but Pitt's back line remains a tight group which don't leave the field all that often. In fact, its center back pairing of Arturo Ordonez and Bryce Washington, along with its outside backs, Jasper Loeffelsend and Raphael Crivello along with goalkeeper Nico Campuzano, have led the Panthers in minutes played.
Being that Bob Lilley's been coaching the Riverhounds here in Pittsburgh the past three years, Pittsburgh soccer fans have probably grown and gotten used to seeing a system which absolutely suffocates opponents and limits shot opportunities and shots on frame.
In Pitt's case, against ACC competition, they're not exactly shutting every opponent down completely, but they do trust its back line to handle themselves in more one-on-one situations then maybe we'll see, say that a Bob Lilley will ever allow.
At times, Loeffelsend and Crivello will push forward and the Panthers aggressive, attacking style of play may leave them open and vulnerable to some counter-attacks.  Often times, Ordenez and Washington are so good at handling themselves in these situations, and with a dynamic midfield owning possession, Pitt manages to do a pretty good job of limiting its opponents to less quality chances when they're getting shots.
This usually leaves the Panthers back line along mostly with Jackson Walti, a defensive-midfielder, to keep things organized and solid in the middle and back.
The Panthers have outscored the opposition 17-8 thus far this season. With the nature of playing open-ended going one way, clearly has allowed for opponents to have room and space to get back on the counter.  In allowing eight goals in five games (a goals against average of 1.6 — not too emblematic of a number one ranked team), Pitt has work to do to tighten things up. I am sure with ACC tournament approaching, coach Jay Vidovich knows that his back line will have to buckle down as the game become more intense, and most likely, less open-ended.
Thus far this season, Pitt's allowed 25 of 43 total shots on frame.
Ordonez is just a sophomore, but he has quickly become one of the leaders for this program.  The native of Salou, Spain, appeared and started in 18 games as a freshman — making an immediate impact. His accolades in year one included being among the team leaders in minutes played (1,681), and was named to the All-ACC Freshman team and the All-ACC Tournament team.
Arturo Ordonez keeps it level with a goal-line save as Pitt is living very dangerously in the 1st half. #H2P #Clemson #Pitt pic.twitter.com/JB9iiUVQcx

— x – Soccer Rabbi (@soccer_rabbi) November 13, 2019
At 6-foot-2, Ordonez is a gifted athlete who is a strong presence in the box both anchoring the back line and on set pieces.  He scored Pitt's game-winner in the NCAA tournament game vs Lehigh last November and again, this year against University of Virginia, in overtime, he scored the goal that gave Pitt the win that pushed them to a number one ranking in the United Soccer Coaches poll just two days later.
No. 2 Pitt topped No. 5 Virginia in OT tonight on an Arturo Ordoñez goal.

Also notable: No. 1 Wake Forest lost to unranked Clemson last week. pic.twitter.com/SxMaLB8LIH

— Mike Wilson (@xmikewilson) October 19, 2020
At Ordnez's side the past few years has been Washington, who is a redshirt senior who came to Pitt as a transfer from Rutgers in 2018.
Much like Ordonez, Washington is an athletic, physical and steady presence in the back who can defend well in one-v-one situations and is a threat in the box on set pieces.  Last year, he played in 18 games, starting 13 — as he ascended into the starting role by the end of the season.  In Pitt's NCAA tournament win against Lehigh, Washington scored the Panthers other goal to give Pitt the 2-0 win.
Loeffelsend, a graduate student from Germany, gives the Panthers a dangerous presence on the width, who's become more and more of key component of Pitt's attack emanating from the right side. At 5-foot-5, the German brings speed and an open-field presence on the the ball that can't be ignored by opponents.
In the past three matches, he's picked up five assists, primarily from swinging balls into the box.
Much as Vidovich has depended on Loeffelsend on the right side, he's put a lot of faith in Crivello on the left side. Crivello, one of three Pitt players from France, is a solid two-way player who can get forward to support the attack (picking up one assist), but thus far this year has held his own defending some of the ACC's best players in open spaces on the flank.
As Pitt has climbed into becoming a top-level ACC and national program, they've built enough depth at every position.
Bringing Loeffelsend, Crivello along with Campuzano in goal, Vidovich has shown that he's constantly recruiting and looking to bring seasoned and high level players in who can make an immediate impact and put this program into National Championship contending status.
Late in 2019, a player with local roots, Anthony Harding, who played at Norwin, benefited from Pitt's next man up approach, in starting a few key games late in the season after battling for playing time and only seeing sporadic minutes for much of the season.  Harding started the ACC tournament match at home vs NC State, then also started for Pitt in the NCAA tournament game on the left wing, and held his own.
Harding makes most of surprise start for Pitt in NCAA tournament
With the presence of Crivello, Harding has relegated back to biding his time to get back in the line-up and make an impact as he's been on the field for just nine minutes this season.
Another significant contributor in 2019, who has seen less time thus far in 2020, is a senior, Seto Sena, who led the team in minutes in 2018,  was started in all 10 matches at center back last year before being injured. He's been back with the team getting into the lineup in Pitt's last two matches, but has played just 33 minutes this season. It will be interesting to see how Vidovich uses this seasoned player. It's a nice problem to have.
Additional defenders that have not played yet this season, but add to the team's depth included Quaker Valley freshman, Dominic Reiter and York, PA native, freshman Lucas Matuzewski, who could potentially be candidates to redshirt this year, or get more playing time come Spring.
In goal, Pitt has gone with another graduate student addition in Campuzano.
The keeper was tested a few times this year, particularly on the road at Virginia, as the Panthers were playing for a chance to become the top-ranked team in the nation.  The former Seattle Sounders U-23 and product of Spain, Campuzano has played every minute in goal this season for Pitt, as he's become the number one guy over Alexander Steinbach, who made six starts for Pitt in 2018 and 2019.  He's made 16 saves with a save percentage of .677.
With the ACC tournament coming up, with chances of a match or two going to overtime and penalty kicks, Pitt, as all top college programs do, will lean heavily on its keepers to come up with some big stops as the stakes become greater in postseason play.
That's when we'll see if Campuzano and Steinbach can come through when it matters most.
Riverhounds MF Danny Griffin
Subscribe to PGH Soccer Now