On Friday, the Riverhounds SC shared a statement that they  released Alex DeJohn shortly after the announcement that Atlanta United of Major League Soccer had signed veteran defender to a new contract for the 2021 season.
Released from contract with Riverhounds SC, Alex DeJohn signs with Atlanta United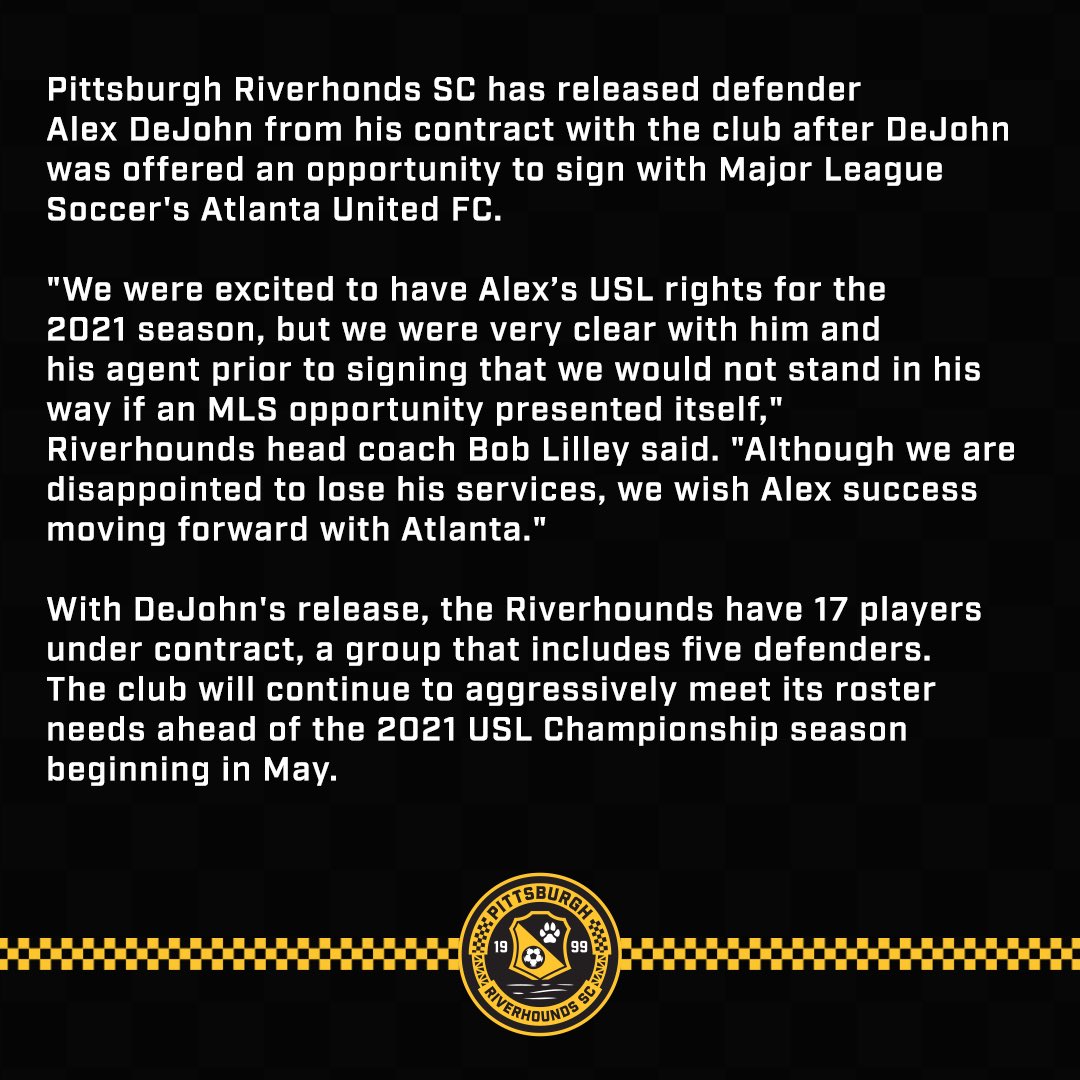 In wake of the statement released last week, the club's veteran, Hall of Fame coach, Bob Lilley, told Pittsburgh Soccer Now on Tuesday that he stands by how this particular situation was handled.
"The release said how we feel about it as a club. It's something we try to always do — what's in the best interests of the club," Lilley said.
"We are also sensitive to the players' needs as well," Lilley added. "It's important to build trust with your players.  A lot of them would like to be playing for the biggest clubs in Europe or their national team. All those things matter to players."
This news came as a bit of a shock to those who follow the club closely, as DeJohn was one of the Hounds key off season signings, announced in early February.
Many shared concerns because many felt that the Hounds should have been able to work out a transfer fee arrangement in exchange for DeJohn's contract.
Probably adding some fuel to the fan base's discontent, recently, other USL Championship clubs, notably Indy Eleven, have been able to broker deals to include transfer fees from MLS teams for players (notably Cal Jennings and former Hound Tyler Pasher) who they had under contact.
The Hounds have been aggressive and on the hunt for players to put them in position to remain as one of the top teams in the USL Championship's Eastern Conference.  Lilley has mentioned to Pittsburgh Soccer Now numerous times this off season, that his strategy when luring veteran players to come to play in Pittsburgh sometimes requires negotiating deals that make sense for both sides.
Among some of the players who the Hounds have signed this off season with considerable experiences playing/drafted for National teams, MLS and/or overseas include Josh Gatt, Meikel Williams, Russell Cicerone.
In the case of DeJohn's contract, as outlined in the club statement, Lilley emphasized, much like he has done in the past when some of the Riverhounds' top players moved on to other clubs, they wouldn't stand in the way if a more appealing contract option came available.
"We've been successful and gotten a lot of good players already in my time here," Lilley, who's been a coach at the second or third division level for more than 20 years, and led the Hounds to the playoffs a club record three straight seasons, including a top regular season place finish in 2019.
While numerous former Riverhounds SC players over the years have moved on to play in Major League Soccer, the only known player in the past decade the club had a contract buyout arrangement with an MLS club came in 2016, when Rob Vincent's contract was bought out from DC United.  Vincent, unlike DeJohn, had been with the Riverhounds for three years prior.
With DeJohn falling off the roster, the Hounds still only have one true center back on its roster, Preston Kilwien, although last week's signing, Meikel Williams, who has been a left back for much of his career, can play any position along the back line.
Lilley said adding more center backs will be at the top of the club's list.
"We have some work to do, but I like where our roster is at. Compared to past years, we're way ahead of schedule and we'll have a good core group to work with from the beginning of camp," Lilley said, as he prepares for the beginning of preseason, slated for next Monday, March 29, and hinting at additional signings coming in the next few days. "We'll be more focused, specific about what we can do with this group. At this point, we're at 18 players, but we could very well be at 19 or 20 (signed) going into camp."
What we know about USL Championship and Pittsburgh Riverhounds SC 2021 season
We'll have more Riverhounds coverage and from our interview with Lilley in the coming days leading up to the start of preseason on Monday.
---
The closest followers and fans didn't take the news very well, especially after learning the Hounds didn't get a transfer fee.
Let him walk for nothing… https://t.co/sfVsADyUzq

— Steel Army (@SteelArmy) March 13, 2021
Thoughts on the Hounds letting DeJohn go for free?

— Mon Goals (@mongoals) March 13, 2021
My take on the Alex DeJohn situation is a classic both/and.

It is in #RiverhoundsSC 's interest to sign MLS & high-end USL players w/a free release clause in case they get n offer from a 1st div club.

And also: 1st div clubs should pay a small fee to USL clubs nonetheless. /1

— Soccer Rabbi (@soccer_rabbi) March 14, 2021
Could Riverhounds have offered him a contract with a $50k release clause instead? As you said it's a pittance to a club that's a step up from USL so from the player's perspective it would be the same thing

— Devraj 🌹✊🏾🚍 (@Devraj_data) March 15, 2021
Spineless. The Riverhounds should be embarrassed to put out such a statement. https://t.co/w9lnjw5H0P

— Seán H. (@PancakeHat) March 13, 2021
Hopefully San Antonio has agreed to terminate Jose's contract if Bayern Munich wants to acquire him. https://t.co/osJSiWtHWP

— Steel Army (@SteelArmy) March 15, 2021
Riverhounds MF Danny Griffin
Subscribe to PGH Soccer Now